The hallway next to the built in bookshelf/dog-crate leads to the "guest wing", or "kids' rooms", depending on the situation of the home owner. In our case it was Madison's room, a guest bedroom and the jack and jill bathroom.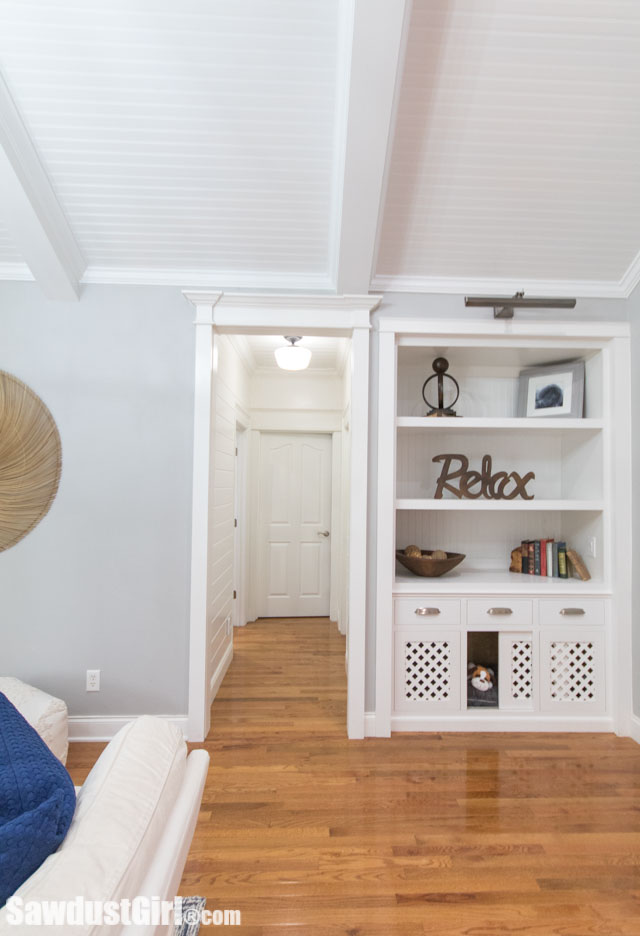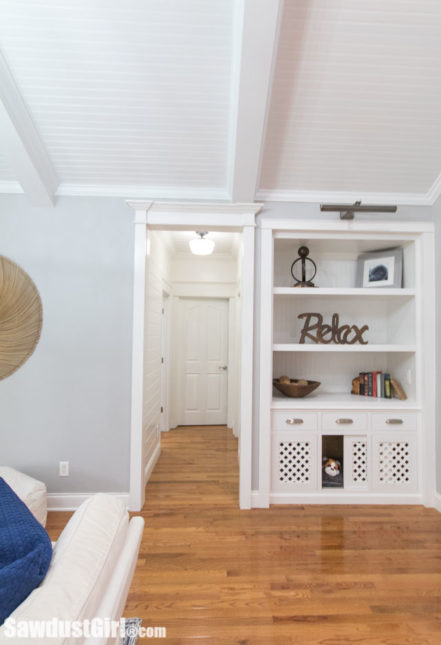 There are three doors in this hallway. The door on the right leads to the powder room.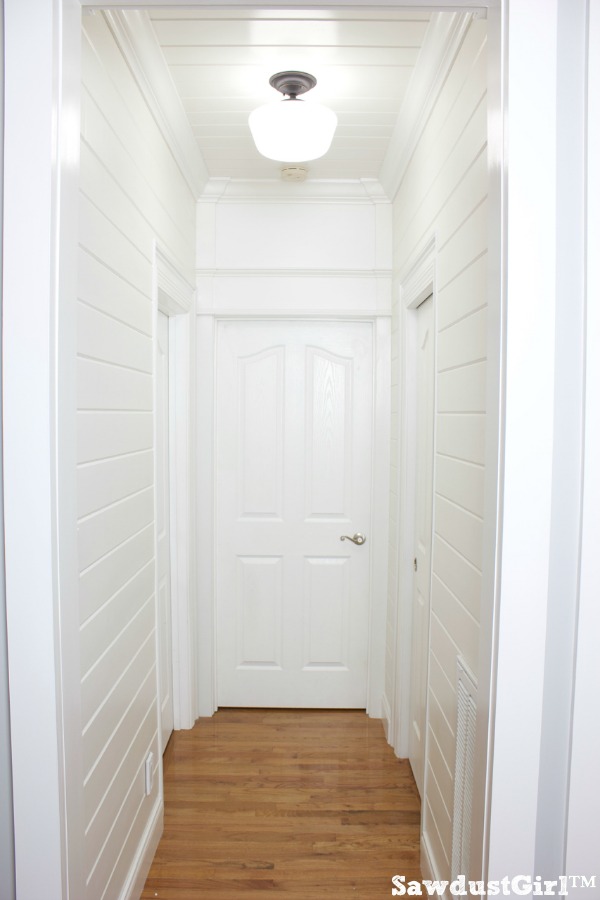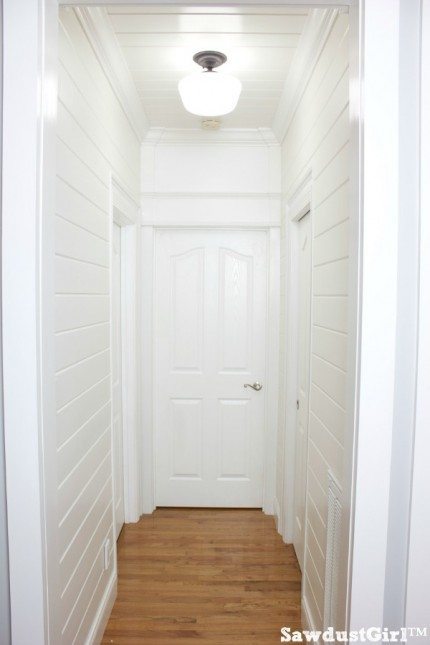 Powder Room
If you guys remember this powder room from this house's early days, you'll notice that the bathtub no longer sticks out into the living room. Who knows why, but the owners decided to steal some of the living room space and the weird corner closet space to put a full shower in this powder room. I glammed the whole thing up, and I even put in this decorative floor pattern for the fun of it. I usually don't use wallpaper, but I saw this tree one, and it was so unique I couldn't pass it up. It even matched my painting!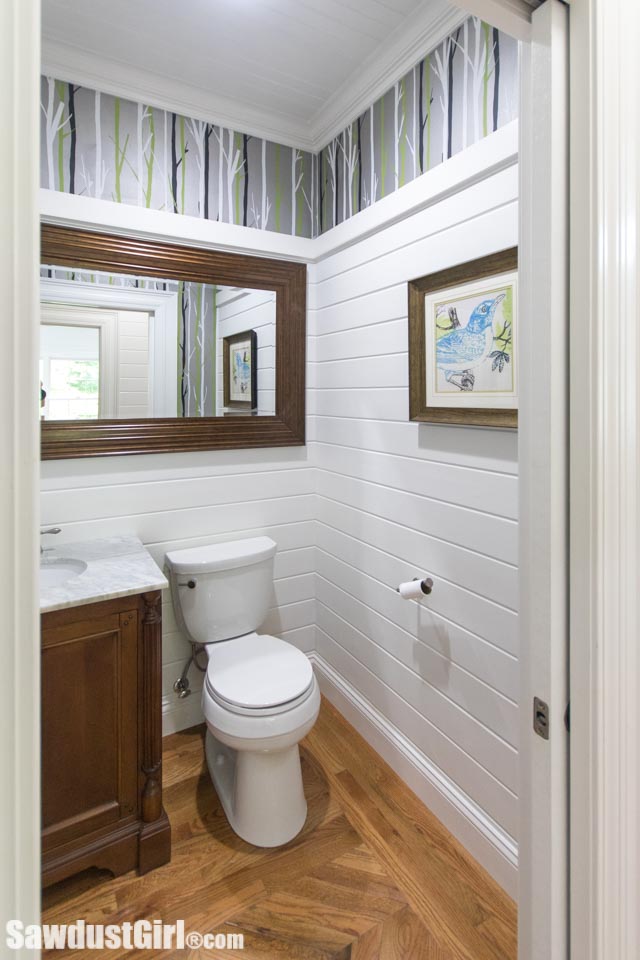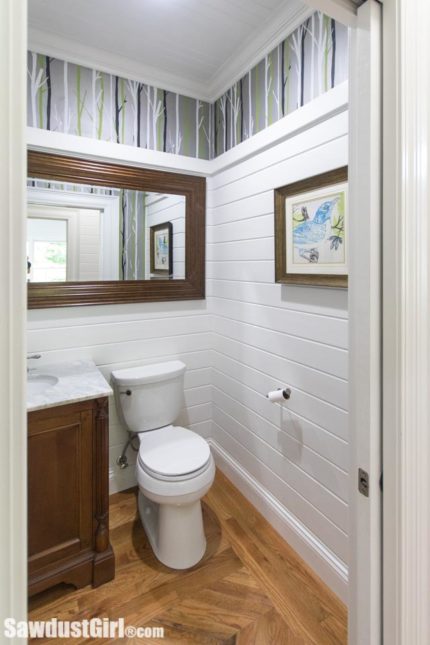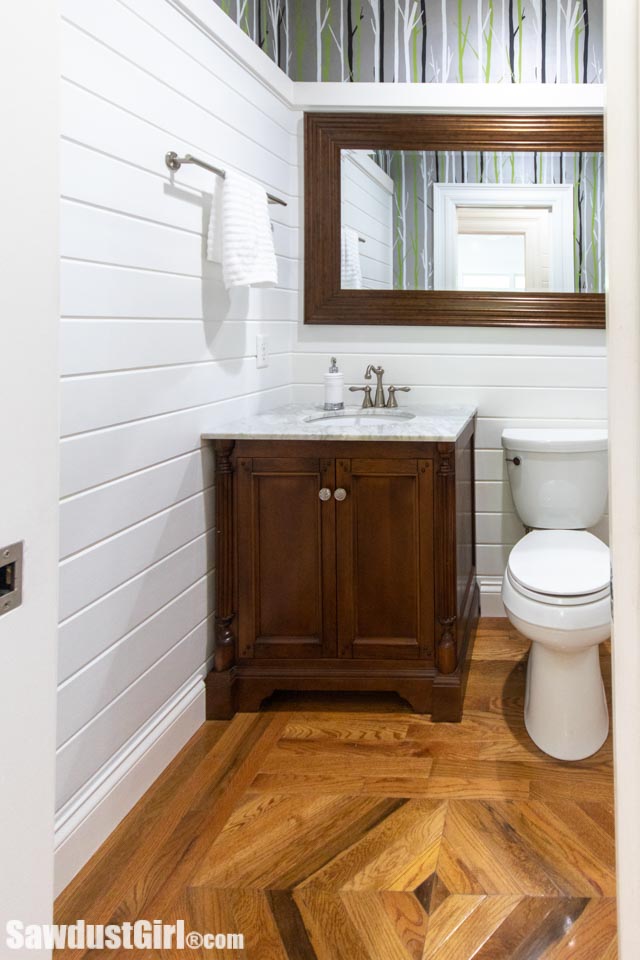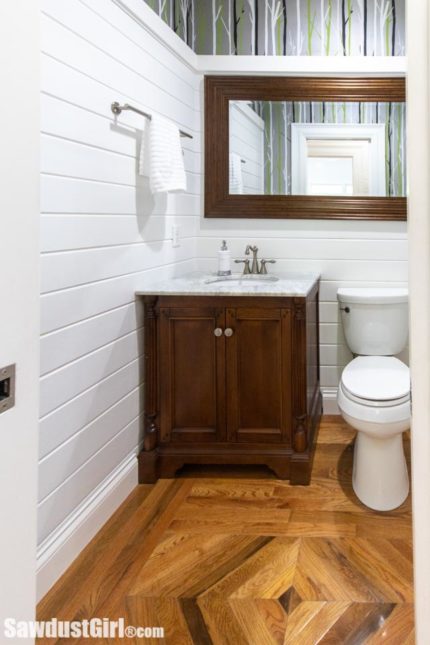 Madison's Room
At the end of the hallway is Madison's pretty bedroom. If you remember Madison, you probably wouldn't expect this to be her room. I'm just as confused as you, but it was fun for Julie and me to explore some other decorating styles–in this case, vintage glam. The bed is the same one that used to be her black trundle bed. Check out the bed upcycle if you haven't seen it!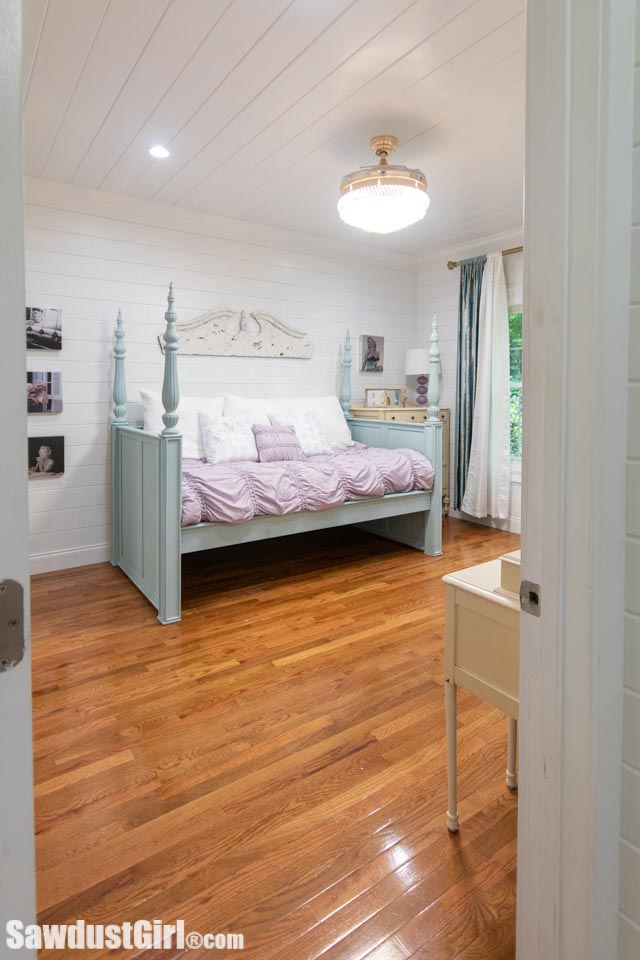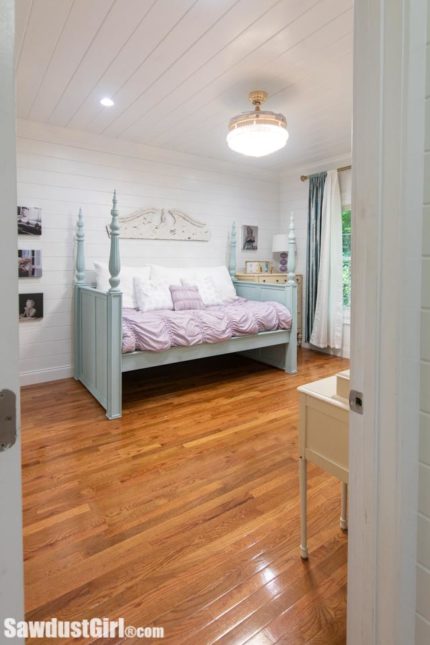 To go with the vintage glam aesthetics, we went to several thrift stores to find decor. We finally found this sweet piece at a local store. It used to be super, super, short but we extended the legs. You can check that out in my vanity makeover post.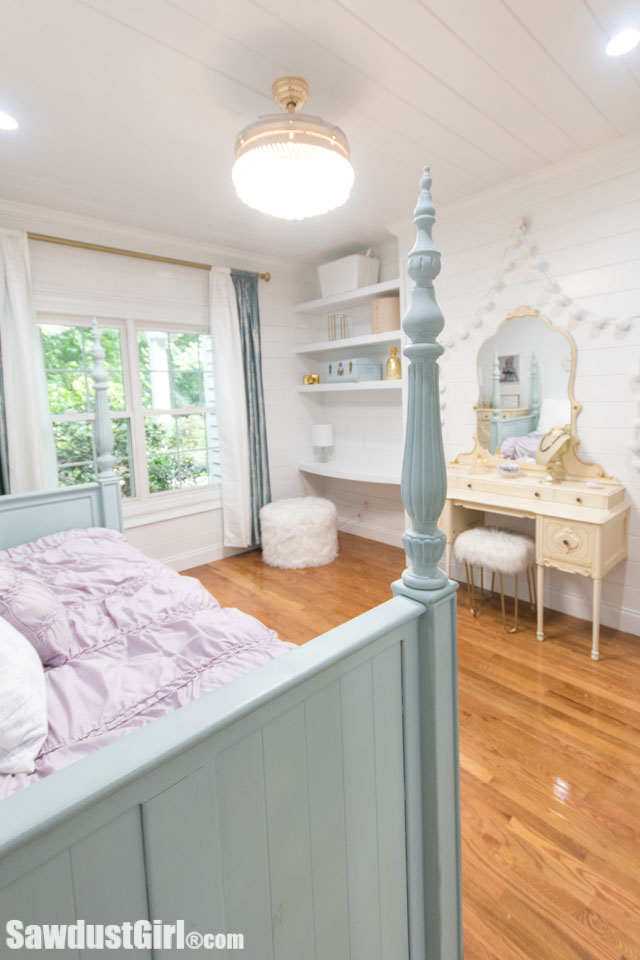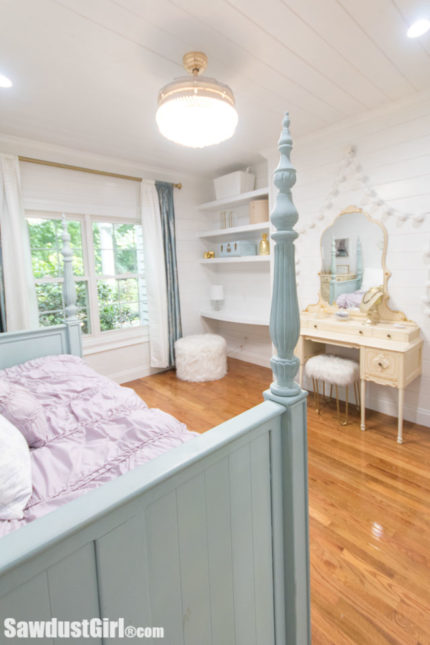 I custom crafted this curved floating desk and shelves. The room has that weird little alcove that is just perfect for a desk, so I went ahead and built one in.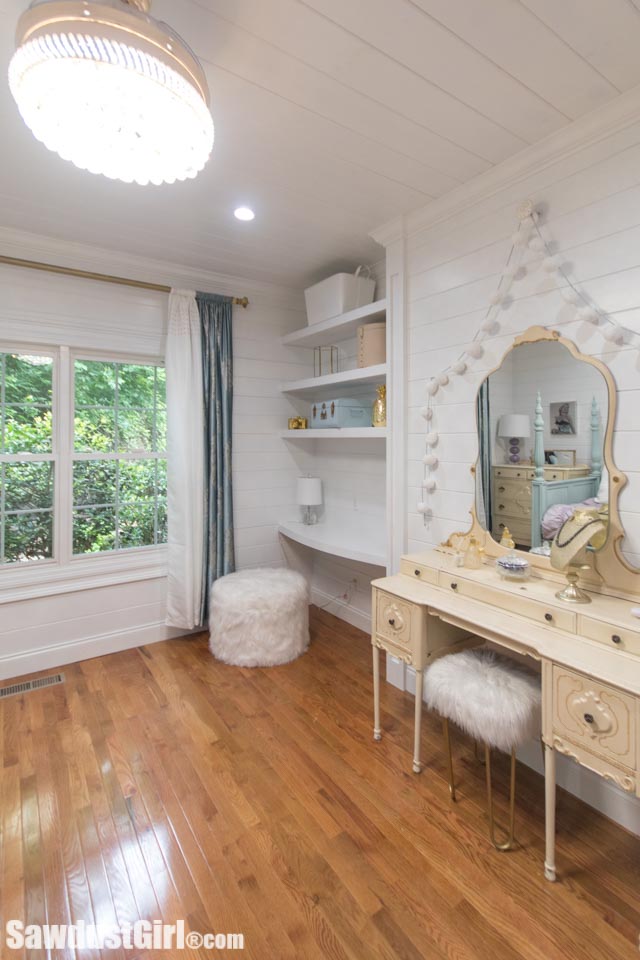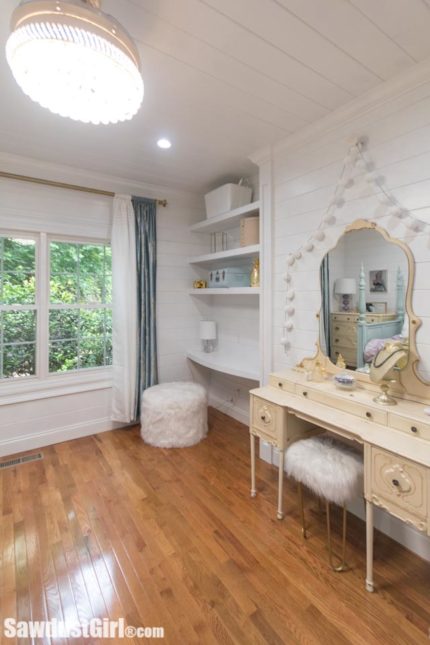 Guest Bedroom
The guest bedroom looks completely different than when we first moved in. As with most of the rooms, I added on my custom moldings and planks on the ceiling, and then (with Julie's help, of course) we styled the heck out of it! We went for an urban organic look. I think we nailed it!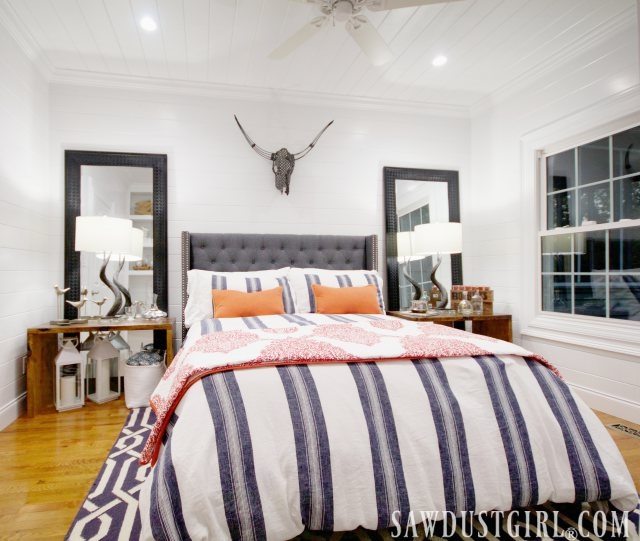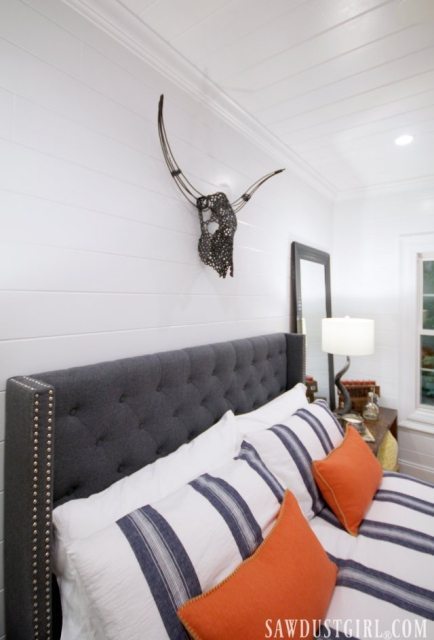 Here are the bedside tables that Julie and I made…we still love them. Especially since they cost me about $20 each to make.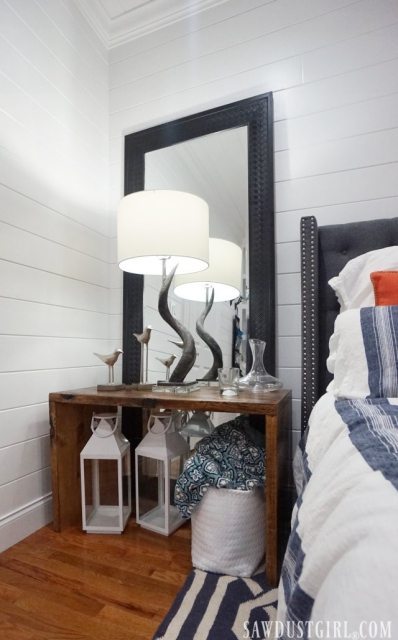 Since I tore out the wall and reconfigured the bathroom, I created a desk niche in this room to mirror the one in Madison's room. I also created a built-in wardrobe in the wall. The back of half of it is the built-in linen closet in the bathroom. Right through that door.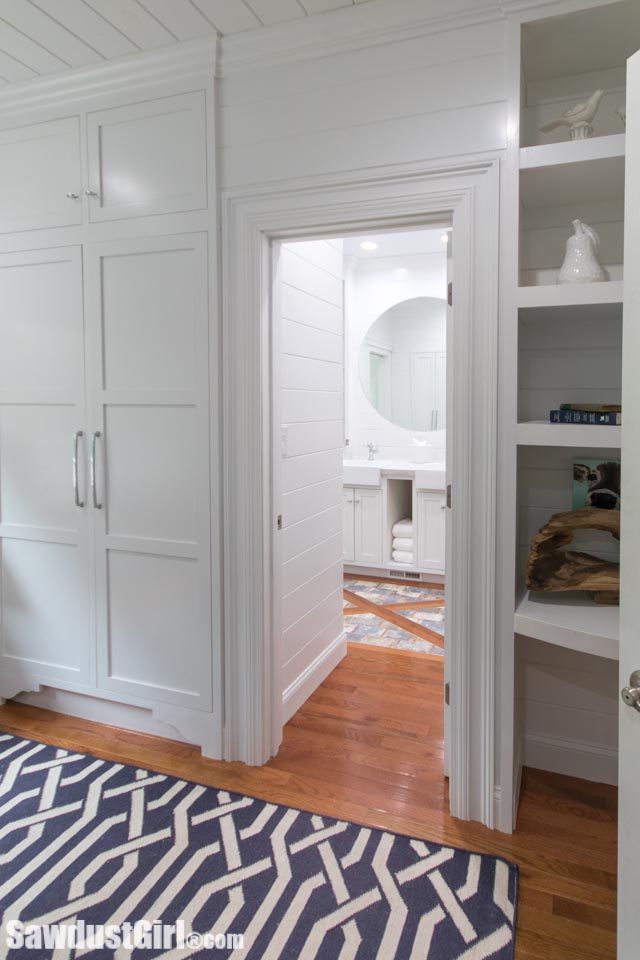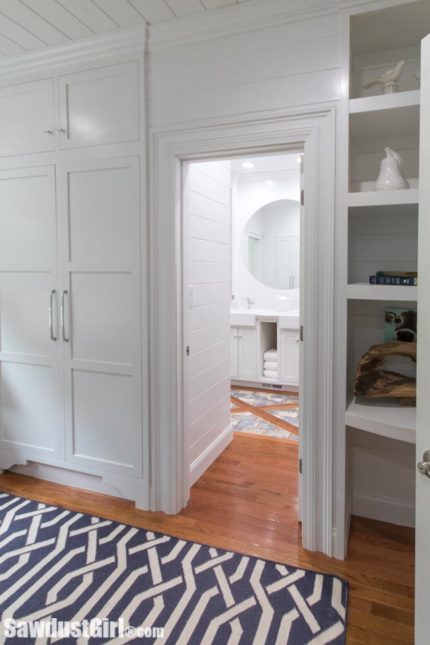 Jack and Jill Bathroom
This bathroom has been done for a while other than the mirror. I had to get one custom cut to fit the space. Julie and Madison got to enjoy it for a little bit before we moved–it's pretty awesome! Not to toot my own horn, but I think this may be the most storage-friendly Jack and Jill bathroom I've ever seen.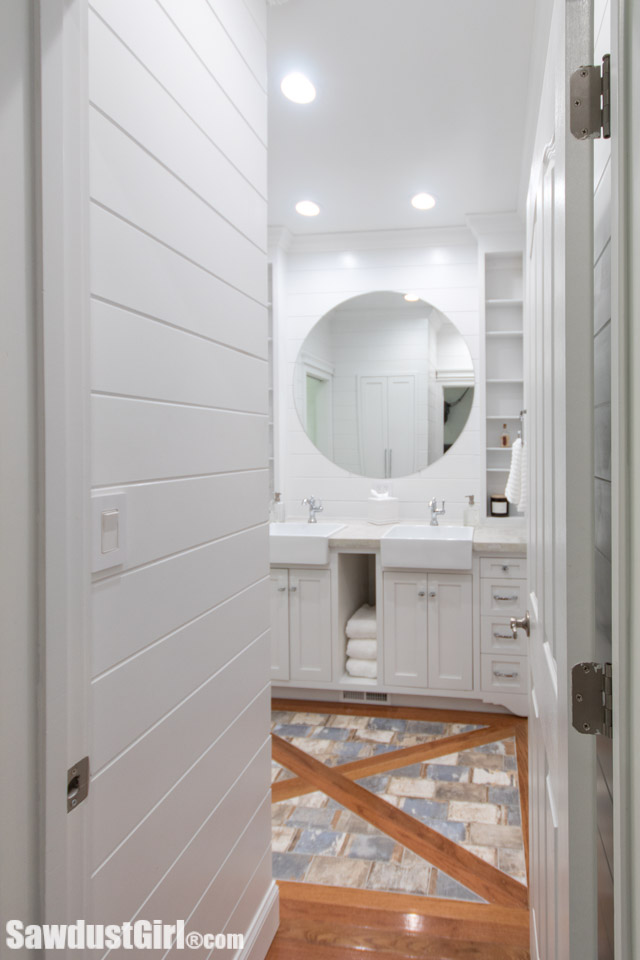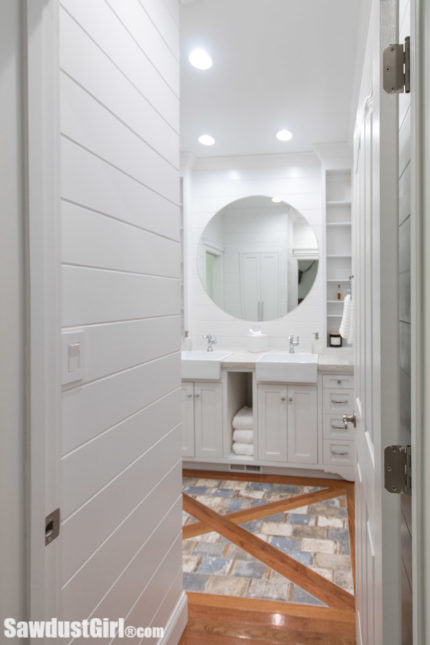 Well, it was perfect except for lacking a mirror. I kept trying to find one before giving up and deciding to make one, but….even though I intended to make a frame, I scrapped that plan once we decided to "finish to sell" –and just hung the mirror.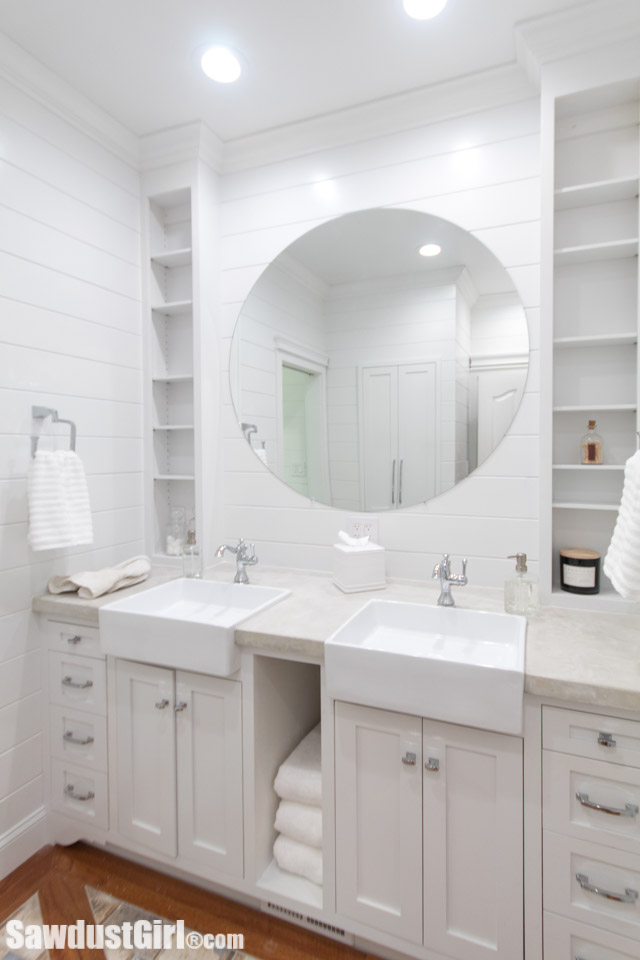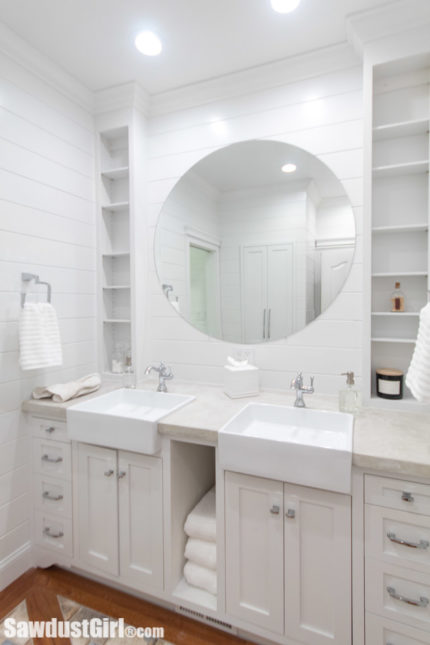 I won't go into all the details of this bathroom, since I've shown you previously. If you haven't seen that series, check out this link.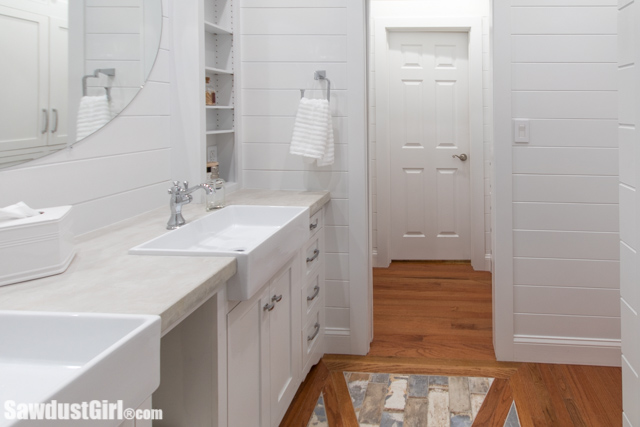 The little hallway going to Madison's room is also her closet. There are built-in wardrobes on both sides.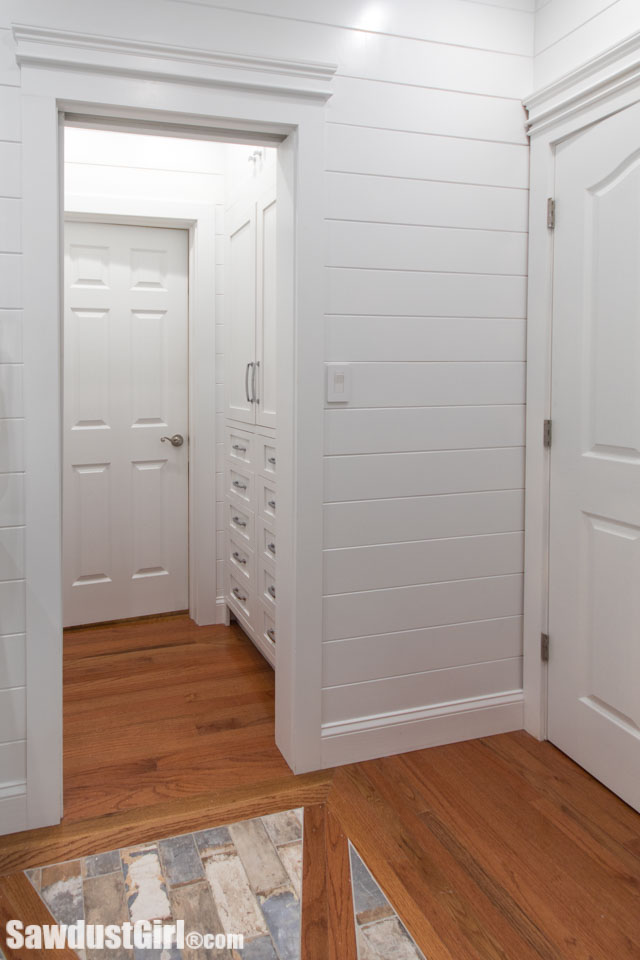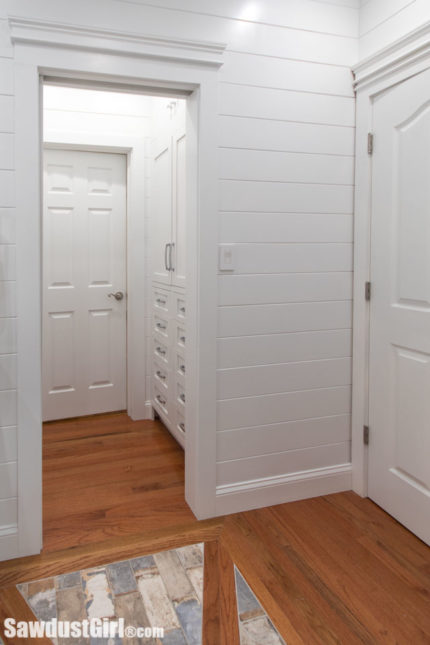 I built the bathroom vanity and Julie arrived to help just in time to build the concrete countertop! It turned out great, don't you think?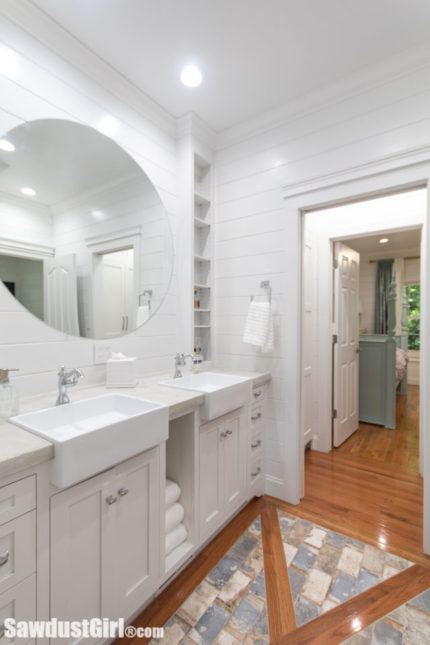 I also played around with tile inlaid into the wood floor. It was a new technique to me, and I'm really happy with the results. It's definitely a unique feature. The shower and toilet are through that next doorway. I had pivot doors installed but the way they functioned took 5″ away from the opening making it a bit too small for comfort. It's fine without a door.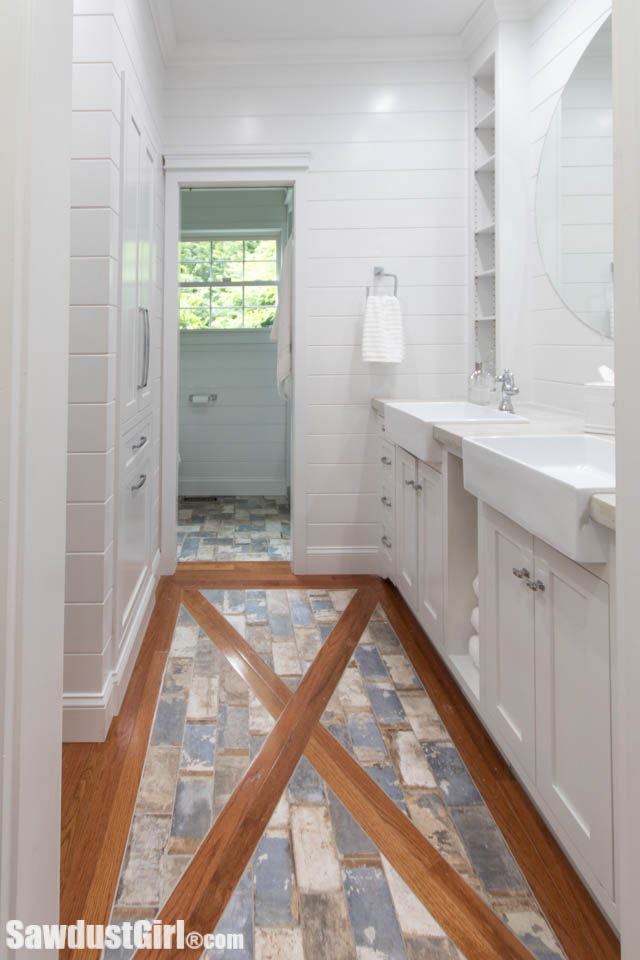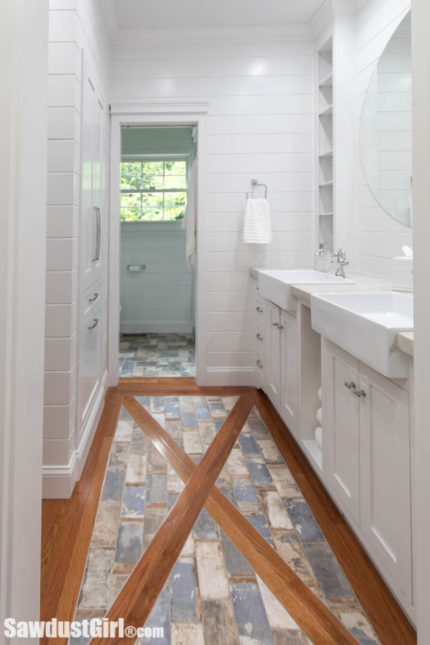 Luckily this whole wing of rooms has been done for quite some time so Madison (and Julie when she lived here) got to enjoy the completed versions of these spaces. Which is more than I can say for Wes and I in the "Master Wing" — but that tour is for another day.