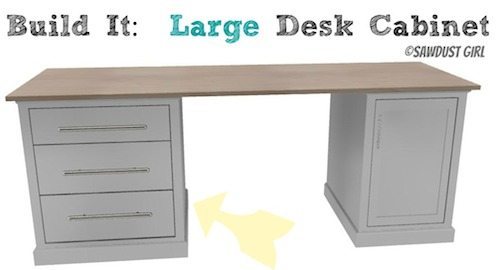 I'm sharing plans for office furniture this week as part of the Madison Avenue Collection.  These plans will be great for office and craft rooms as the base cabinets are 28 3/4″ heigh, perfect for using for a desk configuration.  You can line your wall with base cabinets, spaced perfectly for you.  Leave space between two cabinets to create a work station or simply use two cabinets to create a single desk as shown below.  Use my tutorials for building drawers and make any configuration of drawers you want.    You can make a large bottom filing cabinet drawer and two small drawers, or two filing cabinets.  Use this tutorial for building drawer fronts and this one for attaching drawer fronts.
OR, you can  drill some shelf pin holes and add some adjustable shelves and build a door for the front instead of drawers.
Build a Large Desk Cabinet
Materials:
1×2 poplar (for painted cabinet) other hardwood (for stained cabinet)
3/4″ plywood (cabinet case and top)
1/2″ plywood (back panel)
1 1/4″ pocket screws (for 3/4″ plywood)
1″ pocket screws (for 1/2″ plywood)
jig for drilling pocket holes (like the Kreg Jig)
Step 1: Build Cabinet Case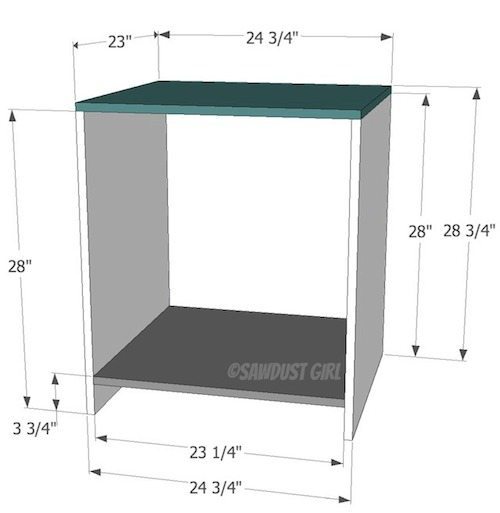 Step 2: Secure Cabinet Back
1/2″ plywood back panel added INSIDE the cabinet box
Secure with 1″ pocket screws — holes can be on back or front (if you plan on the back of the cabinet being visible while in use)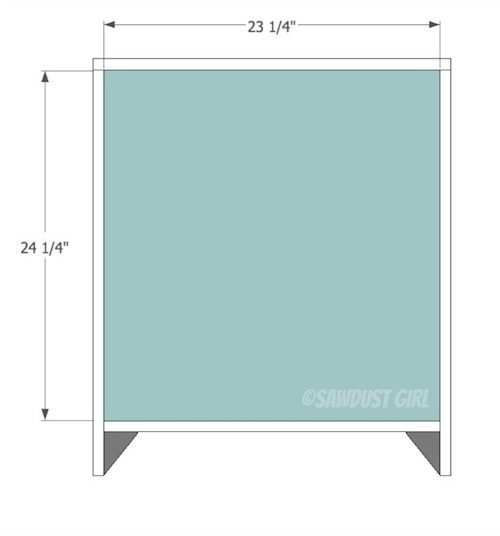 Step 3:  Build and Secure Faceframe
Use 1×2 hardwood for the faceframe
Poplar (not truly a hardwood but good choice for painted furniture)
Hardwood that matches your plywood for stained furniture
Use 1 1/4″ pocket screws to build and attach.
Refer to How to Build and attach a Faceframe tutorial for more details and help with this step if you need it.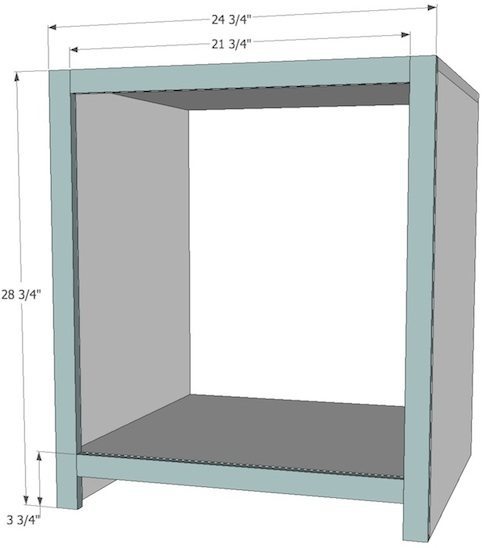 Step 4:  Build Drawers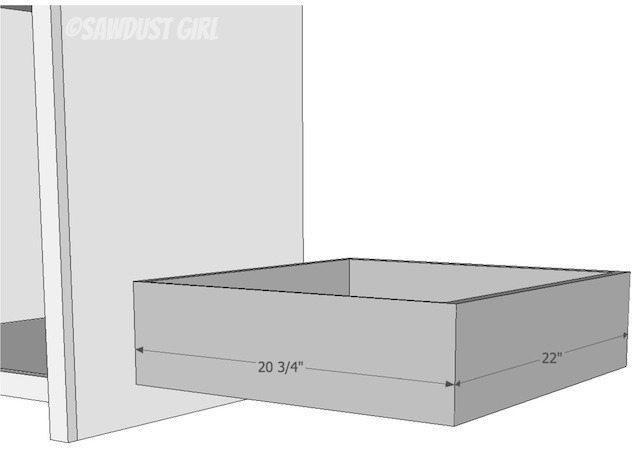 Step 5:  Install Drawers
Install 1/2″ cleats behind face frame where you plan to install drawer glides
Use my How to install Drawers with Glides tutorial for more help
You can install your drawers flush with the front of the face frame if  you plan on adding overlay drawer fronts or behind the face frame for inset drawers.
I like full extension, soft close 22″ drawer slides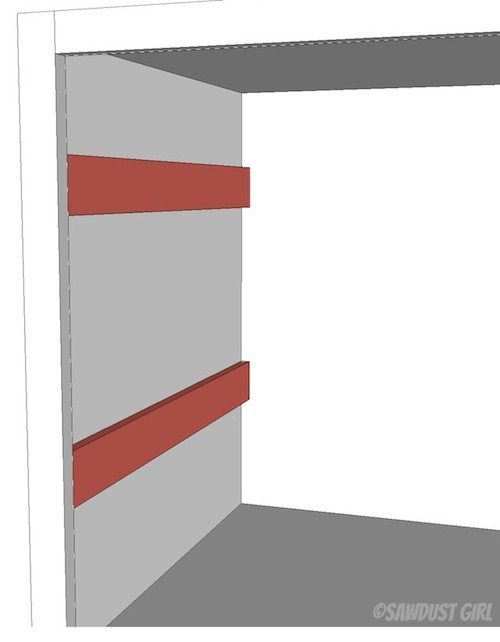 Step 6:  Build and Install Drawer fronts
If doing inset drawers, you'll want to leave yourself about 1/8″ clearance on all sides
If doing overlay, decide how far you want the drawer front to "lay over" your face frame.  1/2″ is common but you can do the full width of your face frame or anything in between.
Refer to my tutorials for more details and help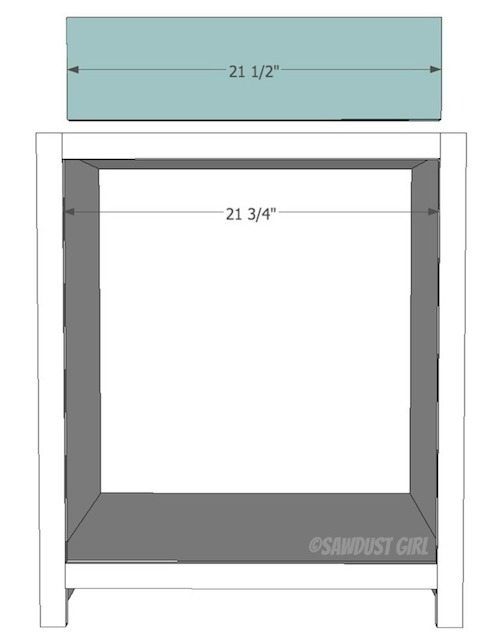 Step 7:  Add trim
Use trim to cover raw plywood edges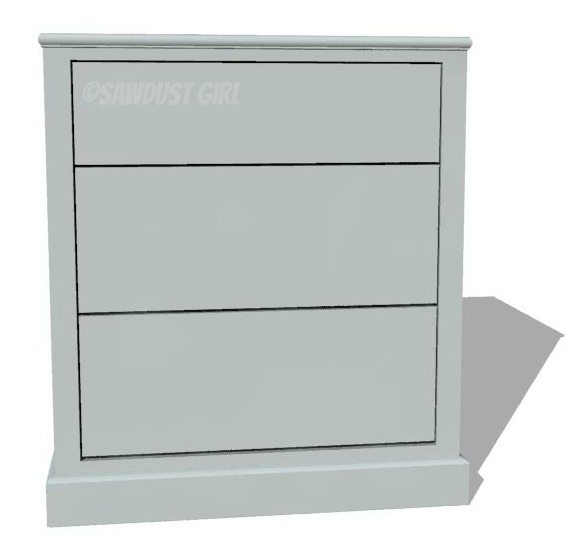 Alternate Step 4:  Build Door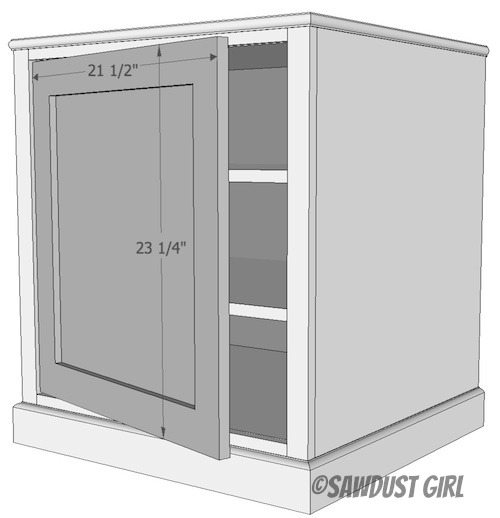 You can configure this one cabinet in many different ways to build office furniture that functions exactly how you need it to for your specific needs.  That's the great thing about building your own.

I used two cabinets this size with two large drawers in My IL House — Craft Room.  I build in a toe kick to mine.  If you want to do that too you can refer to my Cabinet and Built-in Building Basics tutorial.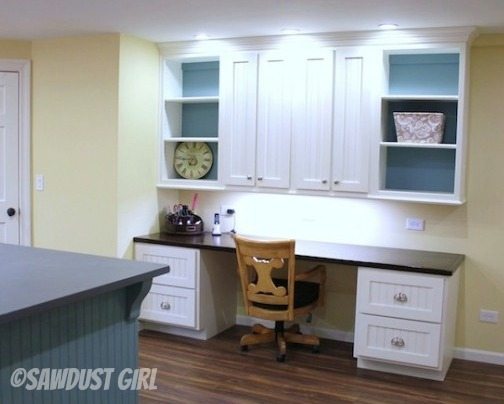 Paint or stain and configure your optimal office or craft room.
This desk shows one large desk cabinet and one Small Desk Cabinet.  Check out the rest of the Madison Avenue Collection.