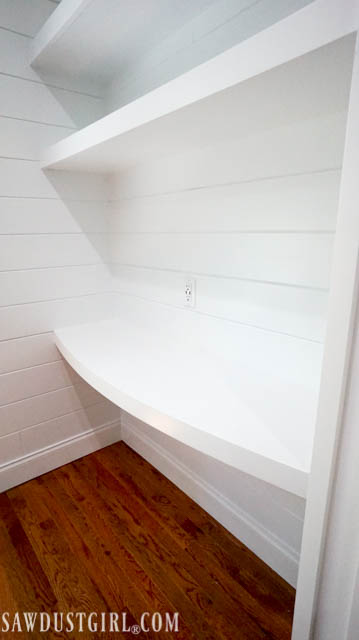 I built a curved floating desk in Madison's bedroom and I LOVE how it turned out!  The niche are was original to the house and we previously filled it with a hutch (that we bought 3 houses ago), because it fit the space.  But I'm a big fan of built-ins so I made that part of the plan for this bedroom re-do.
Building a Curved Floating Desk
I built the floating shelves above this curved floating desk with the same 2×2 skeleton that I've used in many of my other floating shelf tutorials.  For the desk, I added additional ribs to the side pieces.  On the left side, I wasn't able to secure the ribs to a stud at the front of the desk so I used long lag bolts at the back and in the center where there were studs.  These lag bolts hold like 400lbs of weight so I HOPE they'll do the trick.  Best case scenario would be to secure the side ribs to studs at the front and back.  But, my niche is only 12″ deep (15″ deep after I added my column) and that designated the depth of my floating desk skeleton.  The shallowness of the niche is why I decided to do a curved floating desk.  The curved portion would provide extra depth and make for a better working surface.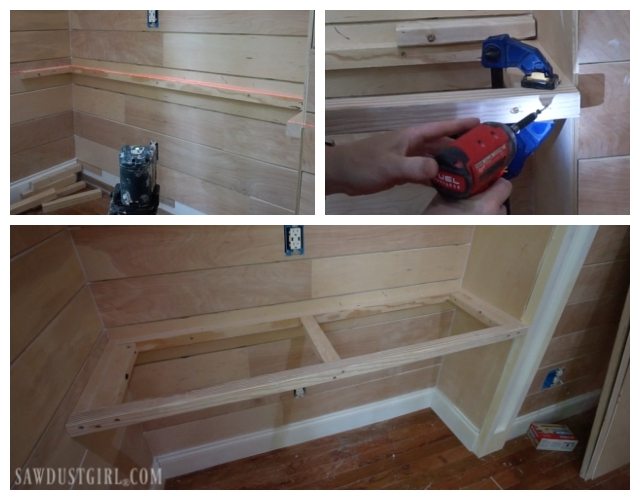 I created the top of my curved floating desk out of 3/4″ MDF.  I cut my desktop to the width of my niche (about 42″) and 22″ deep.  This is deeper than my final desk will be but I don't want to end up with it being too short after I add the curved face so I'm giving myself room for error.
I marked the front center, and 18″ on both sides.  Then I used a scrap piece of 1/4″ plywood to create the curve.  Clamps act as extra hands and hold the plywood on my marks on the sides.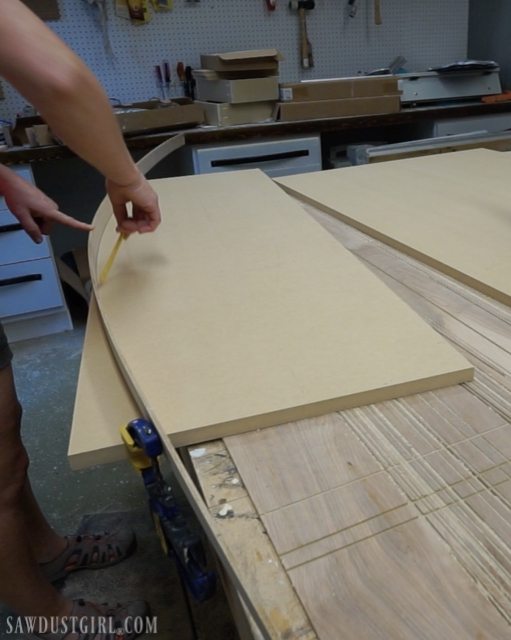 I used a jigsaw to cut out the curve and then cleaned up my rough cut with an orbital sander.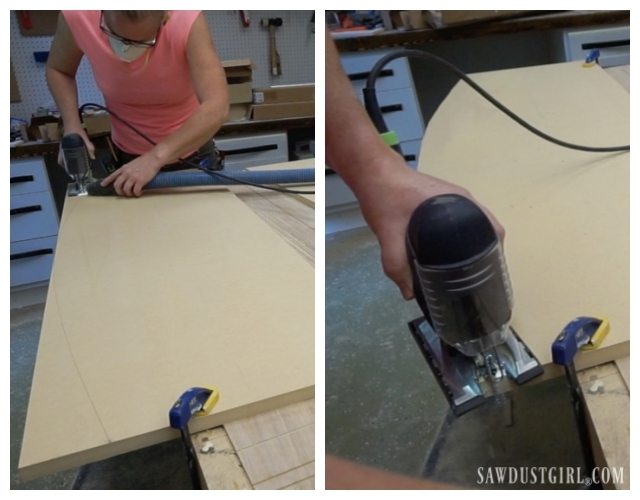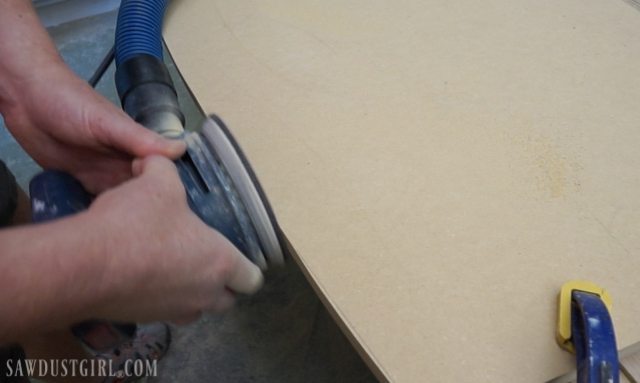 Test fitting this piece in place allowed me to get an idea of what the end product was going to look like and determine what I wanted for the final depth.  I decided I wanted the curved floating desk to terminate into the column.  I'd wait until the very last step to trim the desk down to the final depth.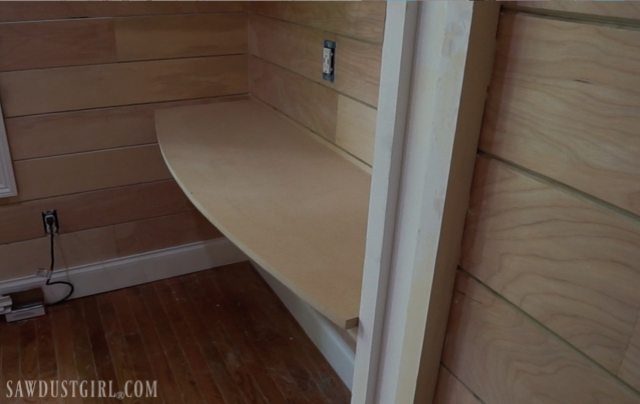 Back in the shop, I used my tablesaw to rip a couple 1×3 into strips of wood that were 3/8″ thick.  I'm using pine and poplar (because I didn't have enough to use just poplar) and will use three strips to create my curved face.  The final layer will be poplar, which is harder than pine so it will stand up a bit better to bumps and dings.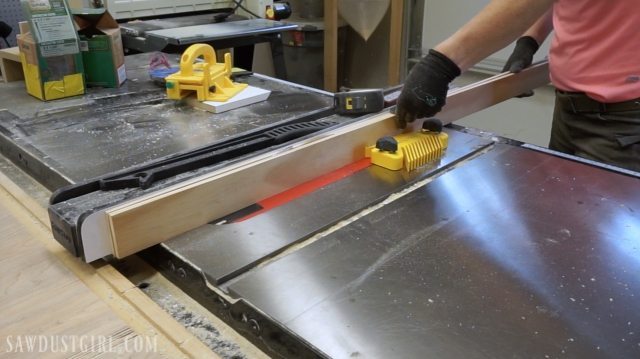 The curve on this desktop is not severe so it didn't take much effort to bend the 3/8″ thick wood to match the curve on the desk.  I coated the front of the MDF with wood glue then use a couple clamps to pull the wood down to form the curve.  Because you won't see the nail holes, on the first two layers I used 18 ga nails
to help secure the wood strips in place.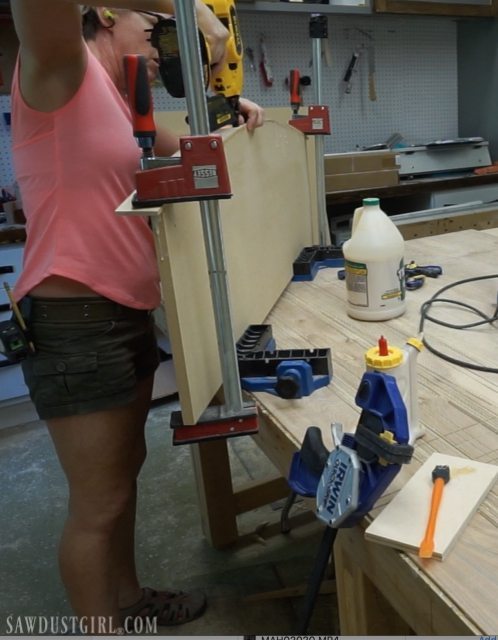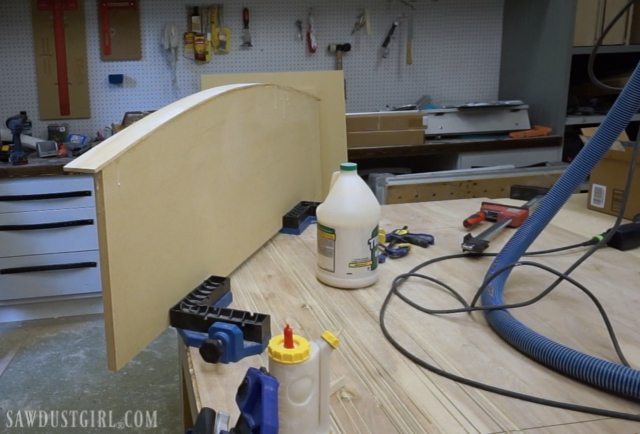 On the second layer I had a larger area to glue up but only shot nails into the top 3/4″ where they'd hit the MDF.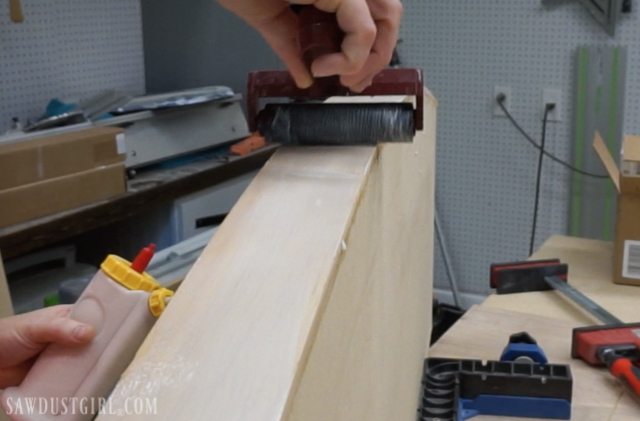 On oddly shaped glue-ups, it's sometimes difficult to get clamps to stay in place.  I made little triangle thingamajigs to remedy that situation.  They're just made of a little strip of wood with a wood triangle glued onto the end.  Works like a charm.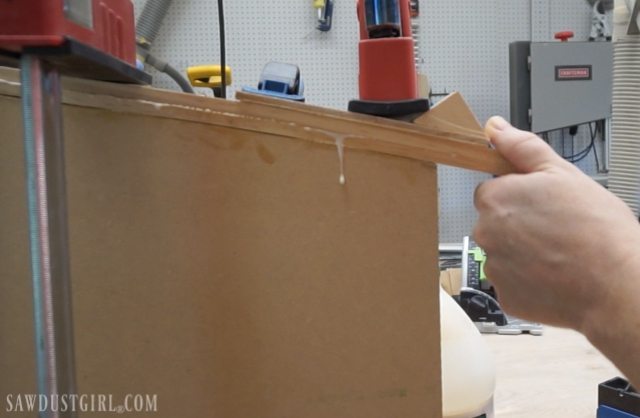 After adding the second layer of the outside "face", I glued a couple strips of thin wood on the inside of the curve.   My purpose for adding these is to provide a lip to hold a bottom piece that will hide the ribs that support the curved floating desk. So those pieces are about 1/2″ shorter than the face pieces.
Not everyone would care to cover that up, it's just something I want to do.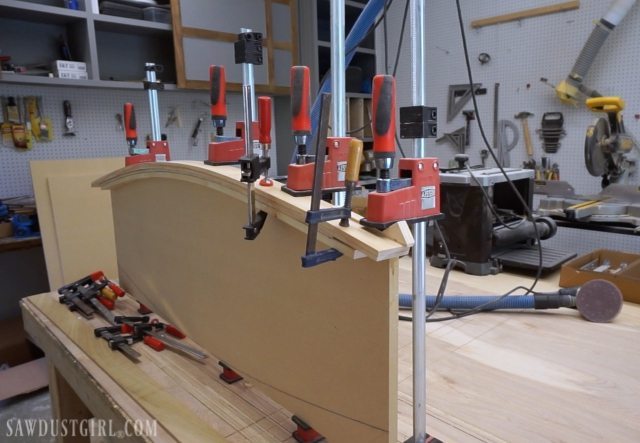 Next I added the third and final, poplar layer.  I used glued and clamps only on this layer because I want as holes to fill and hide as possible.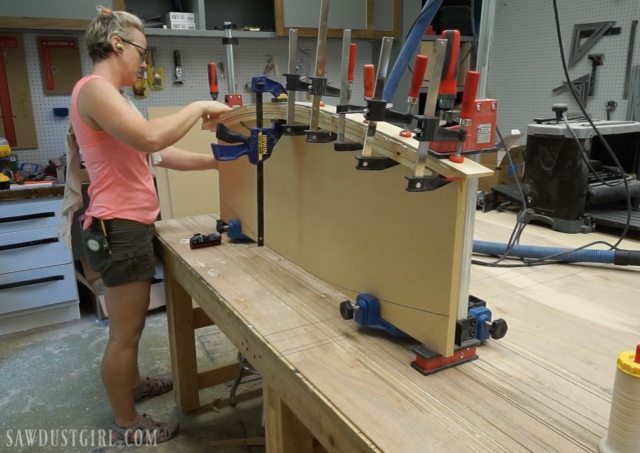 Finishing
After the glue dried, I used a scraper to remove as much of the dry glue as possible.  Glue tends to gum up sandpaper very quickly.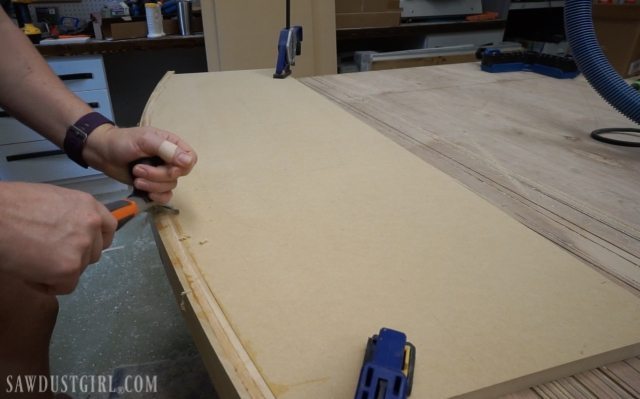 I generally sand with 120 or 180 (or both) before filling holes and cracks.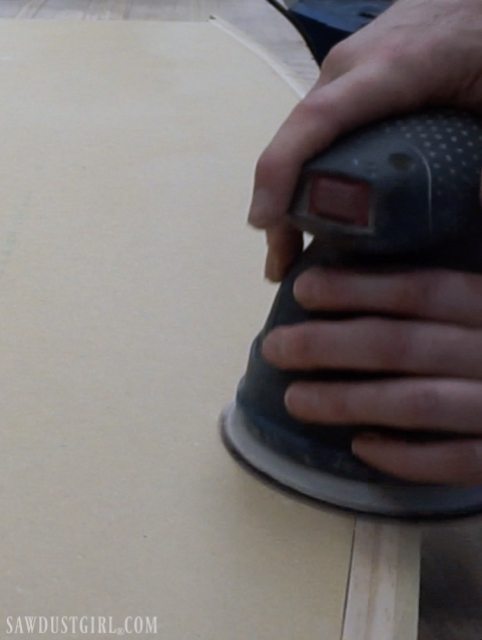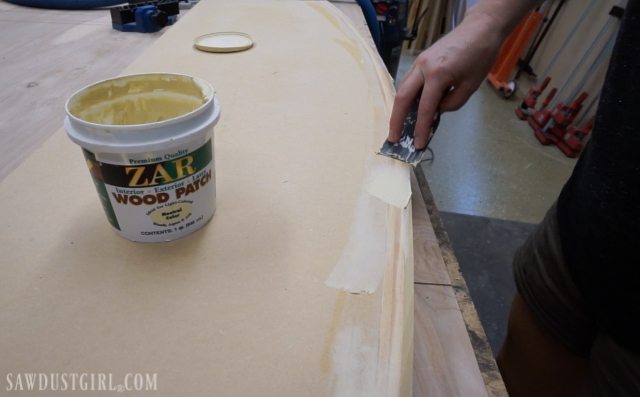 After filling holes and cracks with wood filler, I'll sand with 220 and finish off by softening the edges and corners.  Especially on a desk or countertop, I like to make sure the top, front edge is nice and soft because that's where arms will rest.  Usually arms don't like resting on sharp edges.  That's been my experience anyway.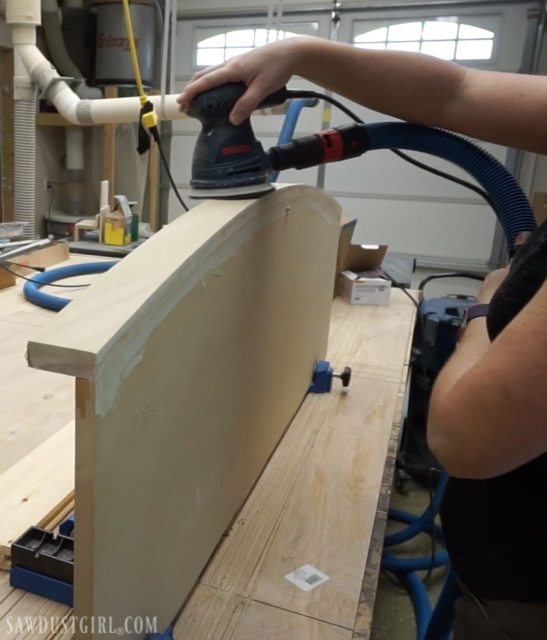 Another dry fit to measure for final depth.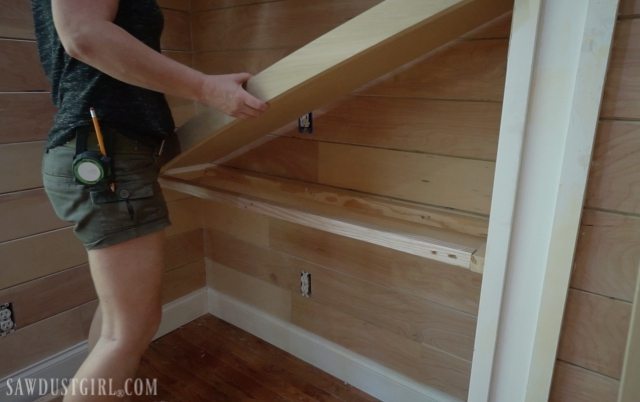 A track saw
is a super useful tool for this kind of task.  In case you haven't yet been convinced of your need of a track saw!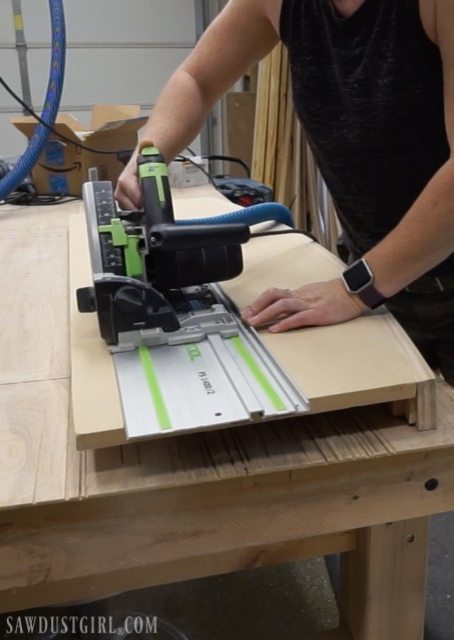 I used construction adhesive to glue my floating curved desk to the support ribs.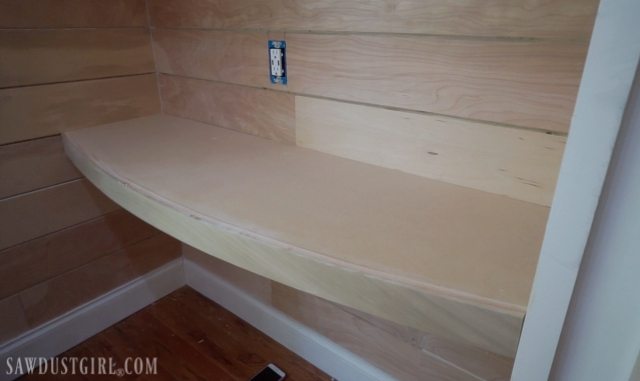 I didn't want to go find weights to put on top to hold it down while I drove screws up through the ribs into the shelf. Because I didn't have any weight on top, the screws just pushed the desk up instead of sinking in.  So I drove screws down through the top of the shelf into the ribs.  It was a lazy moment.  After refusing to blemish the front of the poplar face, I created about 5 big holes right in the top of my desk.  BUT, I'm painting it so it doesn't matter.  Wood patch is a wonderful thing and you would never know there were holes there if I hadn't just told you that.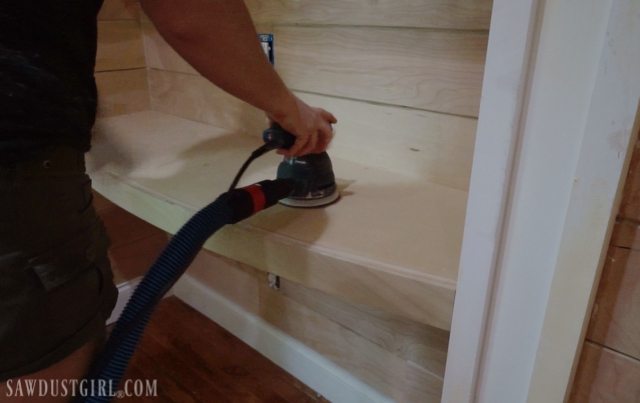 Sometimes I take shortcuts when I know it won't make any difference in the final product.  It's always about weighing your options and making decisions.  Then moving forward.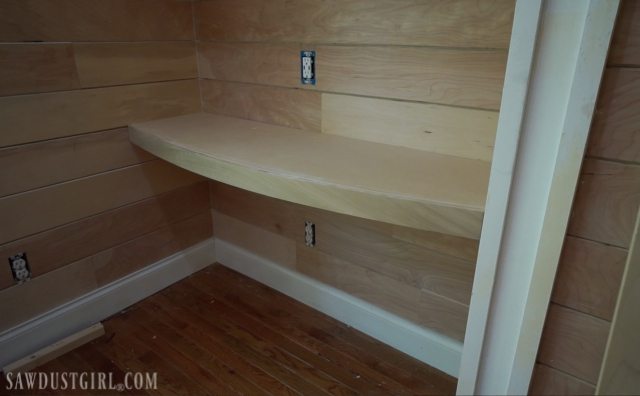 This is the final result of my curved floating desk.  Can you see those screw holes?