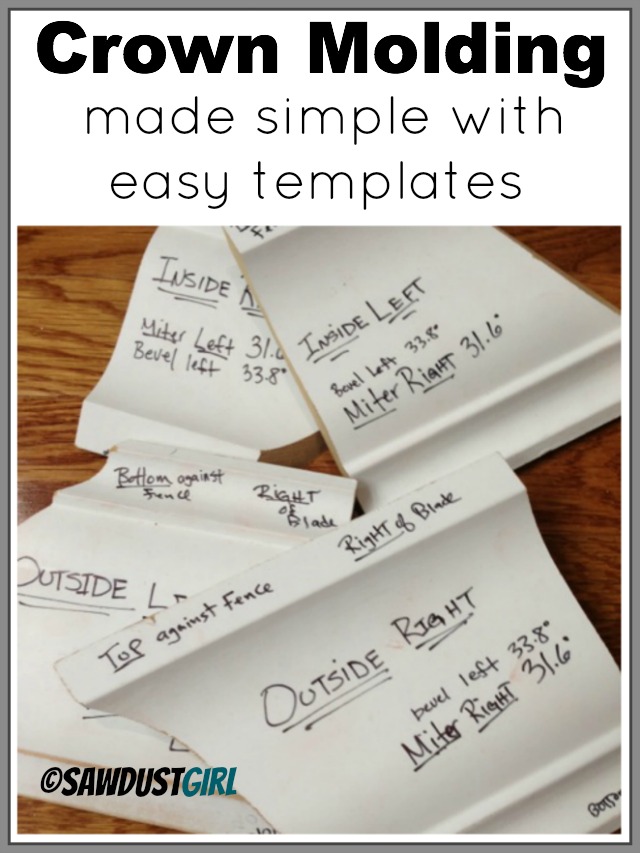 Cutting crown molding can be frustrating and confusing. Inside and outside corners are cut with different settings. Usually the right side of the cut is the left side of the corner. Sometimes you need to flip the crown upside down to cut. Using templates gives you a visual reference for which piece you need to cut and how to cut it. So I'm going to show you how to cut crown molding templates to take the confusion out of cutting crown molding.
Common spring angles
There are several different common crown molding spring angles. Most home improvement stores carry mostly 38 angle molding. So that's what my template examples are for.
If you're cutting templates for crown molding with 45 degree spring angles, substitute these angles on your miter saw.
set miter angle to 35.3

set bevel angle to 30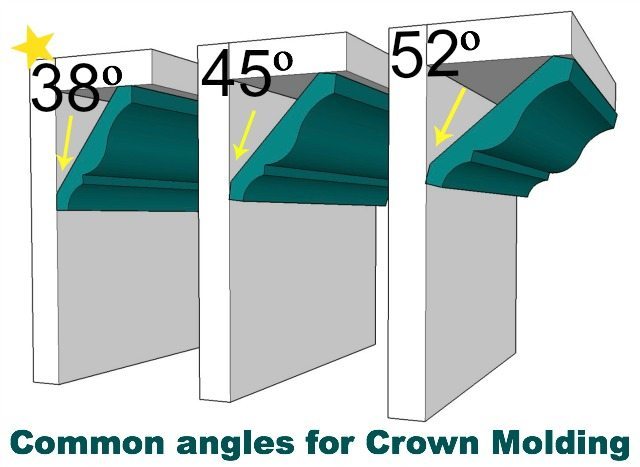 Setting up your miter saw to cut templates for 38• spring angles
This method of cutting crown molding can be done with any miter saw.
*These two things are constant:
Set your miter saw to bevel (tilt) left at 33.9 degrees.  (Your saw might say 33.8 — the .1 degree is not enough of a difference to matter.)
Your crown molding always lays flat on the saw.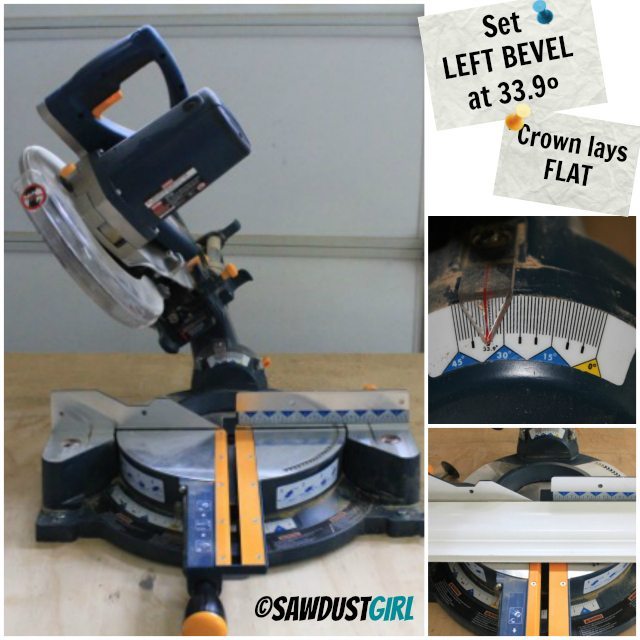 *These two things will change depending on the cut you are making.
Miter will change between right and left (but at the same setting of 31.6 degrees).
Sometimes the bottom of the molding will rest against the fence. Sometimes it will be the top. (The bottom of the molding has the decorative profile.)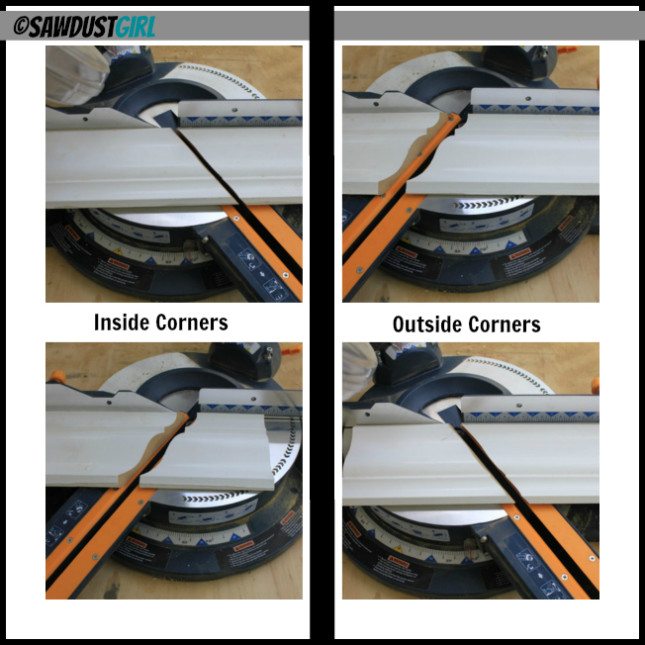 Inside Corners vs Outside Corners
It is easy to get confused about what you need to cut:
Inside left
inside right
outside right
outside left
You can think about it logically: Inside corners are 90 degrees. Outside corners are 270. Inside corners turn IN on each other. Outside corners turn OUT away from each other. That information is about as useful as word salad to a visual person like me without visual aids.
A set of crown molding templates give you a visual guide which you can cary around and use to figure out every single corner you have to cut!  You hold your templates up in the corner you're working in, and figure out if you're an doing inside or outside corner.  Easy peasy!
I've been doing this for a good long while and I still get confused EVERY TIME.  My brain is very visual.  It doesn't translate, "left outside corner"  into any kind of usable information.  I HAVE to look at my visual guide – EVERY SINGLE TIME. I tell you this so no one out there feels inadequate or not smart because they find this confusing.  I do too!  BUT, you CAN do it…just make the templates and give it a try.
Cut Crown Molding Templates
I've included a close up of each crown molding template. Use the crown molding you plan on installing in your home to create your templates because they not only make determining your cuts easier, they also come in handy when you are installing your crown.
Remember that your saw is set to bevel left at 33.9 degrees and the molding lays flat — for all these cuts.
*The "bevel" is the vertical tilt.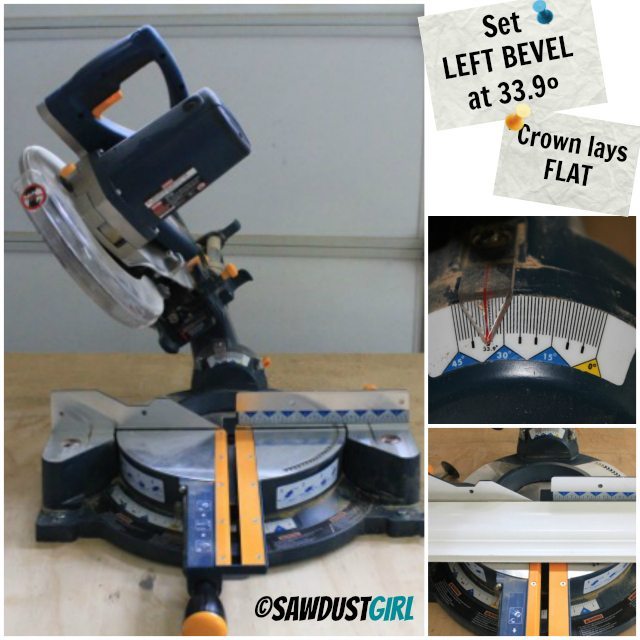 Cut each template about 12″ long according to the instructions below each picture and then write the instructions directly onto each template. In SHARPIE!
Outside Right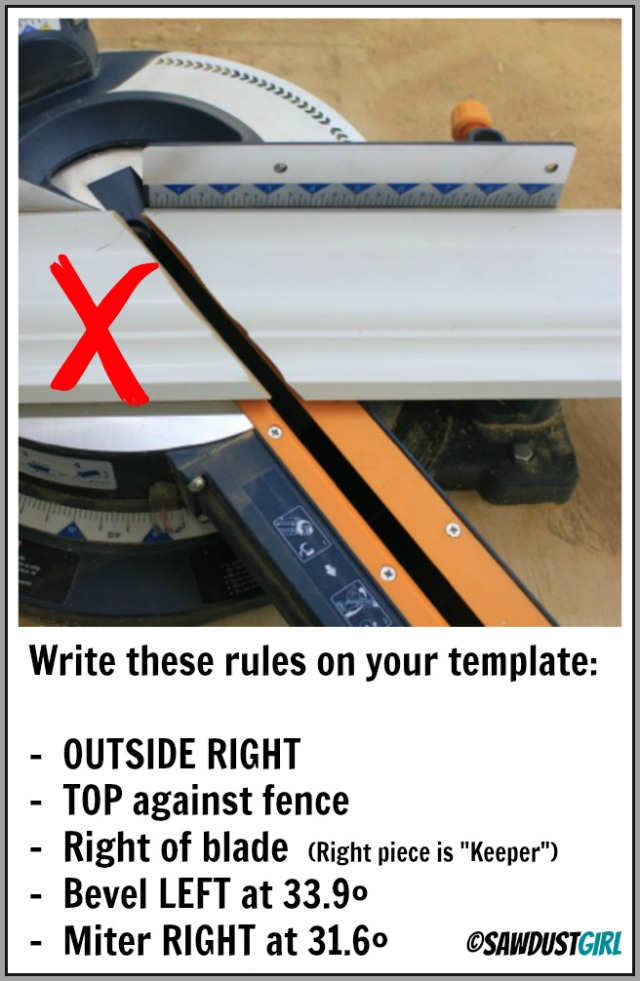 Outside Left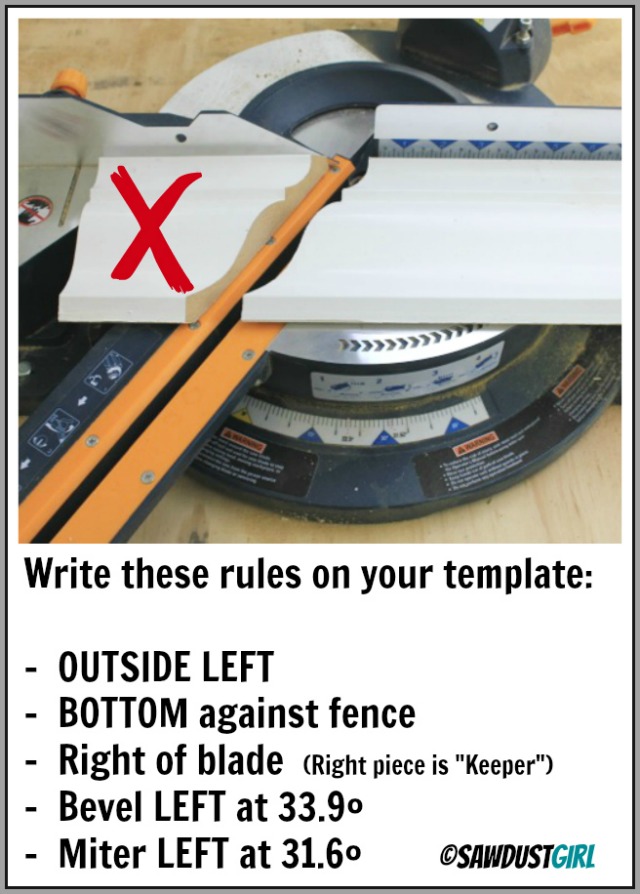 Inside Right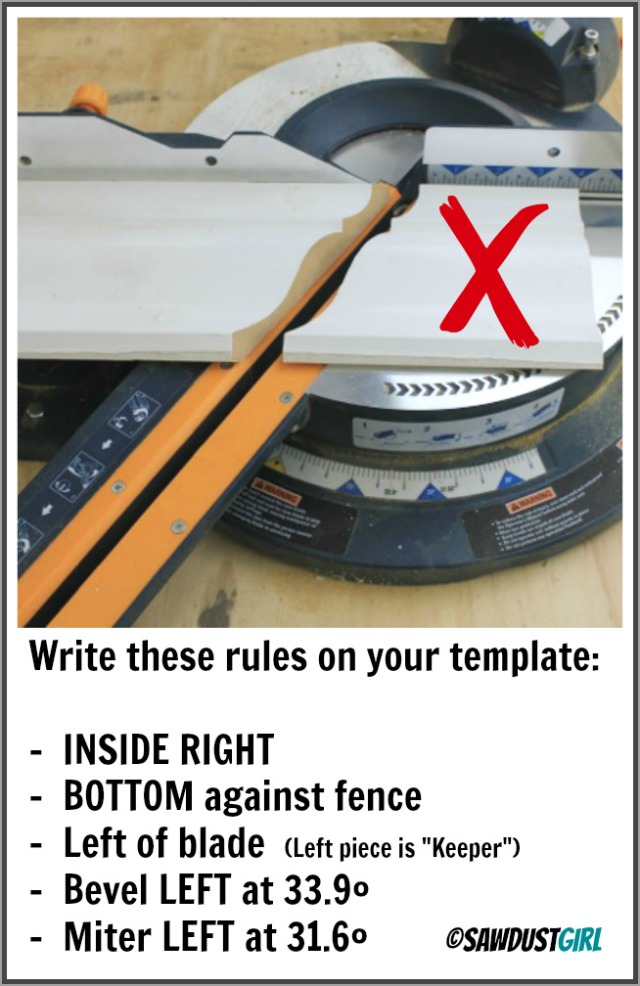 Inside Left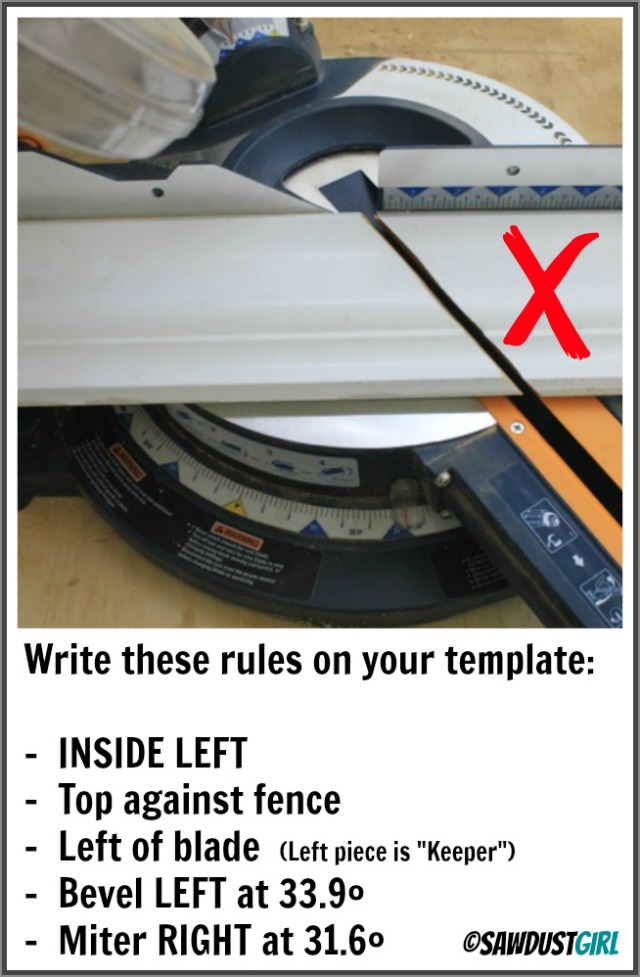 Now you should have four of your very own crown molding templates that are going to make your job so much easier!

In all seriousness, learning how to cut crown molding is still tricky because you are usually working with very LONG pieces, climbing ladders, climbing ladders with very long pieces, working with another person who may not like climbing ladders…or worse yet, trying to install crown ALL BY YOURSELF which I think is plumb crazy–but it is doable.
So no, these instructions won't suddenly make you a professional crown molding installer. But, crown molding templates that make installation easier should at least clear up any confusion about what cut needs to be made where!
*Also, if you corners are out of square, you'll either have to make micro adjustments to your saw settings to get a perfect corner joint. OR, you can use a little trick of mine to fix gaps in crown molding with spackle!
You might also like: How to Cut and Install Crown Moulding like a Pro, and Crown Moulding Stop and Cutting Guide, and How to Install Crown Molding on Cabinets
And these handy crown molding hangers make installing tons easier!