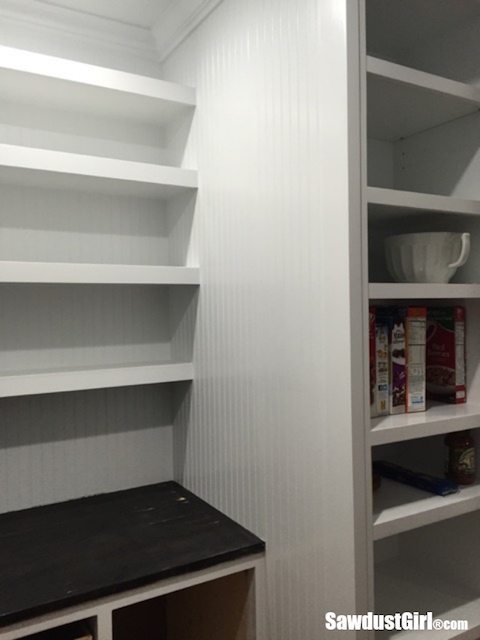 In case you need to know, I'm going to show you how to hide seams in beadboard.  Preferably you won't have seems but if you do, I got ya covered.
How to hide seams in Beadboard
First, let's revisit the opportunity.  Bare side of cabinet that needs to be covered so the whole wall looks like a continuous beadboard-ed wall.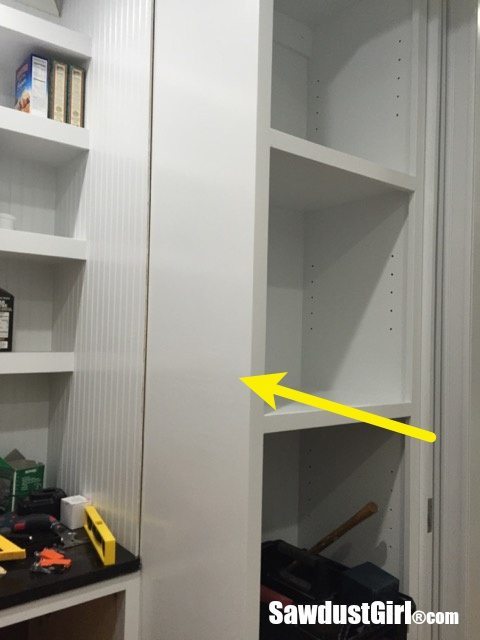 Whole bunch of beadboard pieces…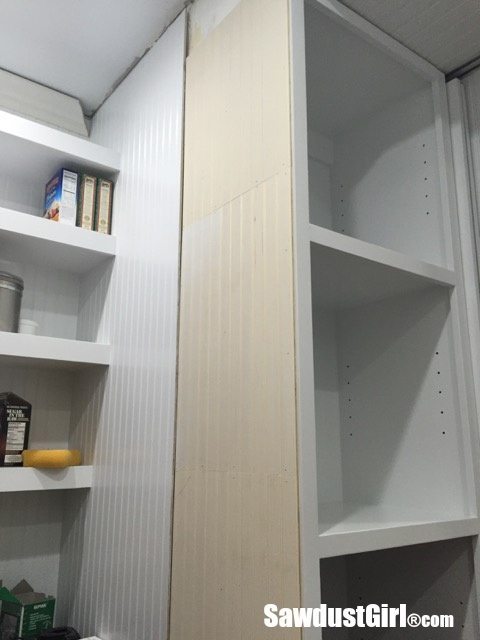 Boom!  No seams.  Like magic…only requiring a whole bunch of work instead of a nose twitch.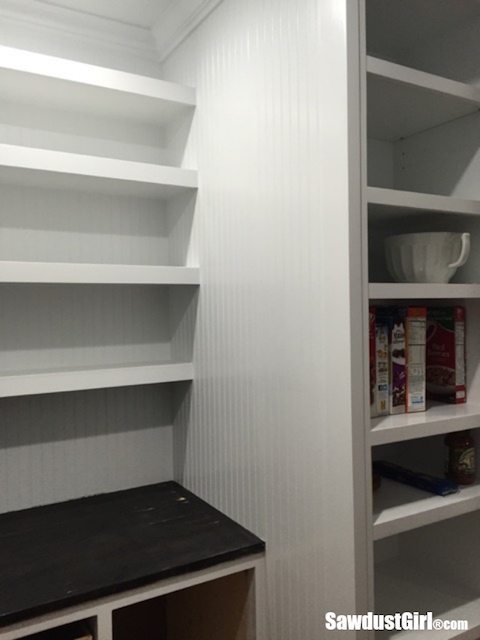 OK.  So here's the trick…
The most important thing is to cut all your "patches" so that when you apply them the beads line up PERFECTLY.
And then apply them correctly.  Don't get in a hurry and turn one upside down.  Duh.  Who would get in a hurry and do something like that?  Ha.  I didn't — but that's totally something I would/could do.  So if it happens, pull it off, flip it around and move on.
BTW, I'm a big fan of using caulk as adhesive for applying beadboard to walls or cabinet sides.  I suggest using caulk and nails so the ends to stay put.  No movement allowed or cracking will eventually occur and then more patching and sanding will have to be done.  Ugh.
Then it's time to putty like it's 1999.  Apply it generously making sure to smoosh it into the cracks.
If you're wondering what I used, I used my favorite wood putty — 'cause it's my favorite!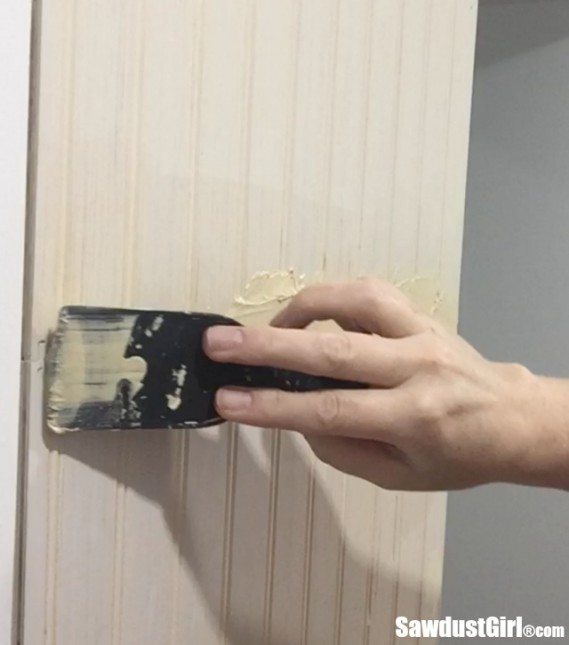 Smear quite a lot of putty over the seam.
Then take a larger putty knife and feather it out.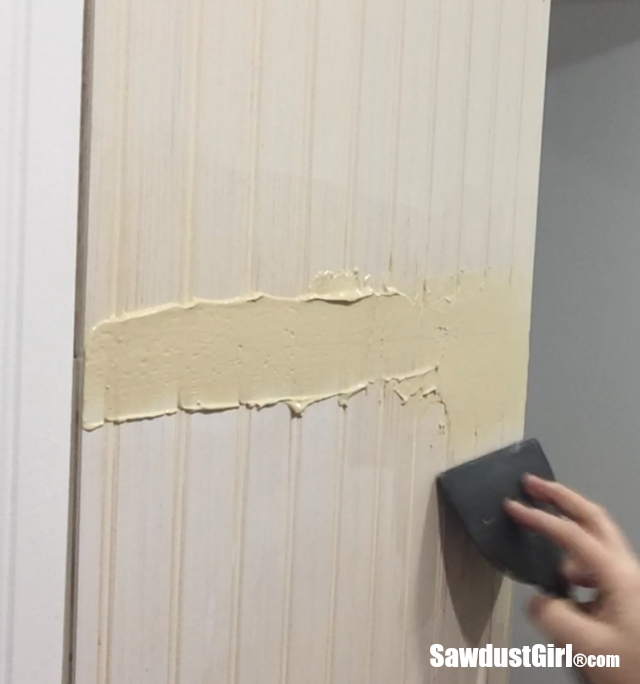 Use the corner of a putty knife or the edge of a scrap of wood to scrap the putty out of the beads.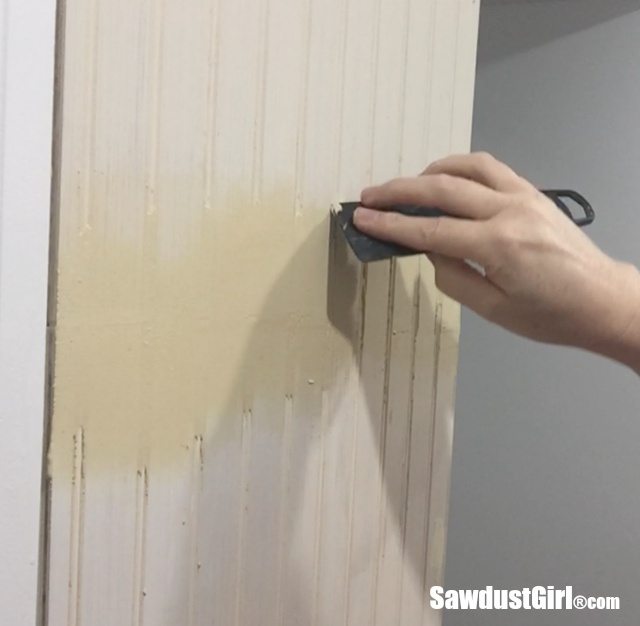 Once the putty dries, sand the flat portion with a sanding block or an orbital sander.  The V groove and bead have to be done by hand.  FUN!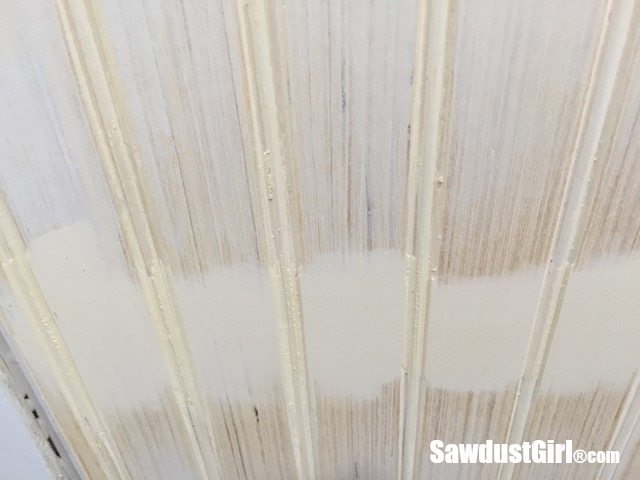 To to that, fold a piece of sandpaper (120 first and then 220) over the putty knife.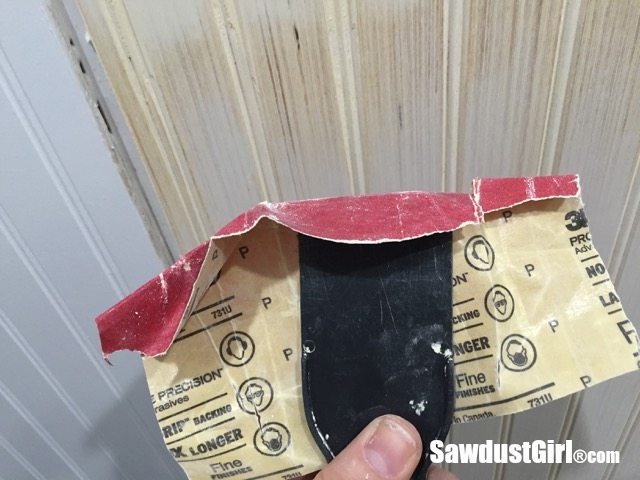 Then sand each and every bead and groove with a gentle up and down motion.  Don't push too hard or the putty knife will wear out the sandpaper too quickly.  Be patient.  Put on some good music and get into a groove.  You might enjoy yourself.  Who knows?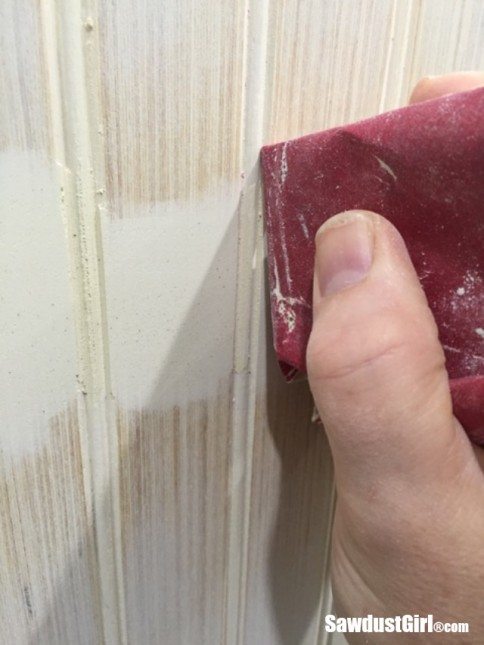 Once the whole patch is sanded smooth, look at it with a squinty eye and decide if it looks really good or needs another coat.  If it needs another coat, go back to step "putty like it's 1999" and repeat.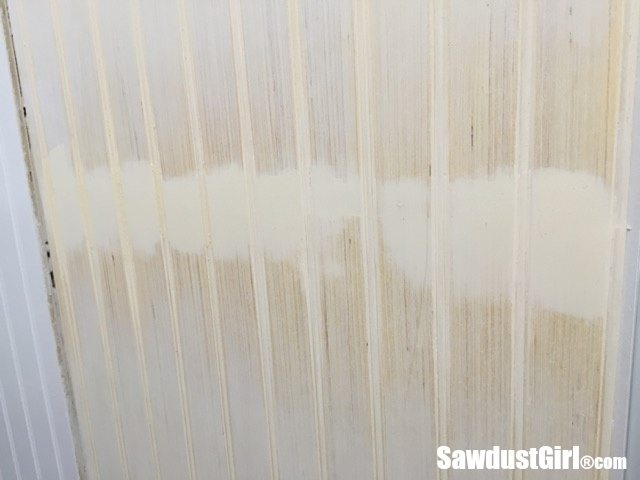 If it looks great, prime it.  The primer will accentuate any imperfections and you'll most likely decide to go back to step "putty like it's 199" and repeat.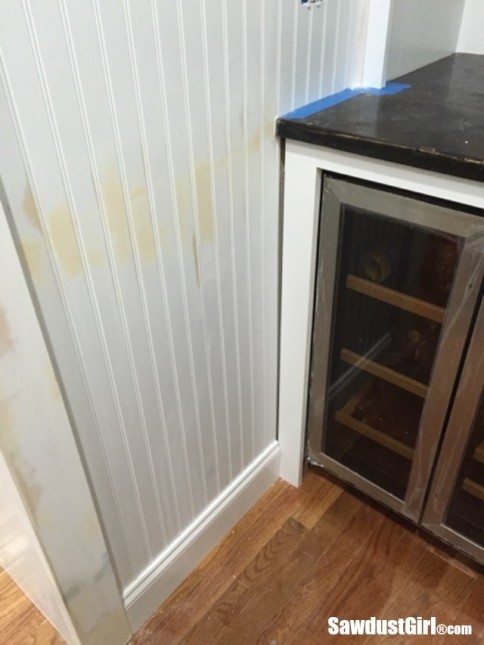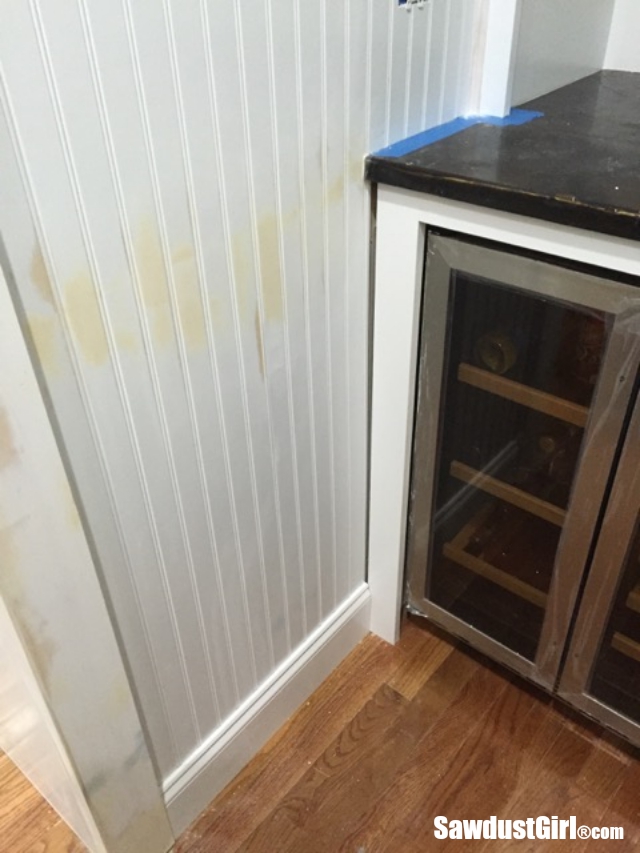 This time if you decide it looks great, go ahead and paint it!  You might really really think the seams are invisible at this point or you might decide the paint made it seem like you didn't do a single thing to hide the seam.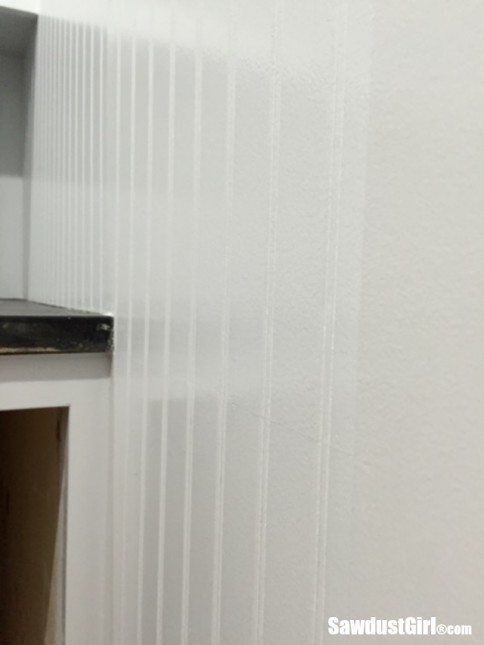 But don't panic!  I found that at this point if you take a one sided razor blade (or a cabinet scraper if you have a small one) and scrape, you can smoosh the paint flat and the seam pretty much disappears again.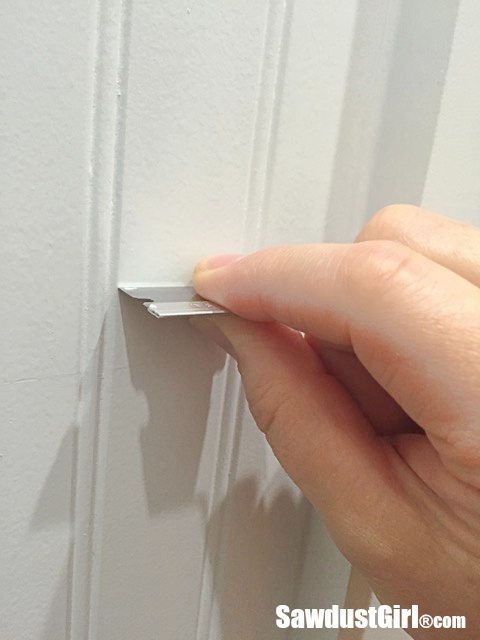 Even when you look from all different angles.  Like magic!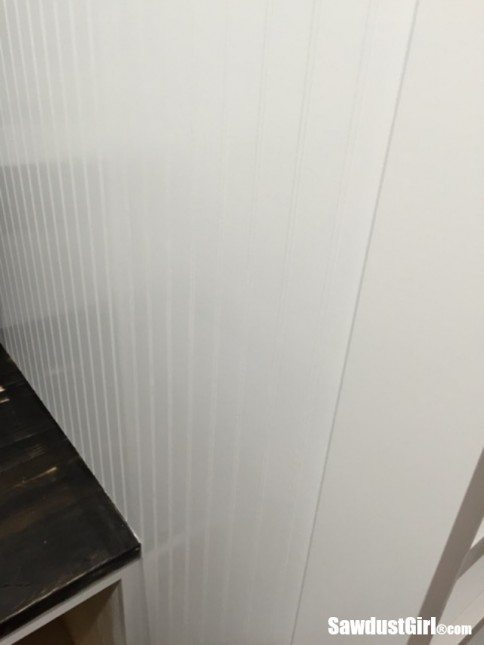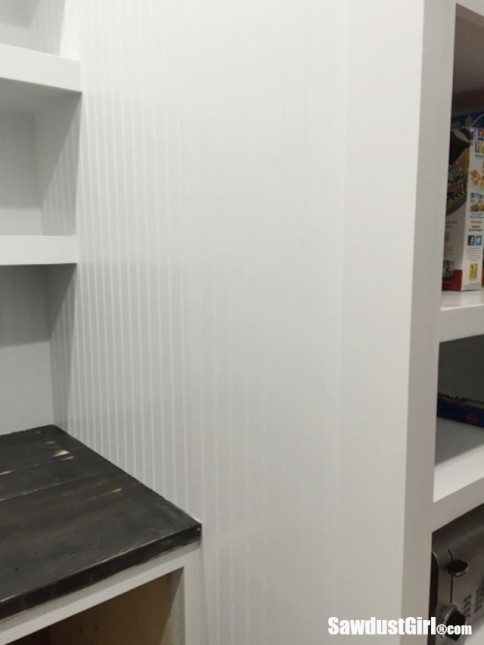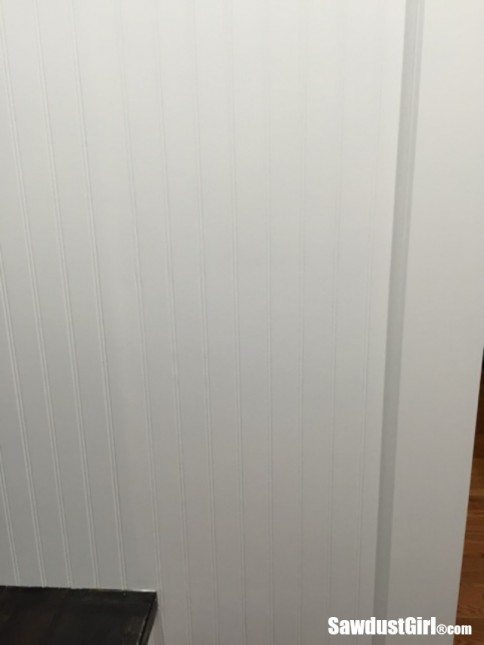 The only real visible seam in my pantry is the "bump" where the wall transitions to the cabinet.  The wall was not plumb, the cabinet was — so the two surfaces are flush at the bottom but the wall becomes "proud" to the cabinet at the top.  In this situation, "as good as it is" is "as good as it gets".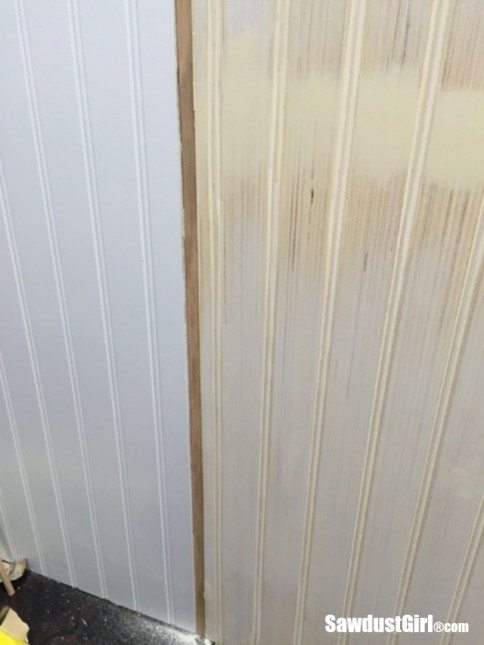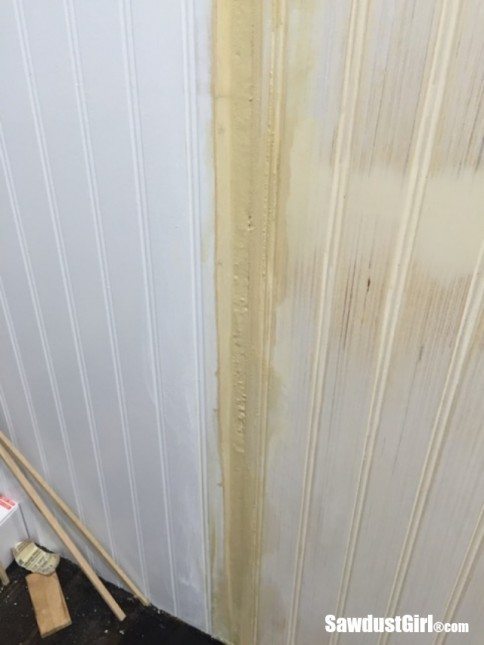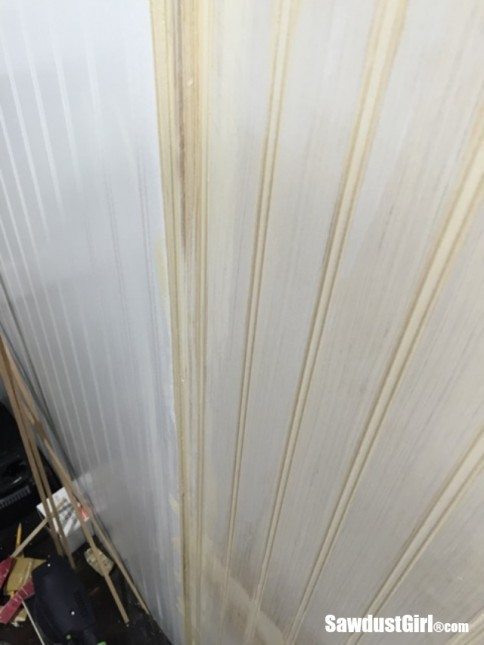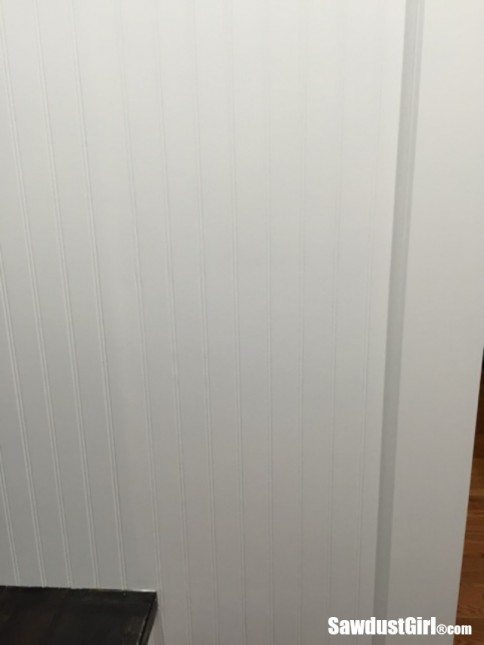 The vertical seam isn't perfect but the horizontal seams are darn near and I'm happy with that.  But it was a freaking lot of work!
SO, it is possible to hide seams in beadboard but I would really recommend avoiding it.  Unless you really really have to!