Madison and I started building this built-in bookshelf dog crate about four weeks ago.  I thought it would take a week.   But hey, building a masterpiece takes time!  I spent the last two weeks trimming out the doorways on either side of the built-in which I totally had to finish before I could post any REVEAL pictures.  Unfinished areas so close to a beautiful finished project just ruins the effect so, of course I had to!  🙂  Plus, I can cross more off my list than just the built-in now, which is GREAT!
We want to extend a big thank you to our project sponsor, Duluth Trading Co. who supplied Madison and I with work wear for our project. Duluth encourages women of all ages to have the courage to take on a DIY project!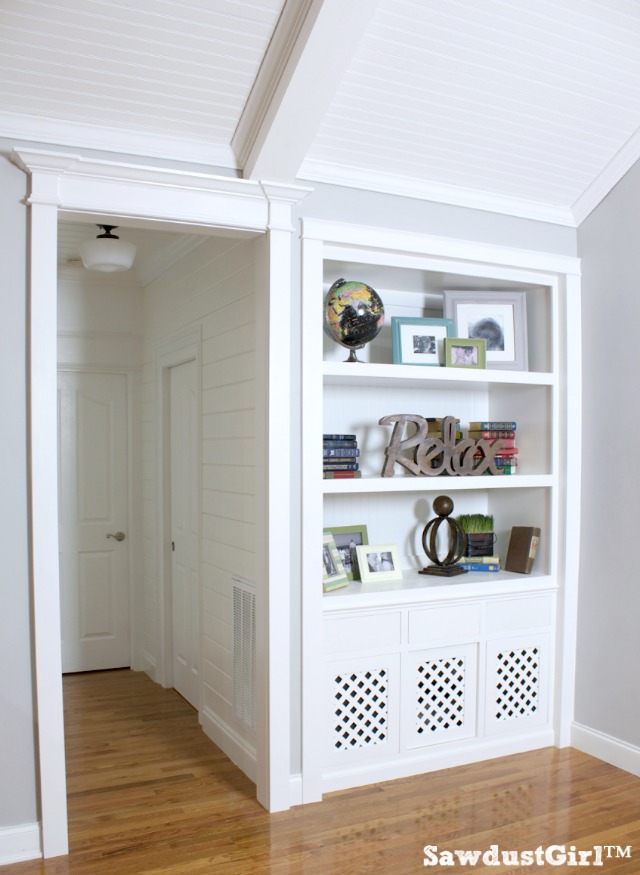 Built-in Bookshelf Dog Crate
In my first project update post I gave you a hint about why I built these doors.  Most of you guessed it was for the dogs and you were correct.  It's a Built-in Bookshelf Dog Crate!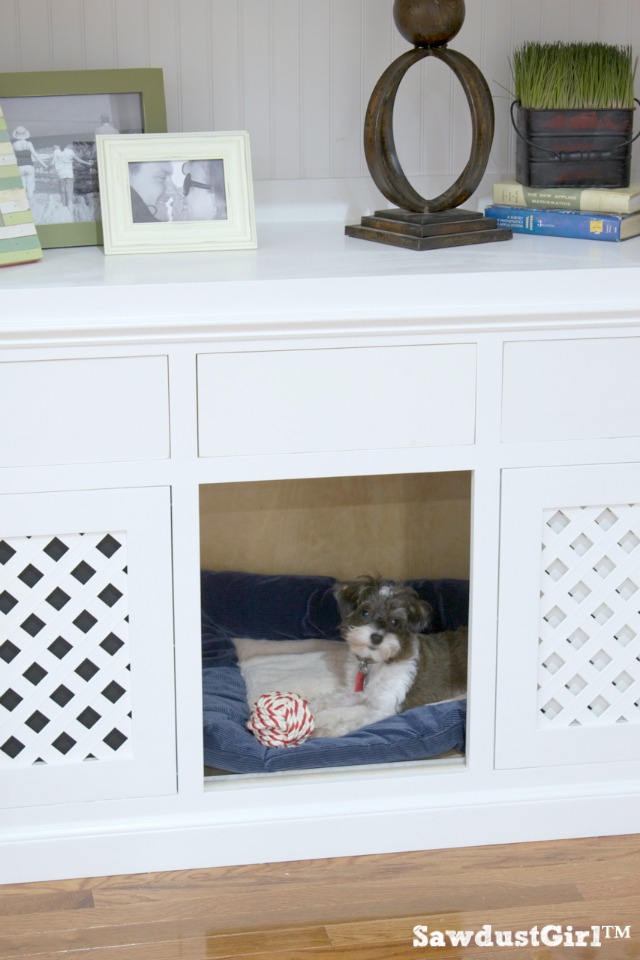 The bookshelves are much deeper than normal bookshelves.  I had a nook to fill after I tore out the bathtub.  I had several ideas. A built-in desk and homework station or a locker style coat closet would be nice. I went with a dog crate and bookshelf because that's what we needed.  We put an outlet on the bottom shelf and left the shelves 22″ deep for Christmas!  Madison has a Christmas village collection and we never have a good place for it — so I created one.  The rest of the year it can house useless tchotchkes.  OR we could dig out the 1000 picture frames that I had lining my staircase and hallway in my IL house.
Yeah!  That's totally what I should do!  We dug out a few so I could put something on the shelves for these pictures but there are about 993 more somewhere up in the storage room!  Maybe I'll find them after Christmas…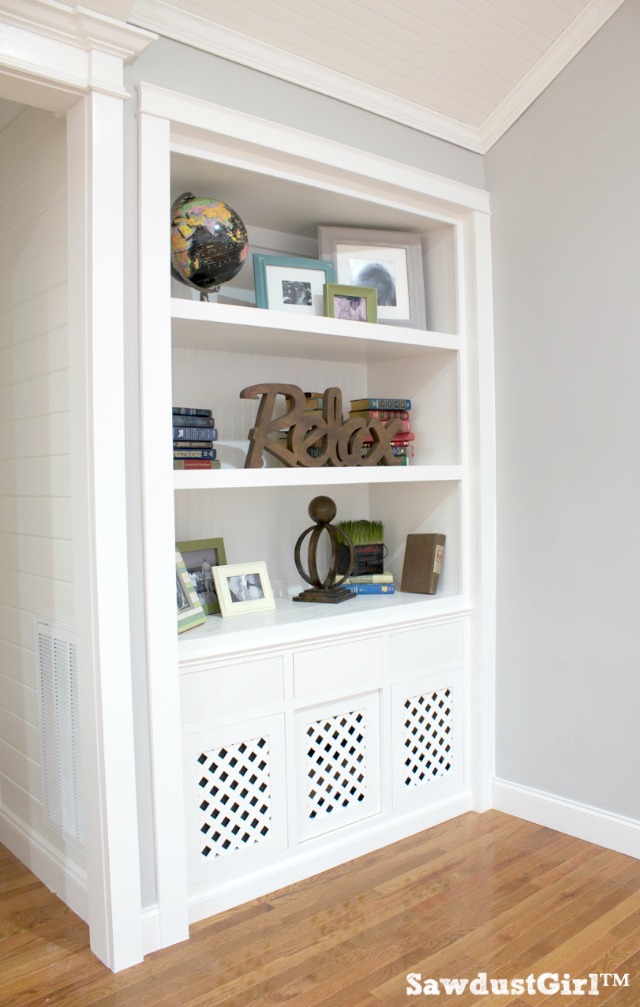 I'm just going to enjoy this view until Madison decides to clear off the bottom shelf and move in her Christmas village!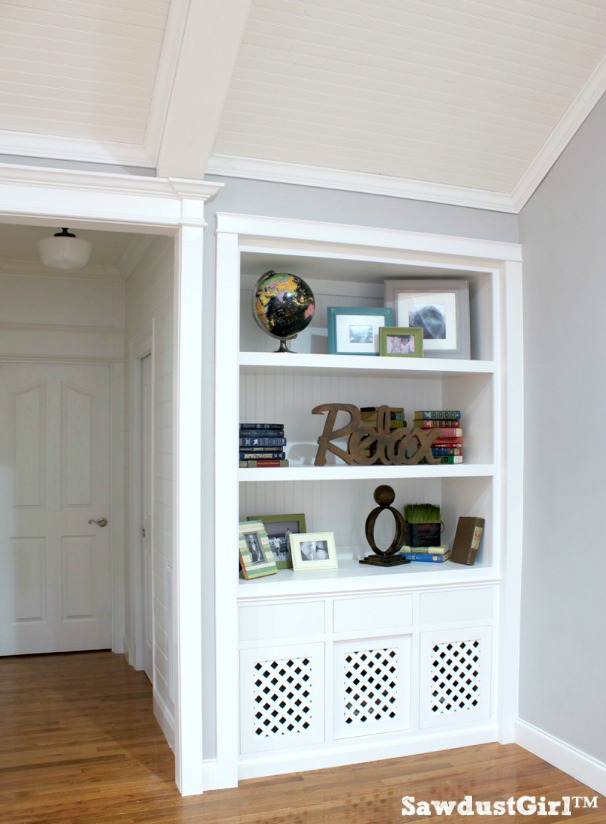 It's so satisfying getting to this point where so many things are coming together.
Get my Cabinet Building 101 eBook!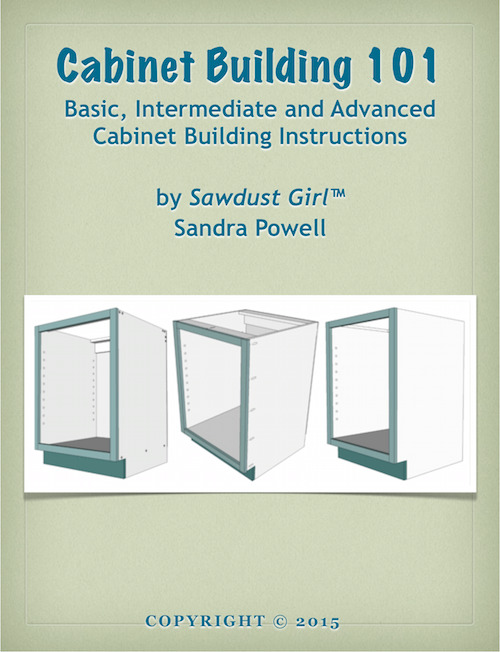 $9.99Add to cart
Cabinet Building 101 eBook