I designed and built the walk-in closet years ago and it's been an amazingly functional and enjoyable room ever since. The master bedroom is another story. We lived in this house for 8 years without doing anything to the master bedroom (except for moving the door over and stealing space for the pantry). That is until it was time to get the house ready to sell and I started looking at things with fresh eyes. The room was functional but not pretty. All it really needed was a fresh coat of white paint (and a new light to replace that ceiling fan). That and some styling and this room looks like a whole new space!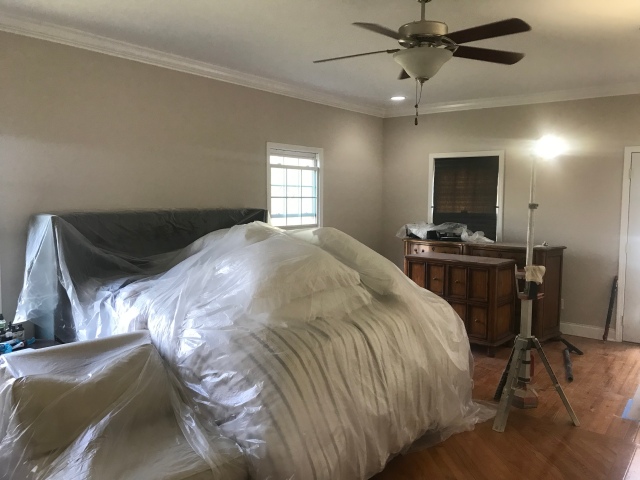 Master Bedroom
The master bedroom is located at the end of the main hallway in the "Master Wing". It's quite a large bedroom though I don't think the photos relay that. We had a really hard time styling this room because of it's size.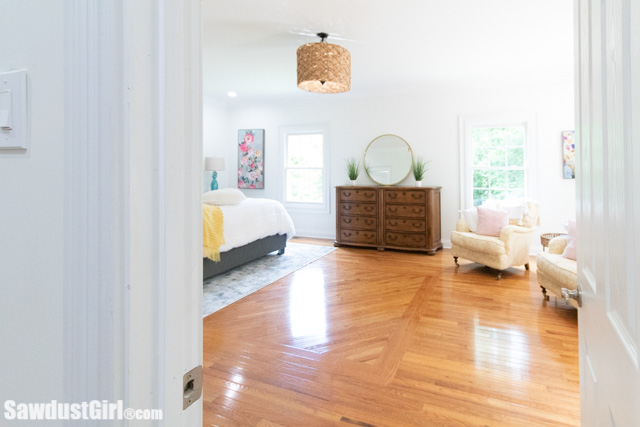 We moved the location of the bed about four different times between where it is now and where the chest of drawers is located. The bed wasn't the problem it was everything else needed to make the space not feel sparsely decorated. We needed a seating arrangement but couldn't find a pair of any chair that we liked (at our favorite store for cool finds at good prices–Home Goods)! Luckily we found a painting and yellow throw that we LOVED that would work perfectly with a pair of chairs Julie had stored in our new house.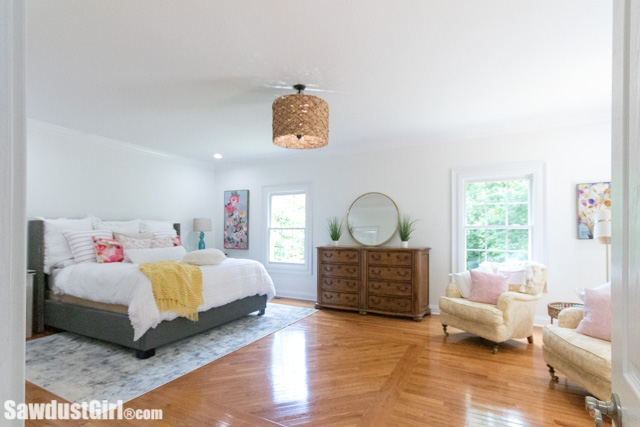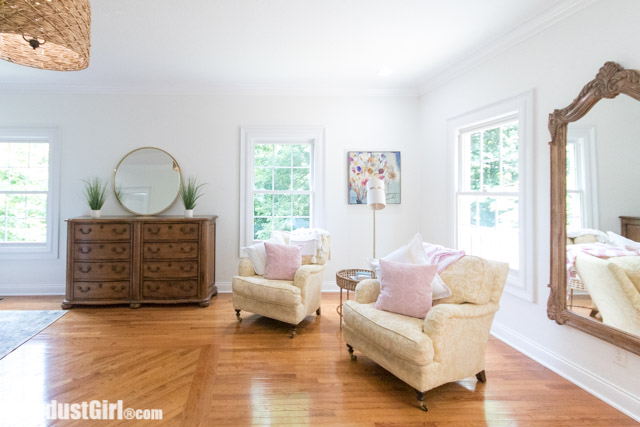 Most of the furniture is stuff we already owned and I didn't want to purchase a bunch of items just to stage the house. So I simply hung art in a lot of places where there is room for furniture. It makes the space feel "homey" but allows the buyers to imagine their own things in that spot.
We didn't own any decent bedside tables and had a hard time finding a pair to fit the space. After dozens of try's with purchases and configurations, we finally found TWO matching bedside tables that worked! I could have built these tables but I already spent (wasted) days building a pair for the configuration when the bed was in the other spot. Then we didn't like that configuration. I didn't have time to dedicate to building another pair so we kept looking whenever we were out and about.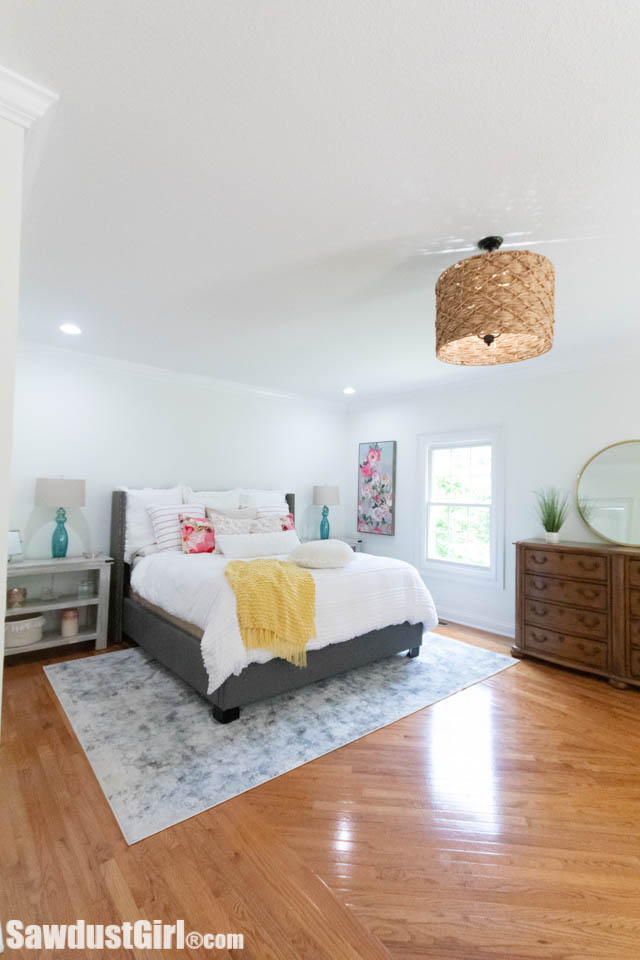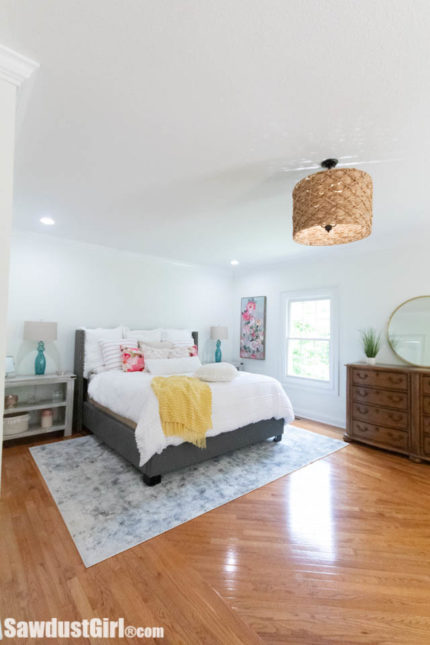 I will say that we did go on quite a few shopping trips over the last couple months. It may not seem like good use of our time with such a short and chaotic timeframe. BUT it was our therapy and we needed some of that. This video of Julie and my conversation on one of these shopping trips cracks me up — every time!
One item I purchased while shopping for this room was the large wood mirror, hung on the wall. I absolutely love it. I'll keep it forever! I also fell in love with a macrame' pendant but it was $700 and it would stay with the house — so we DIY'd this one.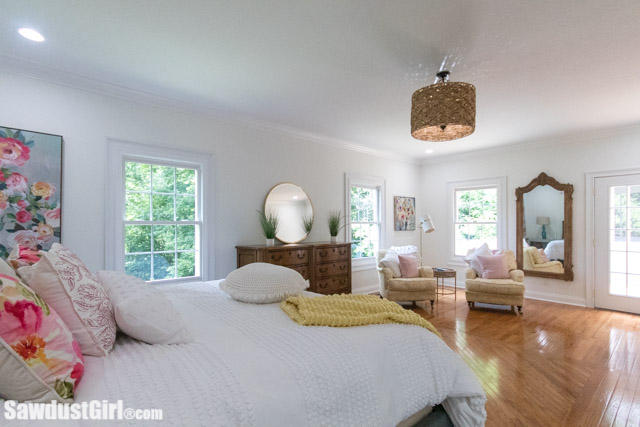 Walk-in Closet
I'm sure you remember the master closet. It's the first project I tackled in this house (along with my workshop cabinets – which I built at the same time so I could put tools away as I pulled them out of boxes whenever I had to look for something I needed.)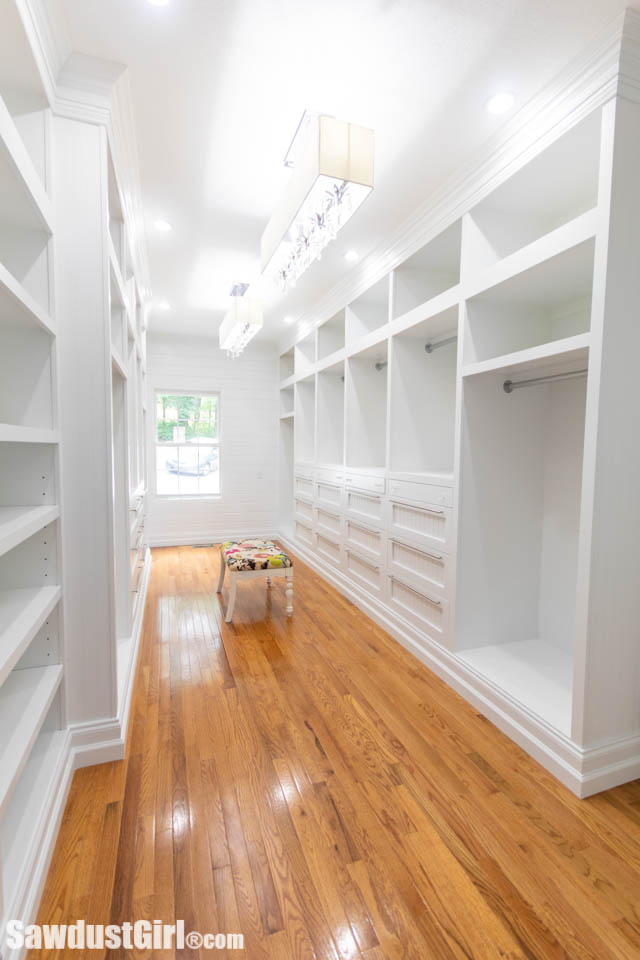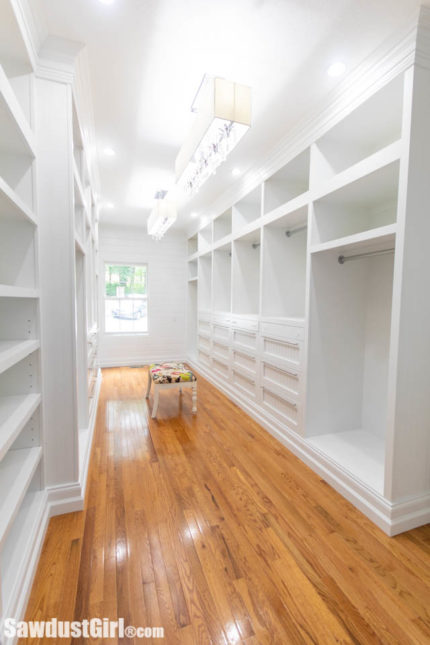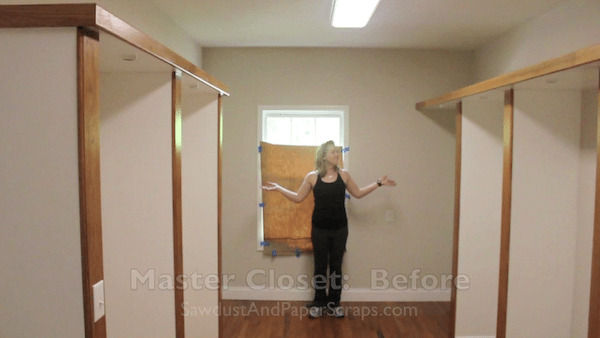 I completely demo'd what was there originally, because it was not usable. It literally was just vertical cabinet walls with no shelves or hanging bars. Not only that, but the cabinetry that existed didn't optimize the space. So rather than finish what they had started to get it to the point where we could even use it as a closet, I tore it out and started over. And built this.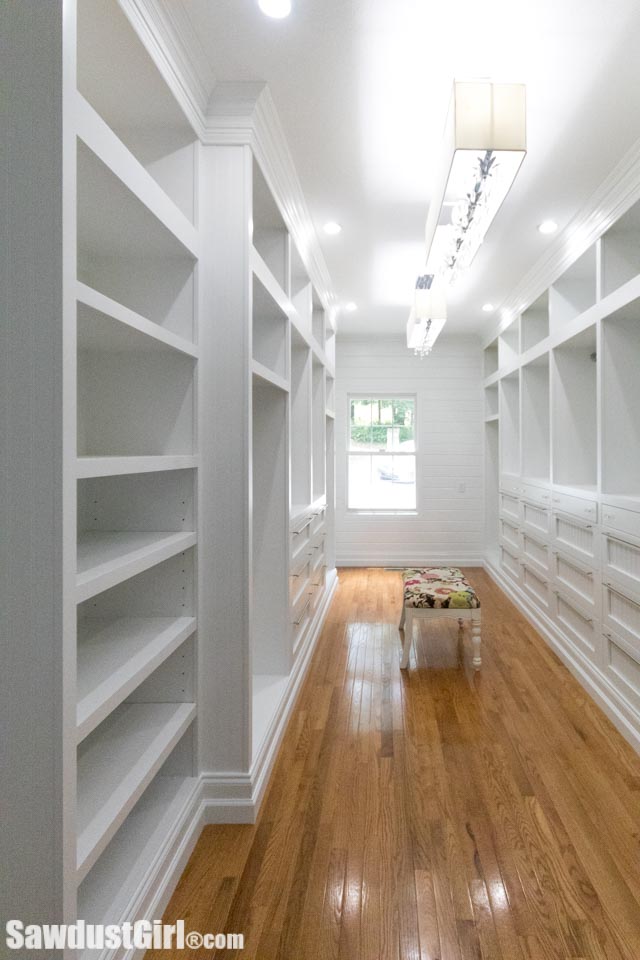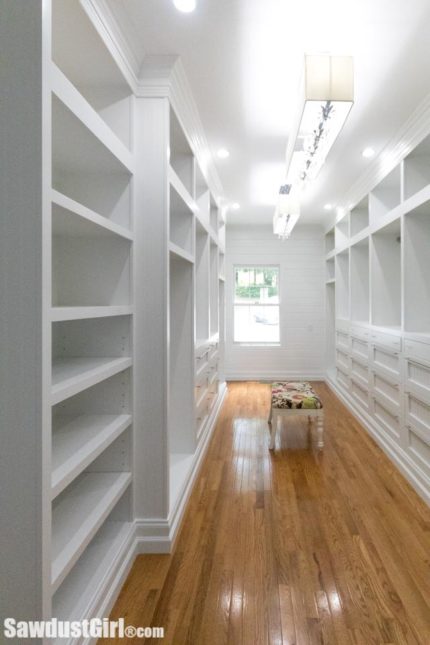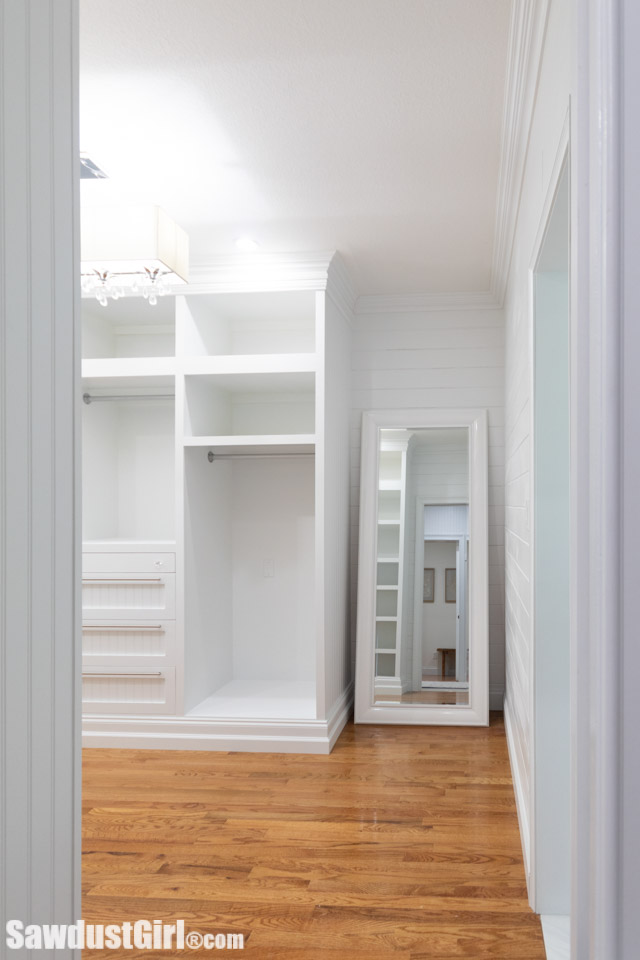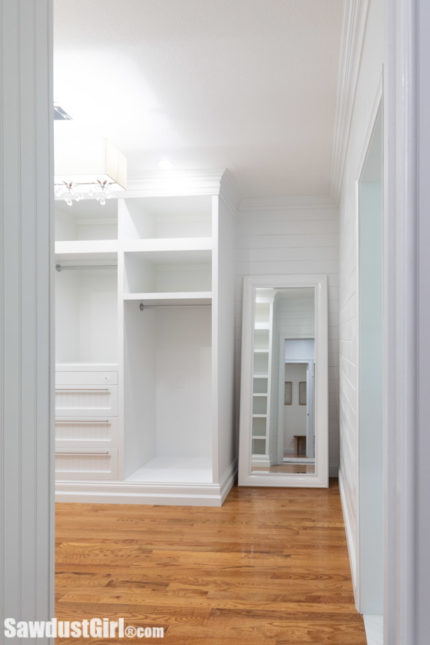 We added planking on the "bathroom side" wall to match the window wall that I'd done years ago. Then, the morning the photographer was to arrive, I sprayed the entire closet with two coats of fresh white paint! And man does it look amazing! ? !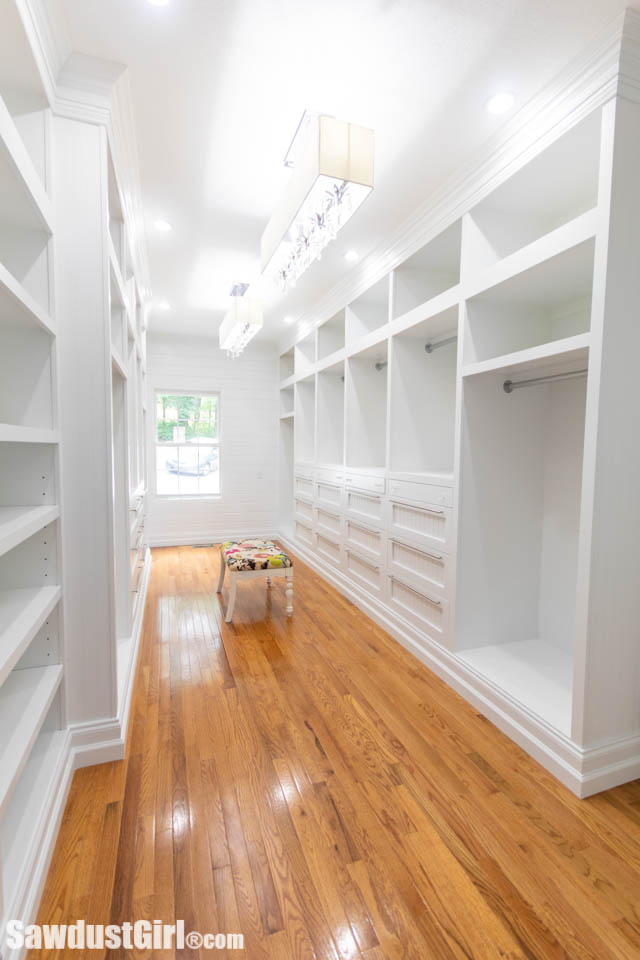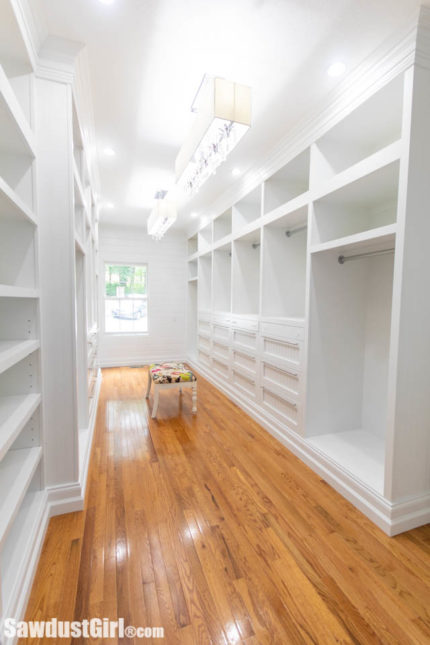 I can't wait to build the master wing at our new house so I can design the bedroom, bathroom and closet — all from scratch! I've never done that. I've always worked (roughly) in the space already allotted for the room. It's going to be super duper amazing not to have any parameters.