A handmade wooden ruler makes an excellent gift for anyone with an appreciation for beautiful desk accessories. They are a beautiful and tactile gift that is fun to use, and the receiver will never guess how fast, easy, and cheap they are to make. Plus they are a great way to use up small wood pieces and save them from the scrap heap.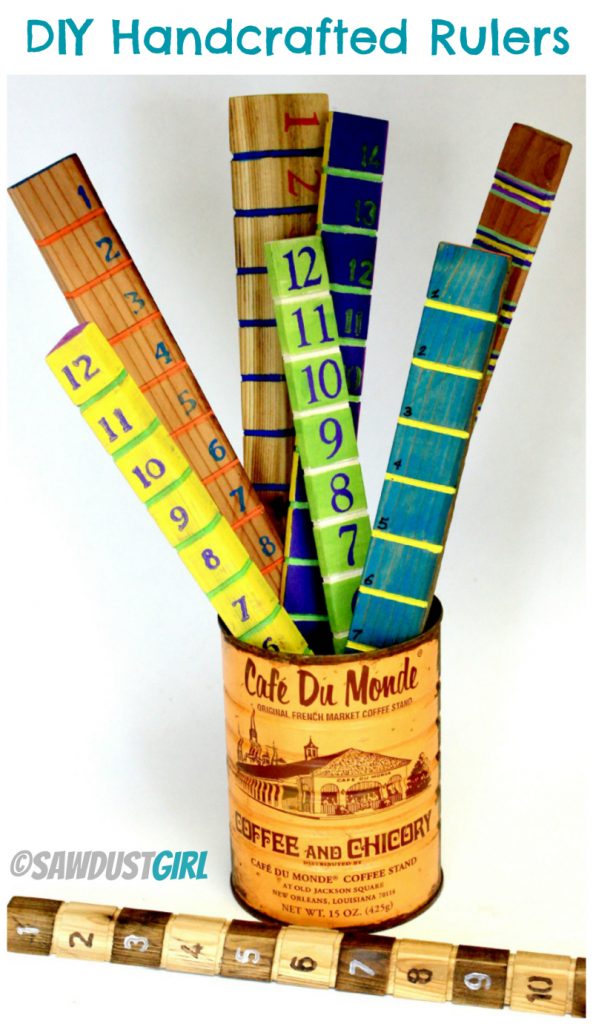 How To Make a Wooden Ruler:
Find some wood scraps and cut them to your desired length. I did mine in 12 and 14 inch lengths.  Then cut the wood on the table saw to the desired width. On some of the rulers I angled the table saw so that the edges would have varying bevels on them. Some I just left as simple rectangles. I even used a couple of paint sticks with the ends trimmed off.
Next using a table saw with the blade lowered, cut shallow grooves (about 1/16" deep) around the rulers at each inch to create a measure line. Remember that most table saws are set so that the inside edge of the blade reflects the measurement setting on the guide. My table saw blade is 1/8" wide and I wanted the inch marks to be centered, so I set my guide at the inch minus 1/16 "–so 15/16, 1 15/16, 2 15/16, …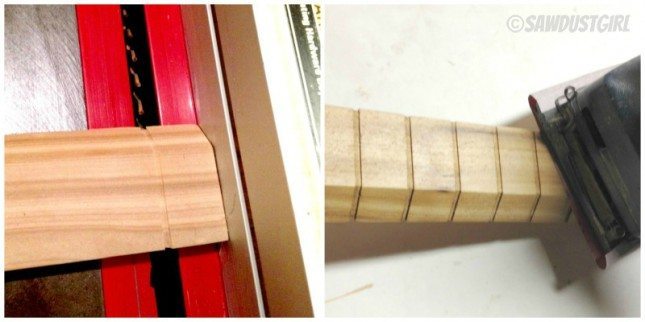 Next sand your rulers nice and smooth and paint or stain any base colors that you wish. For rulers where you want to leave the grooves natural, it is easiest to cut the grooves after you have applied the stain or paint.

Next Apply numbers. I used stamps and stencils, and even leather stamps to engrave the numbers into the rulers. Once the numbers are dry, apply a sealer or finish to the rulers. I used a clear paste wax as I love how it makes the wood feel and smell, but you could use a clear coat poly, or oil finish if you prefer.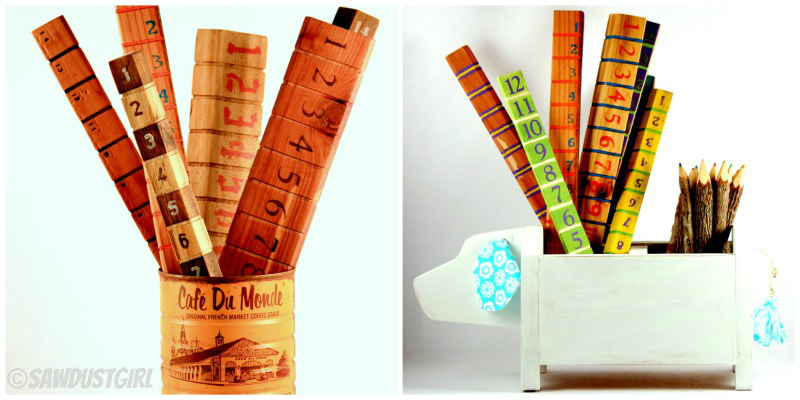 There you have it, a super easy to make, handcrafted gift that anyone on your list will love!  (The Dog Caddy is another under $5 gift too!)