I wanted substantial shelves in my small hallway closet without visible cleats or brackets. These floating shelves are created by constructing 2×2 frames that are attached to the walls and then wrapped with wood.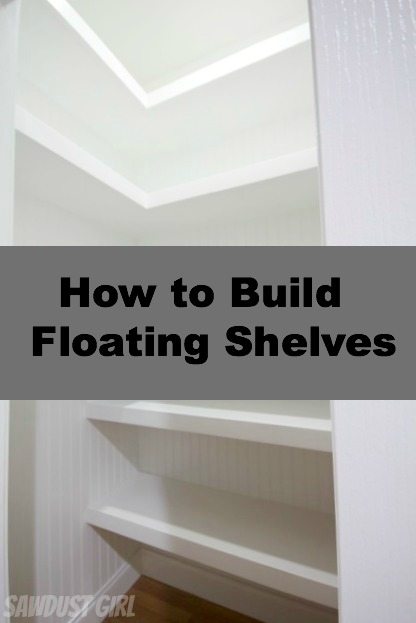 How to build corner floating shelves
Materials used:
2×2 lumber
1/2″ plywood (top of shelf)
1/4″ plywood (underside of shelf)
1/4″ beadboard for walls
1×3 poplar (for shelf face)
* I ripped my own 2×2 out of 2×4 and 2×6 lumber because I couldn't find 2×2's that were straight enough for my liking. If you don't have a good table saw spend a lot of time picking out the straightest 2×2's you can find. You'll be glad you did.
1. Mark your studs on the wall
I marked my studs on all walls using a stud finder.
2. Attach 2×2 cleats to the studs on the wall
Attach 2×2 cleats to the wall using 3″ construction screws. My shelves are spaced about 16-18″ apart.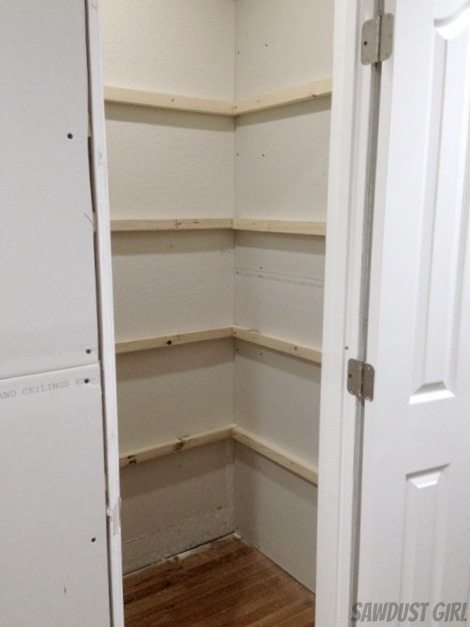 Next, I determined the depth of my shelves. The bottom two are deeper at 14″, and the rest are 12″ deep. I also left a space at the bottom on the left side where I could store my vacuum and other tall cleaning supplies.
3. Build shelf skeleton with more 2×2's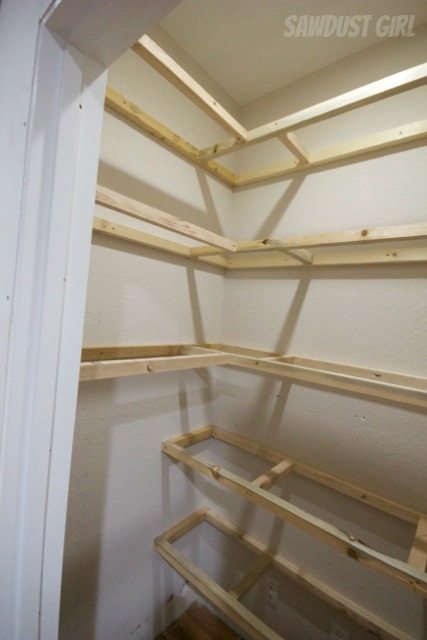 I used more 2×2's to create the "skeleton" of the shelves. These I secured with 2 1/2″ wood screws, driven in at angles to secure them to the initial 2×2 cleats. I filled in the shelf skeleton with 2×2 support braces about every 18″.
I covered the walls with beadboard and it's easier to paint the beadboard before it's installed. If you aren't adding beadboard skip ahead.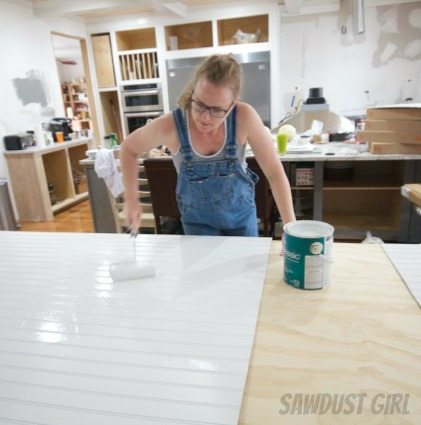 Then I cut my beadboard into strips to piece in between the 2×2 cleats.
*It would have been 100 times easier to cover the entire closet with beadboard BEFORE I started installing the shelves but I had a bunch of scraps cluttering up my workshop so I decided to make my life difficult and use them up to save some money. (And to be honest I didn't think it would be quite as big of a pain as it ended up being piecing it together.) I would not do it that way again.
4. Cover 2×2 skeleton with plywood and hardwood
Next I cut 1/2″ plywood to size and nailed it on top of my braces. Each U-shaped shelf uses 3 pieces of plywood. I made the seems as tight as possible and added glue to the seem to keep it secure long-term.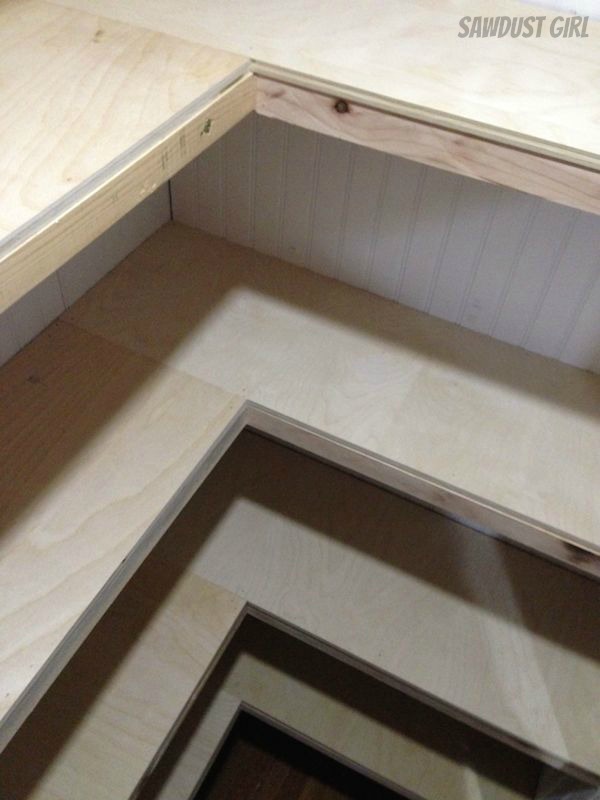 I used 1/4″ plywood on the bottom and nailed it to the 2×2's. Not worrying too much about making the seams perfect. Wood putty and caulk are my best friends with a painted project.
I framed the front edge of the shelves with 1×3 poplar. Filled all the nail holes and sanded.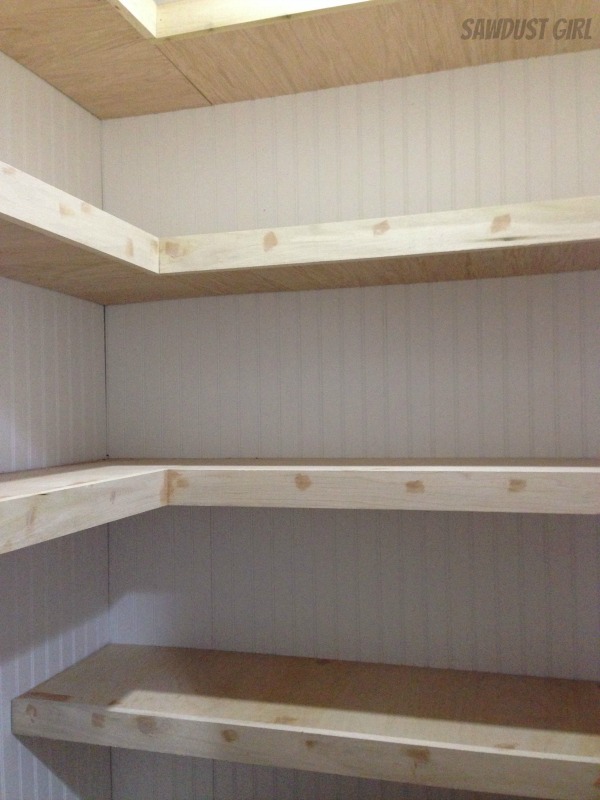 Then used lots and lots of caulk!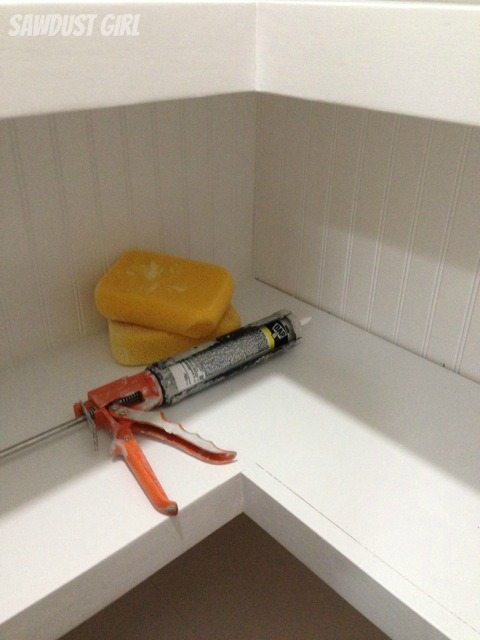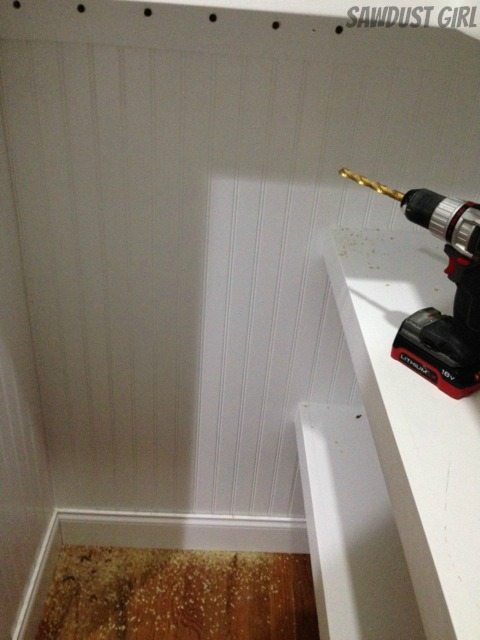 I added a 4″ wide strip of poplar on the left side to add pegs in case I need to hang anything.

Once everything is painted and caulked, it looks awesome and was worth every minute of the week and a half it took me to knock it out.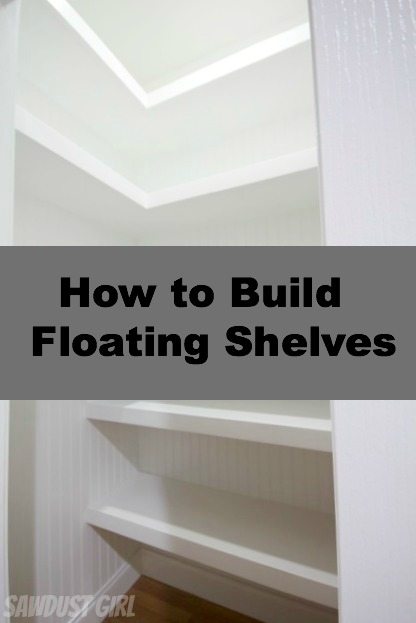 See Hall Closet Reveal pictures here!