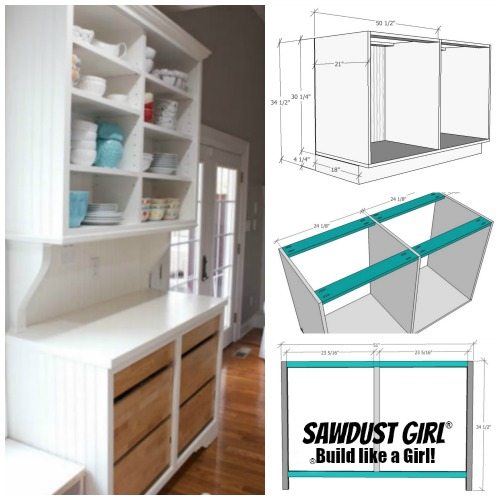 I partnered with QuikDrawers.com to bring you the free plans for the China Cabinet.   QuikDrawers sells custom drawers sized to the 1/16″.  Available in plywood or solid birch.  Dovetail construction, pre-finished and you can get them bored and notched if you have specialty hinges so all you have to do install the beautifully made drawers.  BadaBoom!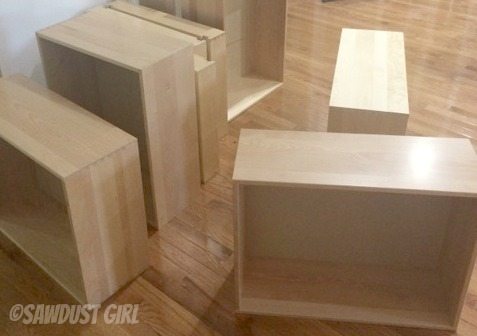 Well, first you have to build the base for your china cabinet.   🙂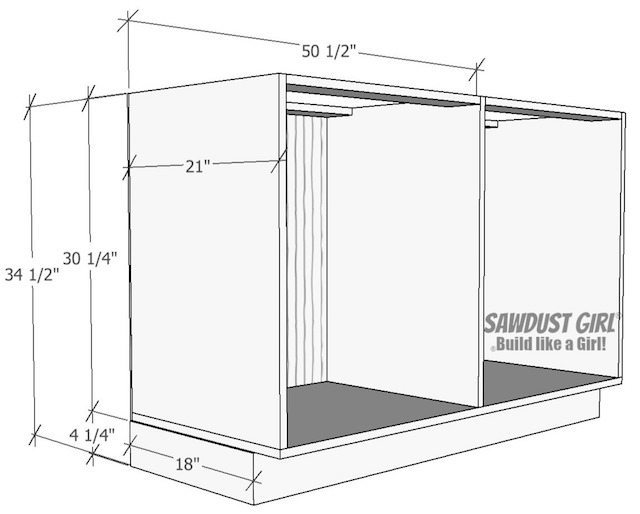 Materials for China Cabinet Base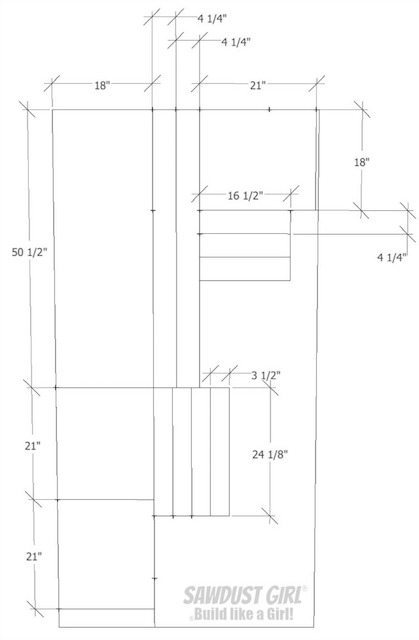 printable china hutch base – cutlist
Build it!
Refer to my cabinet building basics for help determining how you want to build your cabinet.  I use different methods depending on where the cabinet will be housed, if the sides will be visible or not, and depending on how I plan to finish the piece; paint or stain.
Use wood glue and your choice of fastener (wood screws or pocket hole screws) to assemble all parts.
Step 1 – Sides
Attach sides and center divider to bottom.
If you are planning on installing drawers, as I did, you won't care about pocket holes inside your cabinet so you can go ahead and use pocket holes all around.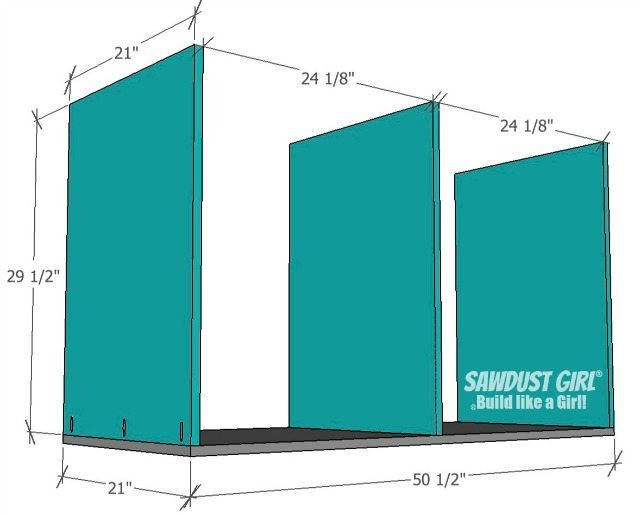 If you are planning on doing shelves instead of drawers, you will see the inside of your cabinet and might prefer to use wood screws on the center divider so your fasteners are invisible.  (see below)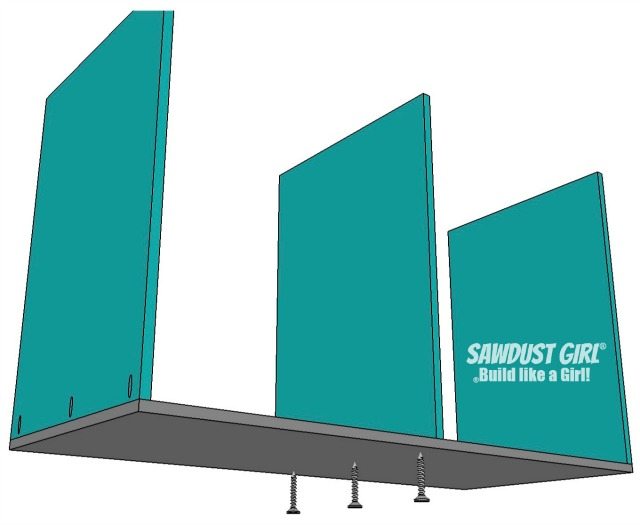 Step 2 – Cleats
Attach top cleats and back cleats with pocket hole screws.
You can screw up through the top cleats to attach your countertop.
The back cleats give you a way to secure the cabinet to the wall.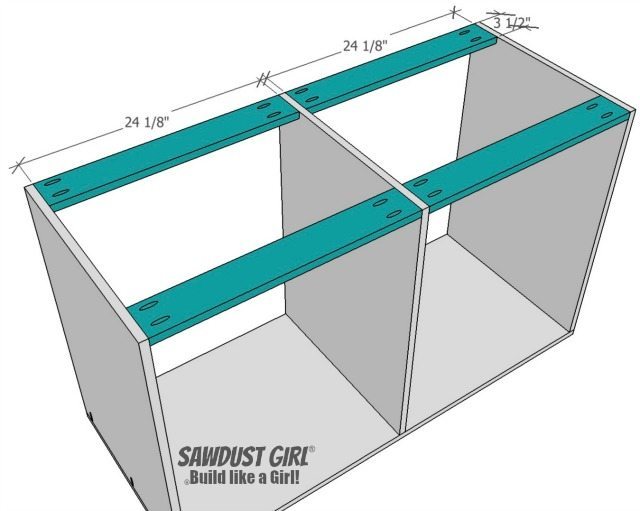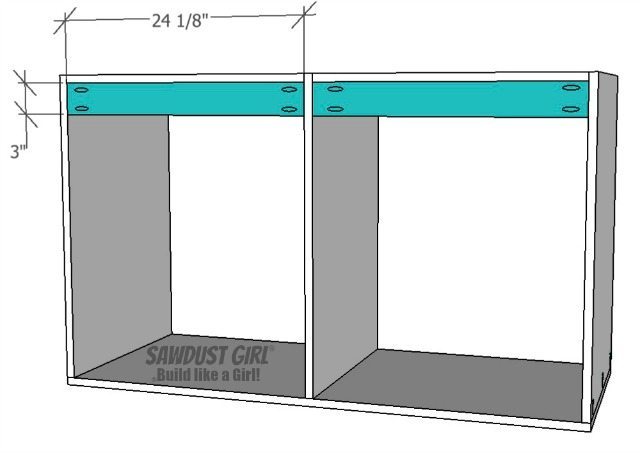 Step 3 – Toe-kick Base
Assemble toe-kick base as shown below.
Painting or staining the front of the base before attaching it to your cabinet makes life easy later on.
Attach base to cabinet by driving 1 1/2″ wood screws up through the cleats.  Lay the cabinet on it's back to do this, keeping the back of the cabinet and base flush.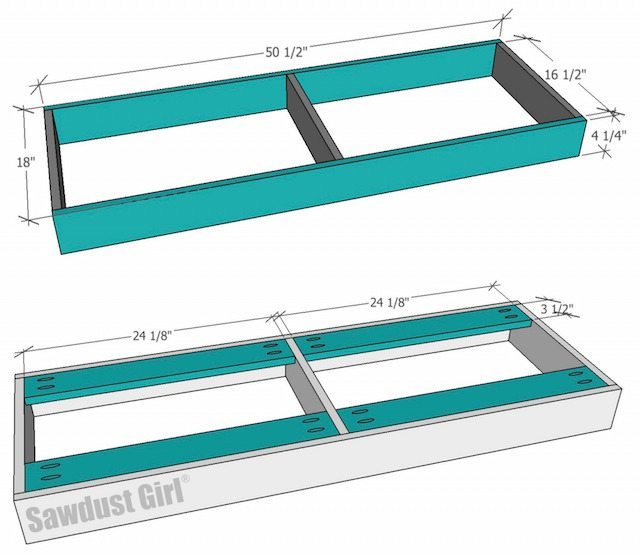 Step 4 –  Back
Square up your cabinet and attach back with either staples or screws.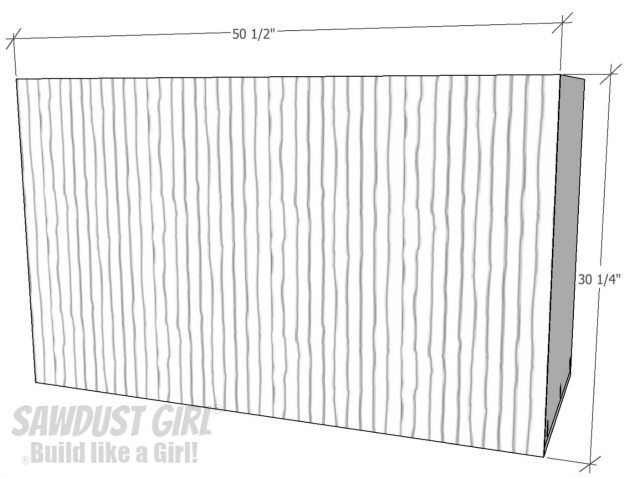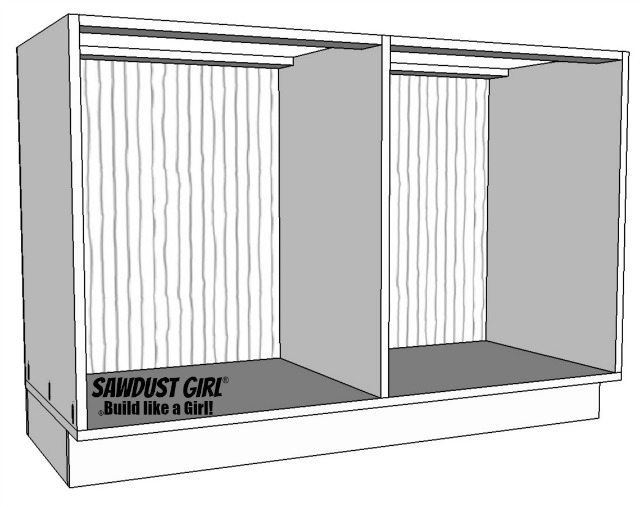 Step 5 – Face-frame
Depending on whether you paint or stain, you'll want to choose the appropriate face-frame material.  I generally use poplar for painted pieces.
Use 1×2 wood of your choice to assemble faceframe.
Pocket screws are my typical choice for faceframes.  (tutorial and tips)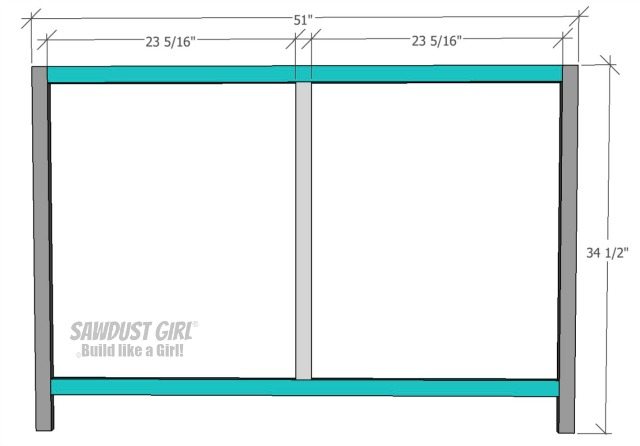 The size shown above should give you a 1/4″ overhang on each side of your faceframe. This is intentional so you can hide your pocket holes with a 1/4″ panel.  I attached beadboard to my china hutch.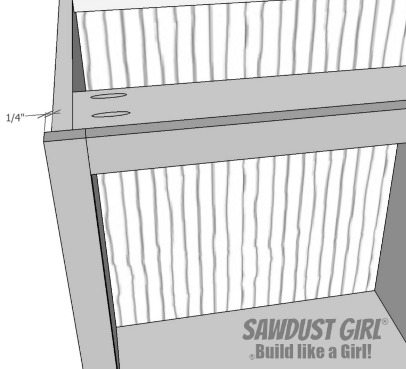 If you don't care what the side of your cabinet looks like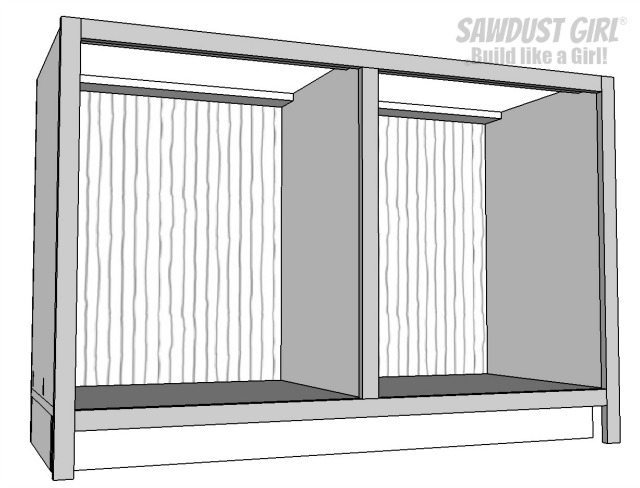 If the sides of your China hutch will be visible, this is a really easy way to make the sides look finished and pretty.  Attaching a 1/4″ panel is easy.  I generally just use caulk as adhesive.  You can use pin nails too if you want.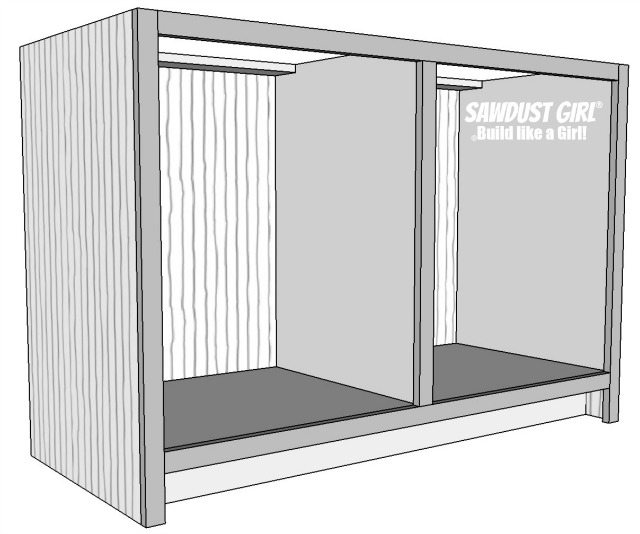 If you want to add a decorative toe-kick, it's easiest to do it before you attach the face-frame to the cabinet.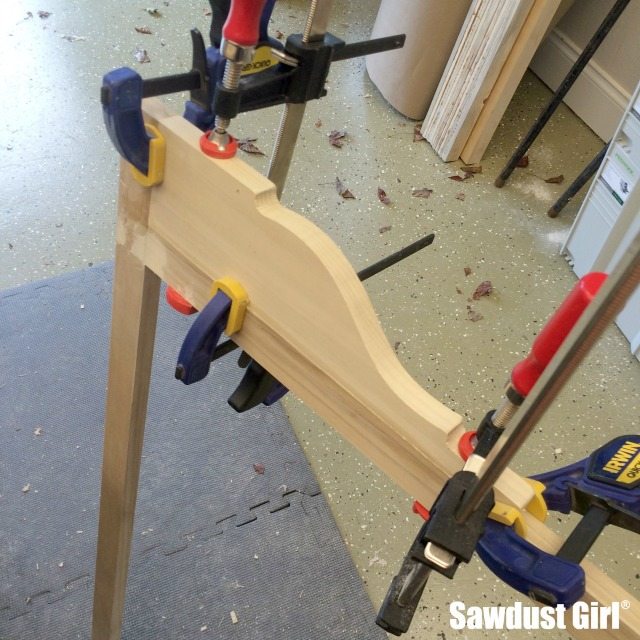 Drawers
You can order online but I called in my order because I wanted to make sure I was ordering the right size drawer for my drawer opening.  My brain has a really hard time translating the metric into imperial measurements and the drawer to cabinet clearance that the Blum drawer slides instructions were calling for were NOT making sense to me.  The sales staff at QuikDrawers did the math for me.
All I did was give them the 1. size of my cabinet opening and 2. the type of drawer slide I was using.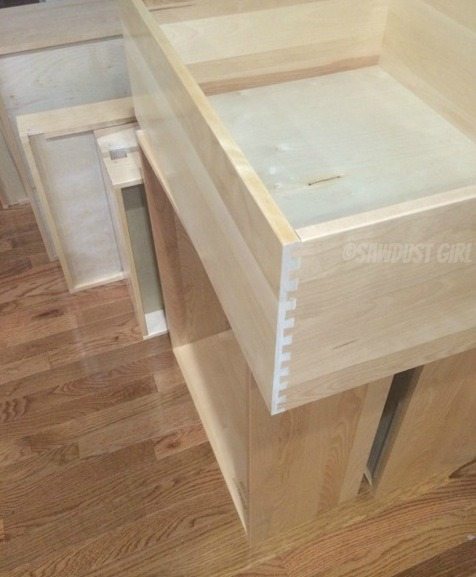 I'm not going to give the size of my drawers because they need to be sized to YOUR opening and I almost 100% guarantee that once build, your openings will be different that mine are or than the plans show.  Because that is the nature of cabinet building.  1/16″ difference will matter so measure your opening for the perfect size drawers for your china hutch!  Just call QuikDrawers and they can help you do the math.
If you're using Blum drawer slides, check out my post on installing those.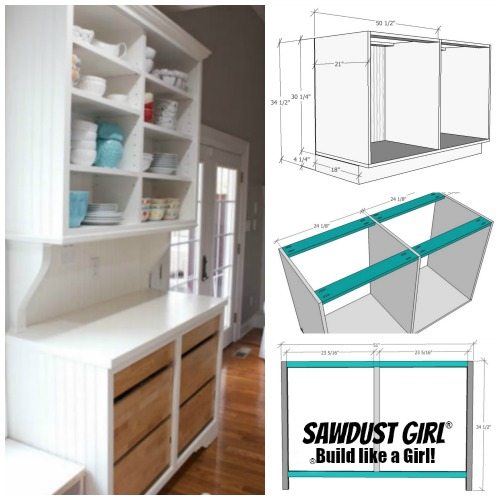 See my China Hutch post series for more details:
Thank you to QuikDrawers for partnering with me to bring you this tutorial and free project plans.