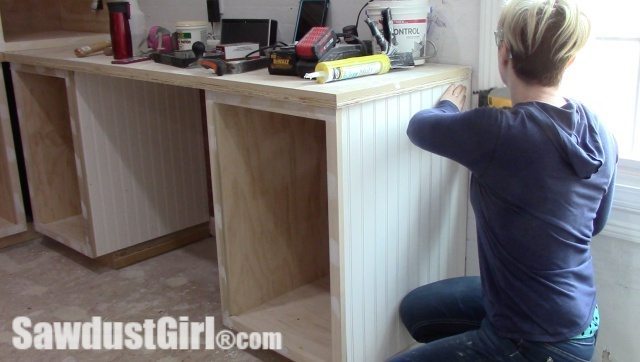 Using beadboard paneling is an easy way to hide all those imperfections that are exposed when using the "quick and easy" method of building like I did with these cabinets.  Quick and Easy building method: butt joints and screws driven in from the outside of the cabinet. In addition to the exposed screws, this sanded plywood has only one "nice" side.  The other side is rough and full of knots, which I placed facing the outside of the cabinet.  In short, the outside of these cabinets are pretty ugly and need to be addressed.
Add Beadboard Paneling to Cabinet Sides
After I attached the face frame, it had about a 3/4″ lip (overhang) on the outside edges of all the cabinet runs. I use this to my advantage because it allows me to add beadboard to the outside of my cabinets.  I don't want much of an overhang left on my faceframes when I'm done so I start out adding 1/2″ cleats to the outside of the cabinet.  I literally went down to my scrap pile and grabbed all the 1/2″ plywood scraps I could find and attached them to my cabinet with wood glue and nails.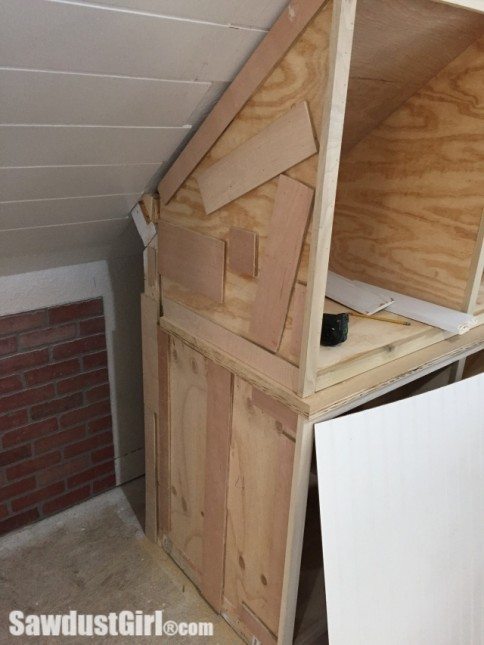 Then I attached the beadboard using caulk and nails.  The beadboard I'm using is slightly less than 1/4″ so I still have a very small overhang on the outside edge of the faceframe (although I don't really care either way).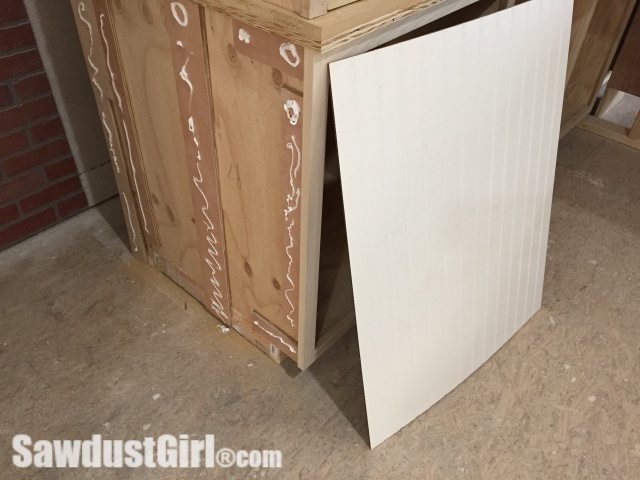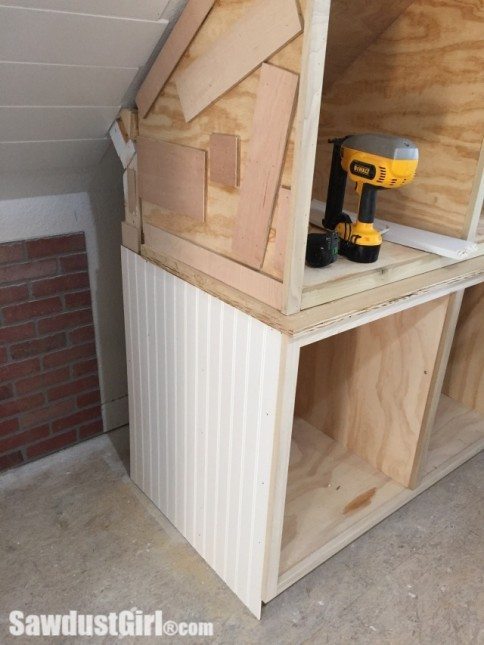 I cut the angled piece of beadboard the same way I cut the sides of the angled cabinets.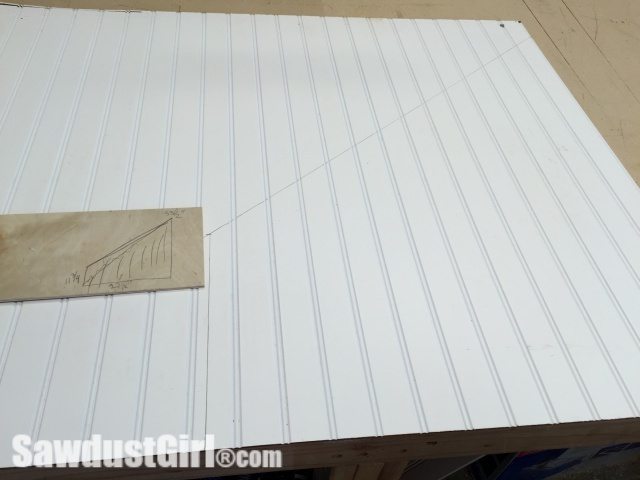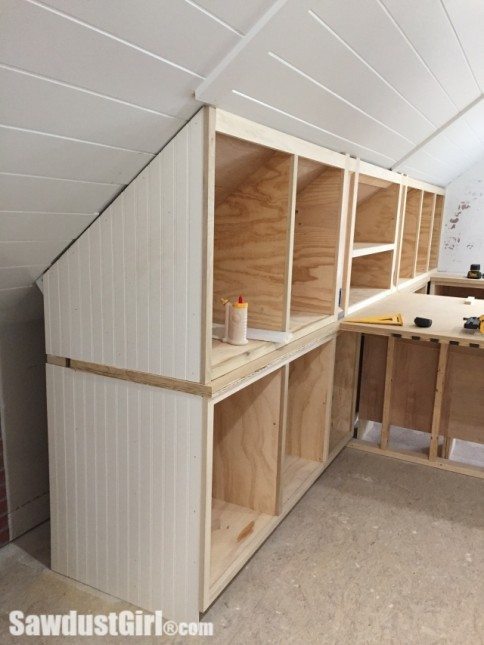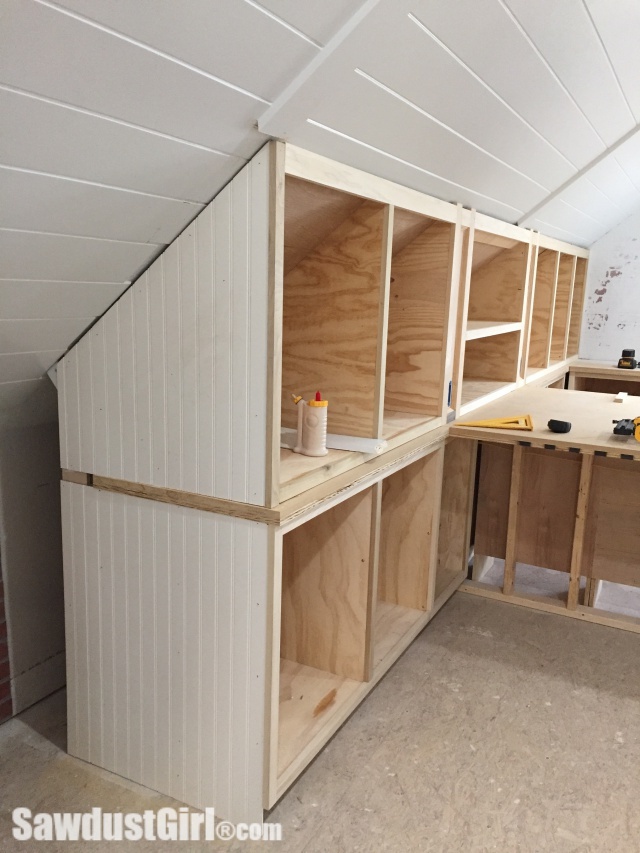 I covered every exposed cabinet side with beadboard including the sides under my desk area.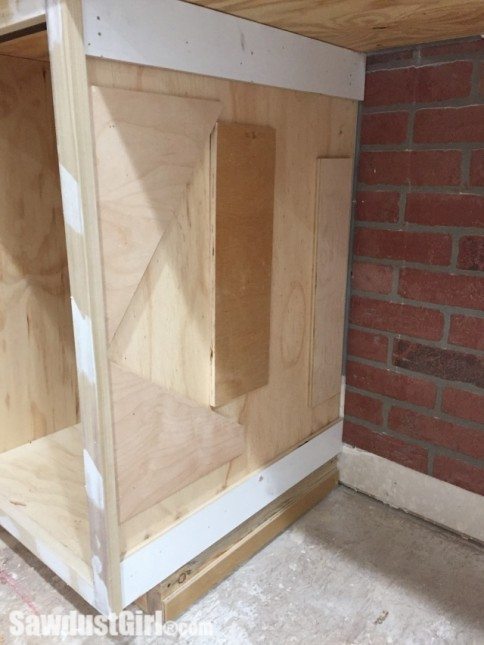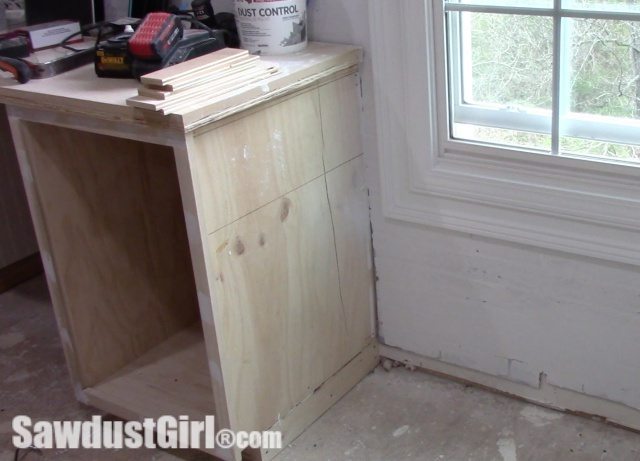 The beadboard finishes it all of very nicely and it's an easy way to address ugly cabinet sides.  Once I fill all the nail holes, I'll paint beadboard with my airless sprayer when I paint my cabinets.  Check out this post if you want to see how to easily paint beadboard with a brush and roller.