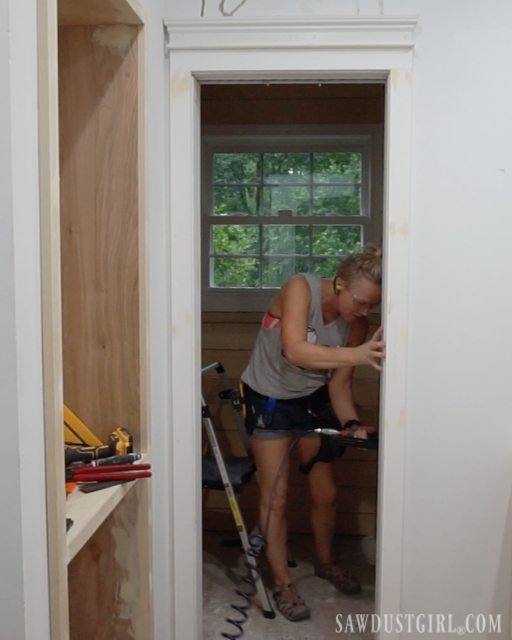 After taking a two day "learning expedition" installing door #1 (out of 4), I began door #2 armed with all the door installation knowledge I needed to get this one right… in one try!
First, I checked to make sure I didn't have any "cross-legging" issues.  I should be completely square, plumb, aligned and completely non-cross-legged. Because I JUST framed this wall a couple months ago.  But my eyeballs thought they things looked a little wonky. So I did a little test I learned in my research on how to make the task of door installation — not as big a PITA.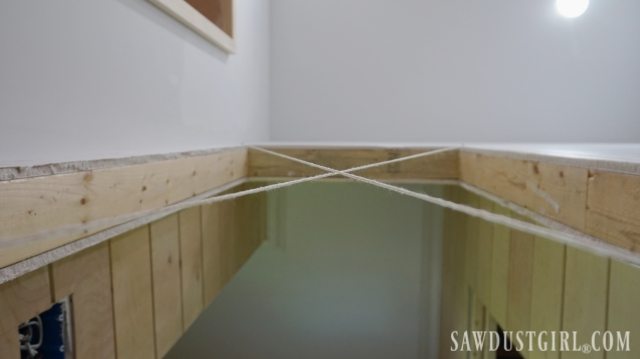 Perfect!  My eyeballs were just playing tricks on me (or I was feeling paranoid after my last door install experience).
I want two double doors that open into the water closet, instead of one wide door which would partly block the path to the toilet. I don't like doors that stick out into walkways or rooms.  Doors shouldn't stick out past walls, in my opinion.  I searched high and low for hinged double doors.  The only ones I could find were for a very wide doorway.  I even tried to special order — but never got anywhere.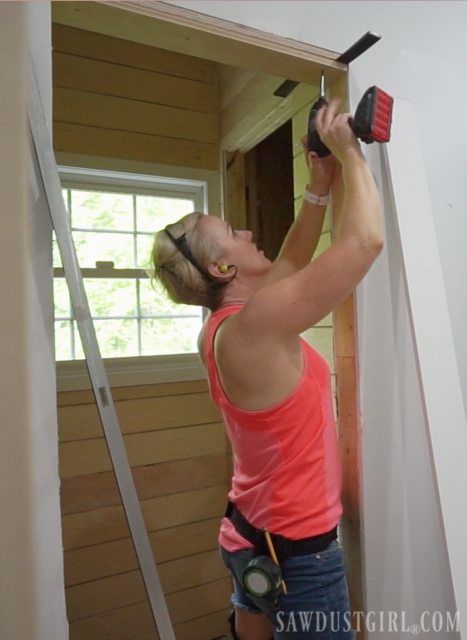 What I ended up with is frosted pivot doors.  I almost made my own doors to begin with but found these online at Lowe's and THOUGHT the $250 "double pivot door kit" worth my time and effort savings. Hind sight? I was oh- so- wrong.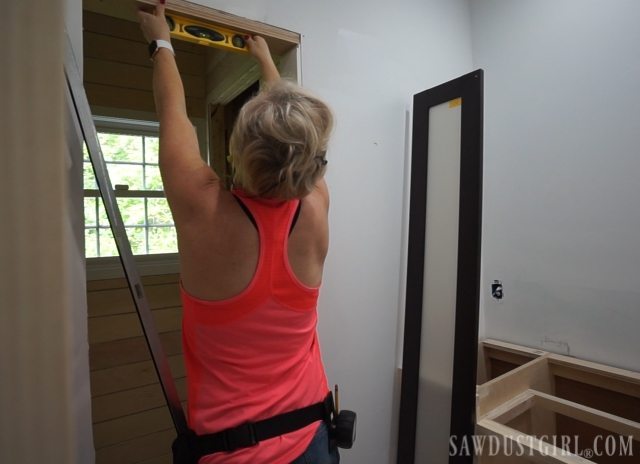 The available specs on the "kit" was, as per the apparent norm on all manufactured items, severely lacking.  The kit was: two doors, a track, and a bag full of hardware…and some really shi#$y instructions.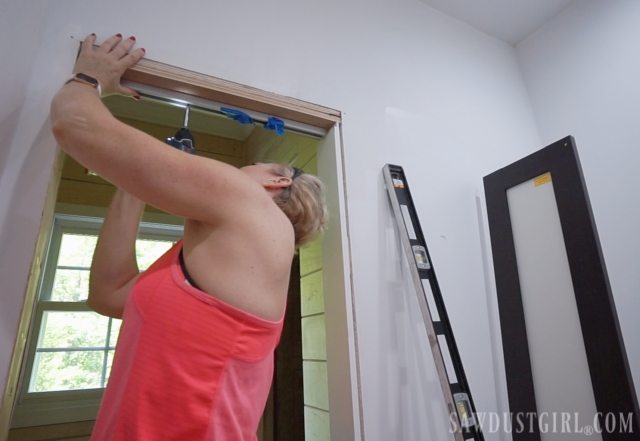 I couldn't find any information ANYWHERE telling me how to prep my rough opening -height.  Width, yes.  Height, no.  WTFF
I had to install the top pivot and hang the door in the track and then measure that and the bottom hinge –to "figure it out".  I didn't have finished floors yet so I don't know if I didn't actually test fit the doors.  They might not even work.  But I'll deal with that hurdle if/when I come to it.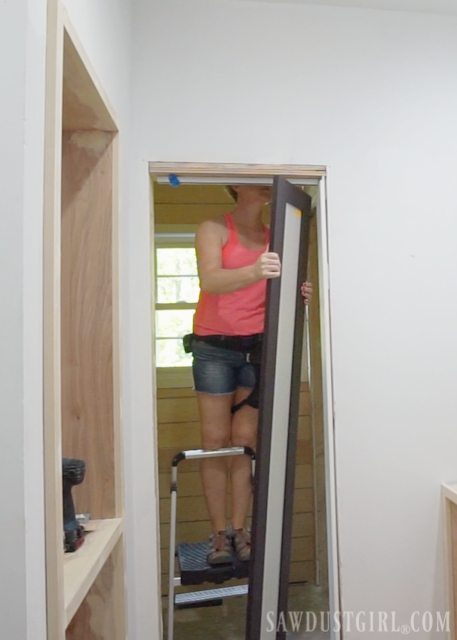 I decided to install the track in the middle of the doorway. There was no directive on that point so I figured it was up to me to decide based on how it would look, once everything is finished.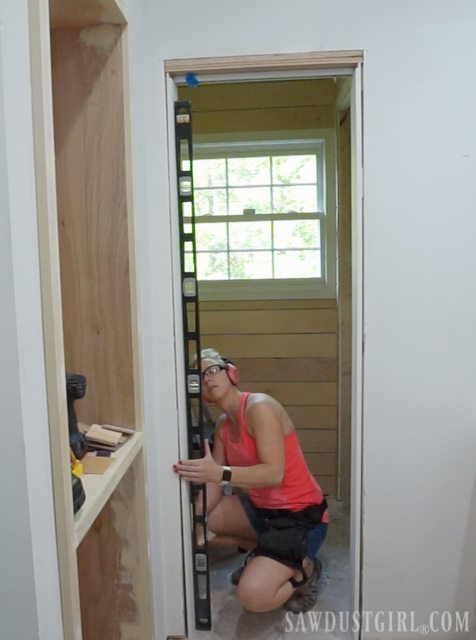 Hope I end up liking how it looks once everything is finished because I finished the door.  Because the whole point of doing the doors now is so I can trim them out so I can install my plank walls and then paint the trim, plank walls and cabinets — all at the same time.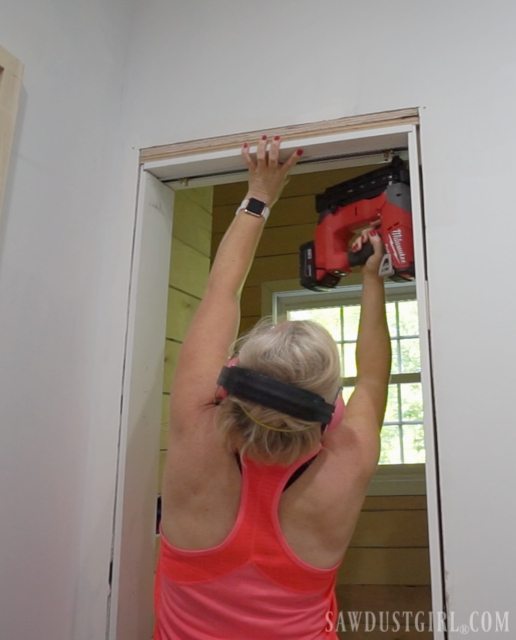 If you don't yet know, I am notorious for changing my mind mid project.  That's the beauty of doing everything yourself.  You can see how individual design elements effect the overall project and change them to make everything look better.
So I changed my mind on my door casings.  I originally wanted the doors to appear to take up more of the vertical space.  And in this picture I don't hate it, but IRL I wasn't loving it.  Probably because this particular doorway is quite narrow at 24″ wide.  So narrow and really tall…didn't make my eyes happy.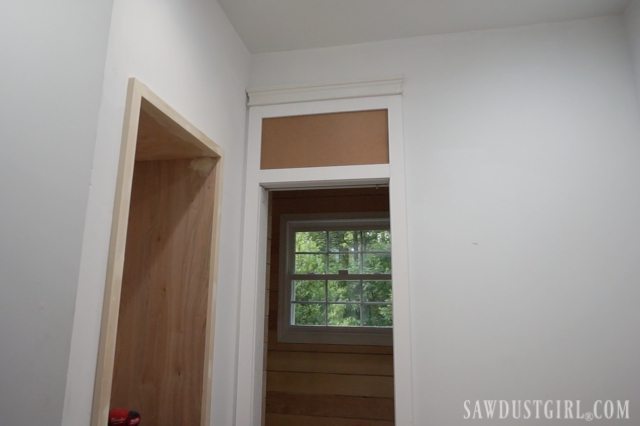 So I changed it.
Which made a mess of my wall above the door but I don't care because I'm planking the whole bathroom.
I think.  (If not I'll have to do some patching…)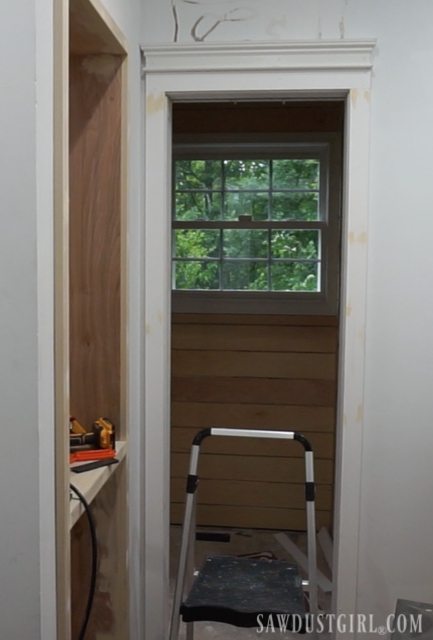 I did the exact same casing on the inside of the water closet.  Minus the initial attempt and subsequent drywall damage.
Yeah – I'm making progress.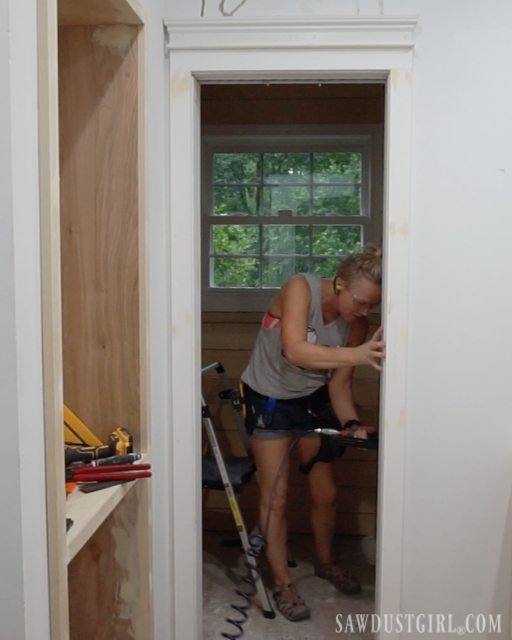 Do you detect a note of sarcasm in this post?
I might be feeling the strain of this Jack and Jill remodel dragging on for 4 months longer than I expected.  But I would hardly be me if I didn't drastically overestimate how fast I can knock out a project.
I'm now taking bets on date of completion.  No promise of what your prize might be but…place your bets!