Now that I'm completely done with Calderwood Cottage, I have all my tools back at my own house, including the pressure washer. I've been needing to pressure wash and repaint my front porch for a few years. Today the weather was beautiful, so I got started! I moved everything off the front porch and cleaned the heck out of it. And…since I already had the pressure washer out (and was already soaking wet from spraying the the porch ceiling), I hit the garage doors as well. I soon realized the pressure washer alone wasn't going to make these doors sparkle.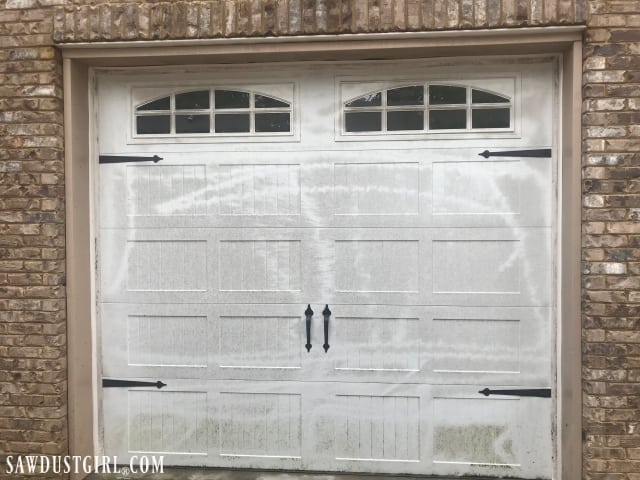 The garage doors and the white rubber weather stripping were dingy and speckled with mildew.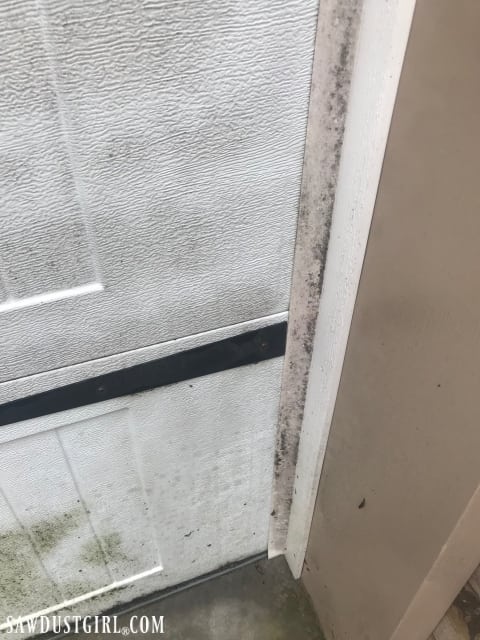 How to Clean a Garage Door
I looked online to see what cleaner I would need to drive in to town to purchase so I could come back and finish cleaning… There were lots of suggestions but no clear "winner". White tire cleaner was suggested for cleaning the white rubber strips around the doors. Lots of other suggested cleaners included bleach. Some people said, "mild dish detergent". I made an executive decision to use cleaning supplies that I had at home instead of driving to a store to purchase something new.
This is what I grabbed:
a scrub brush
and a bucket of warm, soapy water (I used Dawn dish soap.)
foaming bathroom cleaner (with bleach)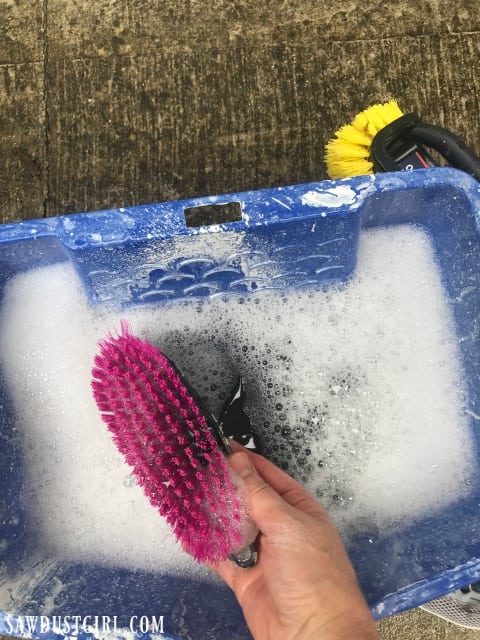 In no time at all (and with very gentle pressure), the black muck was coming off. I dipped the scrubber into the soapy water often and sloshed it onto the door and then scrubbed a small area. Repeat. Rinse. Repeat.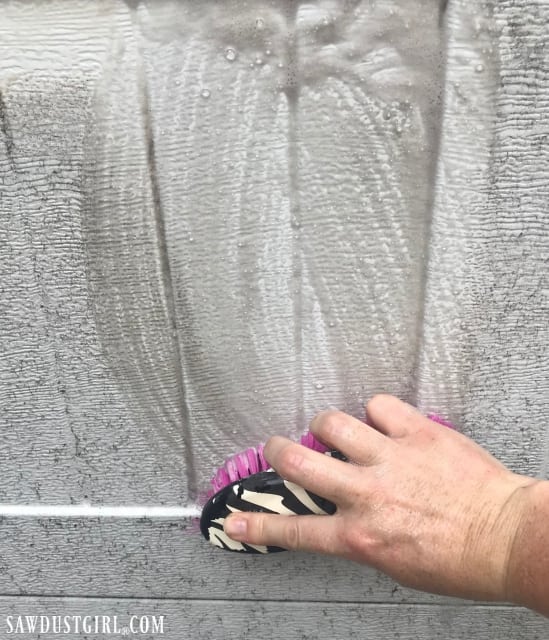 I used the water hose to rinse frequently so I could see what was clean and where I needed to wash next. These doors were BAD. I spent probably an hour or two cleaning out two garage doors. It's one of those things that you notice every once in a while and think, "I need to get to that sometime". Then continue on with what you were doing when you noticed the other thing.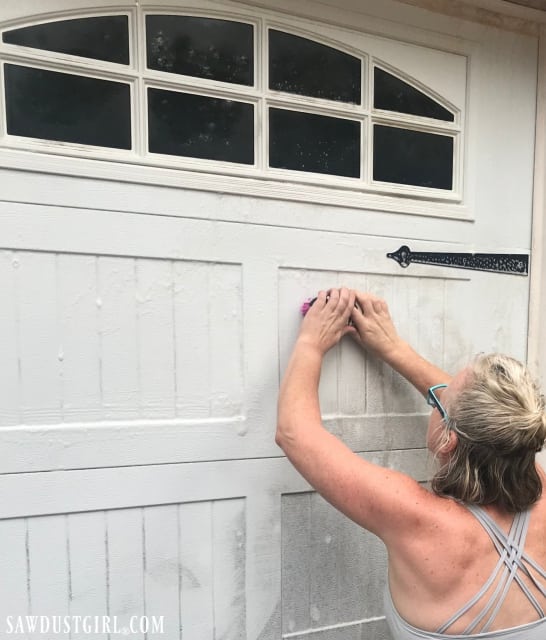 Cleaning White Rubber Weather Stripping
The dish soap worked perfectly on the garage doors but didn't make a dent at cleaning the weather stripping. Not a problem, I sprayed on some shower cleaner and left it for 5 minutes. When I came back, they were clean!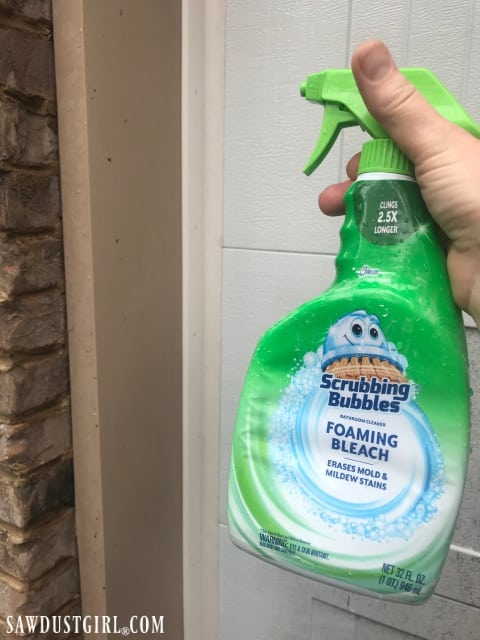 The weather stripping doesn't look as good as new, but it looks 98% better than it did before.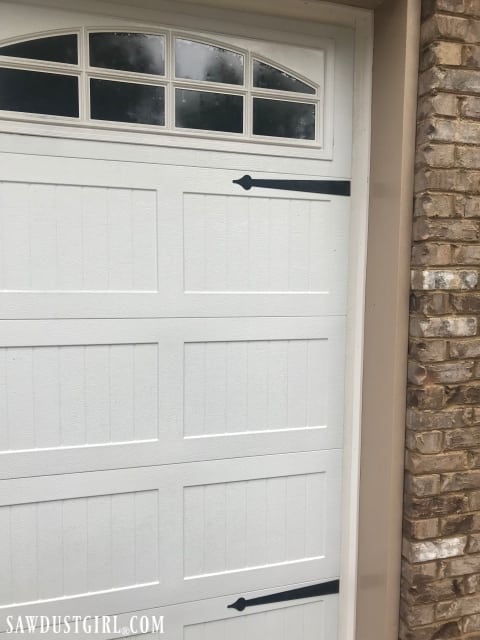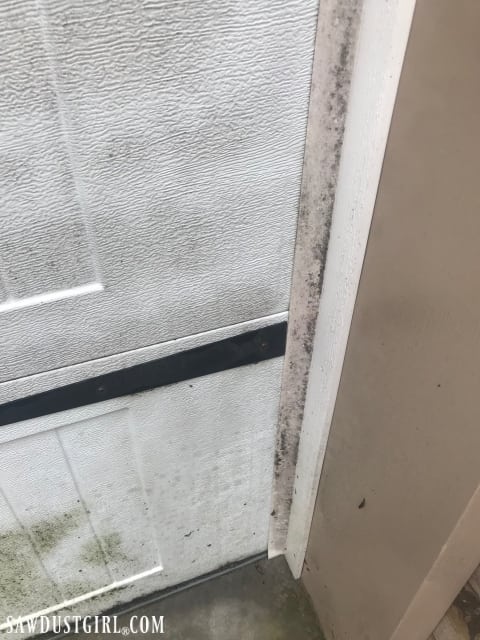 All that with common household cleaners that I already had on hand. And like an hour of work. And no driving to buy something else just because it has the name "Garage Door" or "House", or "Siding", or "Roof"…or any other words that would make me think I needed to spend my time driving and money purchasing.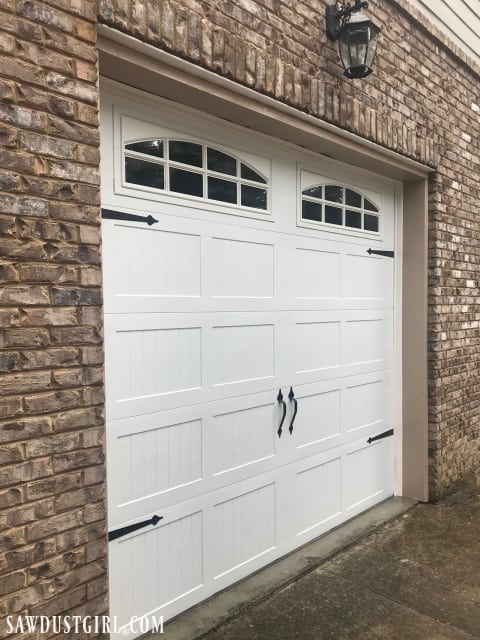 My garage door weather stripping has some spots near the bottom that would not come off. I think it's paint. Or maybe from me dragging something into my shop and rubbing hard against it and marking it up…or something. Wes' door didn't have them so it's definitely something that I've probably done, perhaps. Good thing I got up the gumption to do this task instead of asking him to do it. He definitely would have noticed and had 20 questions to which I would have no answers. I like to avoid those conversations whenever possible.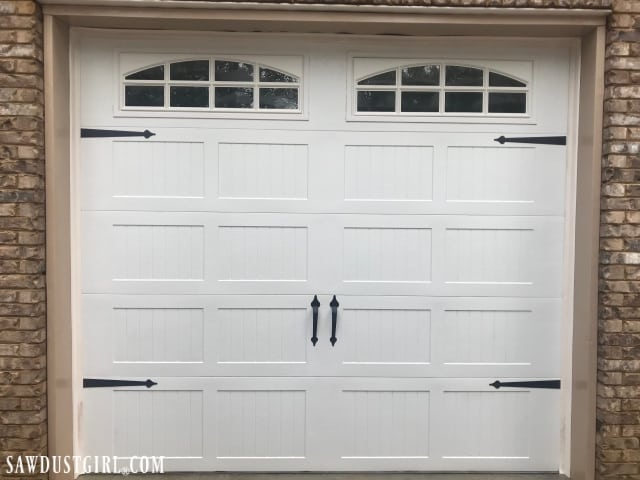 I also like to spend my time doing renovations on the inside of my home, not the outside. But this is something that needed to be done and it feels good crossing it off the to-do list! (Which is very long!)
p.s. Now that it's cooling off, it's time to check doors and think about replace weather stripping and winterizing windows.