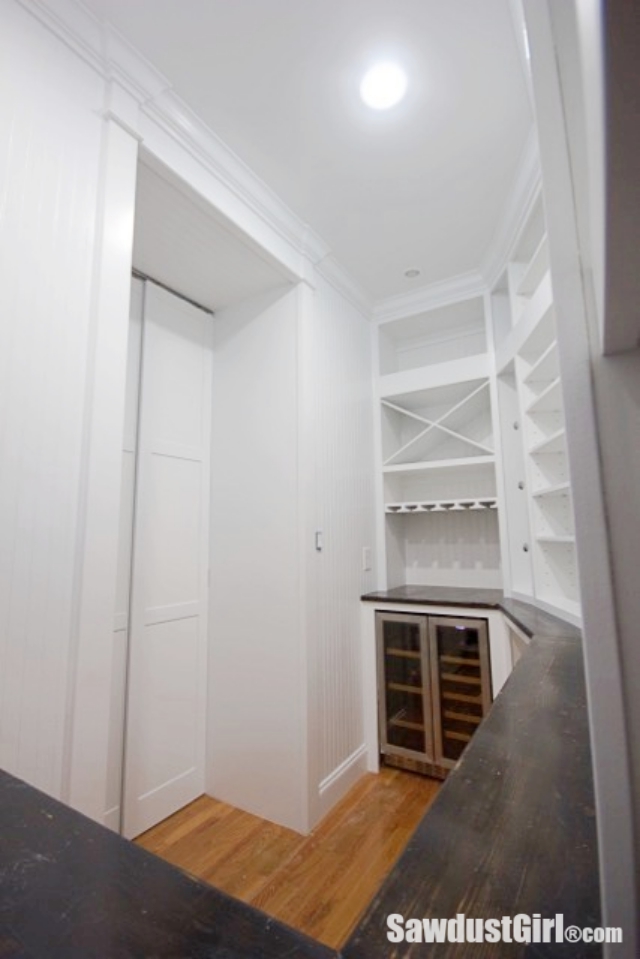 I have finished a TON of details (big and small) in the pantry.  The decorative door casing with all the little return pieces was a bit of a chore but the visual appeal is so worth it.  Getting all the gaps, cracks and ugly wall covered up added something too.  haha
I originally thought I'd include the cabinet in the doorway so the decorative header would extend to the backside of the cabinet and the vertical piece would come down behind it…when it came time to DO the door trim I changed my mind.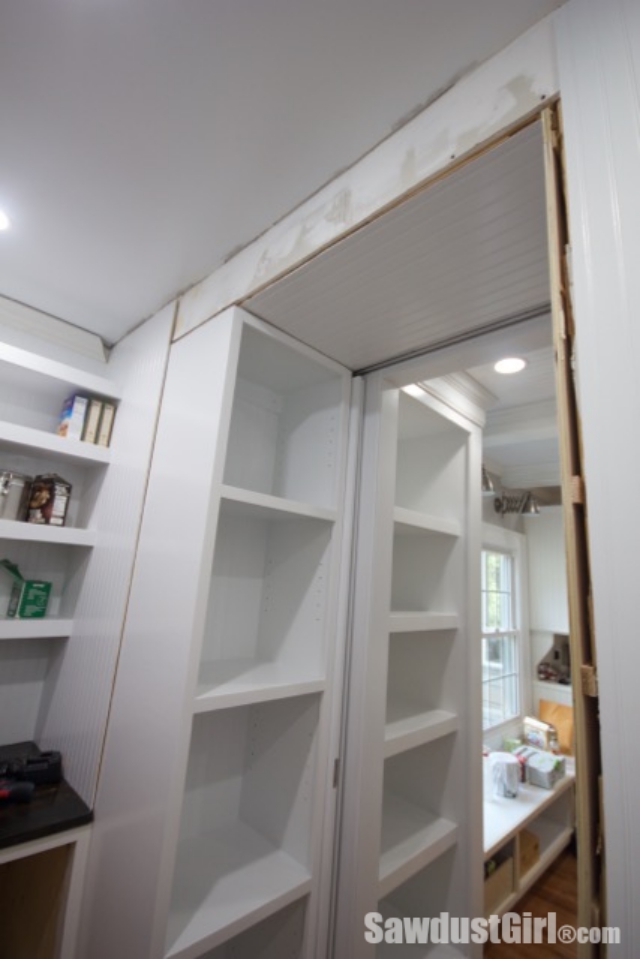 I decided the door trim needed to be ON the cabinet so I had to make the side of the cabinet look like the wall.  Or look like it was part of the wall.  Which meant applying beadboard to the cabinet and patching the seams.  My truck was in the shop for 6 days so I couldn't go get a sheet of beadboard so I used what I had.  I had scraps.  So I had a lot of puttying and sanding to add to my to-do list.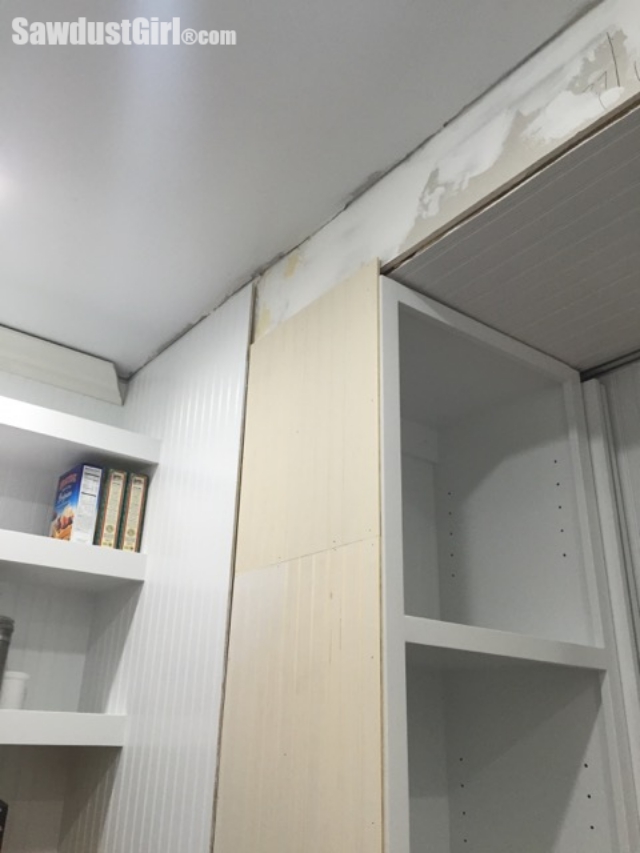 For the door trim, I used primed 1×3 pine (cause that's what I could fit in Madison's car and I was saving time to make up for all the wasted time spent on the beadboard seams.
The verticals are only 8′ tall so I made sure the seam would be under the trim.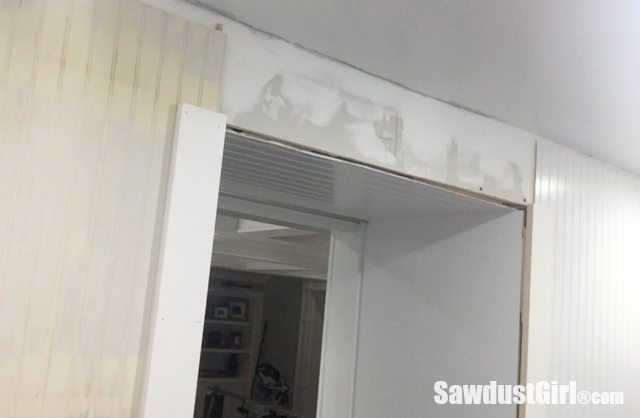 Next I added the horizontal piece which filled in the space all the way to the ceiling (almost).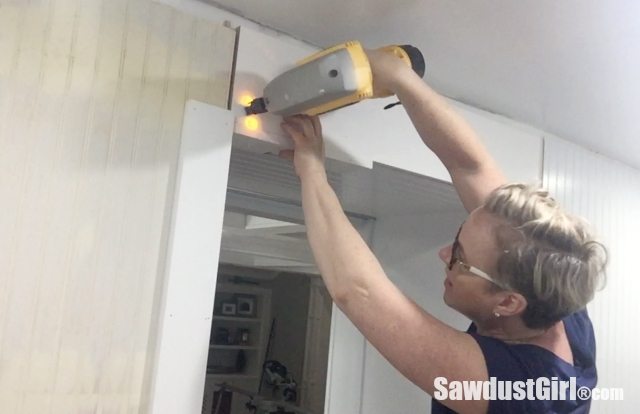 The vertical pieces should be proud of the horizontal piece by 1/4″- 1/2″.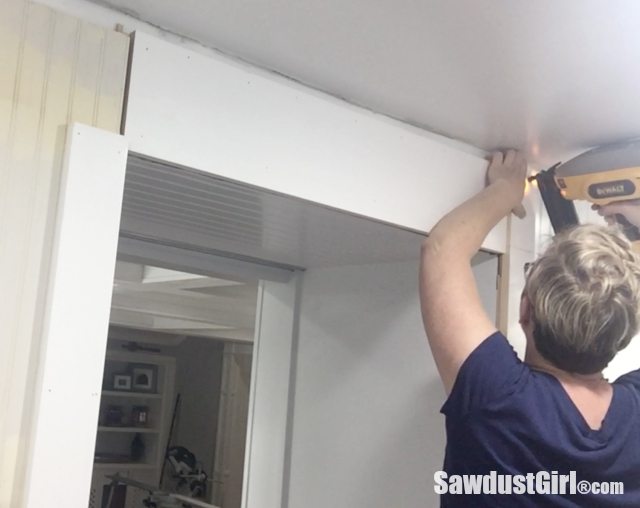 Finish off the verticals.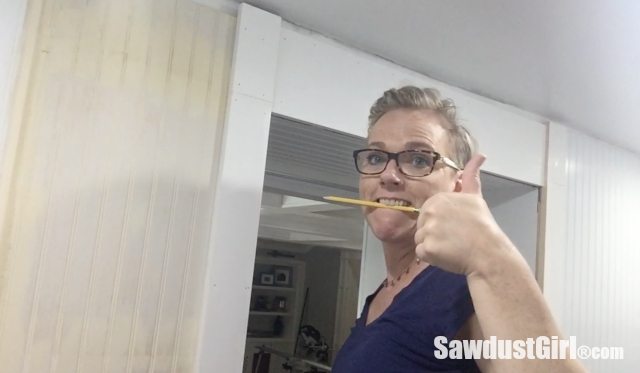 Then the decorative moulding gets added.  I install a small moulding across the bottom of the horizontal "header", carrying it over across the seam in the verticals.  I'll nail the larger pieces in place but the small "return" pieces I secure with wood glue and tape.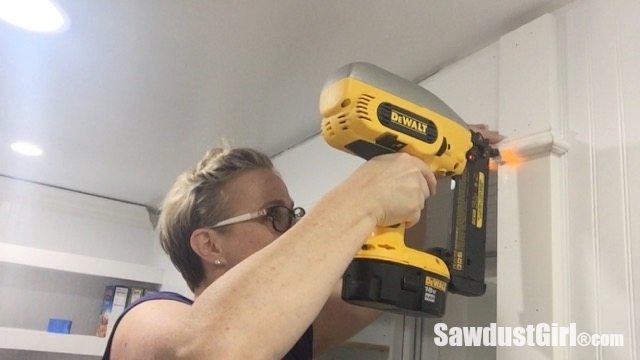 Those little pieces tend to move out of alignment and/or break when they are nailed into place.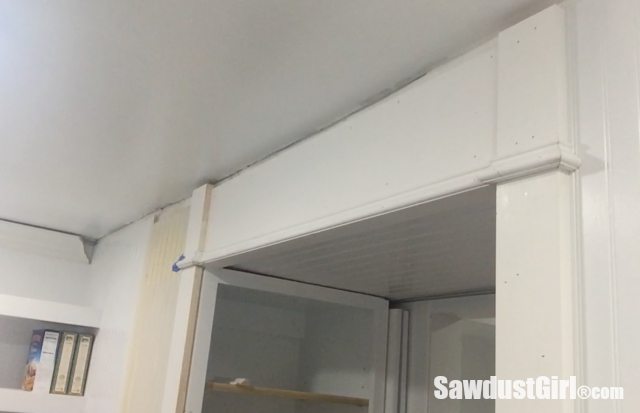 I ripped a couple 1/4″ thick strips on my table saw to use to hide the cracks behind the casing.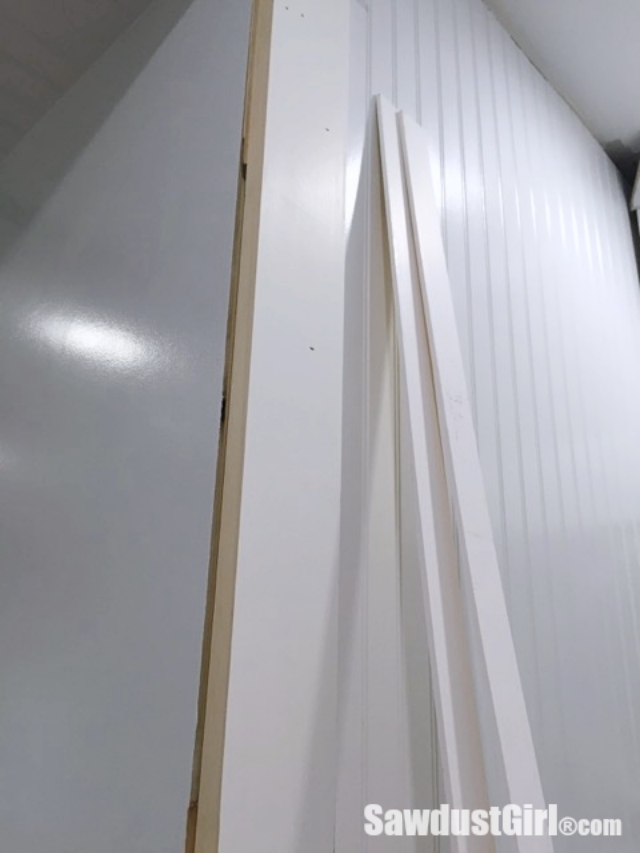 This also made the casing chunkier– which I like.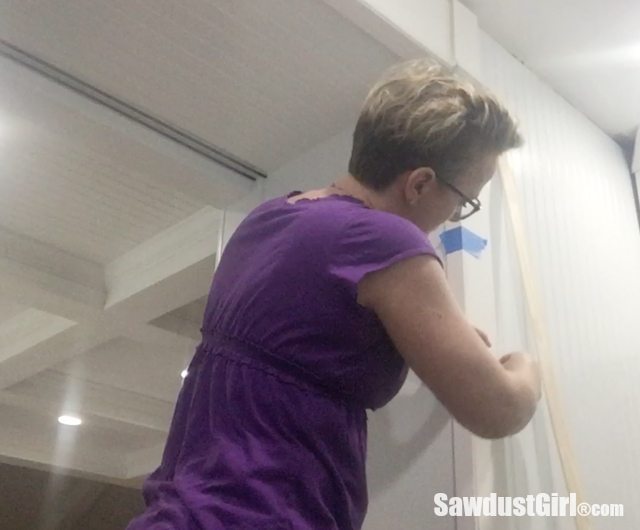 The last piece was finishing up the crown moulding that runs around the rest of the room.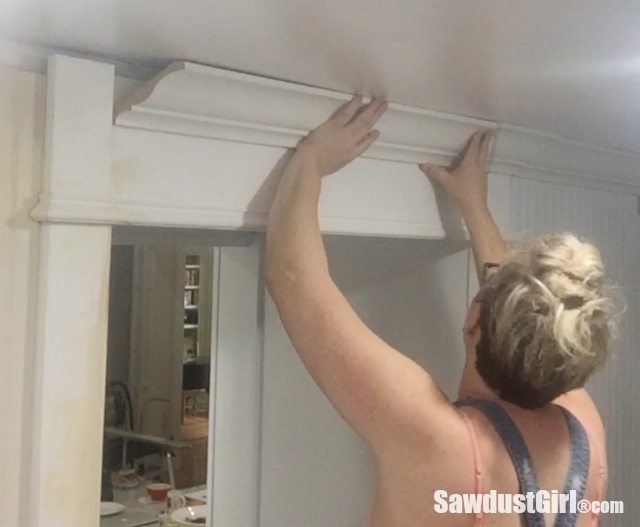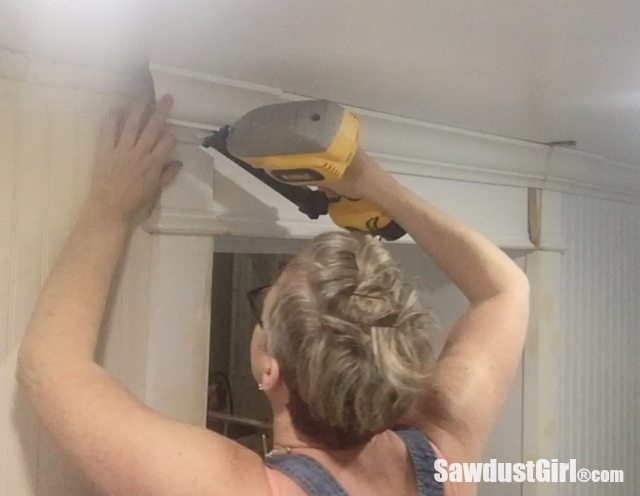 The bump-outs are what make moulding look SO COOL!  They're a bit tedious — but worth it.
I take a ton of time making sure all nail holes, cracks and imperfections are filled and GONE before I'm ready to paint.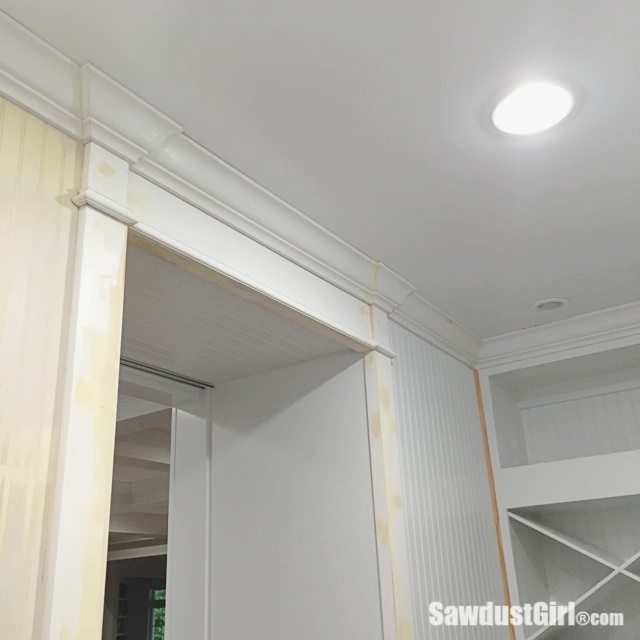 Then I prime, look again, fill and sand some more and then paint.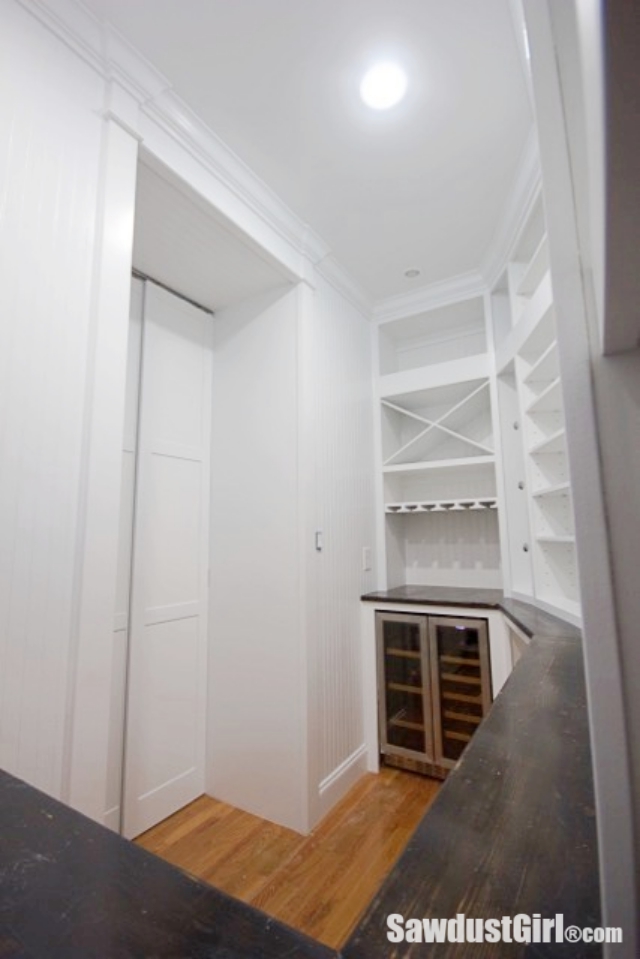 I included a few tips for cutting and adding the small return pieces in my video.

So here we are!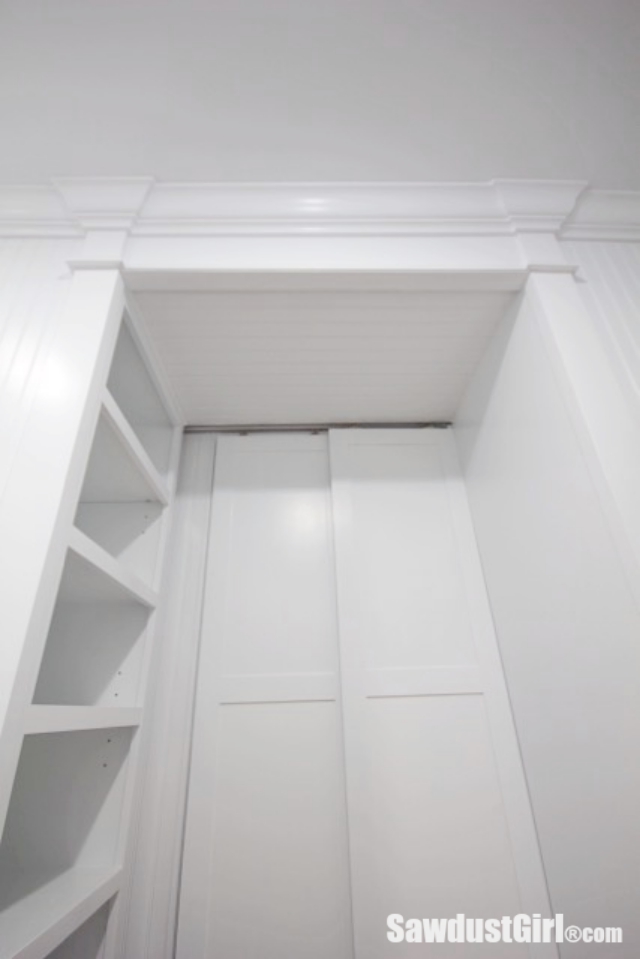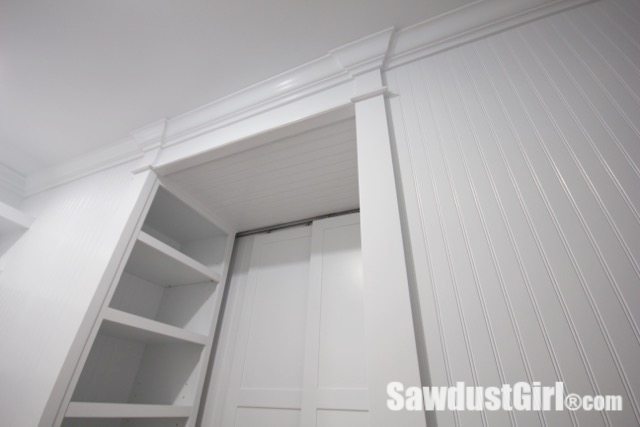 It's a lot of white right now!  But soon there will be tons of food and pots and pans and other stuff on the shelves to break it up.  SOON!
Related Posts