I started the Jack-and-Jill bathroom remodel this week!  It's as much a surprise to me as it is you.  Haha-seriouslythough.  When we live in a house while I remodel it, I have to continually rearrange my "project priority list" based on our current life needs.  Right now our needs require me to divert my project energy away from my studio (once again) and toward the Jack-and-Jill bathroom.  And so it begins!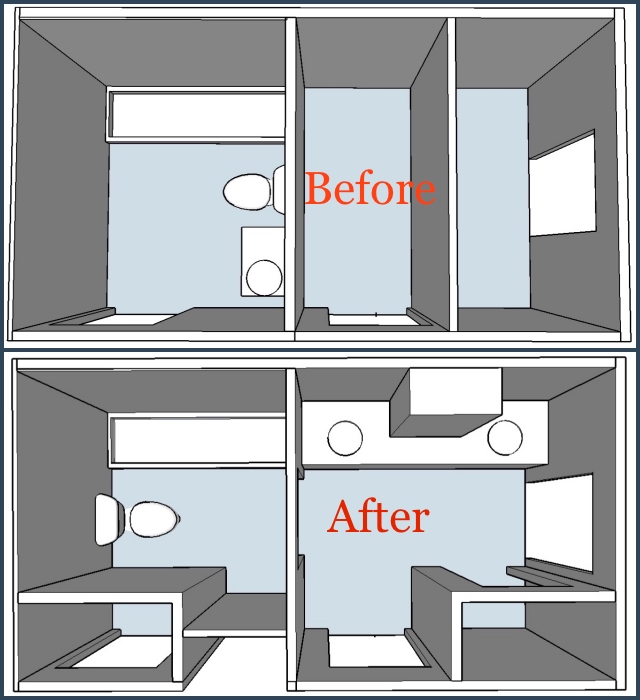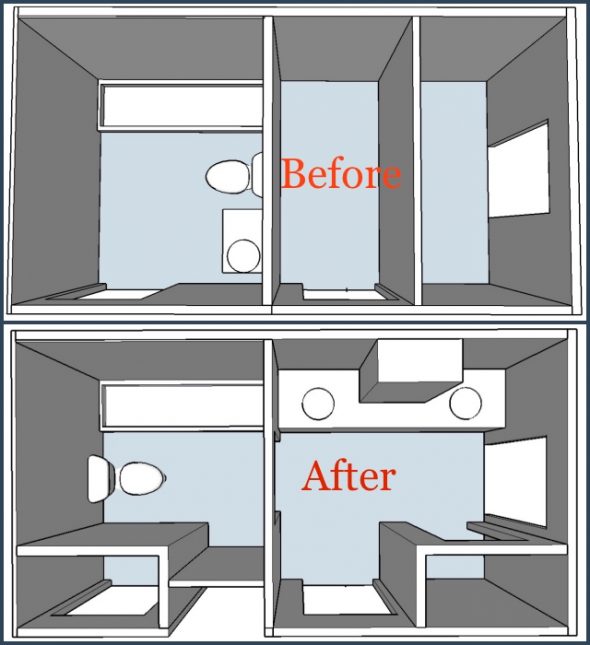 Jack-and-Jill Bathroom Remodel Begins
On the main floor, there are two, small bedrooms; each with it's own giant closets and one tiny, full bathroom that is accessible from only one of the bedrooms.  Originally the other bedroom had access to a full bath – but I tore out the bathtub early on and made that bathroom a powder room.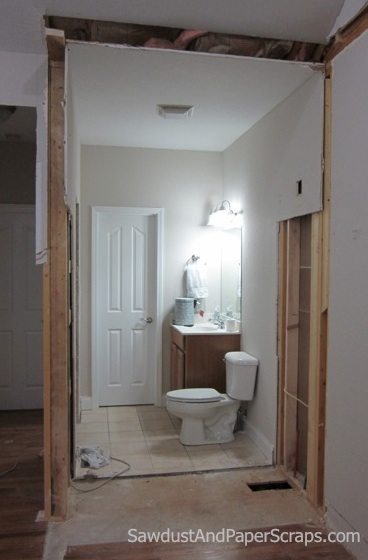 I've always planned on changing the configuration of the back closets and bathroom to create a Jack-and-Jill bathroom.  I thought it might be one of the last projects I tackle in this house because WE didn't need a Jack-and-Jill bathroom.  I just wanted to do it eventually because it makes more sense –and I like things to make sense.  Part of this "future plan" included knocking out the existing walls.
So when Madison came back from her "study abroad" semester and wanted to tear out a wall to make one bigger closet, I supported it!  (It's less work for me to do later.  Why not?)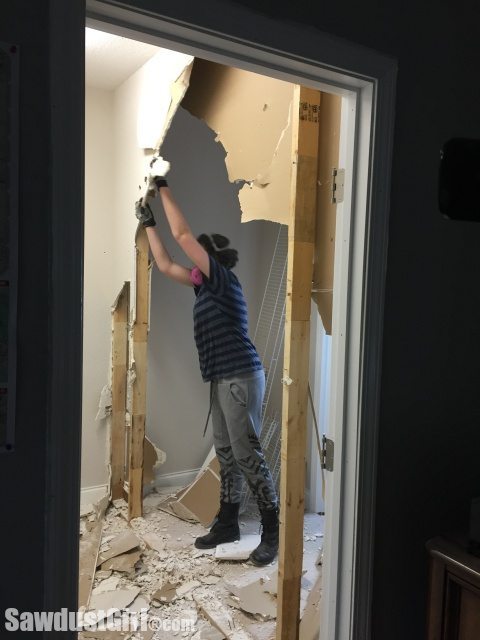 Funny thing about that is, Madison ended up moving into the larger basement bedroom after all.  So for the last six months the upstairs "guest room situation" has included: two small bedrooms, one tiny bathroom and not a single functional closet.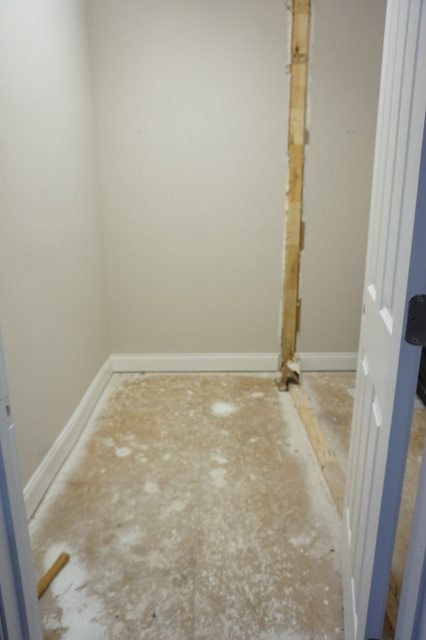 It was inevitable that we would eventually find ourselves in need of functioning guest rooms — so now I HAVE to do something with this space.  I'm not going to simply repair the closets, knowing that all that work will just be torn back out again.  (I sometimes change my mind about things and tear out work that I put into an area.  But I'm not going to pour money, time and energy into a project knowing I'm going to tear it all out again.)  So I'm going to go ahead and tackle the Jack-and-Jill bathroom now — and be done with it.
I started this week by tearing out the other wall, the one between the closet and bathroom.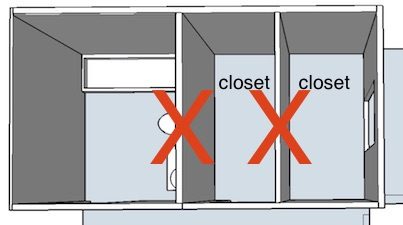 I removed all the drywall from the closet side first so I could see where the all the plumbing and electrical pipes and wires were located.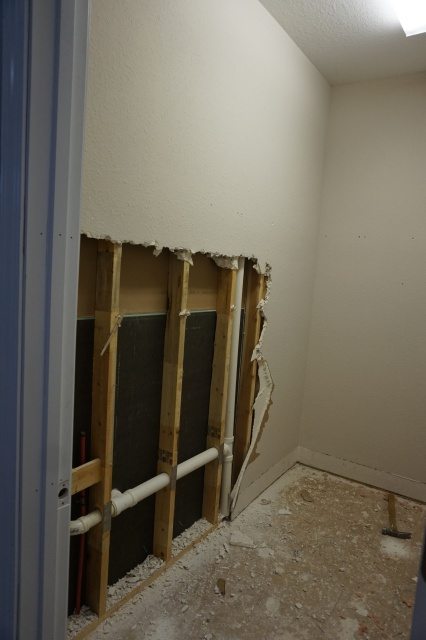 Then I removed EVERYTHING from the bathroom but the bathtub.  That is the only thing that is staying put and will remain in the new bathroom.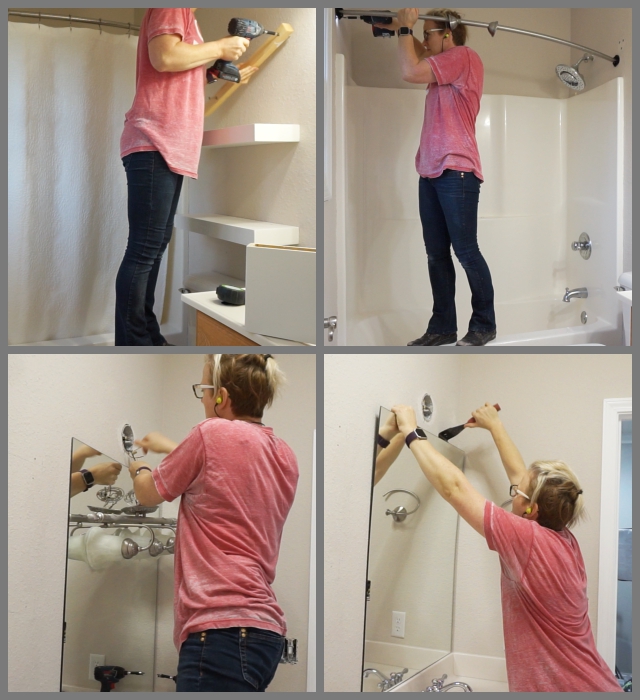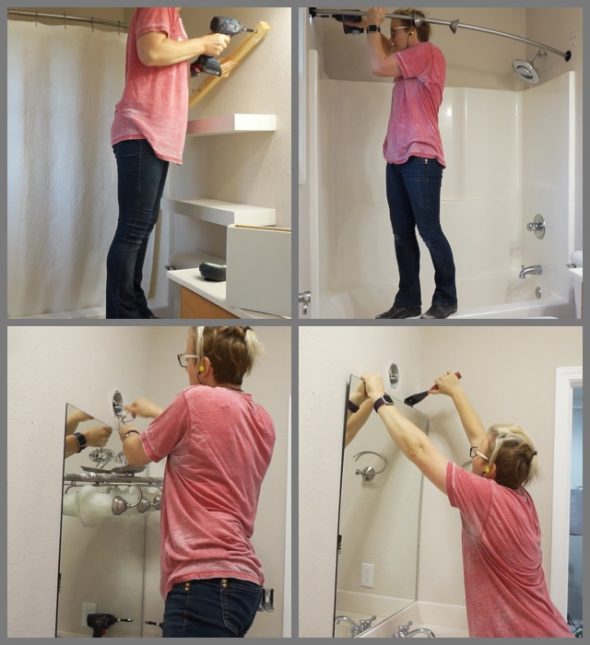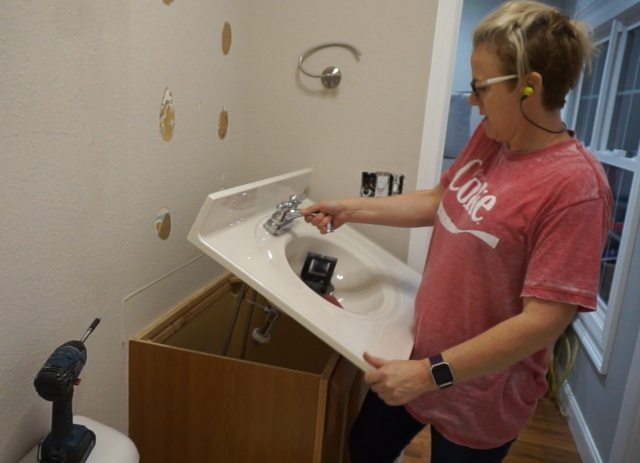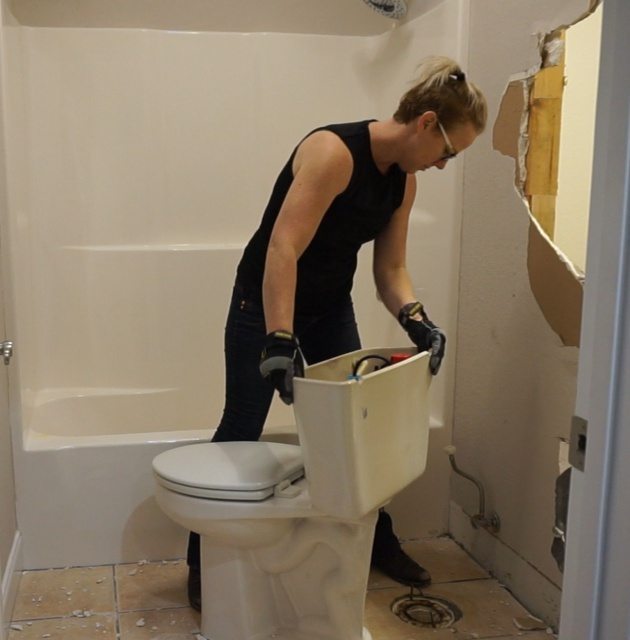 After taking out the vanity and toilet, I removed the rest of the sheetrock on that wall.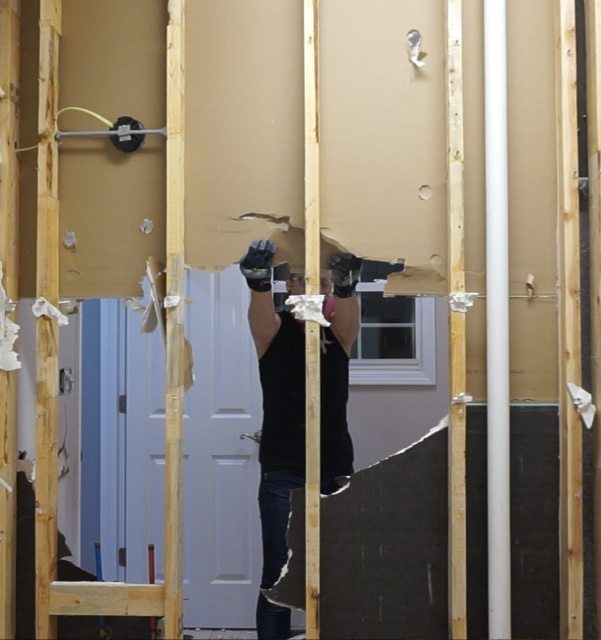 I'm not messing with any plumbing myself.  I used an oscillating saw to cut the studs around the pipes so I could remove those studs.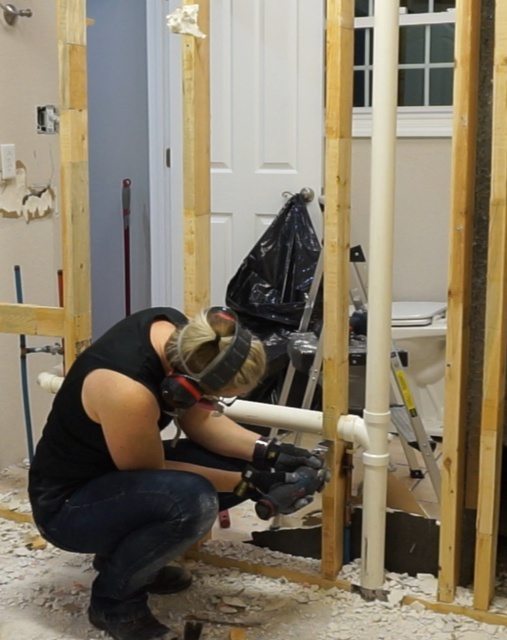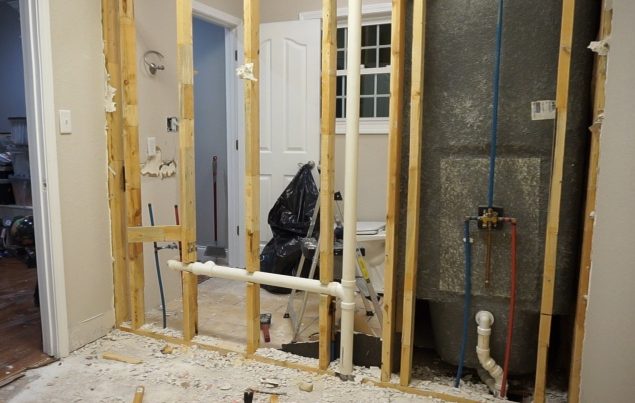 The plumber can handle the plumbing situation when he arrives.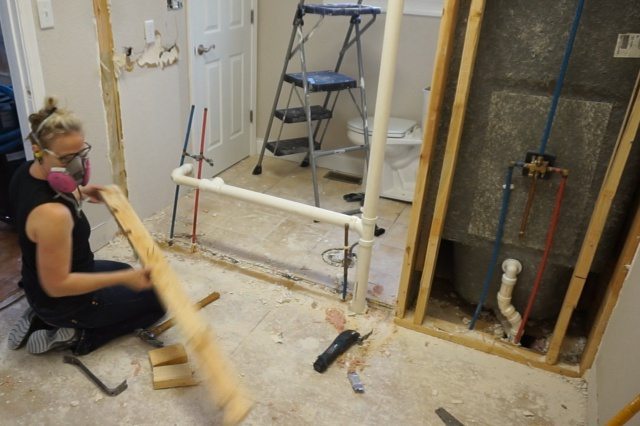 I want to have everything torn out, mapped out and re-framed/built before he gets here so we can expedite this process.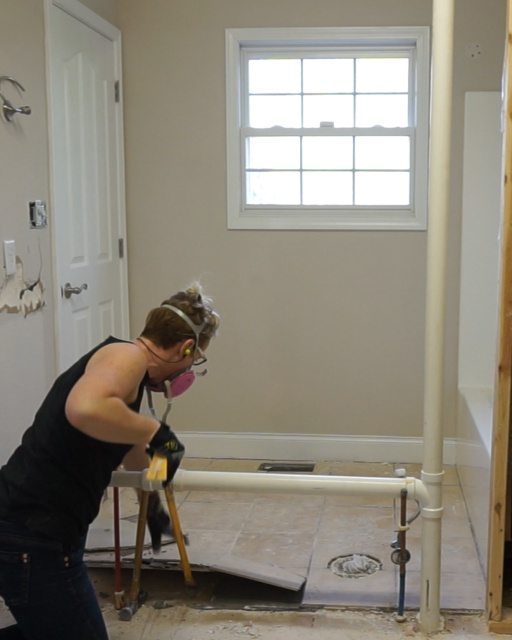 I've given myself a goal of one month to finish this project.  Knowing that I always underestimate my timeline,  I expect that it might take up to three months.  Having a one month goal keeps the pressure on me so I don't allow myself any "slacker days".  I won't compromise on workmanship or attention to detail so, in the end, it will take as long as it takes.  But having unrealistic goals help push me to work when I would rather sit on the couch and watch TV.
This week I got everything torn out.  I talked to my plumber about this project a couple years ago and we discussed cutting out subfloor to access the plumbing from above rather than tearing out the basement ceiling to get underneath it.  So I'm hoping that will work so all the demo stays in this space.  I really don't want to tear out more of the basement ceiling.
But I will if I have to!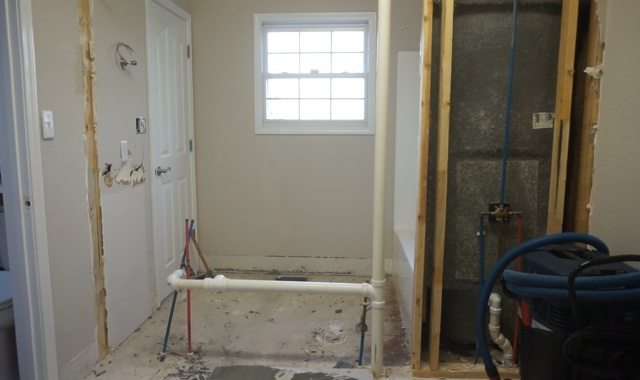 If my plumber comes out and finds some hurdle that requires me to redesign, I'll figure out a new plan based on the hurdle.  If no obstacles are met, the below photo is the plan for the new Jack-and-Jill bathroom.  The closets will end up being a lot smaller but they will be proportionate to the size of the bedrooms so I'm ok with it.