Can you believe it's been almost a whole year since I moved into my new house and workshop? Right away, we had the Sentricon® system installed around both buildings. We've used Sentricon for years, at multiple houses as we moved around the country. Our opinion is, the cost for preventative maintenance far outweighs the risk of termite damage (which is rarely covered by homeowner insurance). This is a sponsored post. Sentricon is compensating me to write and share this post. All thoughts and opinions are my own.
When Julie and I bought Calderwood Cottage, we saw first hand the extreme (expensive) damage termites can cause. Demo Days at Calderwood were pretty discouraging. The more we demolished, the more termite damage we discovered. That house was one of the 5 million homes a year that get invaded by termites — which cost homeowners over $5 billion per year.
I don't know how much more we spent on Calderwood because we had to demo down to the dirt and rebuild it. I can tell you that was NOT what we expected to be walking into. Also, as soon as we rebuilt that house, we had the Sentricon system installed – asap! The new homeowners just have to keep up with the annual inspections to keep the house protected.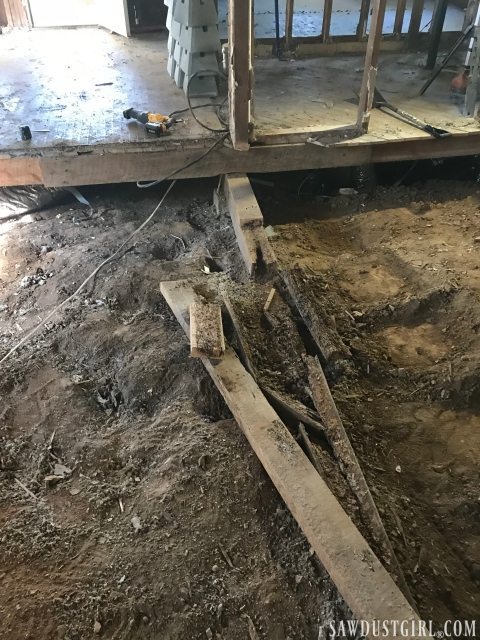 That "flip" reinforced in my mind, the importance of stopping termites before they become a problem. Which is why we had Sentricon installed at our Clinton house and my workshop/B&B building right away.
Preventing Termite Infestation
Last year, Russel's Pest Control came out and installed the Sentricon system around my new workshop. The bait stations are put in the ground and create a ring of protection around your structure. When termites are foraging for food, they discover the bait stations and take the food back to the rest of the colony to share. The catch is when they eat it, they can no longer molt, which means they will die. Basically, the Sentricon system is focused on eliminating the whole termite colony once and for all.
Normally, the annual inspections involve an inspection of the bait stations, as well as the structure itself. The inspector looks for signs of termite activity both inside and outside. This year, because of Covid19, Russel's Pest Control's company policy is to not perform an interior inspection. This is in effort to reduce exposure to the homeowners and service technicians. They stand by the warranty and will perform an interior inspections when it is safe to do so.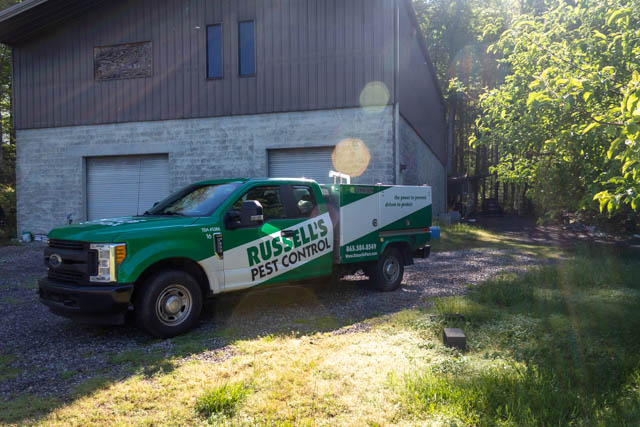 Installing new bait stations -again
In addition to the annual inspection, I had to have some new bait stations installed again…on account of a new French drain I just had installed. Russel's sent a technician out to install new ones along the two walls that had been excavated. Before they came out to dig, they called 811 to have the electric and gas lines marked so the technician wouldn't drill into anything important.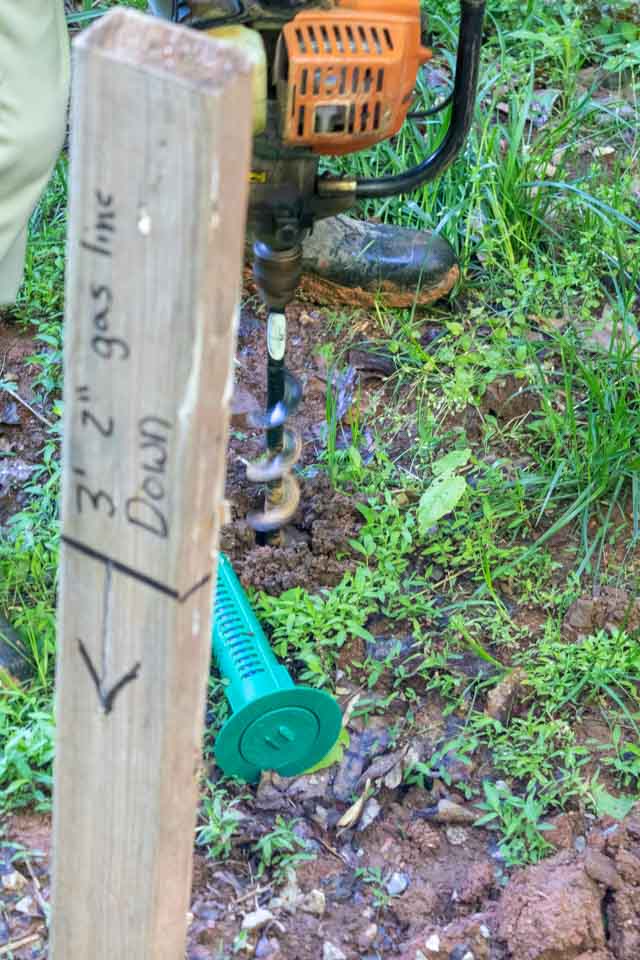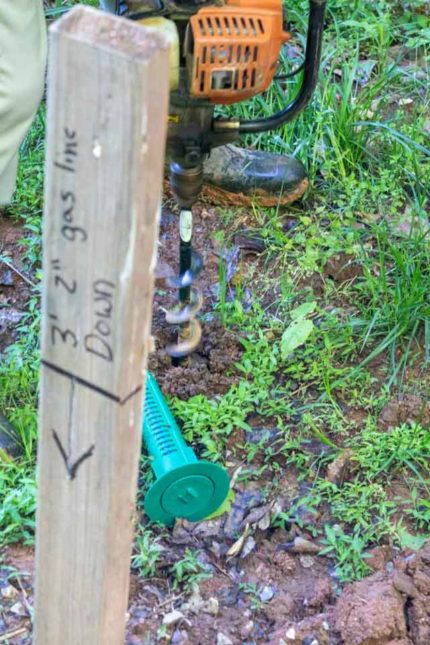 Las year, the technician who installed the bait stations dug all the holes with a hand drill. This year, he used a gas powered auger, hence the importance of locating gas and power before digging.
Locating the Bait Stations
The inspection process was interesting to observe (which I've never done before). To locate the bait stations, the technician scanned the ground with a station detector. Some of the bait stations are clearly visible, but half of them were covered by gravel or greenery so the locating method is pretty smart.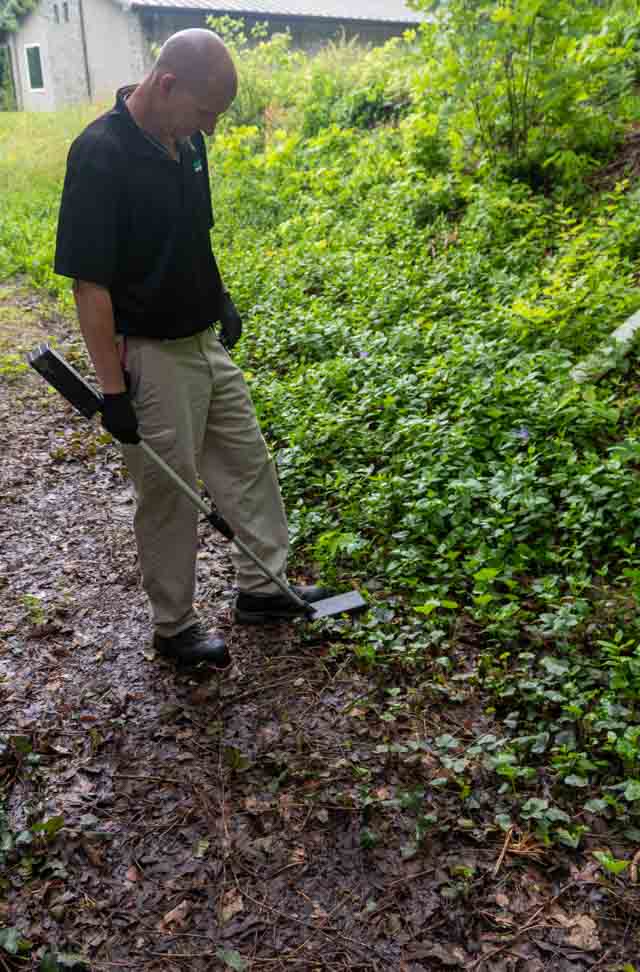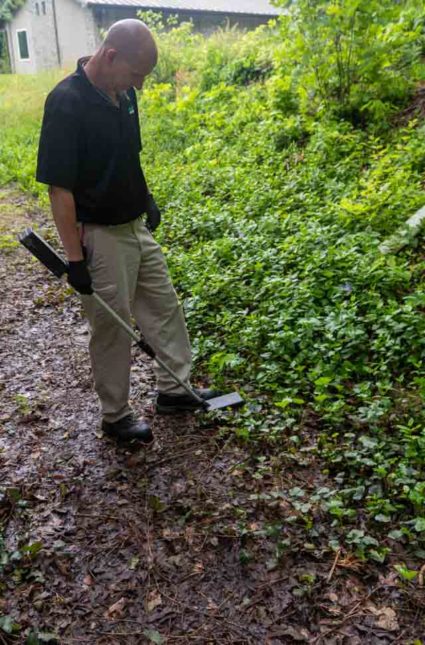 How does a station detector locate a plastic bait station? There is an RFID chip located in the barcode sticker which is located on the underside of the bait station top. Smart!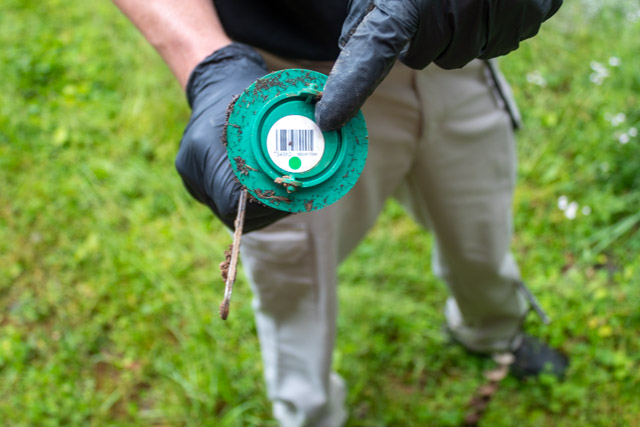 Inspecting Termite Bait Stations
Each bait station is opened and the bait inspected. The top twists off of the housing and then the bait is pulled out.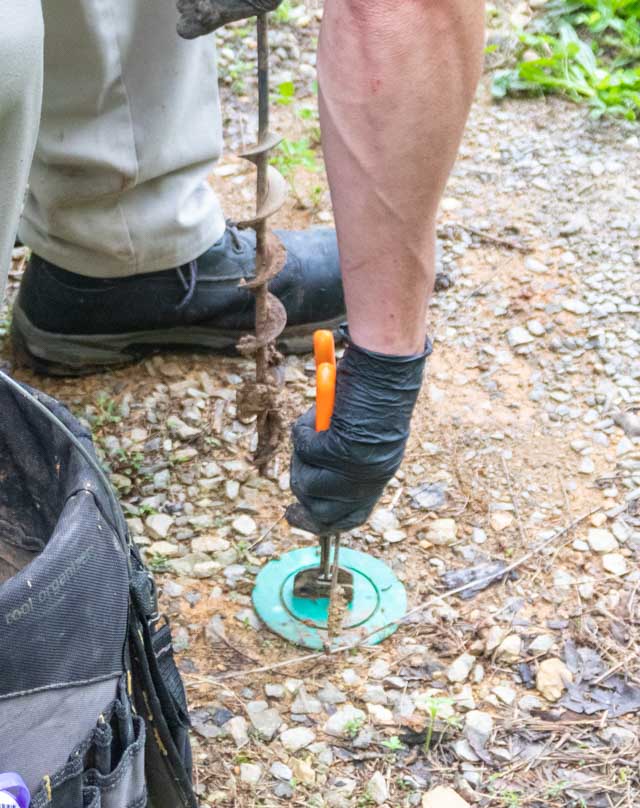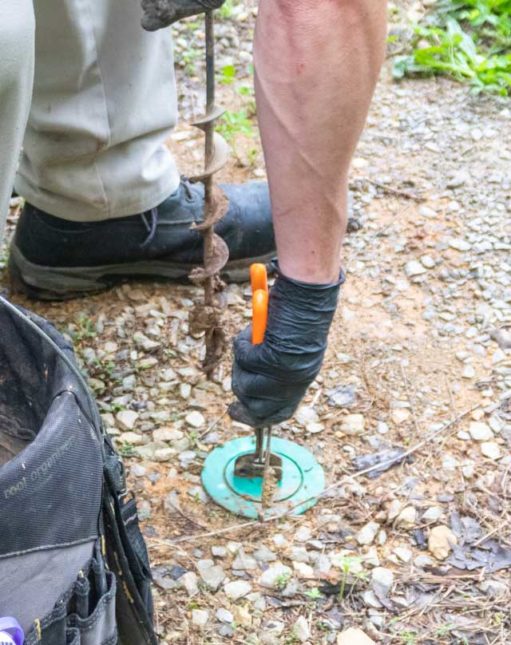 The bait is a solid cylindrical stick kind'a thing. If termites come across it, it becomes a food source for the whole colony (or multiple colonies as is common). If millions of termites had been eating away at any of the bait stations around my workshop, the bait stick(s) would be significantly smaller in size.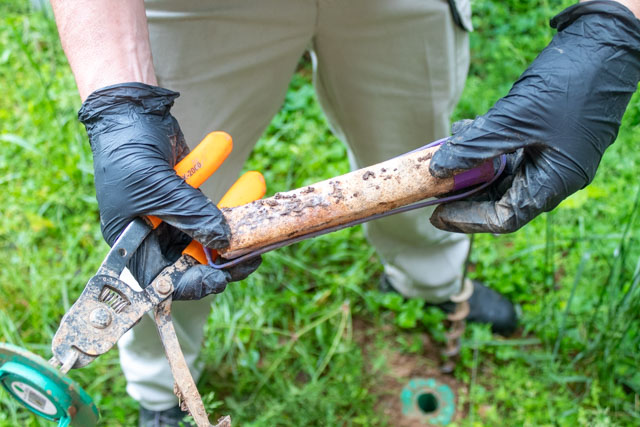 When the bait has been consumed by a third, they get replaced with a new one. Gotta' keep plenty of "food" available for any new colonies that may come foraging around the building.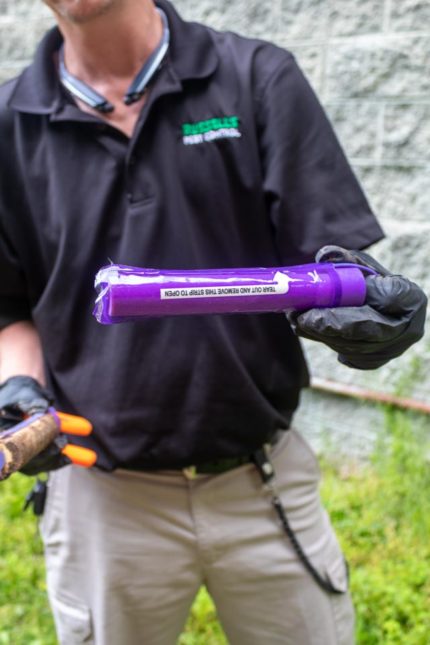 None of my bait stations showed any sign of termite activity and didn't require bait replacement. Caps returned and we're good to go for another year.
One might think that my workshop is safe from termites because it is on a slab and is metal and block on the exterior. Not the case because termites can enter through very small cracks (width of a credit card) and there is plenty of wood IN the building I'm sure they'd love to devour.
The bait stations don't attract termites, but they provide a food source to termites that are foraging around, looking for food. I'm happy to give them an ample source that they can take back and share with their whole colony. Total elimination. Because…I don't need to deal with this type of issue, ever in my life again.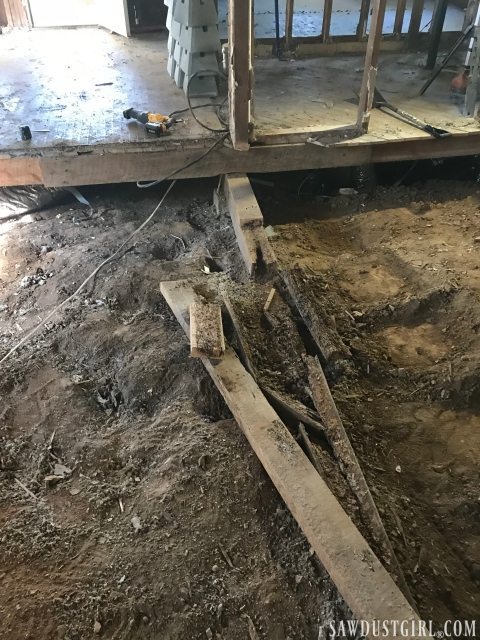 I don't wish that kind of damage and expense on anyone. Sadly, unless you live in Alaska, your home is fair game for termites. The level of risk for termite damage varies by location as well as additional factors about your home. You can take Sentricon's risk assessment to calculate your home's risk level. Need to find a Certified Sentricon specialist? Go here: Find a Pro
At some point Russel's Pest Control will come out and inspect the interior of the building, because that's part of the package. In the mean time, I'm resting easy, knowing my "circle of protection" is in place and ready for action…in case any termites com'a snoopin'.