Getting perfect seams when installing any moulding can be a challenge.  Walls and ceilings are frequently out of square, and then there are vaulted ceilings.  Don't even get me started! Sometimes, even if you're using my awesome crown molding templates, you still end up with imperfect corners.  Not to worry, it's so easy to fix gaps in crown molding with lightweight spackle!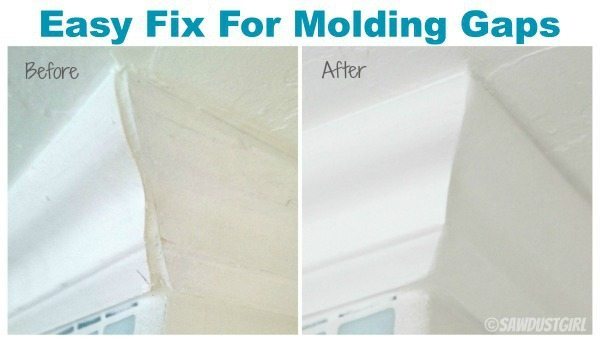 Fix Gaps in Crown Molding
Note: This is for painted moldings only. If you have wood molding that you are going to stain, this is not the fix for you. Let's face it, sometimes gaps happen. So for those times when your moldings don't line up perfectly and you have gaps, lightweight spackle can be an easy fix.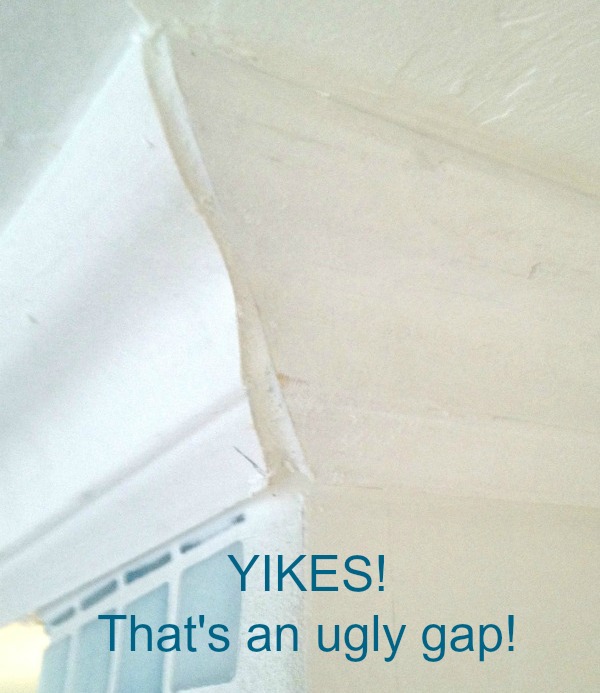 I know, Scary, but with a little caulk and light weight spackle, no one will ever know. OK I guess everyone who sees these pics will know, but you get the idea.
Start by caulking the molding as per usual, and include a bead of caulk in the gap. This will stabilize the molding. Don't worry about trying for a cosmetic fix with the caulk, just fill the void and let dry.

Use Lightweight Spackle
Next use lightweight spackle. I like Dap's Patch–n-Paint. It has the texture of a stiff meringue and seems like it will be too delicate to work, but this stuff is awesome!  It's moldable (OK it's not modeling clay, but you can get it to conform to a molding profile pretty easy), and the edge can be feathered to blend really well. Also, it is sandable, but retains a bit of flexibility so it won't crack and chip out over time, and it doesn't shrink.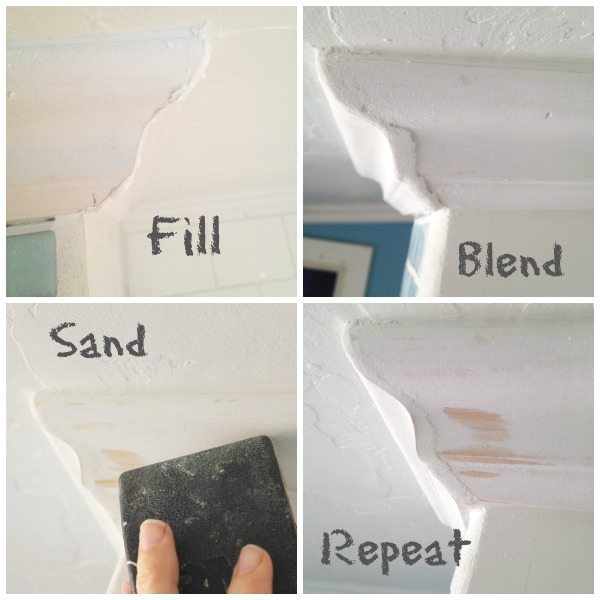 I start by making a series of small balls or snakes that I press into the gap leaving the spackle proud. Then gently blend. Work quickly. As the spackle dries, it will begin to stick to your fingers and become less toolable. Don't try for perfection. Just get the general shape and let dry.
After the patch has dried, use sandpaper to continue tooling and refining the patch. Repeat until you are happy with the look. If the spackle you are using needs to be primed, it is a good idea to prime between coats. That way you don't re-imulsify the first coat as you add more. Dap's Patch-n-Paint doesn't need to be primed, Hallelujah for one less step!
Paint
Now paint your moldings and watch that ugly gap disappear! Is it perfect? NO. But it's pretty darn good.  Especially since no one is going to be looking at your molding with a telephoto lens.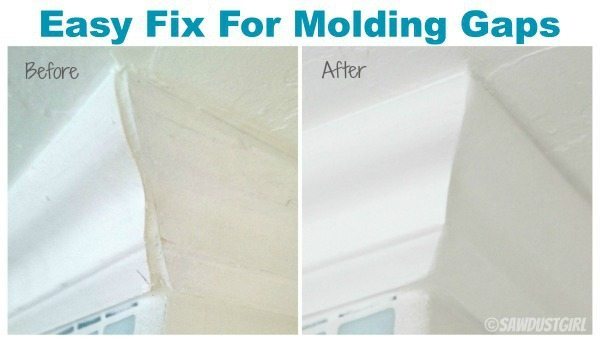 You might also like: How to Cut and Install Crown Moulding like a Pro, and Crown Moulding Stop and Cutting Guide, and How to Install Crown Molding on Cabinets
And these handy crown molding hangers make installing tons easier!