When we first moved in, the 10′ ceilings and spaciousness in the basement is one of the things we really liked. Originally, we had planned on having a home theater section, an extensive bar and maybe even kitchen area, in addition to room for our ping-pong and air hockey tables (both of which we eventually got rid of). The basement wasn't really a priority though, and I didn't ever do most of those things. I'm glad that I got to do so much to the rest of the house. Anyway, it turned out great and still looks way better than it did before.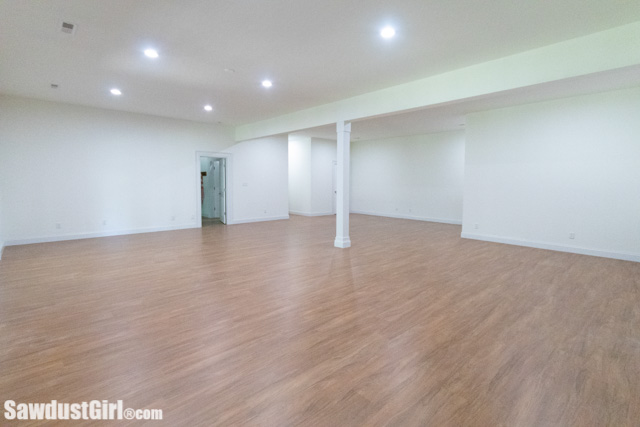 I don't know if y'all remember, but there was a weird triangle of tile that then turned into carpet which was just really weird looking. I think they were trying to have tile leading to the garage door and outside patio to keep the carpet clean. Good idea but it created a situation where the flooring "was the boss" of how you could section off the space for different "areas" or activities without it looking awkward. (Imagine having a diagonal transition from carpet to tile in the middle of a conversational seating arrangement.) We tore out the tile and all the carpet. Then we installed a laminate that mirrored the hardwood on the main level.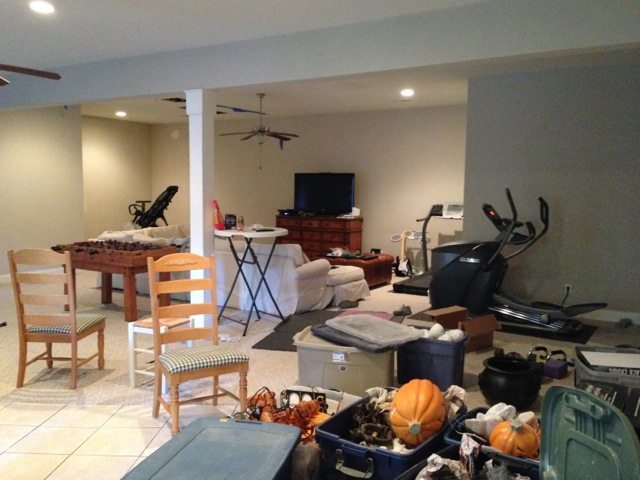 Remember in November I did a bunch of random projects including framing a wall in the basement for a wet bar? This is what it looks like after building cabinets and countertop. We had planned for it to be a lot bigger, but since we aren't living here anymore, I figured I didn't need to spend another 6 months on the basement…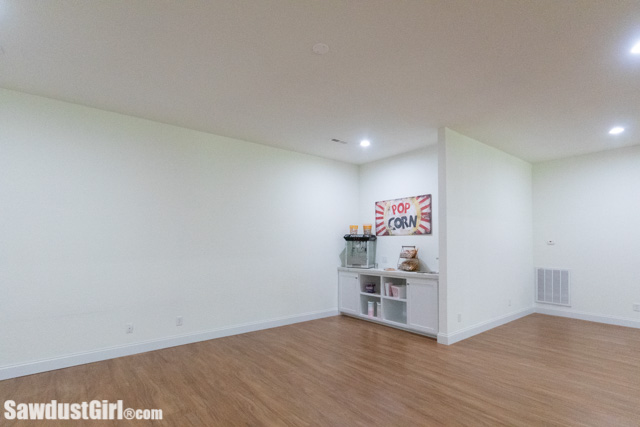 I built a couple floating shelves out of reclaimed wood from Calderwood Cottage for this spot. We didn't end up installing the shelves though because I bought a popcorn machine thinking it would be a really fun way to style the area and super fun to use once I take it over to the new house! Then Madison and our friend Chantel made this vintage looking sign to fill the space. (It needs to be hung about 6″ higher but we lost interest in zshushing decor by the time we looked at this space. 6″ won't make a huge difference — it just hurts my OCD a bit.)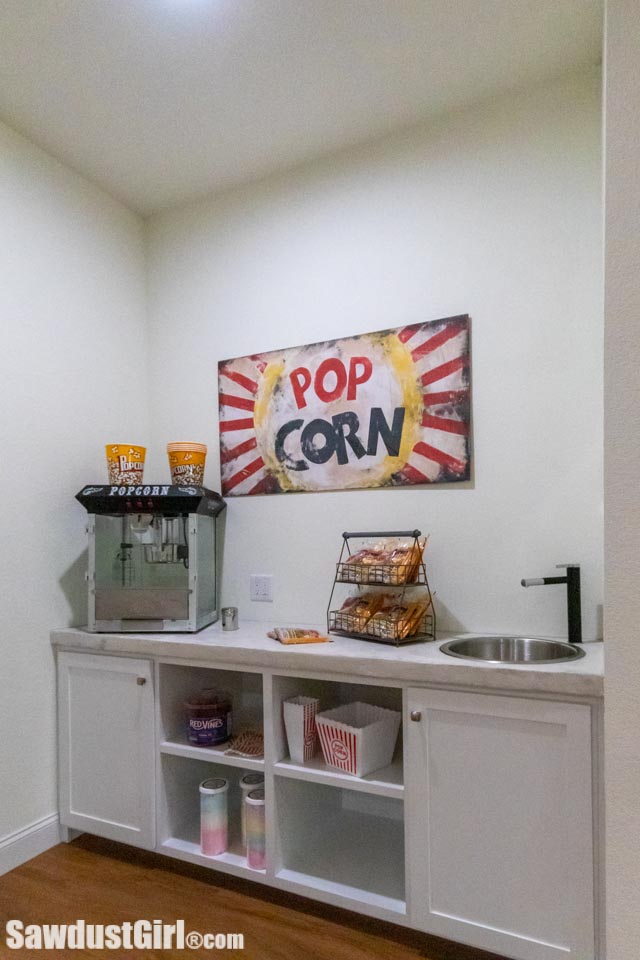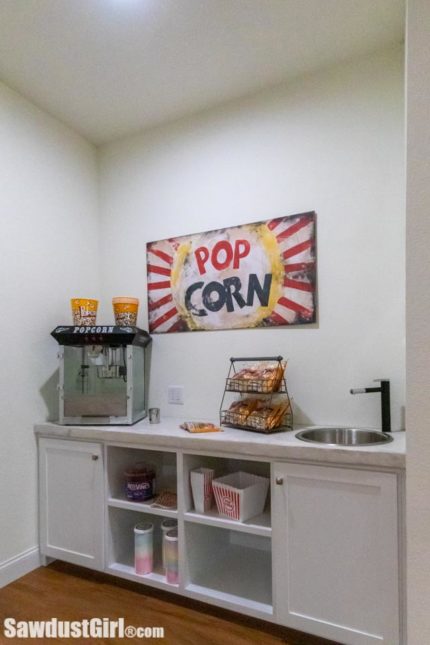 Bedroom
This bedroom was originally painted with the same taupe as the rest of the house and carpeted. We used it as a storage room until Madison used it as her bedroom while I worked on the Jack and Jill bathroom. That's when the Sewer Saga happened.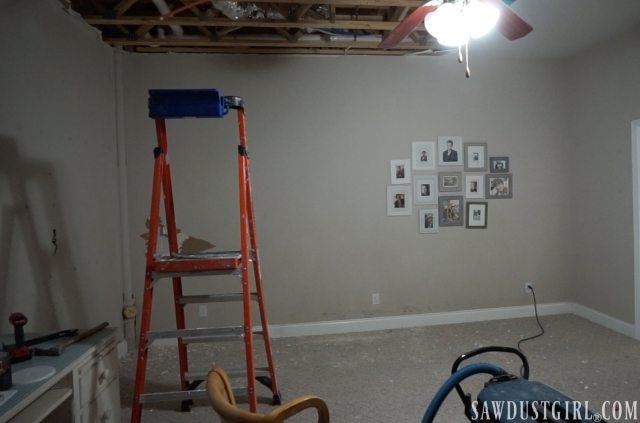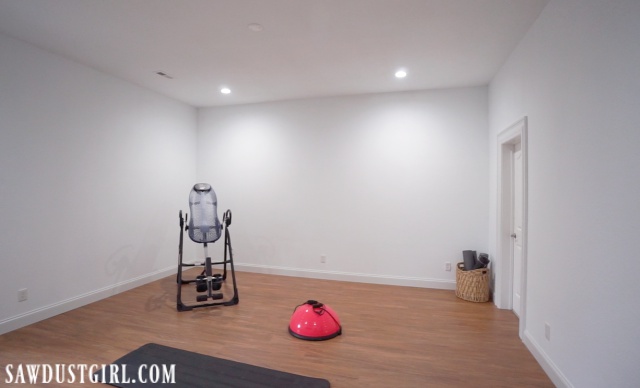 Other than framing a new wall, fixing the plumbing issue and replacing the drywall…all I did in this room was new paint and flooring. And bulked up the trim to match the rest of the house.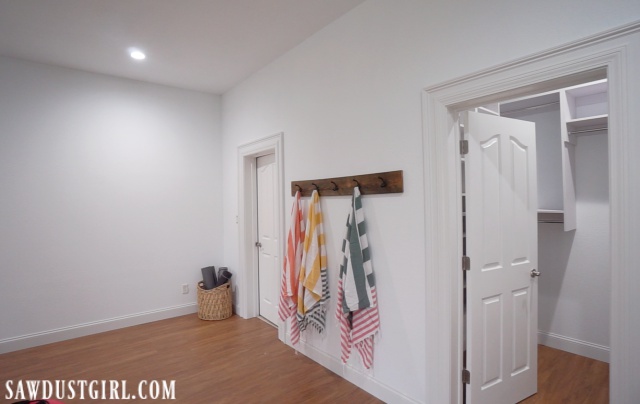 We have it staged as a workout room. Even with sparse improvements and decor, it looks so much better than before.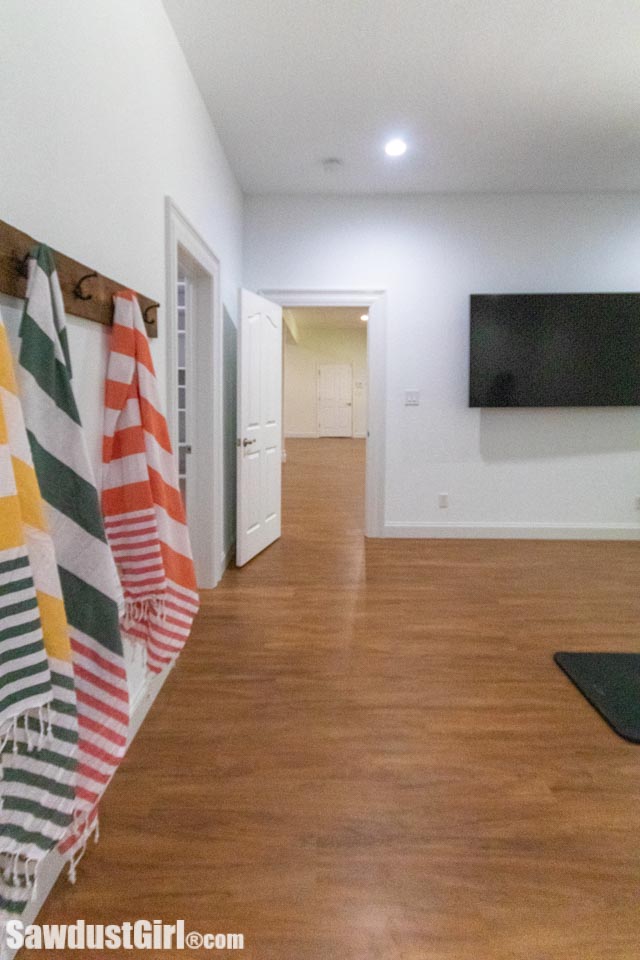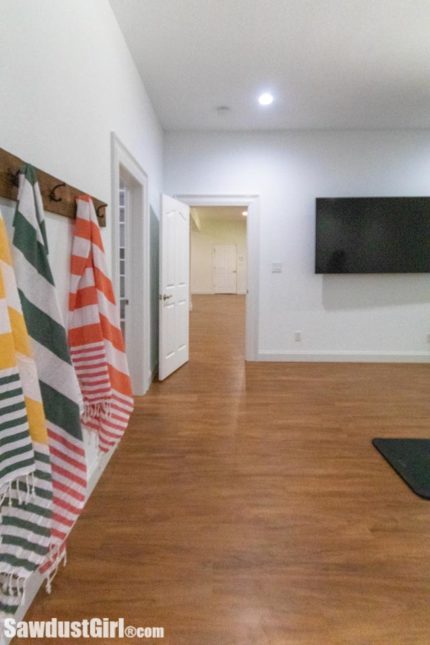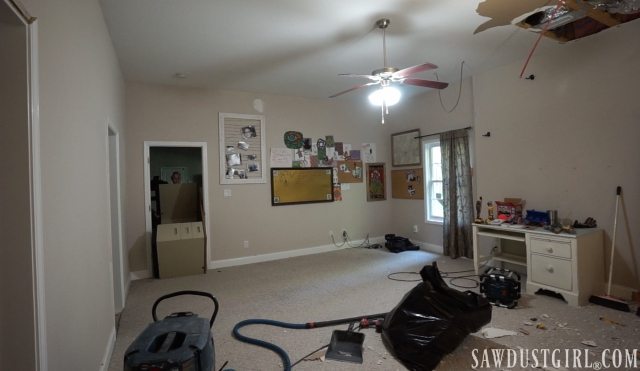 Closet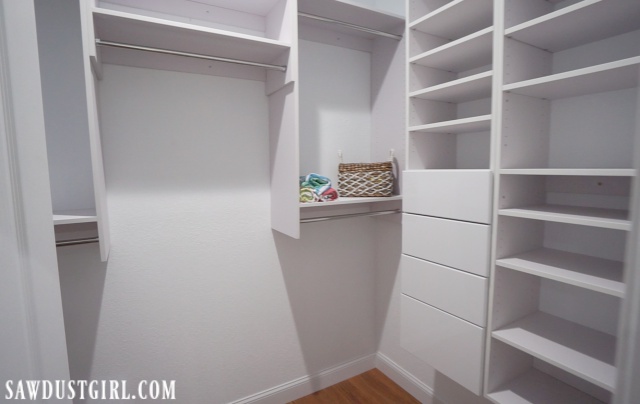 Even though this room is staged as a workout room, it has a very functional and pretty cool looking closet. It's a really good sized bedroom and closet. Whoever buys the house may want to use it as an in-law suite or rent it out or just as an extra bedroom—who knows! Either way, they've got a ton more storage than we did when we moved in. I can't get a good photo of the room but here's the design created by the designer at Modular Closets.
Bathroom
This bathroom looks 8000% better than before….it was a nightmare. When we first looked at the house, Madison saw a giant daddy long leg spider (they're freakishly large in the South and she was very spider skittish at that age) and forever nicknamed it the "Spider House". She actually cried when we went to sign the papers. Anyway… I put up board and baton wainscoting to really elevate this room. Julie, Penny, and I had so much fun styling it.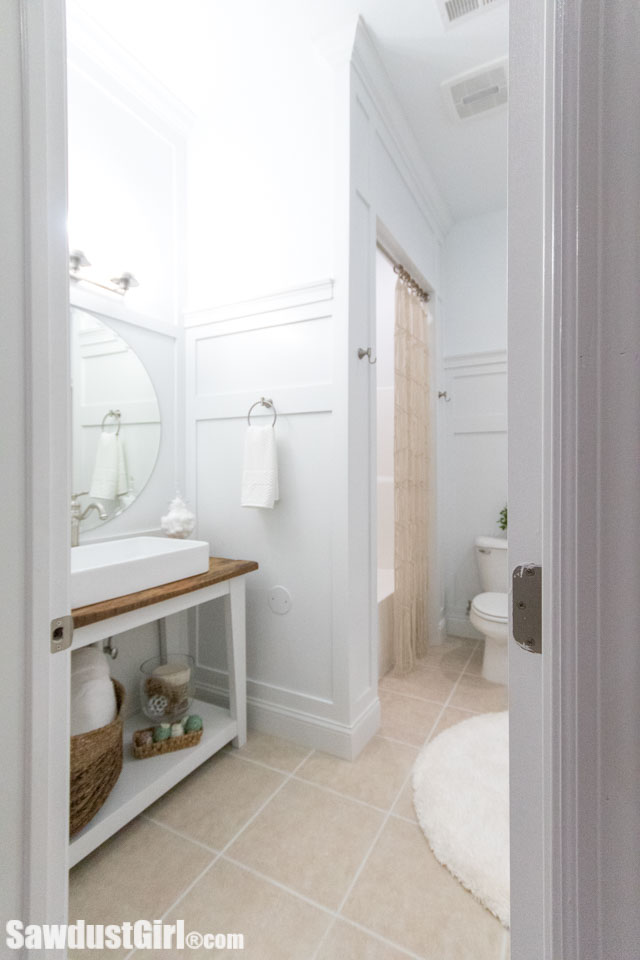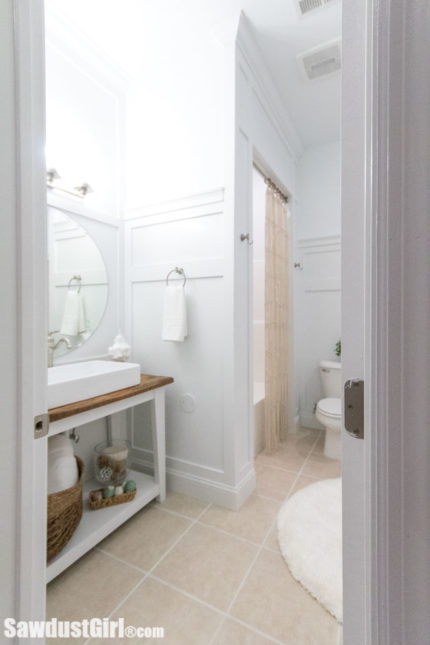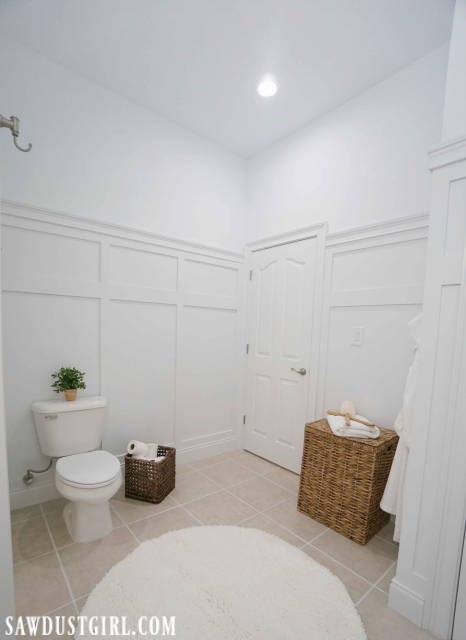 We couldn't find any vanities that were just right here, so I built my own using reclaimed wood for the countertop…which turned out awesome!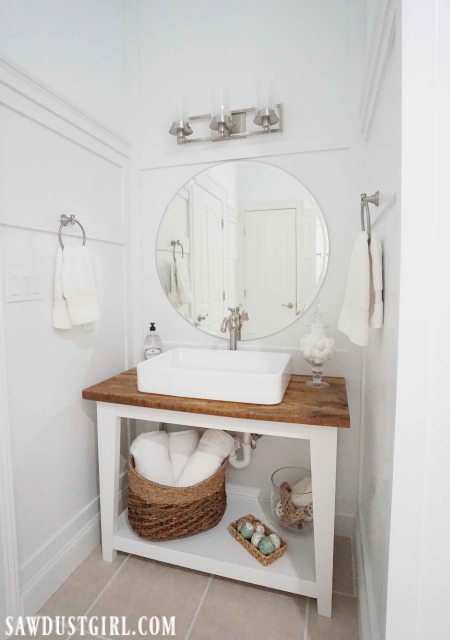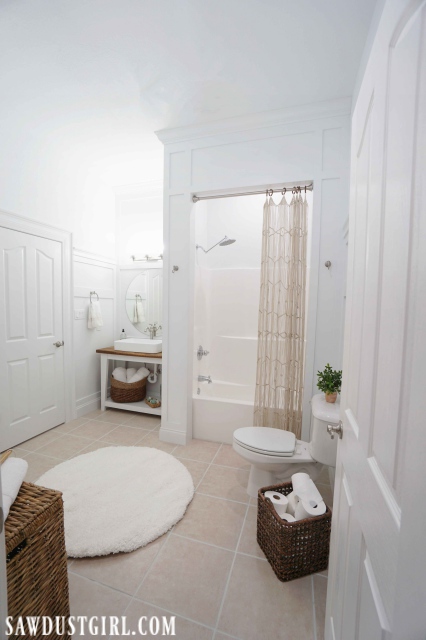 I'm disappointed that no one really got to use this bathroom after it was all done up, but I'm super happy with how it turned out. Even though most of the basement isn't THAT different from when we started, it definitely looks classier, cleaner, and not-so-spidery (you're welcome, Madison). Whoever buys this house won't have their kids crying about "the ugly spider house" as they go off to closing.