I finally finished the pantry countertop so this room is done!  Wes has been a good sport through this process.  He's thought the countertop looked great about 10 different times.  I kept saying, "That was the last coat" and we both stopped believing me after about the 15 time.  I am very happy with how it looks right now.  I have no expectation of it holding up over the years.  I've decided to worry about that — later.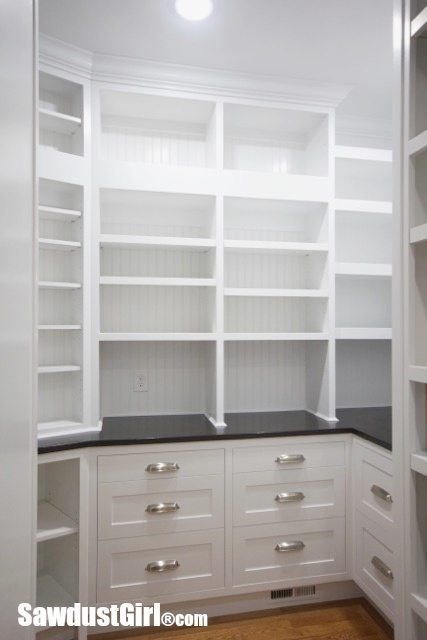 Walk-in Pantry Reveal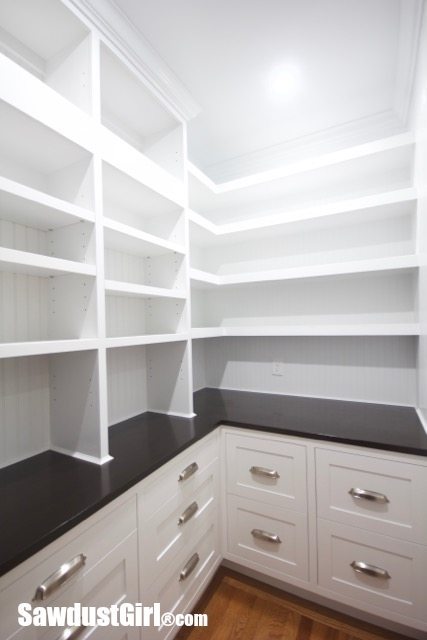 If you read my countertop woes post, you know how much of a problem this countertop was for me.  I have now found two DIY skills that I am NO good at:  wallpapering and polyurethaning.  After about 18 coats I was too far in to let it beat me.  I was committed to getting the look I wanted and so I kept working at it until I was happy with it.  It's been like 5 weeks.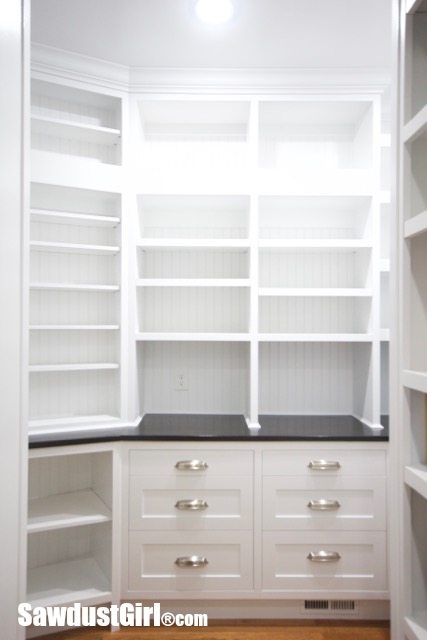 A couple weeks ago Wes suggested that we just get some granite put in here and be done.  It's something we talked about initially but I wanted to do wood.   I've done tons of wood countertops finished with Tung oil.  It's super easy to apply and I love how it makes wood look.  I didn't expect having any kind of issue with doing a wood countertop.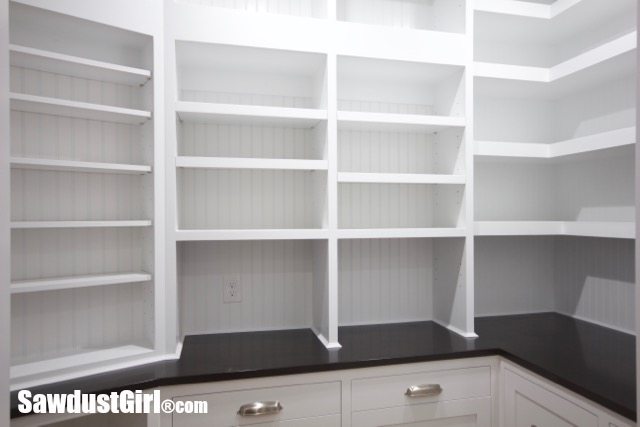 Granite WOULD HAVE been great if we'd installed it before I built all the upper cabinets.  Especially the wine storage cabinets.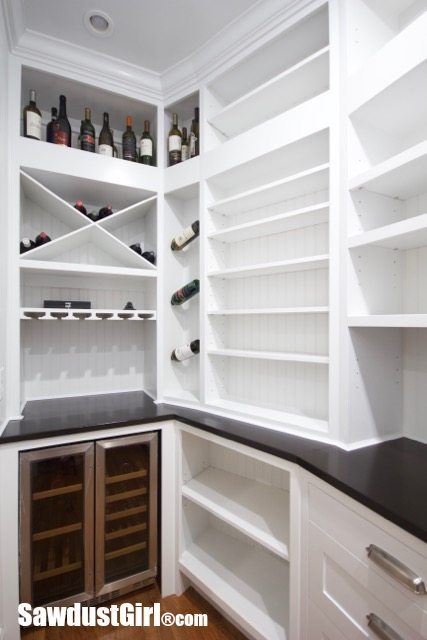 No, at this point, I couldn't remove everything and just put it back after replacing the countertops.  Pulling everything out would mean demolishing most of it. Getting up in all that would NOT help get the pantry done faster.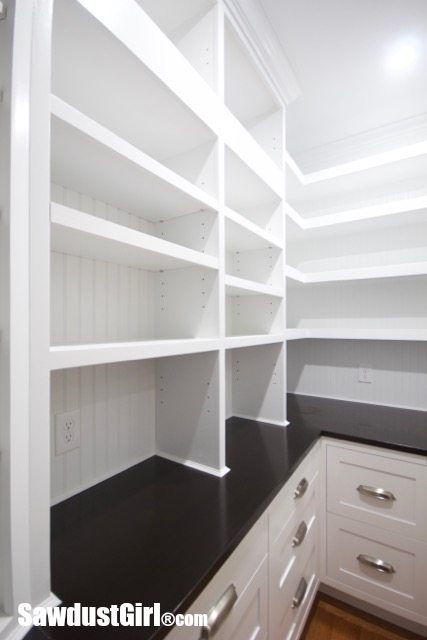 This pantry has already been built, added to, partly demolished and rebuilt. I kinda want to finish it and move on.  
It's a lot of storage space and we can't wait to use it!  Even though the only thing holding us up was the countertop, I didn't want to use the room until it was DONE.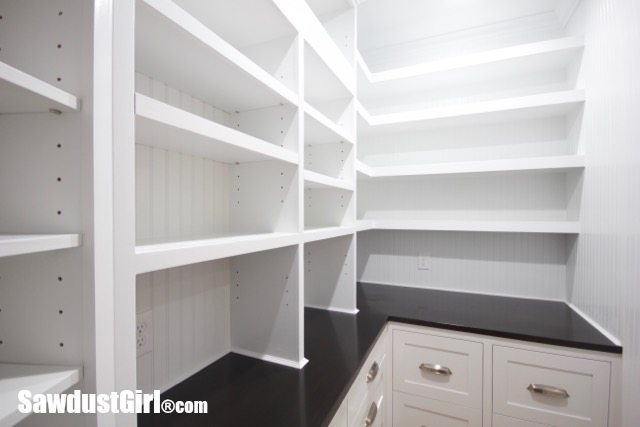 Although we have been using the tall cabinets at the pantry entrance, where the sliding doors tuck away when open.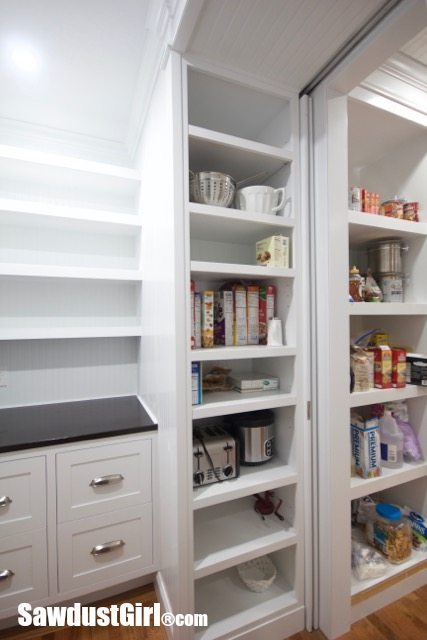 Truth be told, Wes has been using the wine storage for a while as well.  I find that encouraging his use of the wine storage area helped him cope with the mess for so long.  😀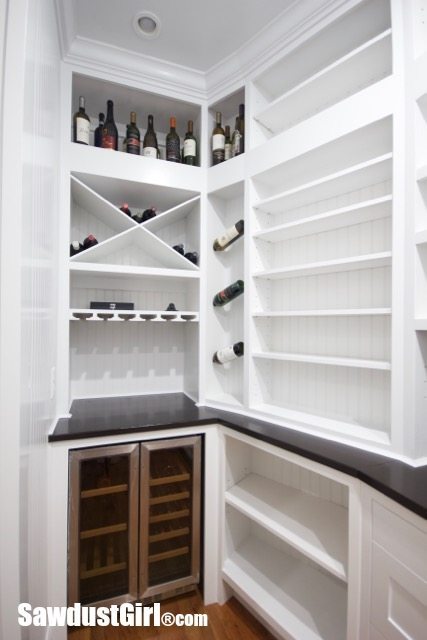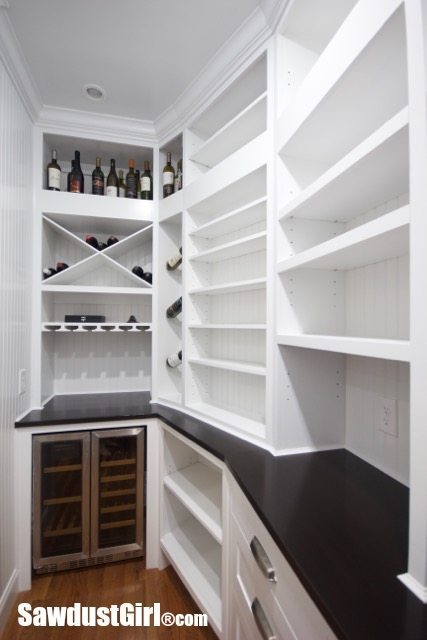 We are ready to unload the plastic bins sitting in the living room and use the drawers and shelves.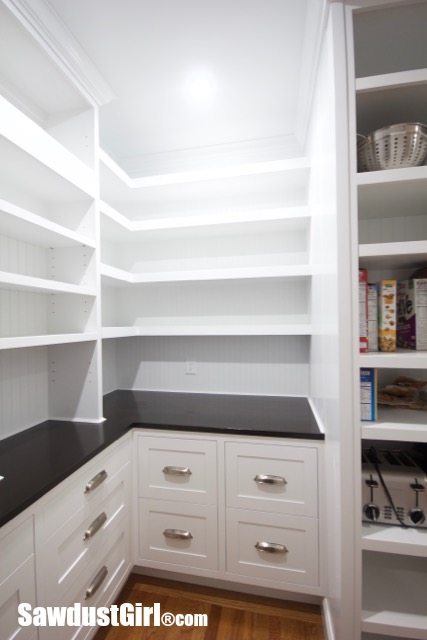 Once we start using the entire pantry I'll be more strategic about what is stored in the tall cabinets.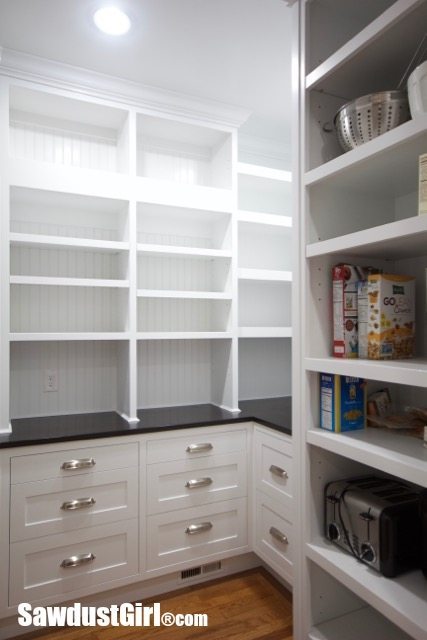 Learning my new unskill meant waiting an extra 5 weeks to use the pantry but it's done now!
Here's what I would do differently:  If I could go back in time to the point where I lightly sanded the countertop surface (after finishing up all the building I did on top of it), I would have sanded it back down to the bare wood and just start over with Tung Oil which is SOOOOOOOOO much easier!  OR I'd go back to when I built this countertop and skip the finish process completely and just do it after the rest of the pantry was built.
I can't go back in time but, you know, next time!