After my failed attempt to cut a mirror, I got a hold of 2 more and tried again (after watching some videos on the subject and buying a better scoring tool.)  I successfully cut them both.  One I cut into 7 pieces so I am sure it wasn't just dumb luck.  Here are some important things I learned about how to cut a mirror.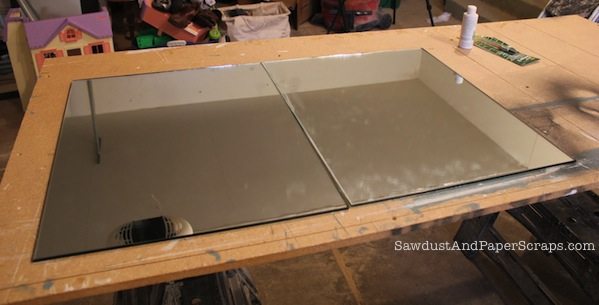 Cut a Mirror
1.  All cutters (scorers) are not equal.  I first used one that I bought at the local home improvement store.  They only had 1 to choose from.  It had 6 different tiny scoring blades on a wheel.
The new one I bought has one scoring wheel and a cavity in the handle for oil.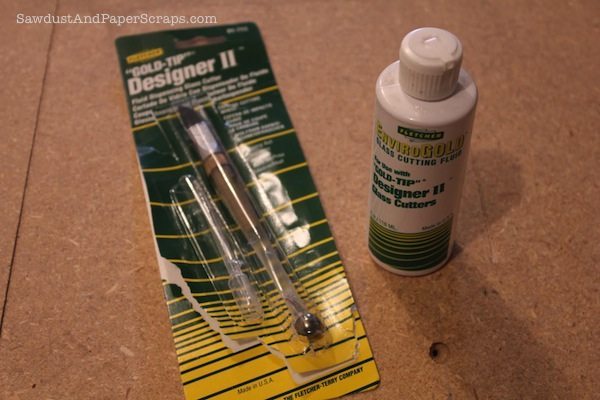 I bought mine from Amazon.  The cutter was $20, which is high compared to some  but I tried the $5 option the first time and it sucked so I got the higher end model in order to give this test a fair shot at working.
Amazon affiliate links: 
Fletcher Terry 01-711 Fluid Glass Cutter
,
Fletcher Terry 09-541 Fluid Glass Cutter
2.  You need oil.  Either on the mirror or on the scoring wheel or both.  I think you can use any kind of oil, sewing machine, cooking…not sure.  I just bought the oil that had the same brand name and was meant to be used with my new cutter.
3.  Clamp your straight edge down so it doesn't wiggle around.  You need a firm guide to follow in order to score properly.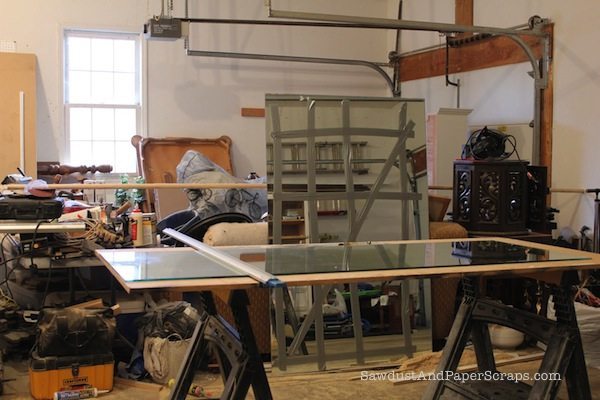 4.  Make your score in ONE, CONTINUOUS, EVENLY PRESSURED MOTION!  DO NOT GO BACK OVER YOUR SCORE!   You might be tempted to go back and forth to make sure you got it.  Don't do it!
Something about glass being in a state of flux between a solid and a liquid and once you score it it messes with the molecular configuration.  The point is: ONE CONTINUOUS, evenly pressured score all the way from the beginning of your mirror OFF the opposite end!
5.  You can use special pliers (
Glass Cutter Pliers
) to snap your mirror if you're making small "cuts" (technically they are breaks).  For larger "cuts",  just use the weight of the mirror to break itself.  Lift slightly and drop
So there you go.  It is possible to cut a builder's mirror.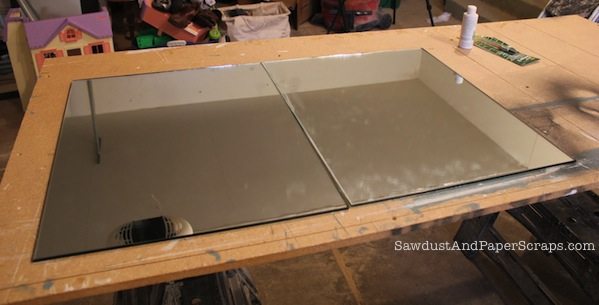 Not perfectly perhaps, but good enough for me.
There was a little chipping right along the edge but nothing a 1/4″ lip on a frame won't hide so I'm totally happy.  It was actually quite fun!
Related Posts