Guys, I'm so excited! Look at the new ceiling in my Piano room! What a big improvement over the unsightly acoustic tile, suspended ceiling that was there before! This ceiling was SO easy to install and I didn't even have to take down the grid! I installed WoodHaven Planks from this post's sponsor, Armstrong Ceilings, right onto the existing grid.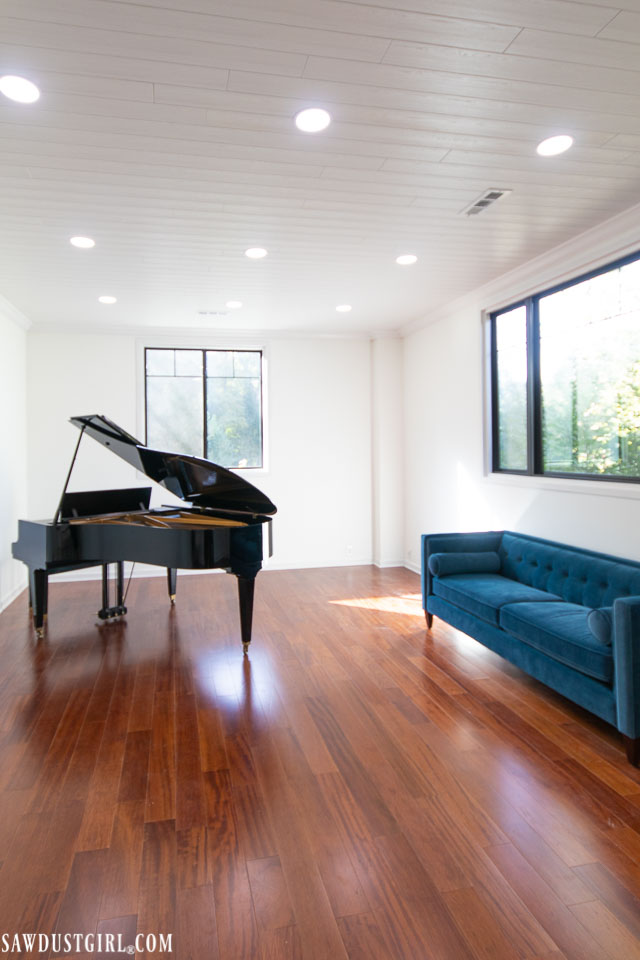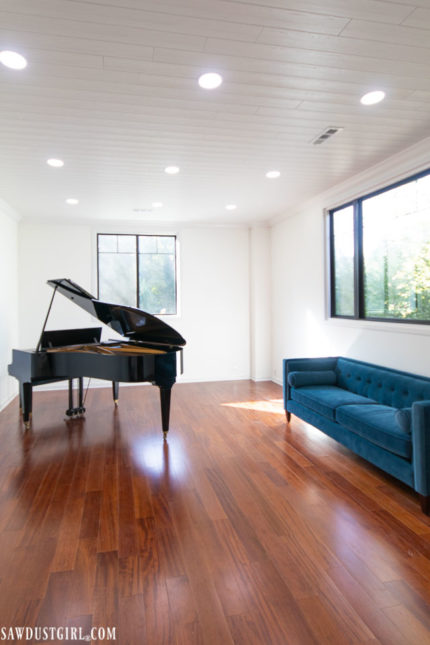 Before
You remember what this room looked like before, right?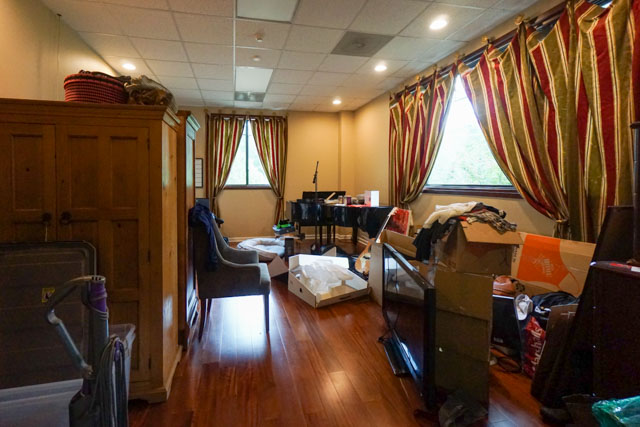 When I showed you guys the house tour, everyone commented on the drop ceilings. Apparently, a lot of you have them in your basements. I see them all the time in schools, medical buildings and commercial spaces, but I've never seen them on a main level of a residential home –before now.
A few months after the house tour, I got an email from Armstrong Ceilings about their product, WoodHaven Planks. When exploring their website, I saw the planks could be used on drop ceilings–AND that you can install them onto a drop ceiling grid! Life changing!
I'm not ready to tackle my whole house right now but we need one pretty room in this house! We need a space to escape from the rest of the "not our style" house. The Piano room made the most sense for this quick makeover.
Installation Video
Easy Up Clips
The magic of this system is in the Easy Up clips which fit onto a 15/16″ grid. The Easy Up clips snap onto the grid and have a hook that slides into the groove on the planks to secure them. When the ceiling is finished, there aren't any visible fasteners or nail holes to fill.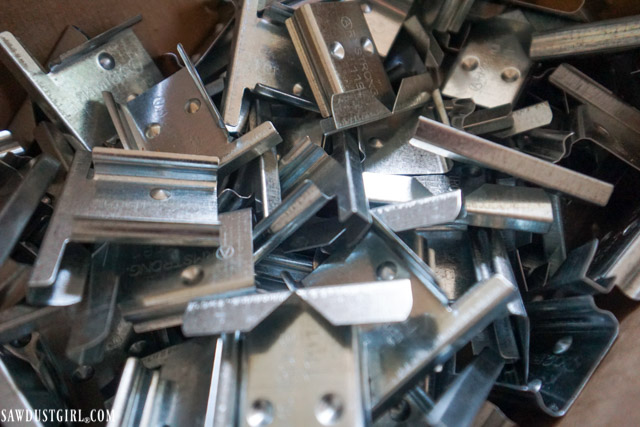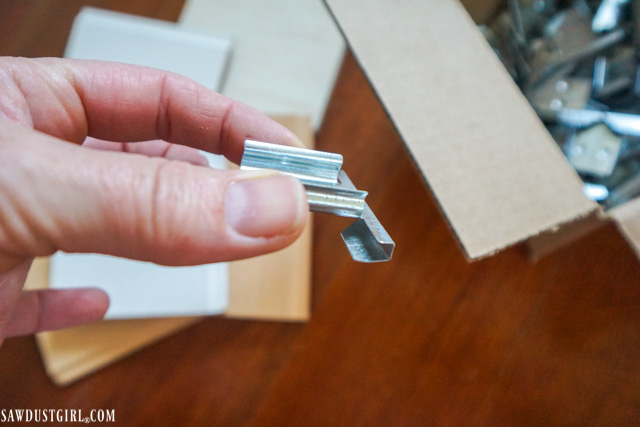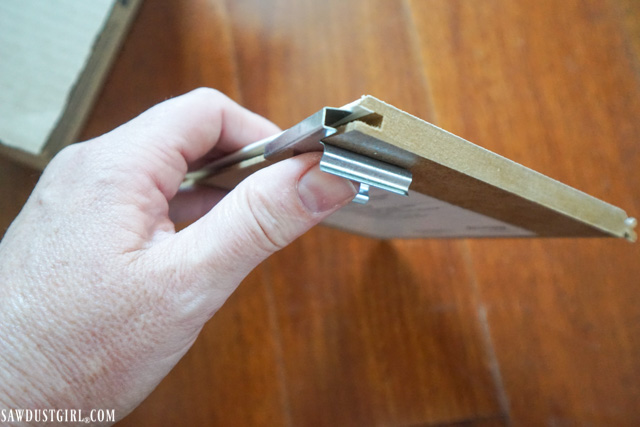 A great thing about the clips is that you can install and remove the WoodHaven planks easily; if you make a mistake (or realize you need to resize your light hole for the third time), you can just back the clips up, take the piece down, and go trim the piece again. Awesome!
Installing WoodHaven Planks to Drop Ceiling Grid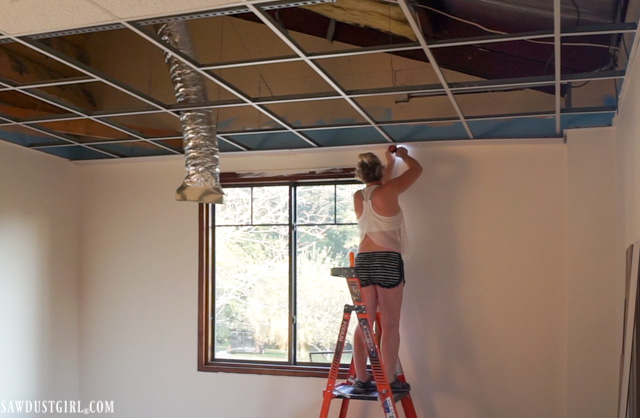 For the first row, I used a laser level to ensure the whole row ran in one solid line. Then, I secured these planks to the grid with screws so they wouldn't move around as I tapped subsequent rows in place.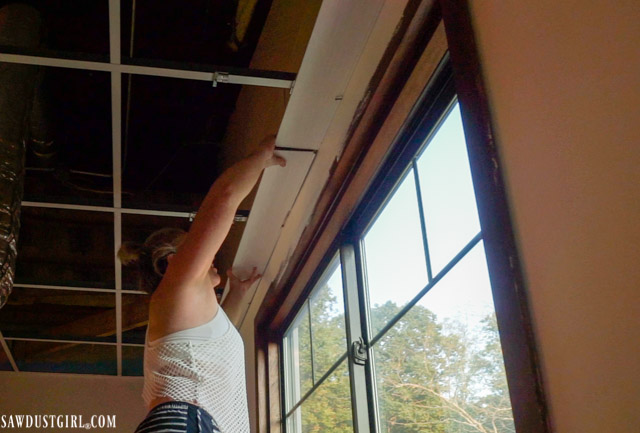 Once that first row was in, the rest of the planks tapped into place really easily. And pretty quickly. All by myself! One person ceiling installation is a game changer. The planks are 84″ long and I could install one full plank all by myself without moving the ladder, if I place it correctly.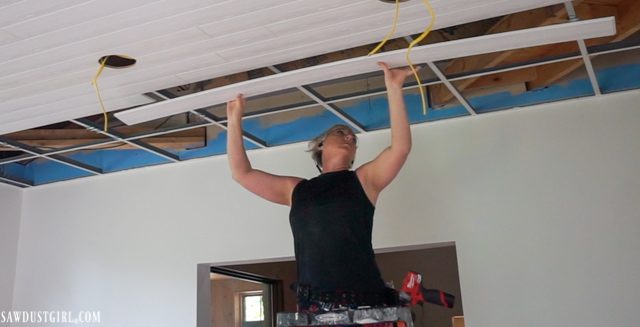 When I did have to move the ladder (a couple times), I just pushed the clips in on the right side, got down and moved my ladder, then pushed in the rest of the clips.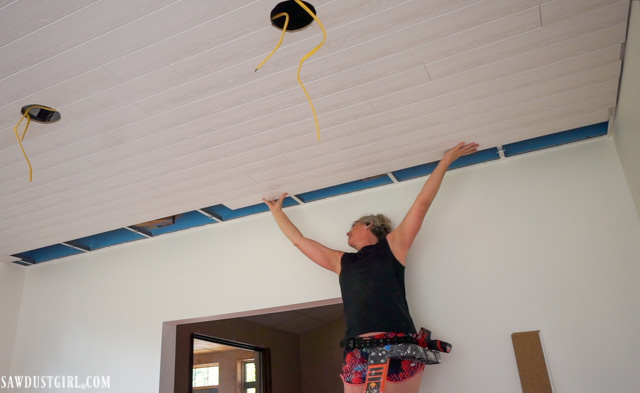 Vents
There are two vents in this room. Obviously, I wasn't going to use the existing, big, 2'x2′ drop ceiling vents!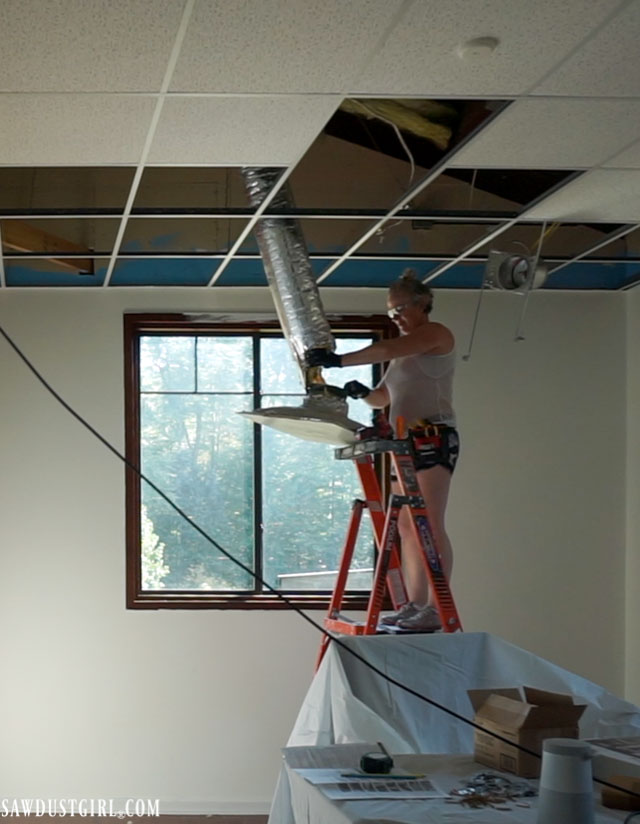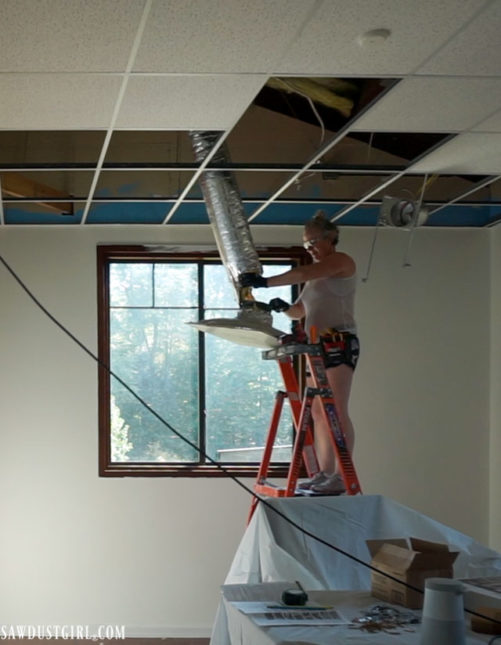 A traditional vent is more aesthetically pleasing, IMO.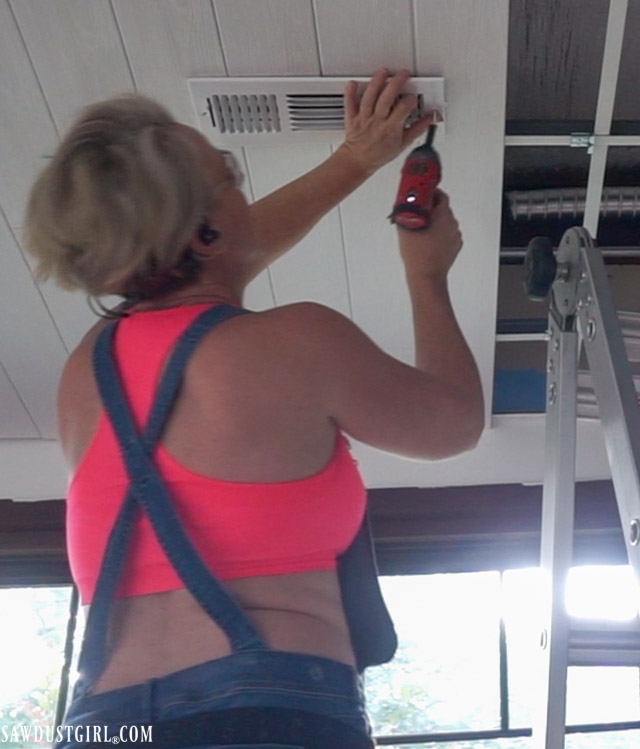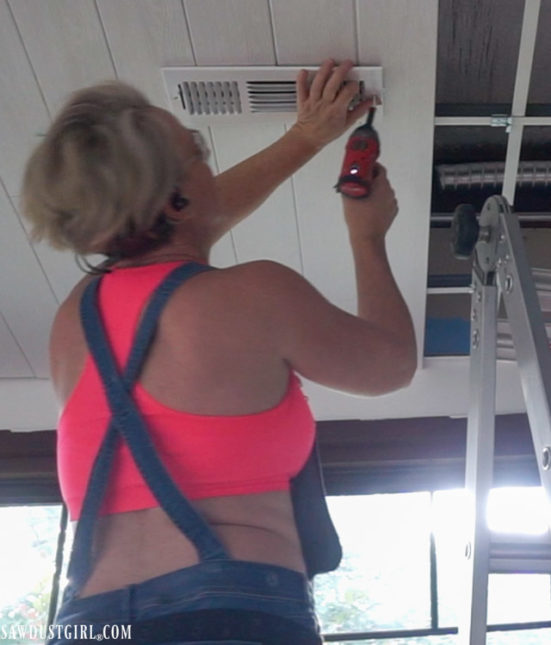 The suspended ceiling (and attached planks) can't support any substantial weight so ducting needs to be suspended with 12-gauge hanging wire.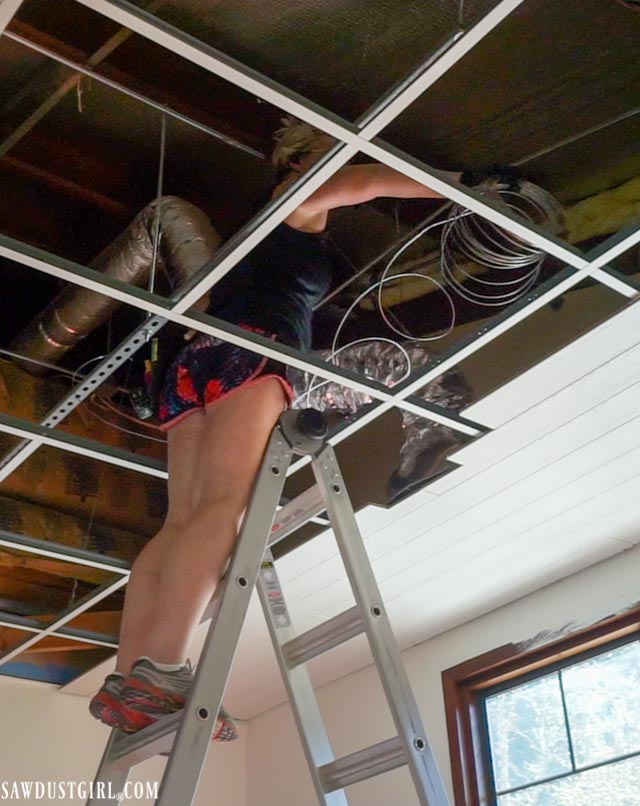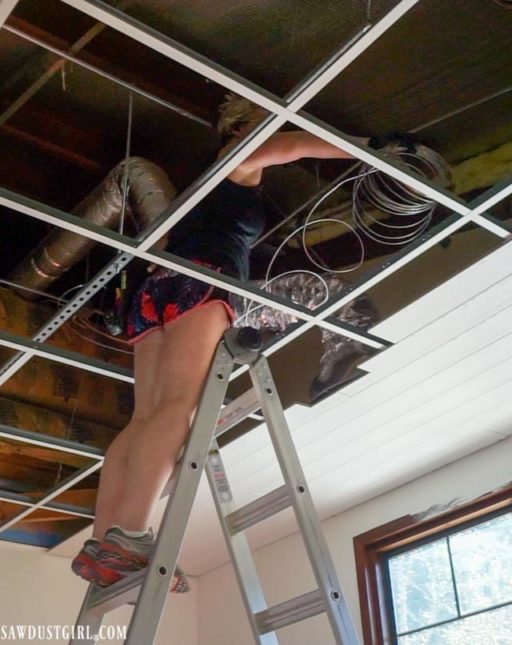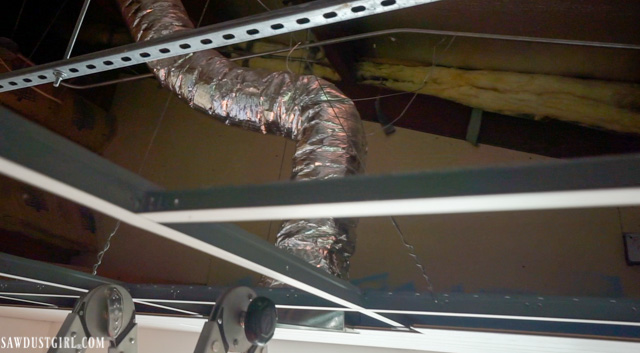 Switching out from the 2×2 square, drop-ceiling, vent to a normal looking vent wasn't that difficult!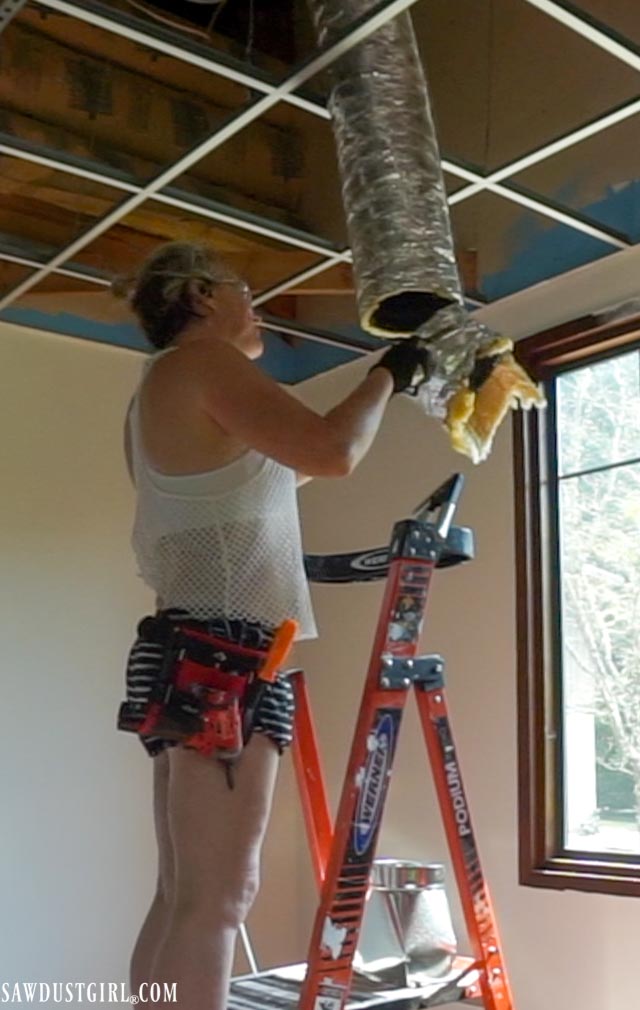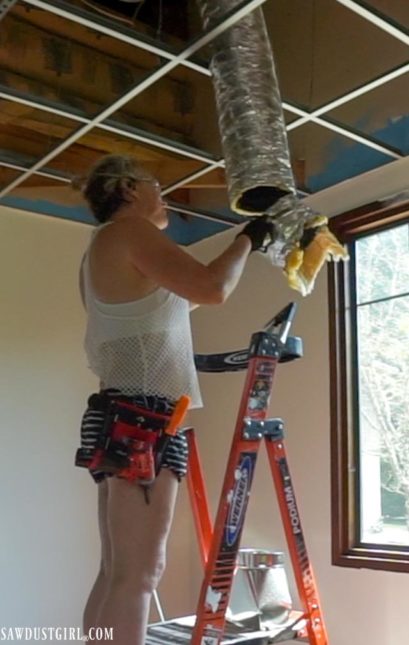 I cut through the mess of tape on the flexible ducting to create a clean end
Pulled back the outer layer and insulation
Attached the inner liner to the vent boot with a heavy duty zip tie
Secured that joint with metal foil tape
Pulled the insulation and outer layer back down and secured it to the boot with another zip tie
Covered, reinforced, and sealed that joint with more metal foil tape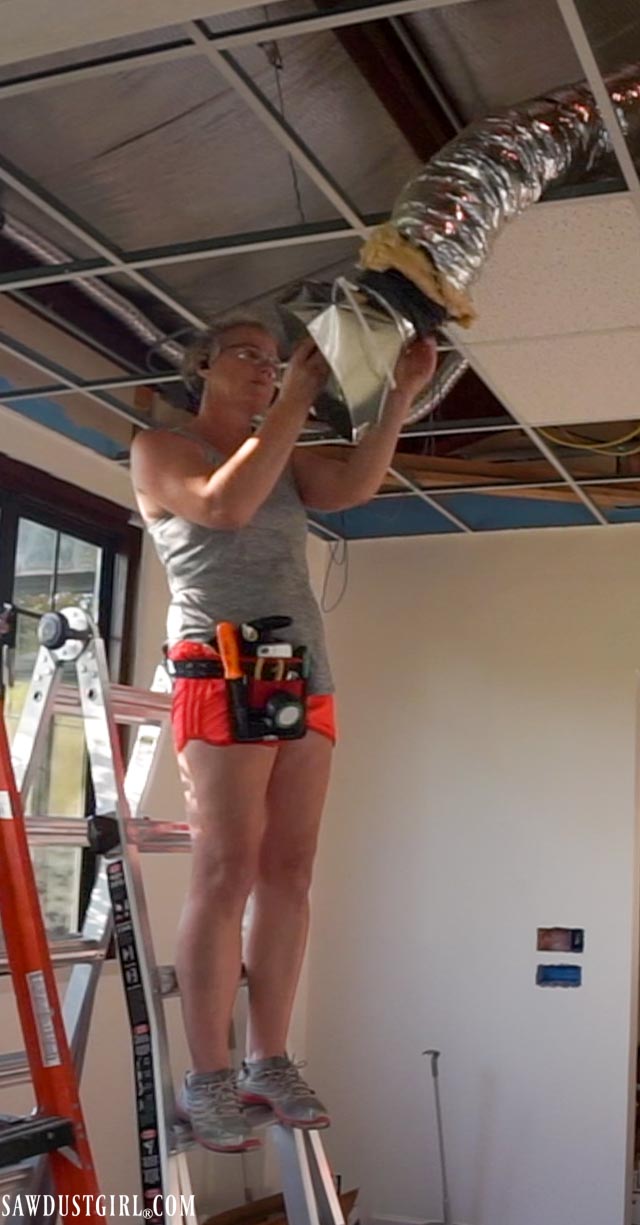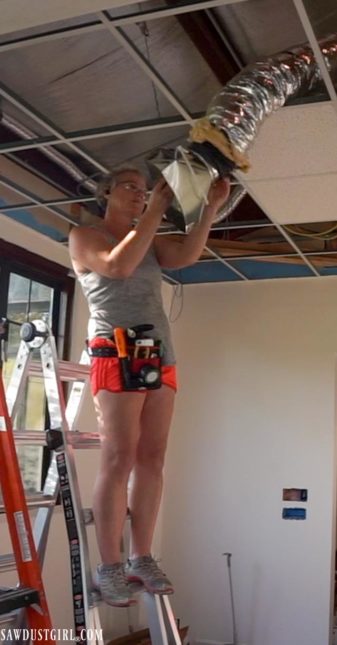 I attached a block of wood to the vent to keep it positioned, flush with the planks. In hind sight, I probably didn't need to because once I screwed the grill in place, it would have held the boot in place….but anyway).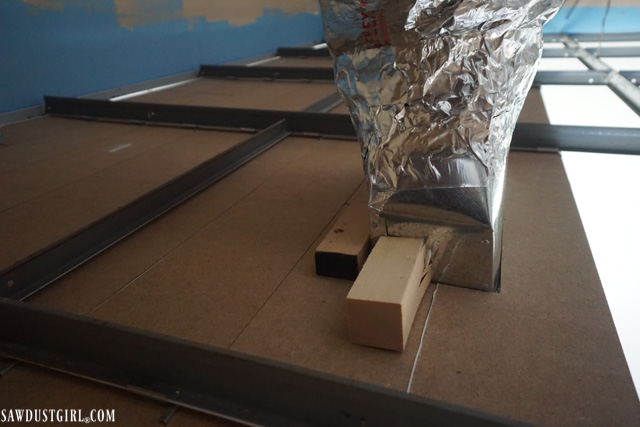 I also held a scrap of wood above the planks while driving in the screws that secured the vent cover. The screws that come with those covers are about 3″ long and the planks are less than 1/2″ thick. I wanted some extra material to drive those long screws into. (It's not pretty but it did the trick.)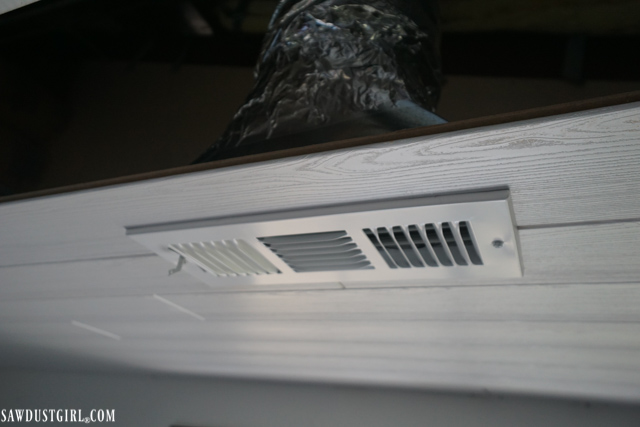 Lights
The previous light situation included; two, 2'x4′, fluorescent lights on two separate switches, as well as seven can lights. Three on the left and four on the right that were each operated with their own switch. I had my electrician come in and give me ONE dimmer switch to control all nine of the new, integrated LED, canless lights I installed.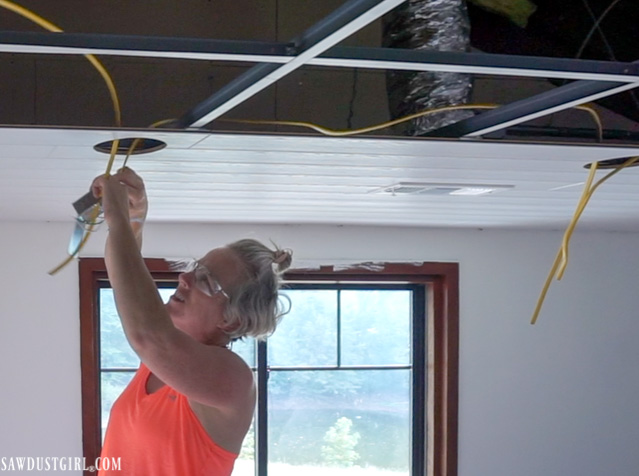 Typically, lights would need to be independently supported by something other than the ceiling planks. I didn't really want to deal with all that hassle, so I ordered some lights that would lessen the load… These recessed lights are very light so I didn't need to suspend them from anything! All I had to do was set them in through the hole and rest them on the planks. Then, I snapped the trim kit in place, and voila!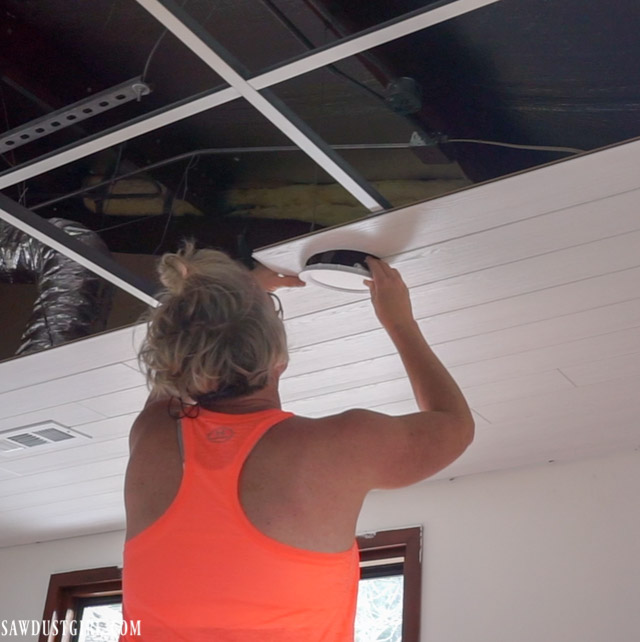 Well, I shouldn't say voila like it was that easy…It wasn't THAT easy. I had to cut all the holes before installing the planks. I put tape on the grid to remind me of the general location of where I wanted a row of lights. Then when I got to that area I:
put up a couple rows of planks
measured and marked the location for the three lights in that row
took those rows of planks back down
cut out the holes
A few times I had to remove multiple rows of planks to resize holes because I hadn't made them quite big enough. There's not a lot of leeway with the trim. You can't cut the holes too big or you might have to use some caulk to zshoosh the hole… I'm not saying I did, but I'm not saying I didn't.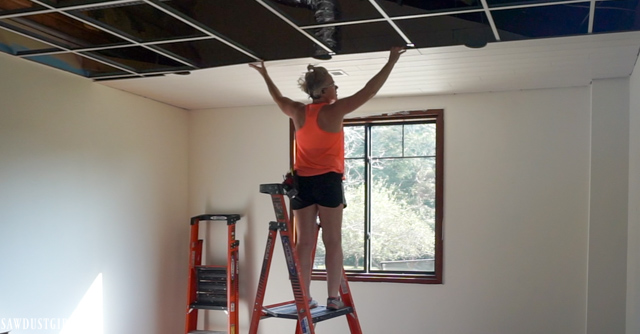 I installed the lights, centered between two adjoining rows of planks — to make it easier to cut the holes. After marking the center for each light, I used a paper template to draw the correct size circle. I cut the holes using a jigsaw.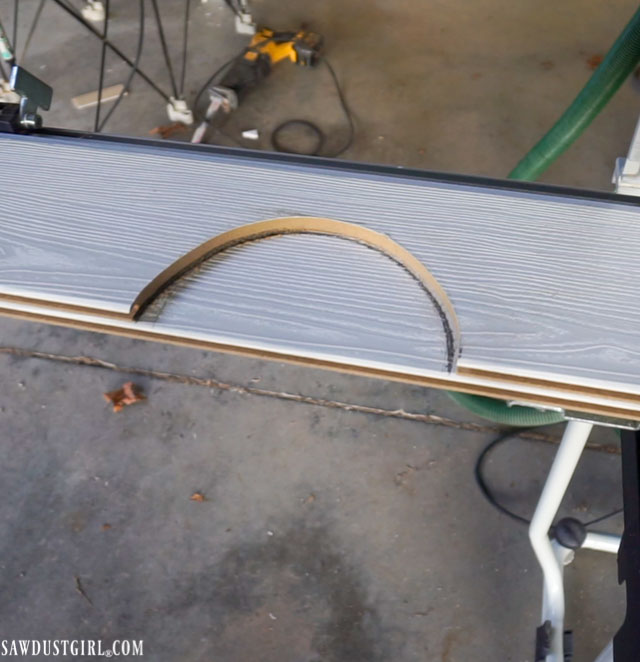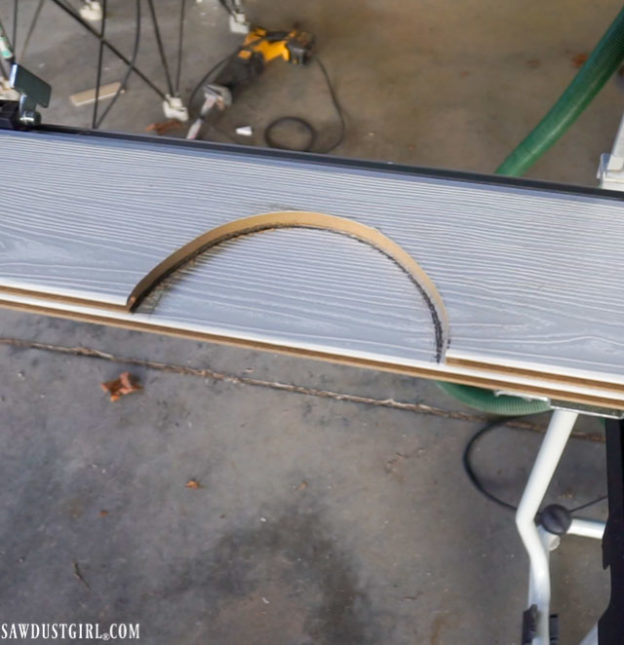 This technique made it easy for me to cut out the holes, even if it made the spacing between lights not EXACTLY symmetrical. There's enough space in between the lights that I don't have to worry about a couple inches difference.
Clip Spacing
When installing the planks, the clips have to be installed on the grid that is perpendicular to the planks. Each row of planks should be secured with a clips on every perpendicular grid line. In a couple locations, the cross braces were in the way so the clips couldn't slide into place. I just took those pieces out.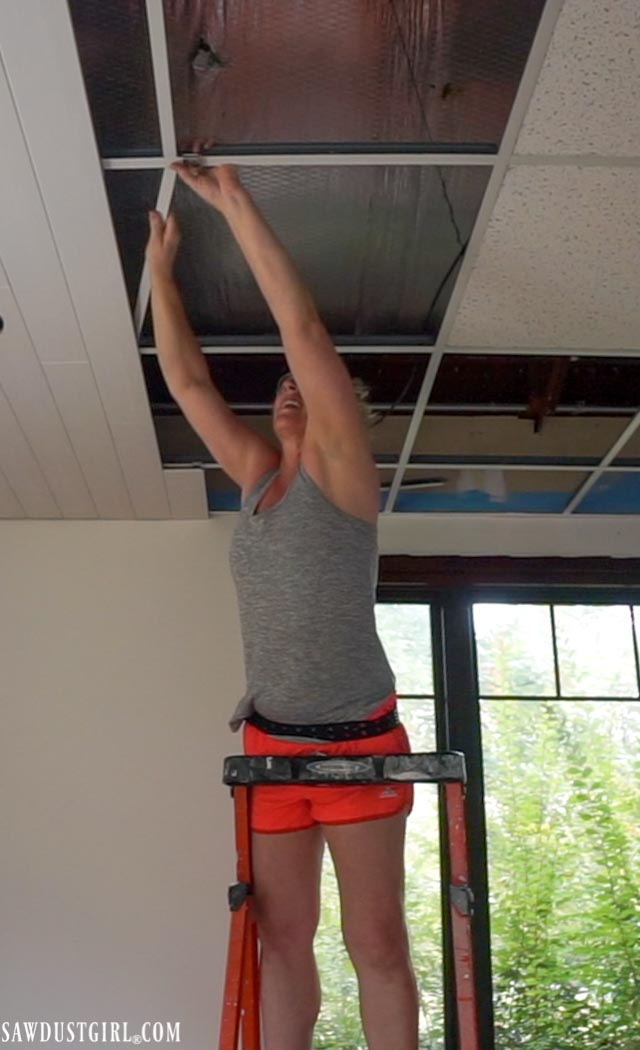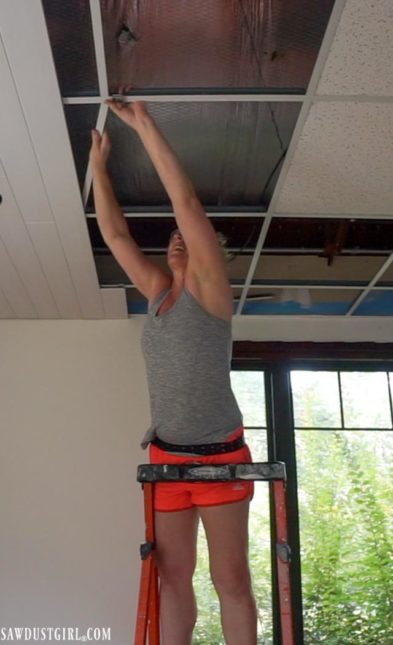 Final Touch
One thing to note is you have to leave expansion gap around the perimeter of the room to allow for contraction and expansion. In addition to being a lovely, architectural detail, crown moulding hides the expansion gap and supports the planks around the perimeter of the room. Although I did install the whole ceiling by myself, crown moulding is a two person job (for me) so Julie helped me with that.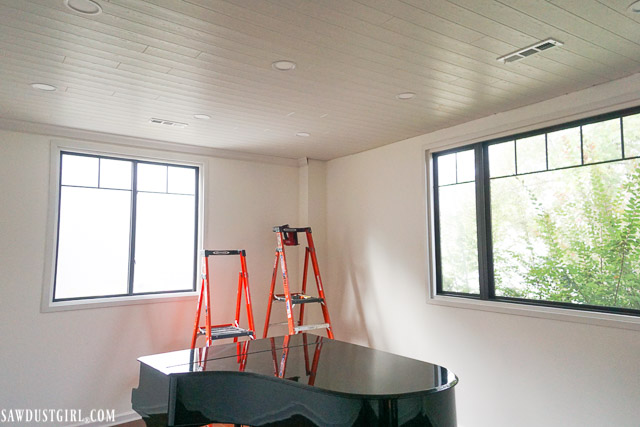 The WoodHaven planks come in a variety of finishes. They are pre-finished, so no need for painting or finishing. You just put them up and Boom, you're done.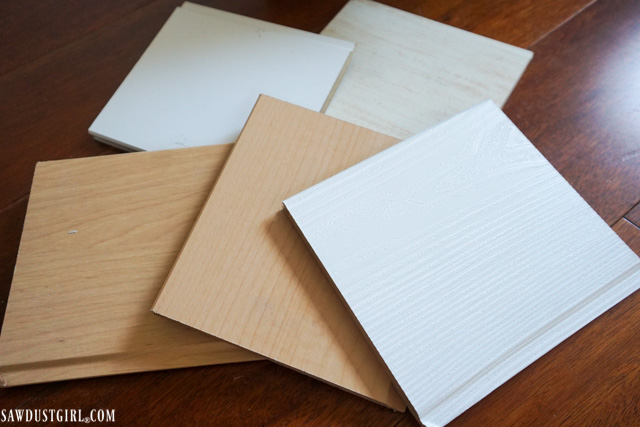 I chose WoodHaven Classic White because, you know me and white ceilings. I like the look and feel of the real wood grain on the Classic White planks.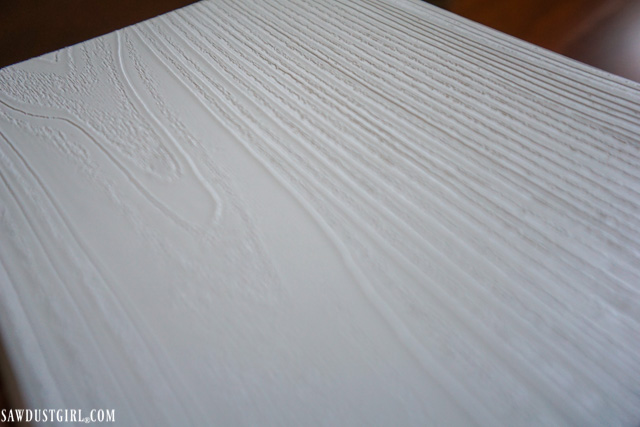 Finished! (but for art and furniture…)
So, here is the progress on the piano room so far:
A fresh coat of paint made a big improvement.
New ceilings are a HUUUUUGE improvement.
New, normal looking vents.
Much better lights (on a dimmer switch to create ambiance in the evening when someone is giving us a piano concert). Woohoo!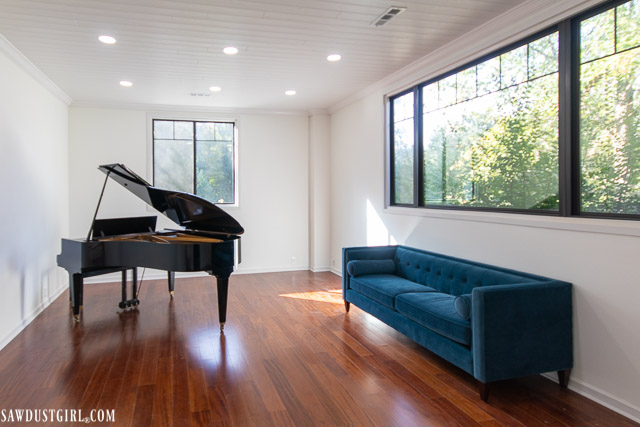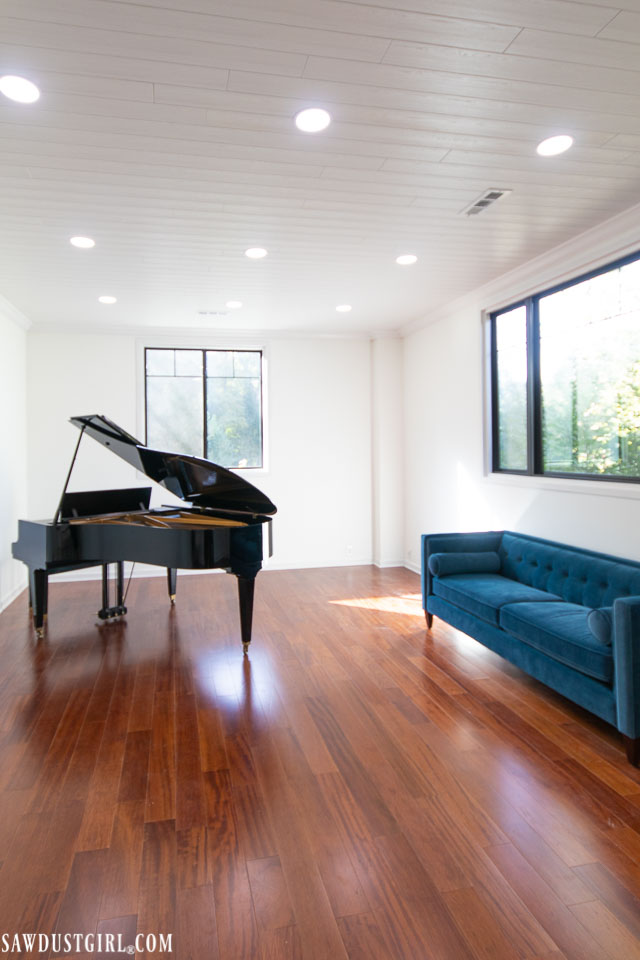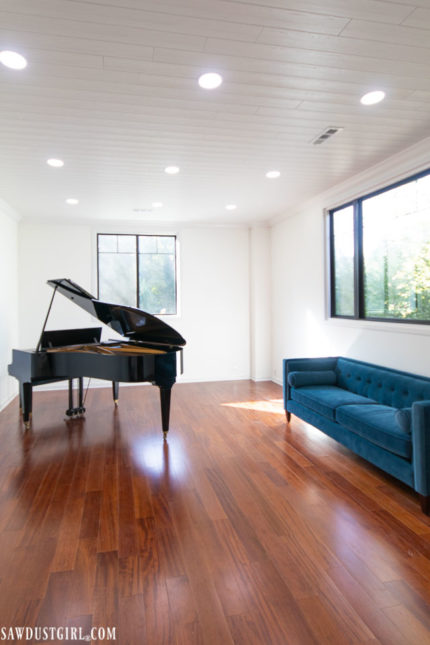 Even though it's not actually furnished, I can go into my beautiful room and sit on the sofa or play the piano, and just enjoy! I won't even let myself be bothered by the windows, which are oddly high. Eventually we will add on a new wing to this house and probably change a lot of the existing space and make the whole house more…our style. Because we don't yet have a "big picture" plan for this house we aren't doing any major renovations. This "room redo" made a world of difference without any major demo. Wes is especially happy about that!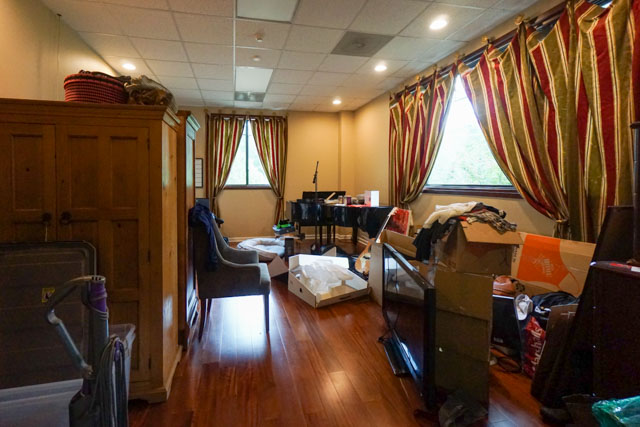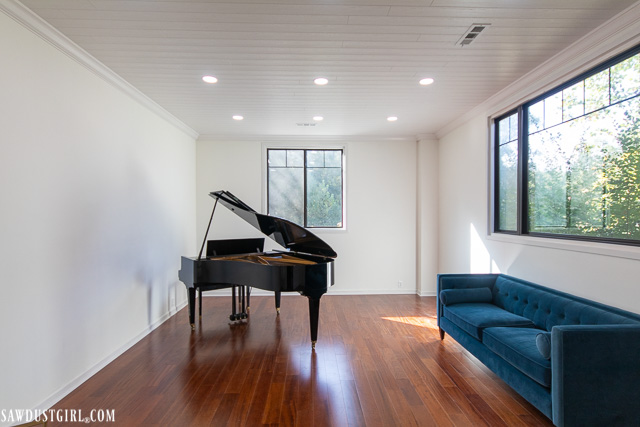 I can't wait to bring in some art, a rug, and additional furniture to create a little oasis of loveliness in our odd little house. The transformation of this room almost makes me shed a happy tear. After moving out of Richwood, right after making it reaaaaly beautiful, it's nice to have one beautiful space in this house.
Big thanks to Armstrong Ceilings for partnering with me on this room makeover!
Check out more of my Ceiling Projects