I've been asked how to remove builder mirrors a few times over the last couple weeks.  Despite my inquiries and offers to help anyone who wanted it, I could not find a single person in my area that had a builders mirror they wanted removed.
So, here is my best explanation with not enough pictures of how to remove builder mirrors.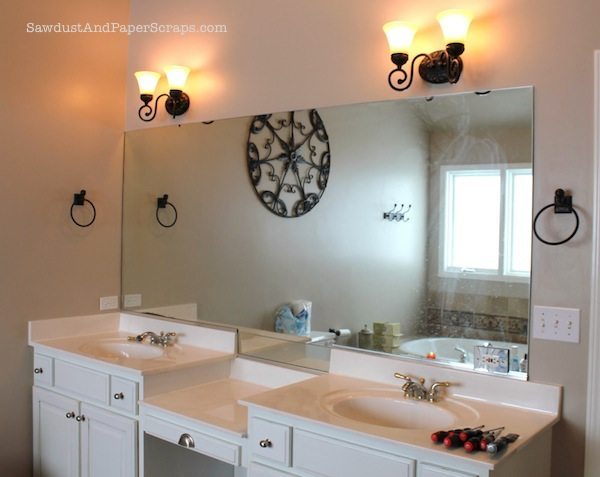 How to Remove Builder Mirrors
First, I tried to criss cross tape all over the mirror in case it broke, so it wouldn't shatter…because that's what they do on DIY shows!  But, I ran out of tape so it ended up being a useless V of tape!  You might want to do a better job, just in case!
My mirror was about 8 feet long and HEAVY!  So, it was a 2 person job.  (Thanks Melissa!)  I just put a pry-bar behind the mirror on one corner and SLOWLY, GENTLY pulled.  See the globs of glue?
Each one popped away from the wall, one at a time as I moved down towards the other end of the mirror.  We each stood on the counter and once the top row of glue was "popped" off, we both pulled GENTLY and SLOWLY and each additional row or GLUE GLOBS popped away from the wall.  Then we lifted it out of the metal track.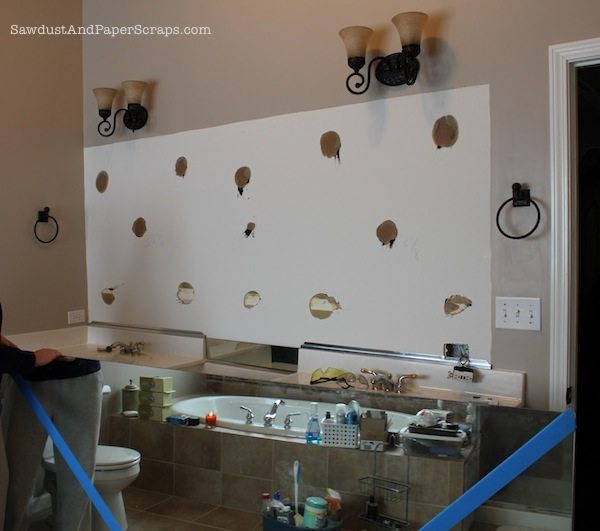 There is nothing you can do (in my opinion) to avoid damaging your wall.  The glue is made to STICK and it does.  It tears the drywall paper off with it!  Whoever installed my mirror used Black adhesive which I had to scrape off before I could patch.
After removing the black glue residue, I patched the drywall with joint compound.  Some of the areas with torn paper required a little drywall tape too because the paper kept bubbling from the water in the JC.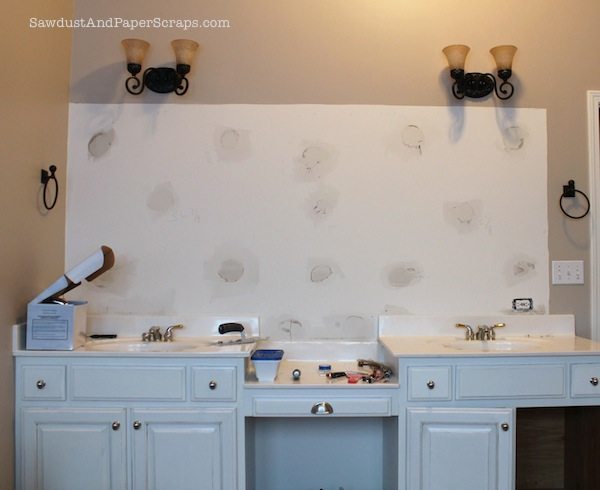 It took about 3 coats and sandings, about the same as an actual "patch", to get it smooth enough for paint.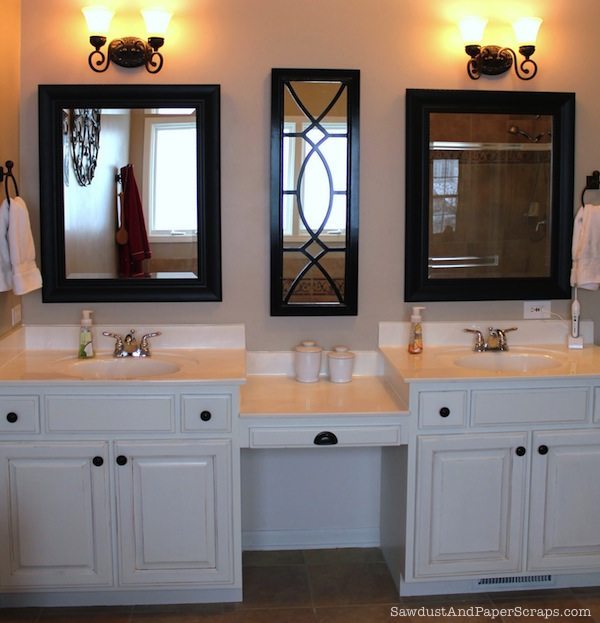 Then you can install you mirror of choice.
The actual mirror removal took about 5 minutes.  The patching took a couple days.