The loft I am working on is a big space, and I can literally do just about anything I want. I think that freedom has made it very difficult for me to pin down a firm craft room design plan. Even though we plan on keeping this house, I have to think about resale when making renovation decisions. We can have plans, but you never know what the future holds. If we do decide (or need) to sell it, I want to have created a home that will be universally appealing. I don't want to create a space that is so customized to my wants and needs that no one else can picture themselves using it. On the other hand, I don't want to create a space that won't best fit my needs based on what I think might be appealing to potential buyers someday in the future. Like this space with three work stations.
Craft Room Design with Three Work Stations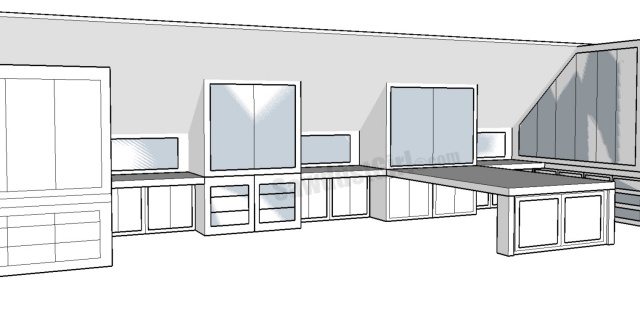 I find this layout visually appealing and think it would be nice for a family with several children.  However, since I'm the only person that will even be in the loft 95% of the time, two of the work stations would be a waste of space.
I am almost 100% sure I will use the island for 98% of the creating I want to do in my craft room but I may want a space for my computer and then it would be nice if I had a second space for Madison on the rare occasion that she preferred a designated office space instead of taking over the entire dining room.
Craft Room Design with Two Work Stations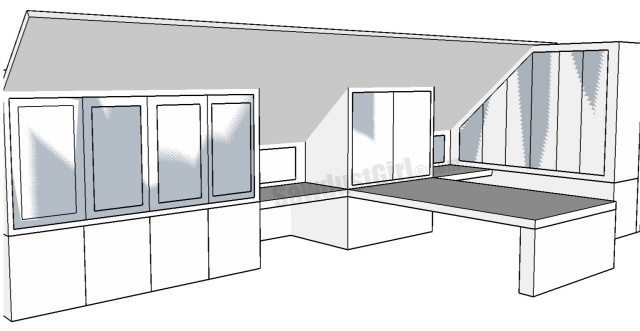 She DOES like taking over the entire dining room, spreading her papers about, stacking her books in organized piles…and, to be honest, I don't want that kind of mess in my craft room! She's off to college really soon, so creating this second "office space" for her that I'm 97% sure will not get used would be a waste. Plus, since I'm almost 100% sure I'll sit at the island 98% of the time, creating an "office space" for me is a waste of storage space, too. If no-one else will be using the room, there's really no reason to create desk areas for anyone. I can just build tons and tons of storage!
Craft Room Design with Tons of Storage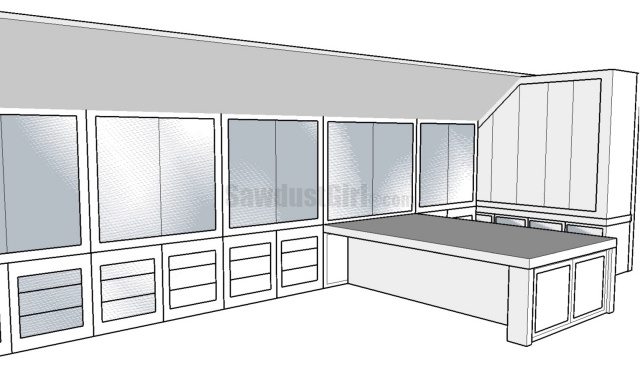 It really is a huge room, though, so with all the other storage I could afford to have a feature wall with just a couple shelves, or I forgo the shelves and just hang some cool artwork.
Craft Room Design with a Feature Wall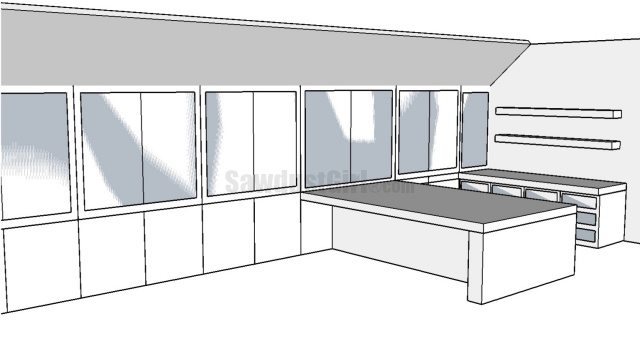 The one element I know I'm building into the craft room is a huge island. The other element I'm determined to put into the craft room is some funky lighting. Maybe above the island.
Funky Craft Room Lighting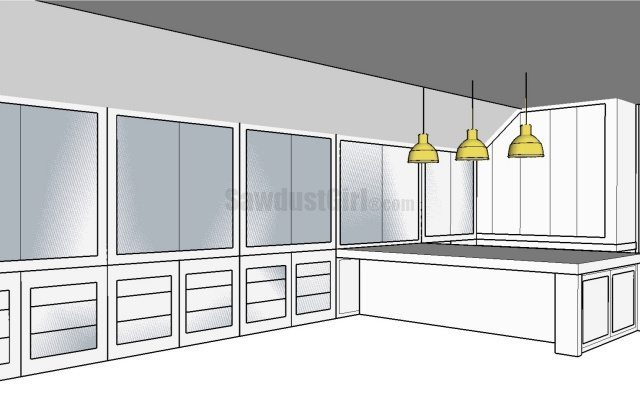 Maybe above the island and on my feature wall!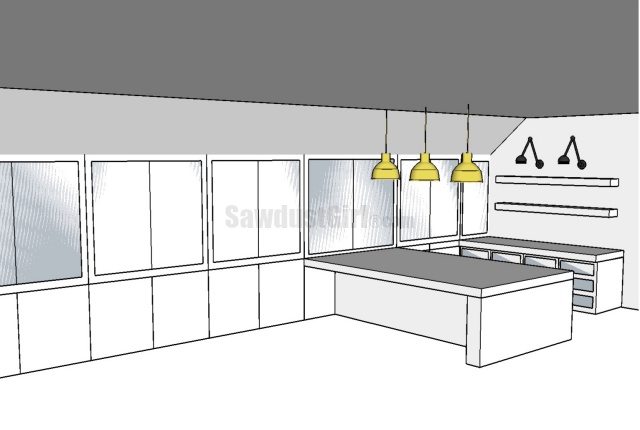 But, do I really need THAT much storage for craft supplies? I honestly don't. That is a lot of storage, and you can't even see the huge amount of hidden storage I have planned in addition to all this. Maybe I do put a desk in a little farther away from my crafting area.
Craft Room Design with Large Island, Shelves, and Desk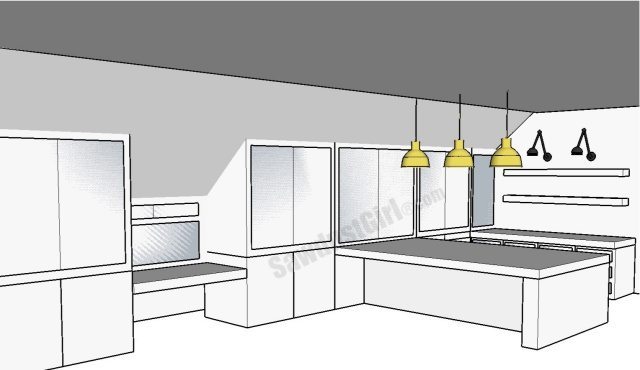 If I do give up some storage for the desk, I might need the additional storage on my feature wall.
Craft Room Design with Desk and Lots of Storage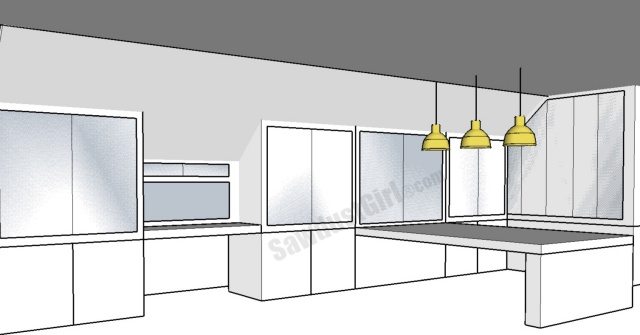 The crazy thing is, this is only one quarter of my space! The other half of this half of the loft is going to be my sewing area with a big cutting table and two sewing stations and lots of storage…and a sink…because that's where there is plumbing. Then, the other half of the loft will be a library, den, and lounge.
Do you see my dilemma? I have never before had the problem of having so much space that I couldn't decide what to do with it. I'm so used to trying to draw out as much storage as I can from a tiny space. I have no idea what to do with all this excess space! I like all of these options, and I have about 10 more that I've drawn up but didn't share. I guess it's good that I was at least able to narrow it down to 6 options. I thought I had it all worked out, and I built a bunch of cabinets and put them in place.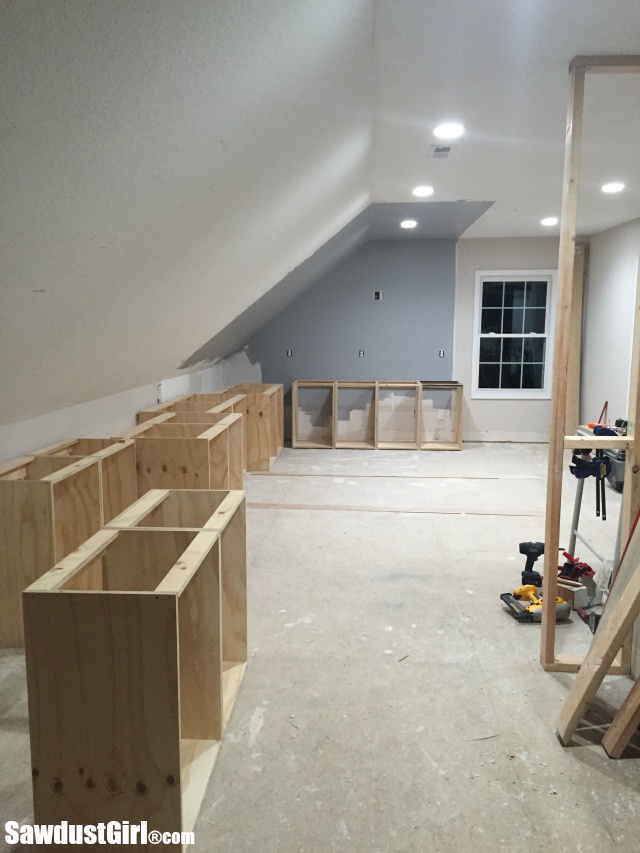 But, then I got scared of making a decision I might regret, so I went upstairs and rearranged the cabinets, walked through an imaginary finished craft room in an effort to make sure what I had was what I really want. Roleplaying in an imaginary room is really helpful. It's the first thing I have almost all my new clients do in their space while we go through design options. It is not helping me with this space though. I have too many good options that I could be happy with! I'm definitely going with the large island and some fun lighting, and then one of these 4 options.
So…what would you do?
Option 1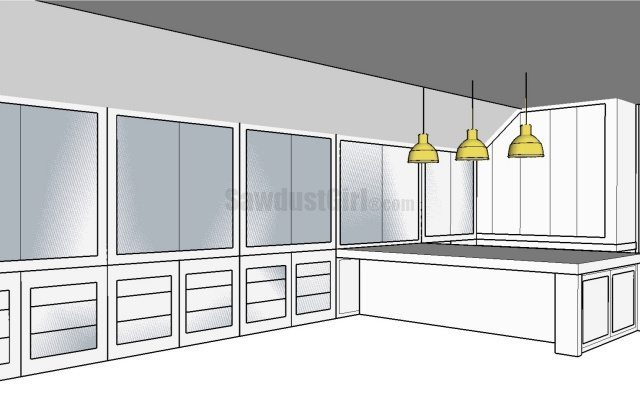 Option 2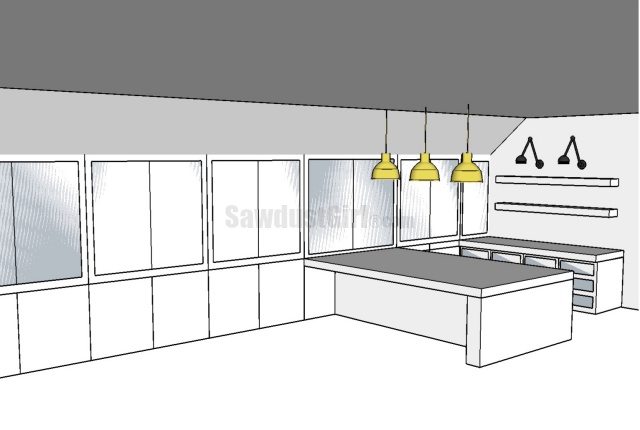 Option 3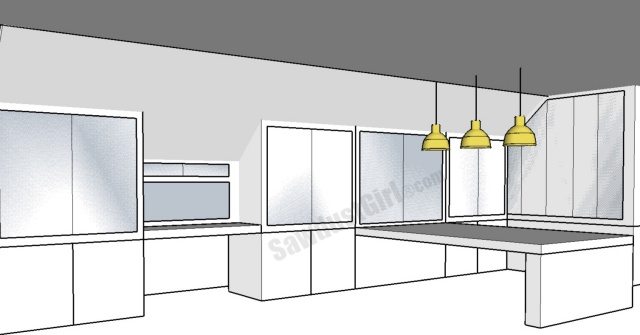 Option 4