You can never have too much help when it comes to getting a good paint finish so I've compiled a list of all my best painting tips as well as some other great painting tip articles from around the web.  Yes, you are welcome!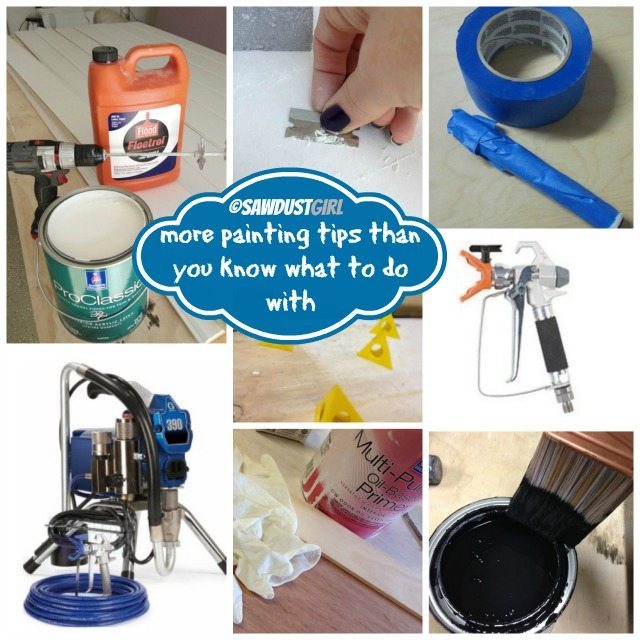 12 of my own painting tips and tricks
15 great painting tips from around the web
Everything I know about Spray Paint by All Things Thrifty
The Ultimate Painting Cheat Sheet by Pepper Design Blog
10 awesome tips for choosing the right paint color by My Blessed Life
Trim Painting Tips by The Family Handyman
15 Favorite painting tips, tools and paint by Pretty Handy Girl
How to Paint Furniture by Just a Girl
DIY Chalkboard paint tutorial by DIY ShowOff
20 Must know painting tips and tricks by Songbird
10 painting tips and tricks you never knew by Live Love DIY
Painting Tips for All Experience Levels by A Little Tipsy
How to paint kitchen cabinets by All Things Thrifty
Tips for taping window panes by Shabby Creek Cottage
How to paint around a toilet by House of Hepworths
Paint, Paint, Paint and more Paint by Centsationonal Girl
7 tips to get good spray painting results by Songbird
I think I spend at least an hour a day answering email questions and when I get the same questions repeatedly … well who has an hour a day to spend answering the same questions over and over?  In an effort to "try something more effective", I've put all my Painting Tips and Tricks are on this handy gallery page that I created  to make it easy to find what you're looking for.
Hope this helps!
Do you have a great painting tip that you didn't see here?