Getting the whole cooktop/countertop section level, even and flush turned out to be QUITE a challenge.  The only installation instructions that came with my cooktop showed the cooktop being dropped into a hole in the countertop.  As if THAT cooktop could be dropped into a countertop — it's  28″ deep!  Unless you install it in an island — there's NO countertop that deep.  Why those instructions were the only ones available with this particular cooktop is baffling.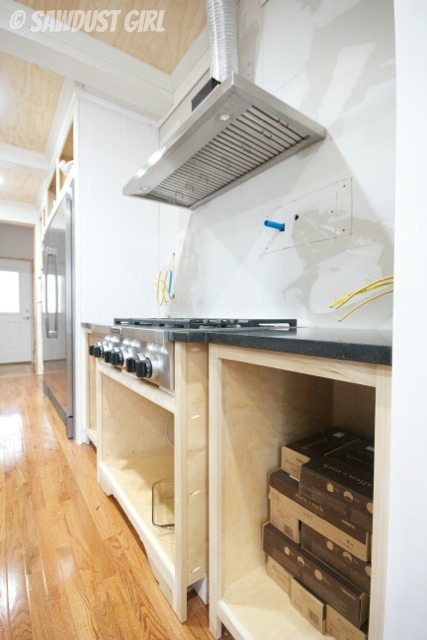 The only instruction for installing it like I wanted it installed said simply this, "Or if you want it flush with your countertops you can just slide it into place".    Seriously?
I have a hate/hate relationship with instruction manuals!  I just had to wing it.
Waaaay back in December, I measured and measured and measured — then designed a cabinet that I hoped would work.  It did (for the most part) after a little trimming and shimming.
I still have to decide how to hide this huge gap…at some point.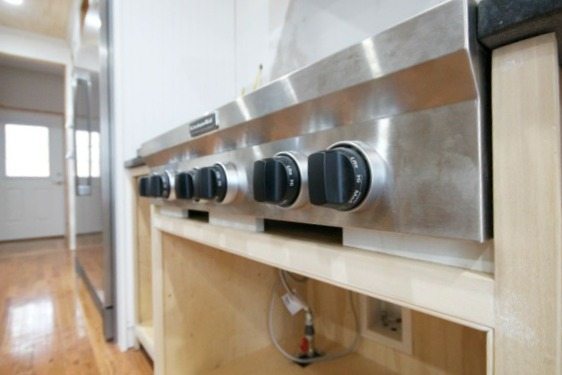 The cooktop is heavy (and large and awkward) so this was a handyman job and not a big job so it was not a huge priority…and I had to wait –and then it took him two different visits to get it finished.
But it IS finally finished so now I can finally tile my backsplash!  Woohoo!!
I bought the tile weeks ago thinking it'd be ready after handyman's first visit.  Hiccups aren't usually a disappointment because I always plan on them popping up throughout my projects.  They almost always do.
Now that cooktop and countertops are FINALLY, permanently set I get to tile the backsplash which I'm really looking forward to because tiling is super easy as far as DIY projects go.  It's a simple task where I get to be creative (which is fun) and it's an instant gratification project which I SORELY need about now.
This kitchen remodel was already going to be a giant project when I started it in November but then they whole back surgery thing threw a wrench in it and it's become GINORMOUS.  But, like I said, I just try to "roll with the hiccups".  It keeps me (somewhat) sane.
I'll decide how to roll with the gap under the cooktop hiccup down the road.
Related Posts