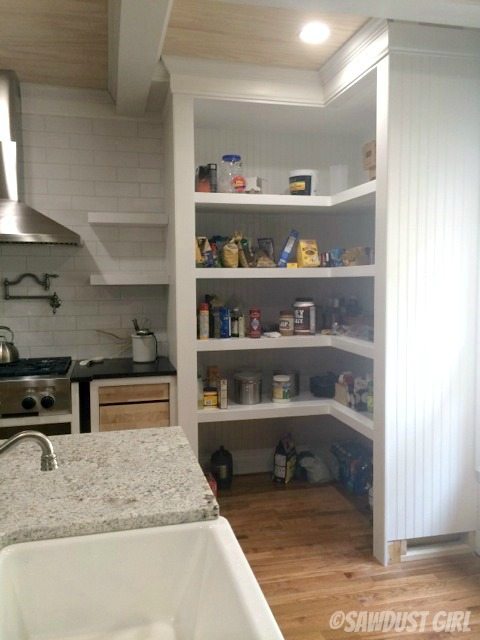 Can y'all keep a secret?   There's one part of my new kitchen that has really been bugging me.  That pantry. You remember the one I built, then re-built.  It's a nice big pantry. But it's completely full – all the time – with overflow. I built the largest pantry I could within the confines of the "new kitchen" during the kitchen remodel but over the last year of using the new kitchen, I have found that I am just not satisfied with the pantry situation.
Lately I've been secretly trying to figure out how to make it better.  And, as per usual, I wandered into what most would consider "outside the box" land.  My plan would involve demolishing some of the hard work I previously put into this house — and then some.  I hate undoing work I've already done. But, I'm taking this house and completely reconfiguring and remodeling pretty much every square inch, so I might as well go ALL IN.
When I mention that I've been keeping these thoughts a secret, I'm keeping them from Wes. He's been feeling good about the main living area of the house, including the kitchen, being done or nearing completion so there was NO WAY IN HELL I was going to involve him in any discussion about what I was thinking!   You see, Wes is not a fan of living in a construction zone.  It stresses him out.  Talking about it stresses him out.  Thinking about it stresses him out.  Thinking about talking about it stresses him out.
Whenever possible, I do the really messy things when he is out of town so he doesn't have to know it is happening.  If the project is done and cleaned up when he gets home he barely even notices.  😉 So I just kept all my pantry thoughts to myself, plotting and scheming and waiting for a work trip that would keep Wes out of town for a full week.  He planned one for March!  Lucky me!!!
I let Madison in on the plan under threat of violence that she not breath a word of it to Wes.  SHE, after all, would have to help and HE could know nothing about it!
5 full days to tear up the place and put it back together — better.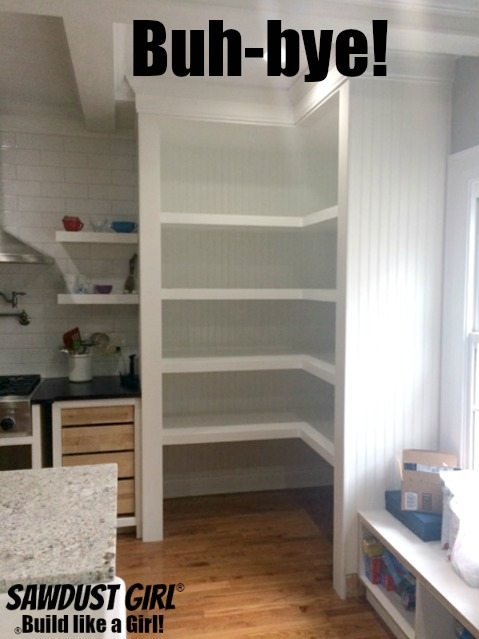 It's probably an impossible mission but we're going to give it everything we've got!
To be continued…