The kitchen entrance is complete! Door and porch are in and as expected — this new entrance makes taking out the trash AND bringing in the groceries SOooooooo much easier. It just makes sense. In my opinion, it looks like it's been here all along. Like some very smart person who thought about how a person would actually live in this house. planned and executed a plan to achieve most efficient functionality from the get-go.
But instead a very smart person planned and executed it after the fact. Haha!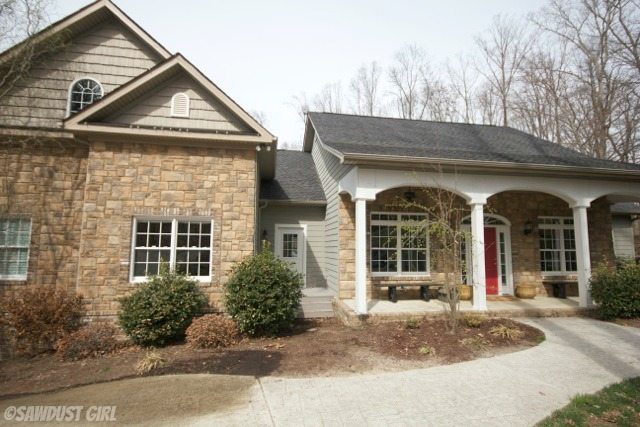 Well it's in now –and I have to be honest with you, I photoshopped that picture above (and not very well) because right now we have a couple bright white garbage cans sitting on the porch for our recycling. At some point I'll have to build a little recycling center. At some point way down the road.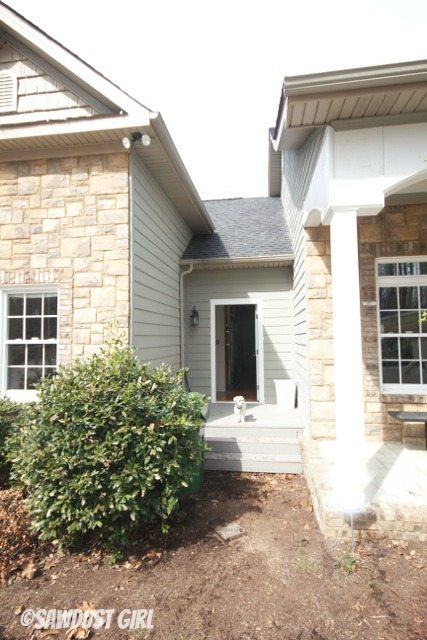 We're keeping that big "some kind of green bush" intentionally large because it hides the giant garbage can. It's a perfect little garbage can retreat! We keep it here instead of in the garage because the garages are in the basement which is part of the reason the layout of this first floor required putting this side door IN. Basement garages are a thing here. LOTS of hilly driveways…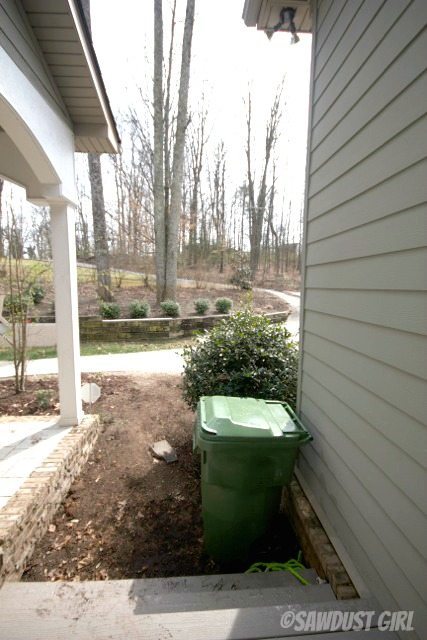 So the giant trash can will always sit in this little hideaway along with some kind of recycling center that I'll build way down the road and that dumb little scooper-upper that we HAVE to have on hand because Maya (stray cat that we adopted as an outside cat but she has somehow come to be inside more than outside even though we are allergic -we're soft hearted suckers…
Maya kills moles and presents them to us as a lovely surprise. I find them on the sidewalk and porch frequently — it's really gross.
So I'll have to build a little house for the mole-picker-upper too. Sometime down the road…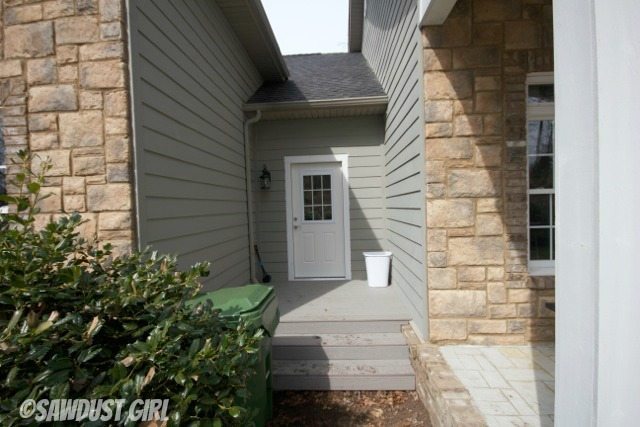 Regardless of the current aesthetics of all the necessary accessories, the new side entrance is a straight shot into (and out of) the kitchen –which we are finding to be extremely convenient.