I'm so excited about my (Wes AND my) new office.  It's coming together quickly — now that the dang skim coating is done.  Hate that job!
I got the walls painted on Friday and I LOVE the color.   (Sherwin Williams —  Light French Grey)  I still need to bulk up the trim around the window and doors.  I wasn't careful with the paint on the ceiling because we're doing a plank ceiling and adding crown moulding.  AND yes, I absolutely CAN sleep at night knowing that I slopped the paint up there.  LOL  The walls look perfect and that's all I care about.   🙂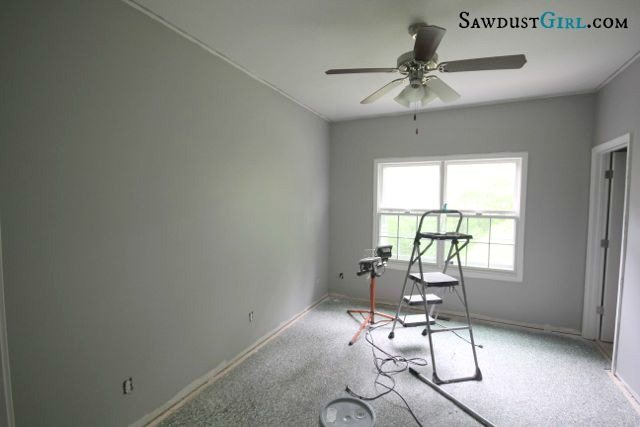 And can you believe that Wes and I actually worked together THE WHOLE WEEKEND — and we still love each other!  (We must be listening to our own advice on "how to DIY together and stay together".  heehee)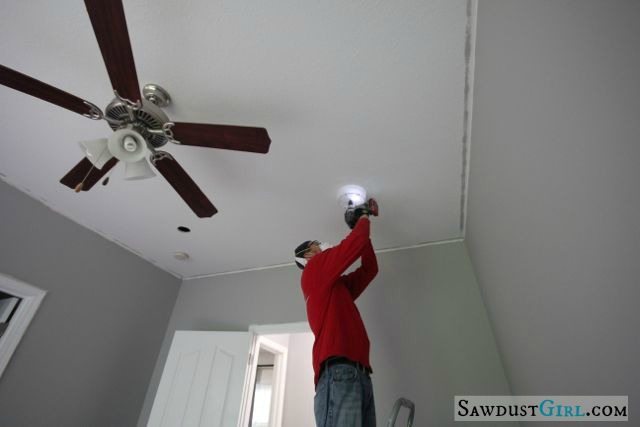 Because of my bum back, Wes has to do more of the manual labor DIY projects 'round here these days.  I just supervise — which I'm getting pretty good at with of all my coaching jobs.  😉
He cut the holes for the new lights and then we both went up in the attic.  He sat on the joists and wired up the lights.  I only had to show him what to do on the first one and he took it from there.  He's a good apprentice!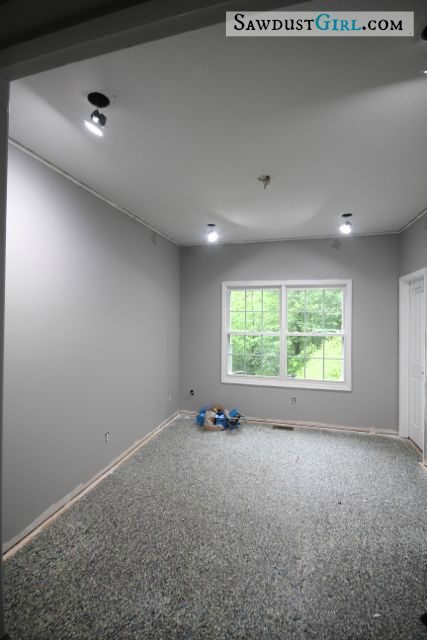 I chose these new LED lights with integrated trim.   They're pricey but supposed to last for –like forever, so hopefully it's worth $37 a pop in the long run.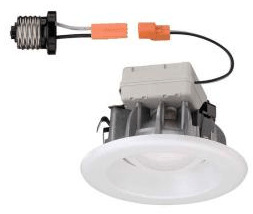 You screw one part into the recessed socket and then insert the trim into the can.  They are instant on and dimmable.  So that's cool!  Because we're doing a plank ceiling, we're waiting to push the trim into the can.  Those suckers are hard to get back out once you insert.  (Take it from me.  I tried one!)
I was originally going to put a ceiling fan in here too but the office design I came up with dictated something else.  It was too perfect to pass up…
I'm so flippin' excited about having an office!  (SOON)