Showcasing the Built-in Entertainment Center in my Illinois living room.  I built this entertainment center and painted it white with Sherwin Williams ProClassic paint.
 Happy Friday!
I'm excited to share this room with you today.  This is the final room on the main level.
"BEFORE"  (except I had already painted the mantel white.)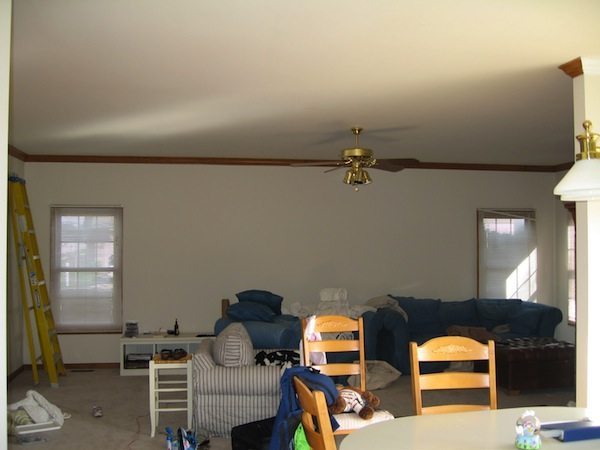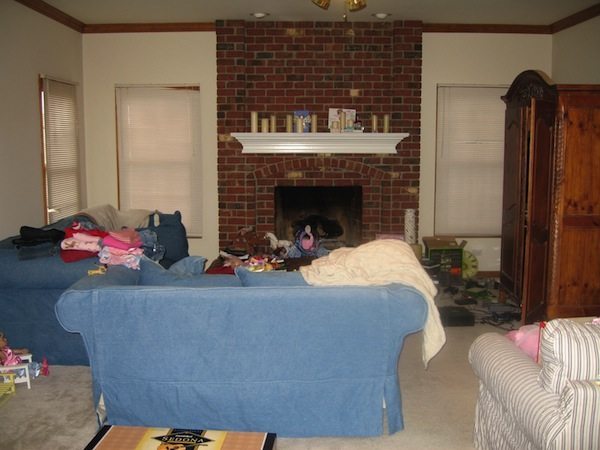 For layout perspective…the living room is opposite the kitchen, off the entry hallway.
I'm not a huge fan of televisions in your living room (that you can see) but it's nice to be able to just turn it on without opening doors and sliding them back into the unit.  What a pain, right?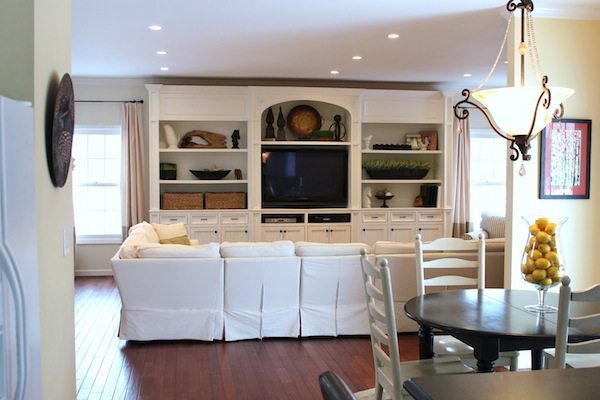 Honestly I just didn't want to make pocket doors.  I did that once before and it took me 3 days just to get them installed properly, and working right.
This "Unit" is 6 different pieces and took me 8 weeks to build.  I used furniture grade plywood on this puppy.  It's more expensive than MDF but much lighter.  There is no way I could have lifted, carried and installed this piece if it were made out of MDF.  Even out of plywood, my neighbor had to come help Wes carry it in because it was just too heavy for me.  (I really do have awesome neighbors!)
I got to be on head nodding terms with my mail man by the end of it all.  (Because my garage is my workshop and I'd turn around every day when he delivered my mail…when it was finally built and standing up and looking huge and awesome, he gave me a head nod AND a thumbs up!)
moving on…
I always wanted to change this fireplace but the hubby liked it so it was on the end of my to-do list…and it never got- gotten to.  And, whatever, I think looks fine!
I'm a lucky lady really.  My husband doesn't interject any opinions when it comes to decorating or design or layout…or anything like that.  He goes along with whatever I want MOSTLY.
But, once in a while, he has an opinion and when that happens, I have to give it to him.  So the fireplace was left alone for him, and then there was the sectional…
It's  HUGE!
And he likes it that way!
When it was delivered and all the extra pieces were put in , I immediately knew it was way too big and we should send back at least one of the "extra" chairs.  But, he and Maddie sprawled out on it and were sold.  So, it was another opportunity for me to practice letting go of my need for everything to be "just so".
And, it is really comfy!
When it warms up I want to build a cool table to put behind it to hide those zippers…
So the breakdown for this room redo:  new floors from BuildDirect
, can lights, paint on walls/ceiling/windows/trim, and a really big entertainment center!  The drapes and striped chair are from PB (clearance), sectional from JCPenny, rug from Home Goods along with most of the chotchkies.
See the rest of my IL Home Tour here.