This house is all kinds of half finished projects.  I get one project to a point of somewhat functionality and then move on to another area because we've reached our tolerance threshold for the mess there.  It feels like I'm fighting a wild fire –where embers keep starting little fires all around me.  I have the BIG MAIN fire in my peripheral vision at all times but I have to maintain the little ones too so they don't get out of control.
Or maybe this is what it feels like to be a chicken without a head.  I'm not sure which analogy fits better as I've never actually fought a wild fire OR been a headless chicken.
What I do know is that it feels chaotic but also feels like this is how I HAVE to tackle this house.  So while the laundry room, kitchen, living room, dining room and entry are all still not done I have once again sidestepped into another project!  The hall closet.  Remember this one?  When I had my handymen here helping out after I had my back surgery I had them do a few random projects that had nothing to do with the kitchen — because I was just so excited about all the stuff that could get hammered out FAST by someone OTHER THAN ME.  🙂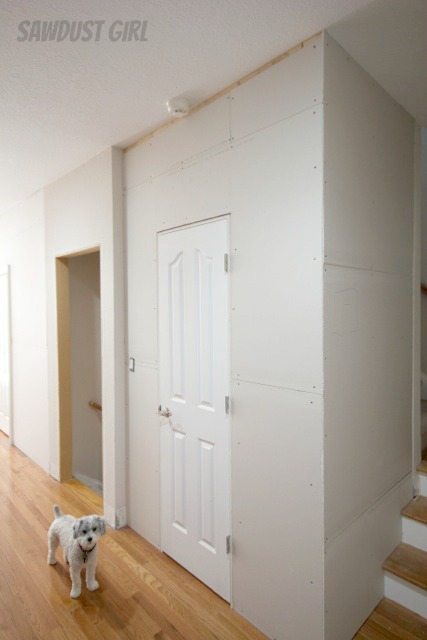 And since the closet went in, the armoire (that was sitting in the empty space where the closet is now) has been sitting in the hallway (along with lots of the previous kitchen drawers that we sift as we need something in our half functioning kitchen).  It's a bit ridiculous!
The armoire holds a lot of crap that has nowhere else to go because there was NO STORAGE IN THIG HUGE HOUSE!  None except the bedroom closets.
N-O-N-E!  (eye roll — head shake–grumble!)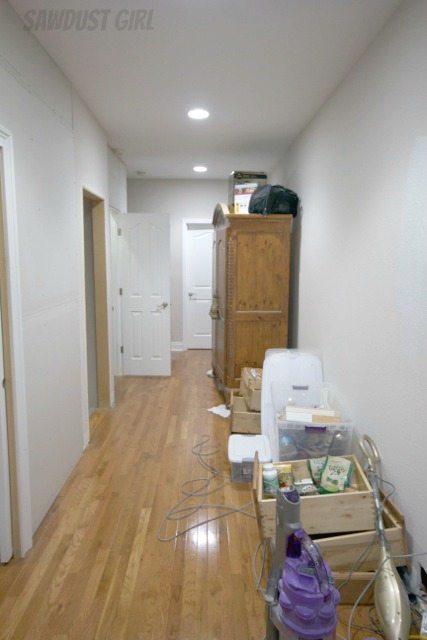 Sooo…this has been fun to walk through all day, every day as we go downstairs, upstairs or to our bedroom.
I just finally got sick of it so I spent the last week and a half working on the closet so we could actually put stuff in it.  Because what good is a bare closet?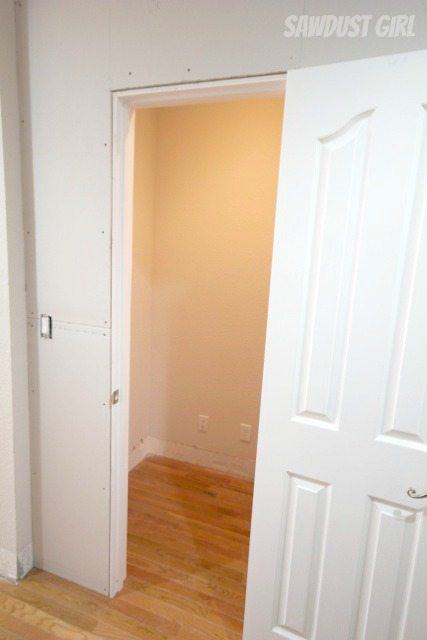 …to be continued