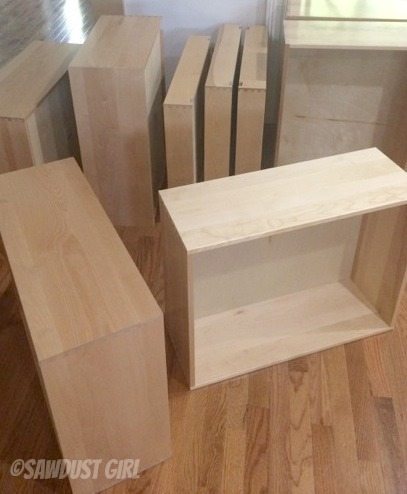 I orignially planned on building the drawers for my kitchen remodel. But then I ran into a couple hurdles that changed my mind.  I ended up ordering custom drawers that are 100 times nicer than what I would have built myself and I am 200% happy with my decision to spend the money!
I've built hundreds of drawers in my life but I build easy drawers:  pocket hole screws, half lap joints, butt joints with glue and screws if I don't care what it looks like.  I have been vacillating on the drawer material and technique for a while because this is my kitchen — my kind of kickass, sort of high-endish kitchen remodel.  I always wanted to do dovetail joints — just because that's the old school technique that is used on wood drawers on all the high end cabinets I've ever examined.  I almost purchased a dovetail jig ($400) so that I could build these properly but then I also have the issue of the material.   I didn't realize that to get the common 5/8″ thick wood drawer material, people purchase stock 3/4″-1″ and plane it down.
I thought I would be able to find 5/8″ drawer side material –somewhere.  Nope!  If it does exist and you know where to find it PLEASE tell me where!
I bought a gazillion feet of drawer side material that is 1/2″ thick, pre-finished plywood with the drawer bottom dado already routed out and thought maybe I could talk myself into using that…I couldn't.  I built one drawer and realized I would never be happy with those drawers in my kitchen.
SOoo, I shipped my drawers!
I went online and searched and searched and searched (through TONS of companies that build custom drawers or custom drawer kits that you put together) for exactly what I wanted.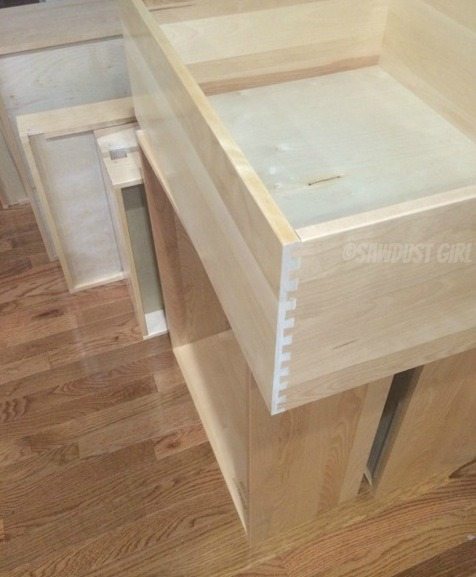 I found my drawers at QuikDrawers.com.  What I wanted was, 5/8″ solid wood with dovetail joints and 1/2″ bottoms because a lot of my drawers will hold dishes and pots and pans and my drawers are quite large so I wanted them to be super sturdy.  They came completely finished as well as being routed and predrilled for MY drawer glides!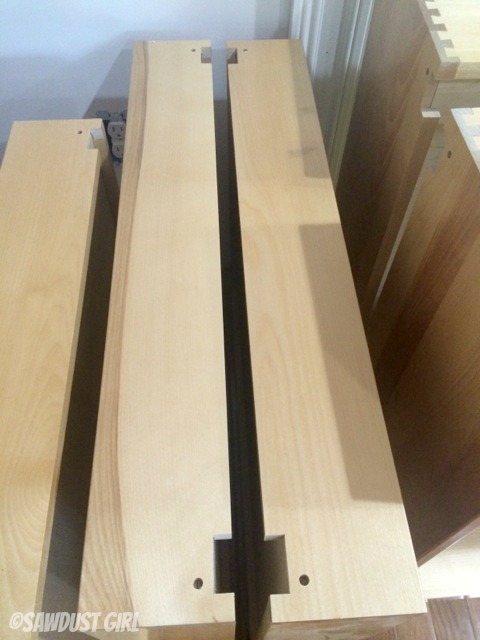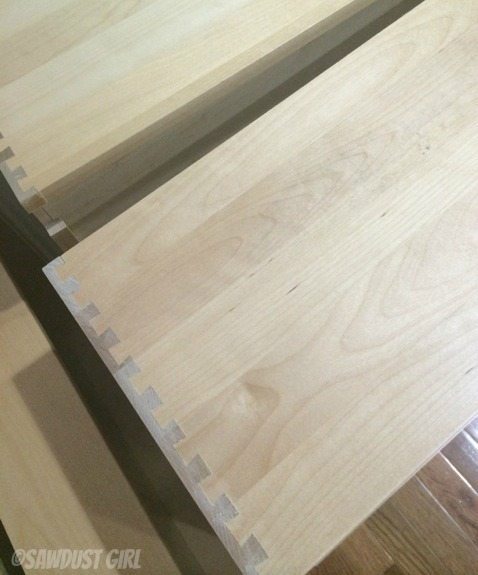 They're so pretty.  I can't wait to get them installed and FINALLY have some drawers!