I completed the task of installing crown moulding in the pantry.  I first had to deal with the heavily textured ceiling with all the patched holes from the remodel and electrical work.  When I told Wes I wanted to just cover the yuck with 1/4″ drywall he actually protested a bit.  We've done plank or box-beam ceilings in every other room I've remodeled so he was a bit disappointed that I wanted to leave it plain.  Can you believe that?  Wes wanting me to do MORE to a space!  😀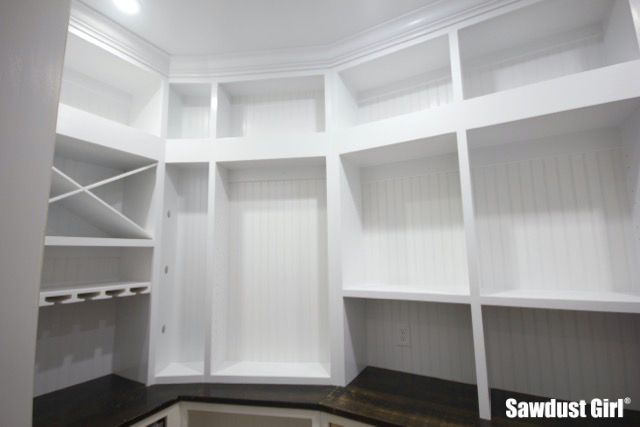 I talked him over to my side of the fence by convincing him that this small room already has so many details that creating additional detail on the ceiling wasn't necessary and might even make it appear too busy.
So Wes helped me install the drywall.  Then I filled all the screw holes, taped and mudded the seams and then sanded.  I love that I can do that without creating a dust bowl of my whole house!  (Dust Free drywall sanding shop vac attachment thingamajig!)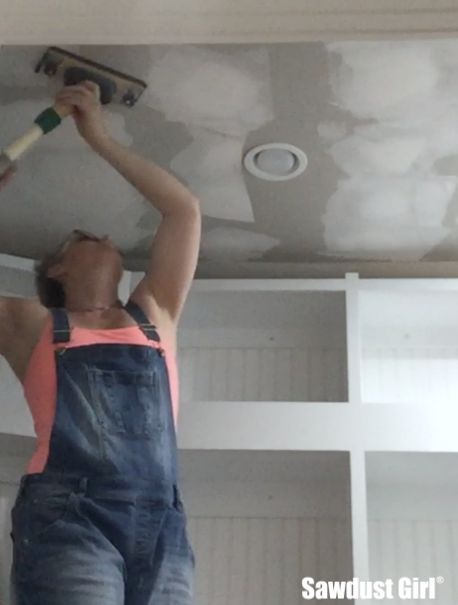 Then I painted.  I had several large roller covers but my large roller was stuck.  Must not have washed off all the paint because that thing would not budge.  So I made do with what I had because I didn't want to make a run into town.  "What I had" was a mini roller because that's what I use to paint cabinetry…and some aluminum foil for a roller pan.  It's a small ceiling.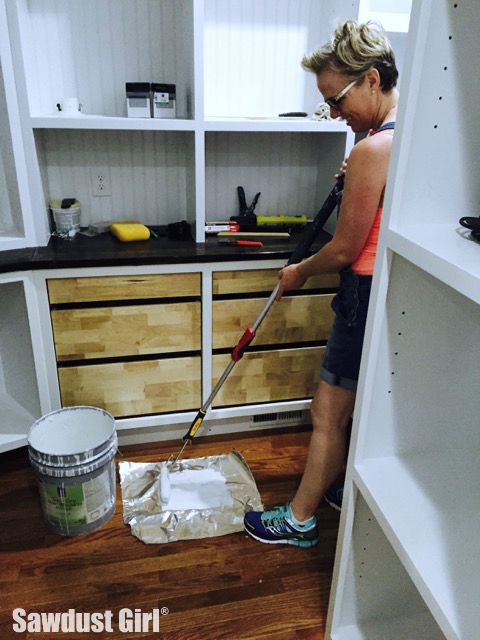 THEN I installed the crown moulding.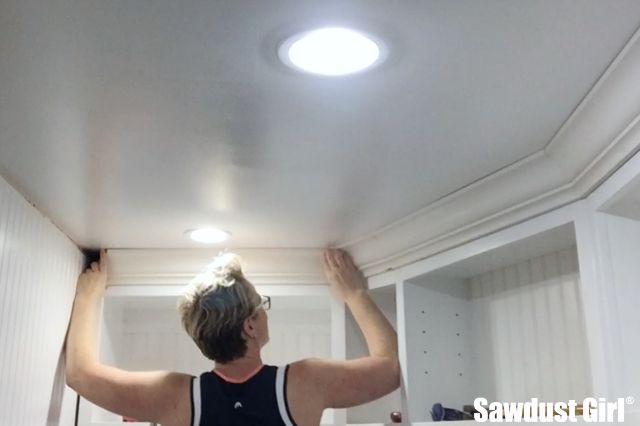 We didn't bother covering the entire ceiling because …who cares about the part you cant see?  Also, it would have required more seams which means more taping and mudding AND we didn't address the ceilings until I'd already installed ALL the cabinets and floating shelves so it would have been really difficult and I didn't care about the part of the ceiling I couldn't see.  SO, that's why.  'Cause you were about to ask…  🙂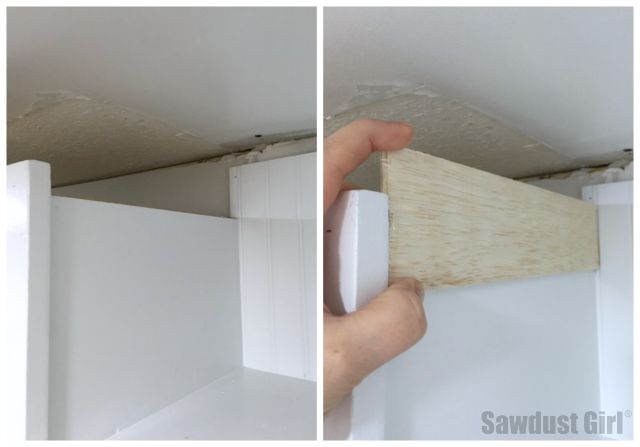 I purchased a huge bundle of crown moulding for $50 bucks at my local lumber yard when they had a "sidewalk sale".  SCORE!  Well I've had that in my basement for — months —  a year– a very long time.  In that time, I never measured it.  From eyeballing it at the lumber yard I knew it was the same profile and similar size to the existing crown and the crown I've been adding as I've been remodeling each room.  So I just had it in my head that my crown would come down 4″.  I planned and built my cabinets with that in my head.  So what a surprise when I went to install!  I was prepared to bulk up my crown by layering another moulding under it but luckily I was able to make it work by fudging the spring angle.  Except for one spot where I had to make up for 1/2″.  Easy fix.  I nailed on 1/4″ plywood behind my faceframe – this cabinet that is the left side of my floating shelves.
Problem fixed.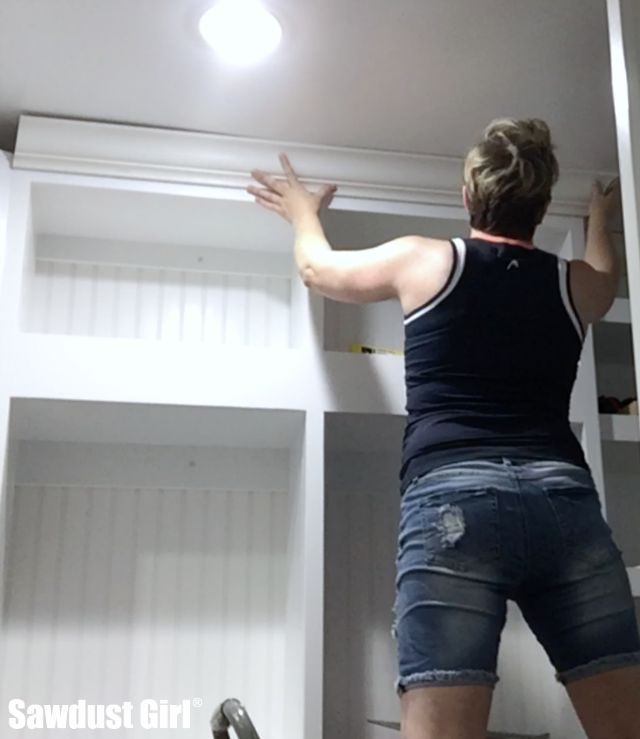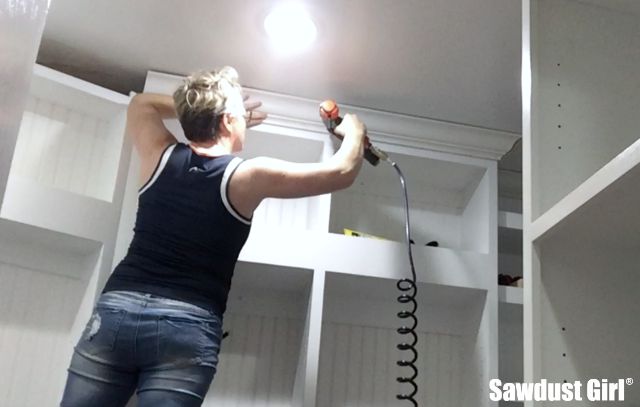 Problem mostly fixed.
Because I didn't install the crown at 4″ down as I'd planned, there wasn't much material left behind the crown into which I could drive my nails.  I ended up having to use a nail set to sink a few and a couple places the nails just blew out and broke off a bit of the MDF moulding.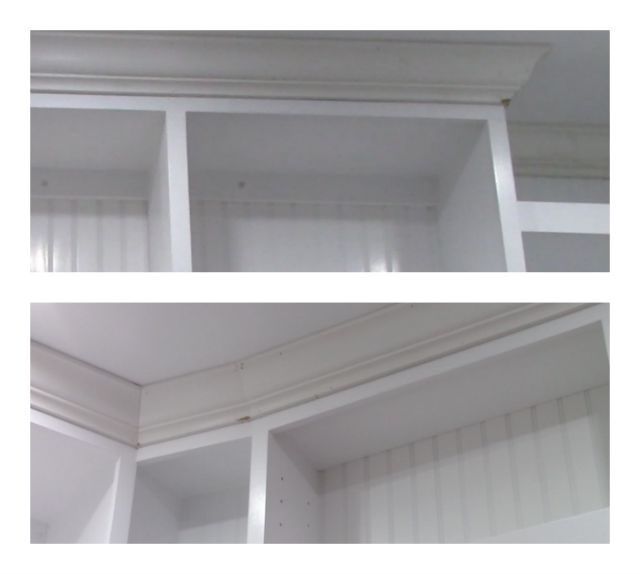 My choices here were to rip off those two pieces that chipped and redo them or fix the chips.   I have some pretty mad wood putty sculpting skills so I put them to use.  (I've had a lot of practice fudging perfect joints.  Haha.)

Fix, fill, sand, caulk and paint.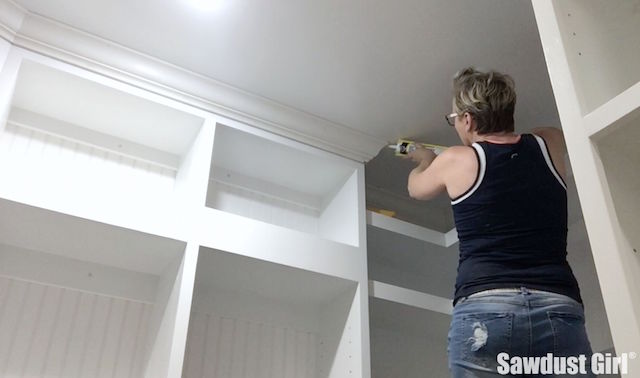 And voila!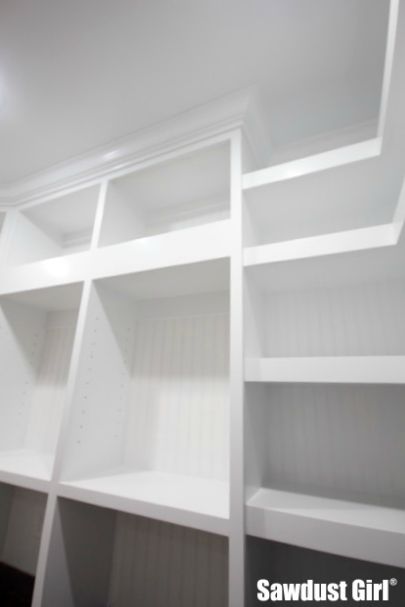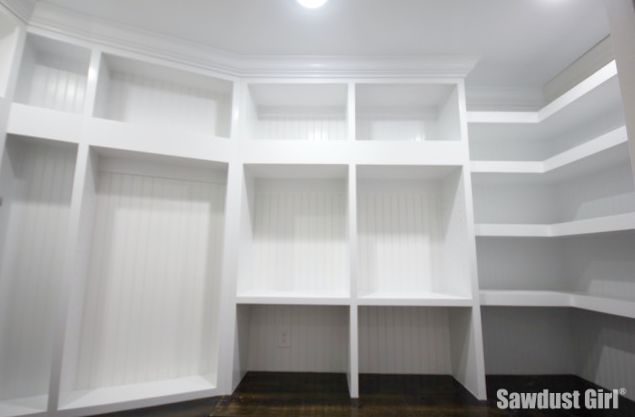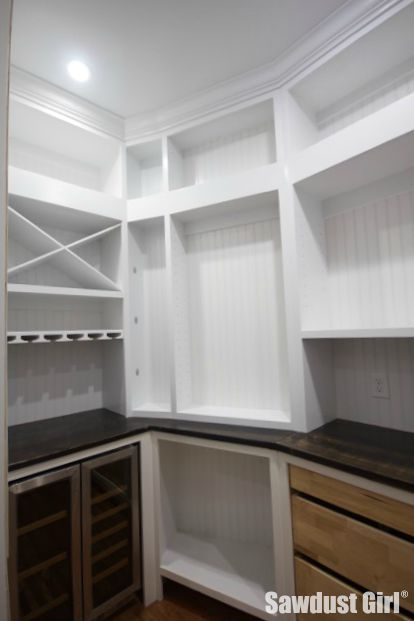 I'm doing a cool header over the doorway and the crown will bump around that but I can't do that until I install the door track and I have to do a bunch of other junk before I can do that.
But hey, it' looks pretty darn good as is until I get the other junk finished!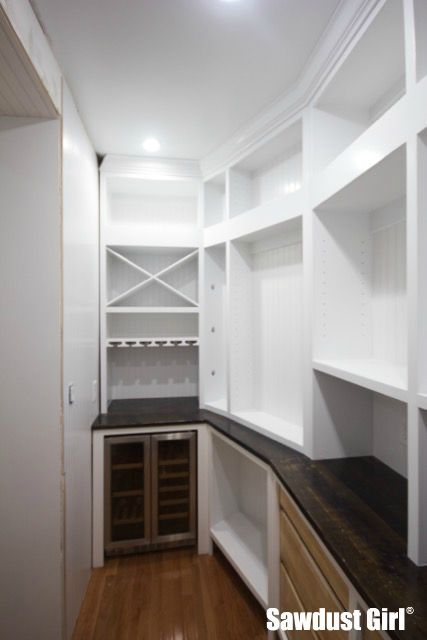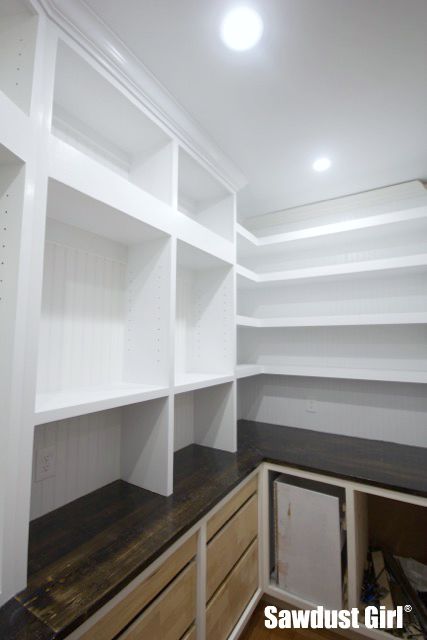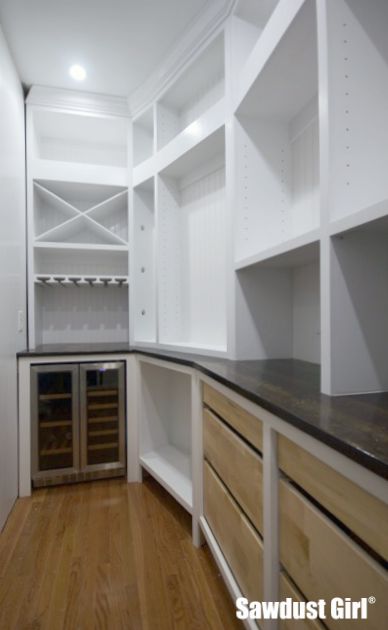 Still lots to do but I'm feeling really good about how it's coming together.