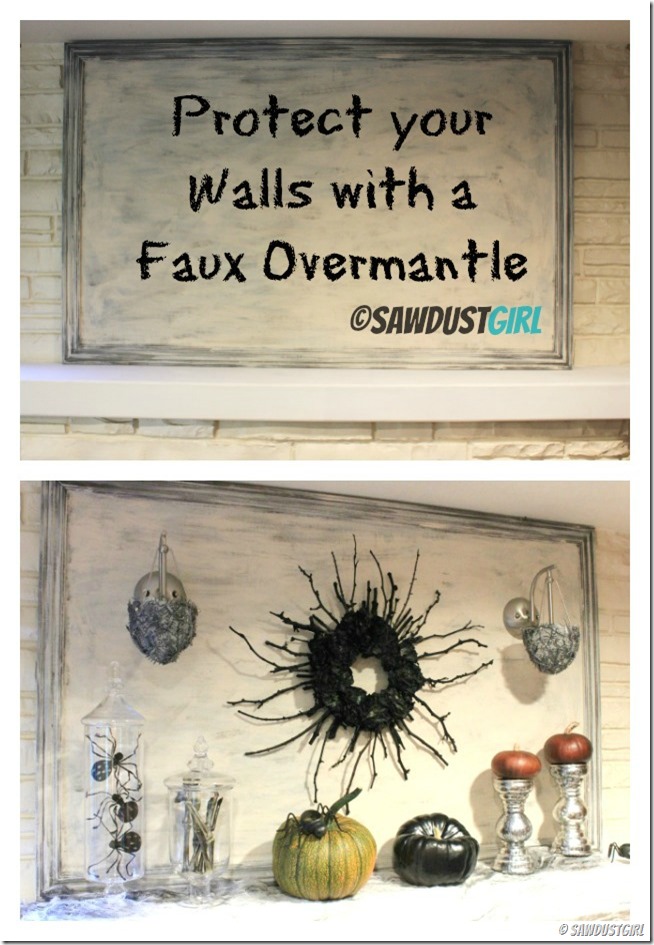 I have been informed that exposed wires and power tools do not constitute Halloween decorations. I don't know why—they scare me! To keep the peace and have a happy home I have been cajoled away from finishing the trim work in the upstairs bath and put on decorating duty. To be honest, it really doesn't take much to drag me away from trim work.
One difficulty that I have when decorating for holidays is that my fireplace is brick, technically it is painted stacked stone, but you get the idea. If I want to hang something from this wall I have to drill a hole and then use masonry anchors, then when the decorations come down I have to cover-up repair these new holes = TOTAL PIA! The same goes for moldings and trim work, even if it's only drywall above the fireplace, the process is the same. New holes for decorations and then repair work when the holiday is over. Now I love me some Command hooks, but they don't work for many of my decorations–i.e.  Creepy Halloween Candle Sconces.
To make decorating and clean up a whole lot easier this year I created this faux overmantle.  Now all I have to do is hang it from my already in place picture hangers and attach any decorations to it.  When the holiday is over it hangs neatly in my garage out of the way until I am ready to use it again. No more drilling and repairing the wall above my fireplace!
Measure and Cut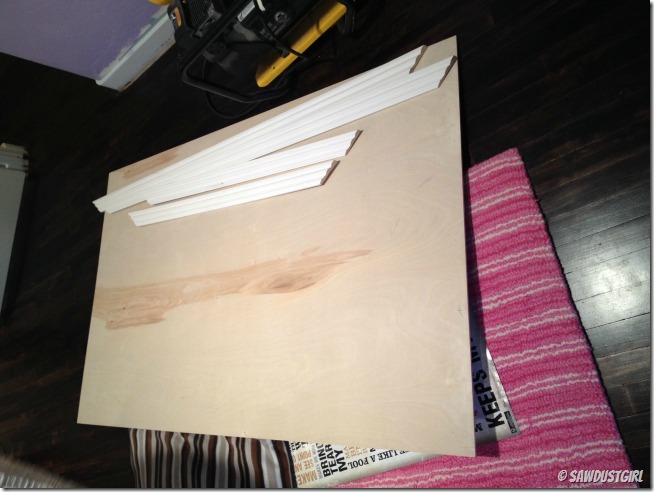 Start by my measuring your space and deciding what size you want your overmantle to be. I have a low ceiling in the room with this fireplace so I took mine all the way to the top, minus 1/2 inch for easy maneuvering.  Cut 1/4 inch plywood to your finished dimensions. Cut casing molding to go around the outside of the plywood using mitered corners, the casing is a full overlay on top of the plywood. This adds strength and stability to the piece.  Because I don't have very much room above my mantel, I decided not to put crown at the top, and just finished it like a picture frame. If yours will not go all the way to the ceiling make the top piece of casing low enough that you can top your overmantle with crown molding using a return edge. You can get as fancy as you want even doing something similar to the way Sandra tricked out the trim molding in her office. The more you trick out the molding, the more it will resemble a real overmantle, and less like an empty picture frame.
Attach molding and picture hangers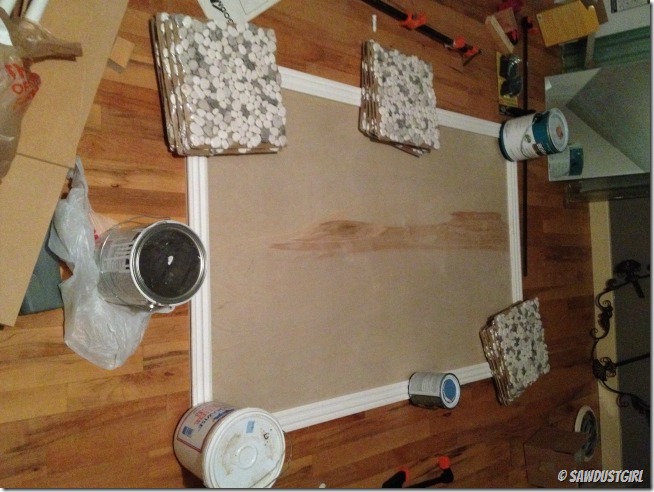 Glue moldings in place using clamps and/or weights. If you have really short brad nails you could use those as well. Attach picture hangers on the back making sure to screw through the thickest part of the molding for extra strength. You may want to attach something heavy, and you don't want it to fall off the wall!
Paint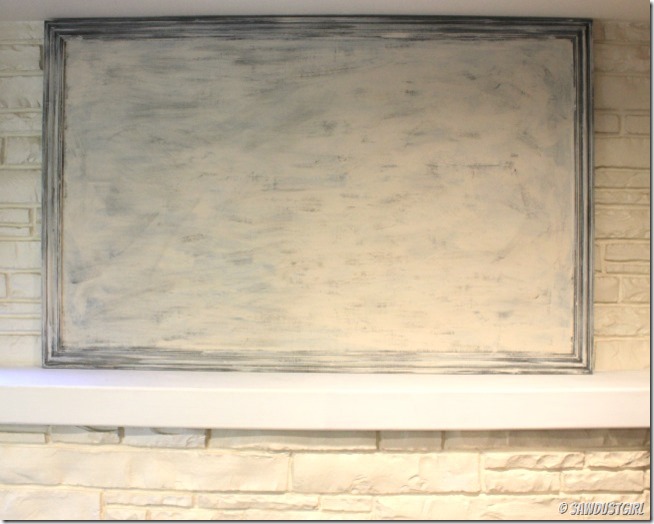 Paint according to your heart's desire. For Halloween I wanted a weathered and distressed look. I painted everything cream and then dry brushed with gray, then wiped a dark glaze into cracks and crevices. For Christmas I will probably repaint a crisp white. Who knows maybe for Easter we will do a pastel pink. It will be super easy to change out the finish to coordinate with any holiday.
Hang and Decorate
When you hang your overmantle make sure that your wall anchor will be sturdy enough to support it's weight and any decorations that you may affix to it. For Halloween we hung the Spooky Stick Wreath (light) and two Creepy Halloween Candle Sconces (heavy).
That's it, now just enjoy the ease of adding and removing holiday decorations!