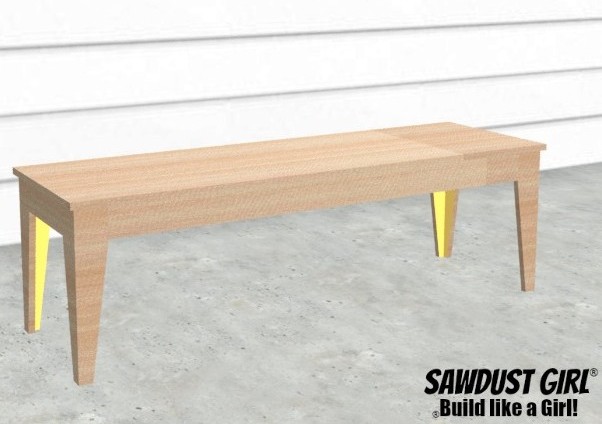 This easy tapered leg bench can be built completely out of plywood if you like the look of plywood edges.  OR, use 1×3 wood of your choice.  Pine is inexpensive and available at most home improvement stores.  Or you could build it out of MDF, sand the edges well and paint the whole thing.  Finish the wood with a clear coat, stain, dye, paint or use a combination of finish options.  The sky is the limit!
How to Build a Tapered Leg Bench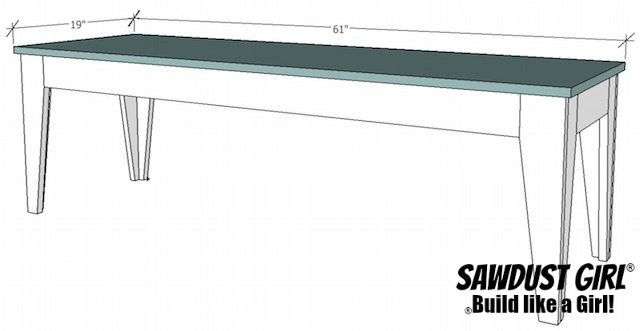 I designed a whole bunch of DIY furniture plans when I was redoing my entryway.   The winning option that I decided to build was a special version of the Two Toned Console Table plans I shared a couple weeks ago.  While I would love to build ALL the designs I drew up, just for the fun of it, that would be impractical I had about 50 different ideas! But I won't let all that creative effort go to waste and just sit on my computer.  What better way to see my designs come to fruition than to live vicariously through someone else?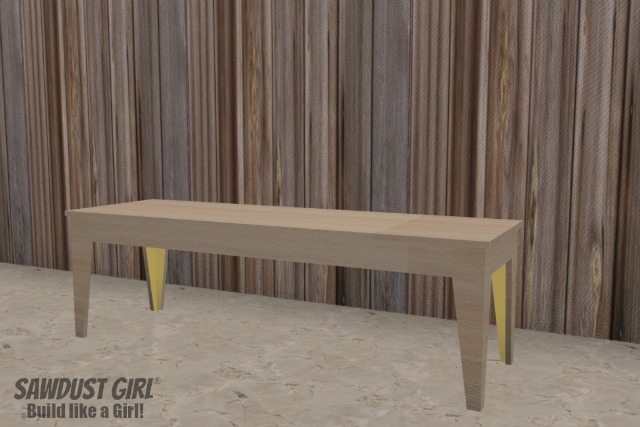 Materials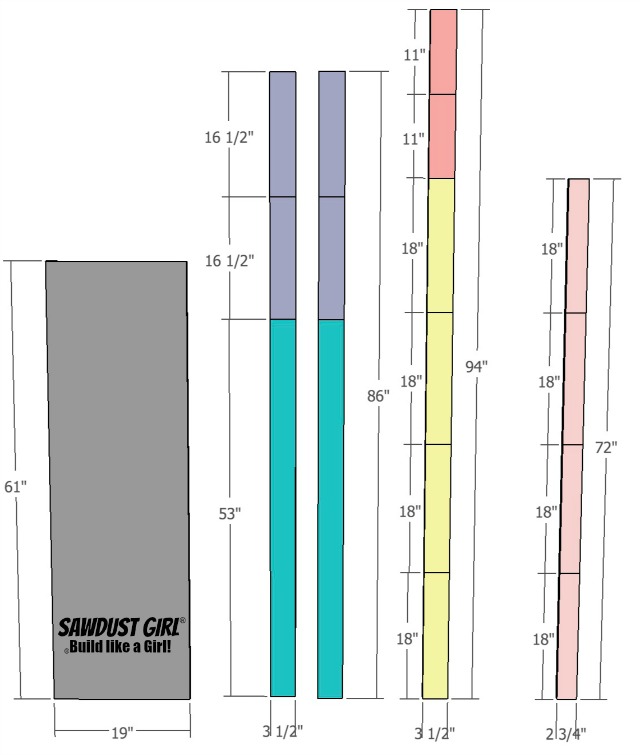 Cut leg angles
Use 18″ long 1×3 and cut legs as shown in next two pictures.
Wide leg

Narrow leg

Join leg parts
Use wood glue and your choice of fasteners or joinery method to attach the short leg part to the wide leg part creating 4 legs as picture below.
Options for fasteners or joinery methods to use in addition to wood glue

1 1/4″ pocket screws
brad nails
dowels
loose mortise and tenons
1 3/4″ wood screws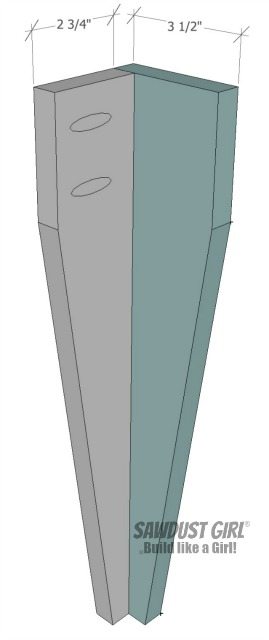 Short Apron
Use wood glue and 1 1/4″ pocket screws, dowels or tenons to join the legs with the short aprons.
You will create 2 sets of leg pairs joined by a short apron.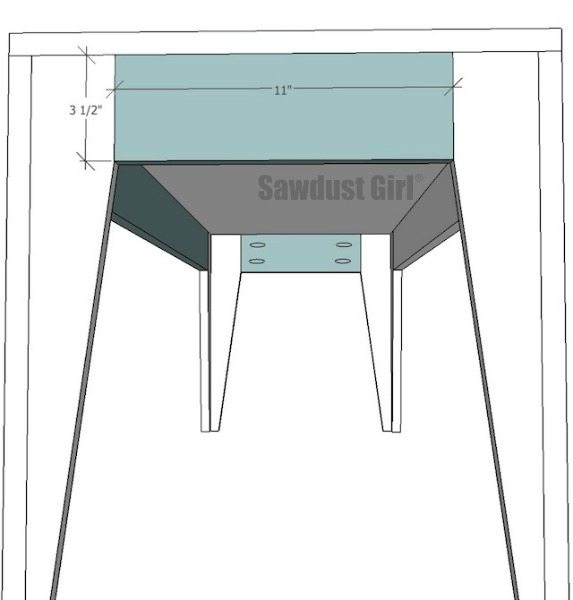 Long Apron
Attach the long aprons to the leg pairs.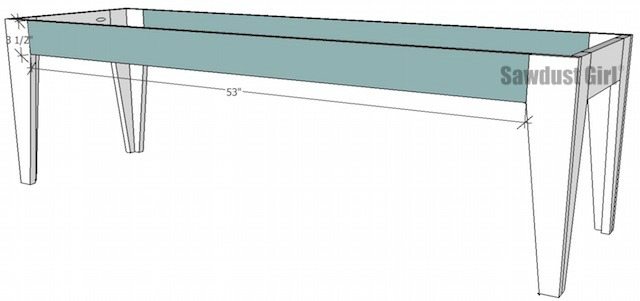 Top Cleats
Use wood glue and pocket screws (or preferred method) to attach 4 cleats flush with the top of the bench.
These will help support the bench-top as well as give you a way to attach the bench top.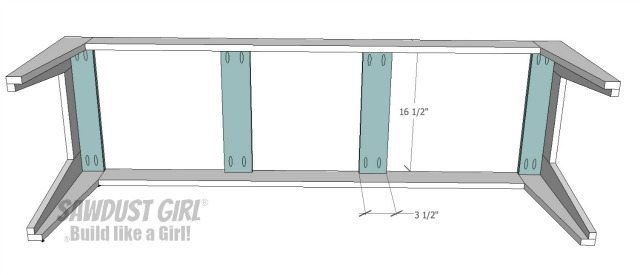 Bench-top
If you are using 3/4″ MDF or plywood for your bench top, secure it by driving 1 1/2″ screws up through the cleats into the top.  Don't sink the screws too deep or they'll come up through the top.
If your bench top is solid wood, allow for some wood movement across the grain.

One option for that:  Drill  1/2″ holes in your cleats.  Get washers that cover the hole.  Get screws that won't pull through the washers.  Screw into the top through the washer and hole in the cleat — so the screw can move around as the wood expands/shrinks but the top is still firmly secured to the bench.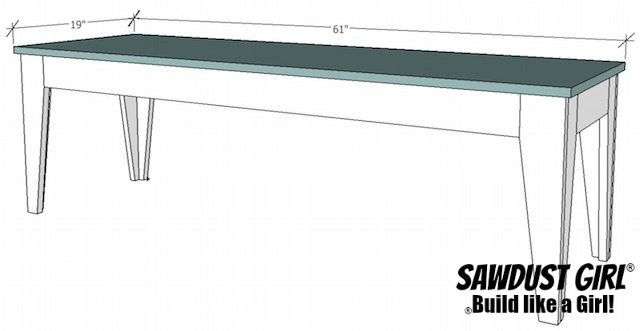 Finish
Stain, dye, paint or clear coat your tapered leg bench and enjoy your new bench!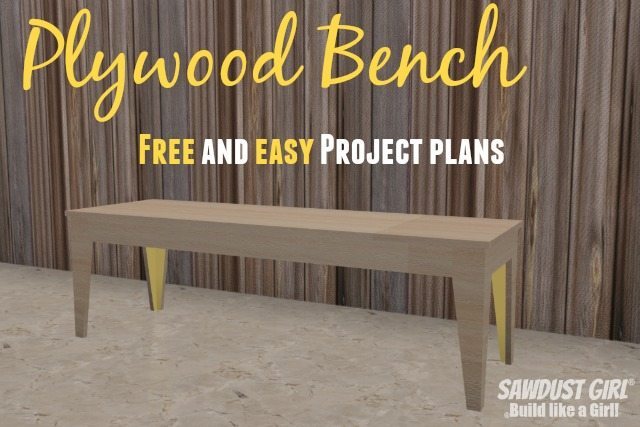 If you build any of my plans, I would LOVE to see how your project turned out. Tag me on instagram @SawdustGirl and use #BuildLikeAGirl so I'll be sure to see!