This Magnetic Pin Holder is such a cute way to store pins while your sewing up a storm.  It would also make a great gift for someone who loves to sew.  It's easy to make using a couple dollar store or thrift store items a magnet and some adhesive that you probably already have in your crafting supplies.  If not — you should, E6000 is the bomb.
Magnetic Pin Holder
Here's what you need:
1 glass or ceramic plate or shallow bowl (dollar store)
1 glass or ceramic candle holder (dollar store)
a strong magnet (I ordered from Amazon)
E6000
spray paint.
Step 1:  Glue the magnet to the bottom of the plate/bowl.
Apply adhesive to both magnet and plate and then wait a minute or two before putting the two together.
Step 2:  Glue the plate to the candlestick.
Apply adhesive to both pieces and wait a minute before putting them together just like in step 1.
Let the adhesive cure for 2 to 3 days.
Step 3:  Prime and Paint
I bought X-I-M spray primer from Sherwin Williams.  It was $7 but it's the only primer I could find for glass.  There may be many other options available in your area, or online.
Protect your work surface with newspaper, a drop cloth or plastic before you paint. 
Spray paint is made up of very fine particulates so wear a respirator when painting with it.  You can use any sheen level you want.  I chose to use high gloss and applied it in several light coats.
Once the paint is dry, you're done.
The magnet holds the pins in the bowl so they are easy to grab.  If your bowl gets knocked over, the pins don't fall out.
I spent less than $5 on the bowl, candlestick and pins for this Magnetic Pin Holder.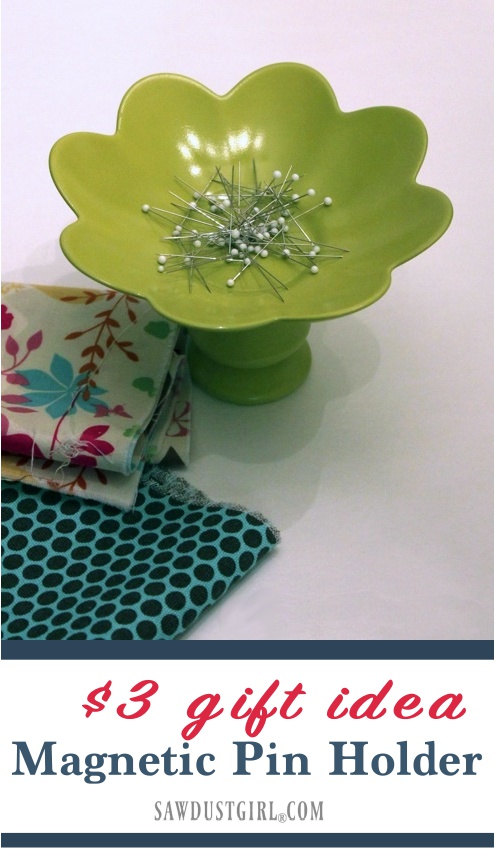 You might also like $1 Gift Ideas!