A DIY Serving tray is a perfect item to add your idea list for hostess gifts. You never want to arrive at a dinner party empty handed so make sure you plan ahead. Store bought gifts are nice but it makes your gift extra special when you make it yourself.  How about a DIY serving tray paired with a bottle of wine, a coffee table book, or a nice set of tea towels.  You could also make some wood napkin rings to give with your serving tray. These are all great ideas for a perfect host or hostess gift!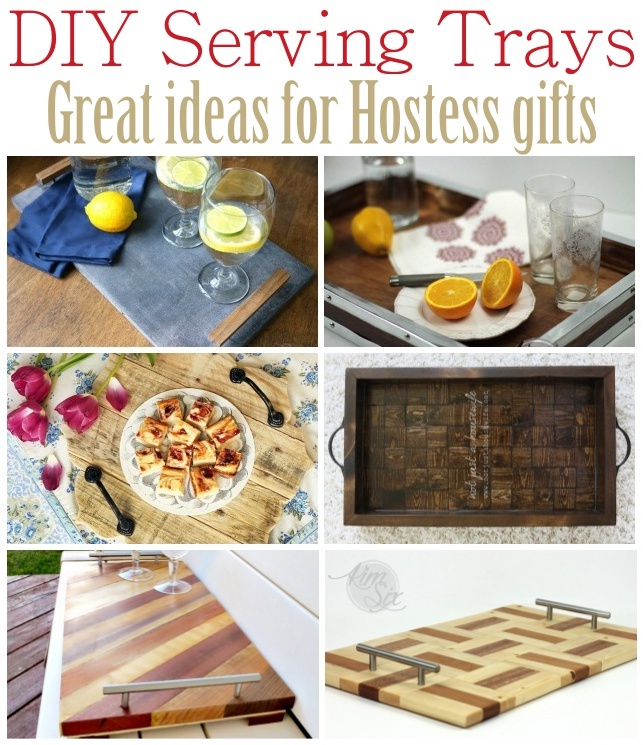 DIY Serving Tray – Great ideas for Hostess Gifts
A DIY serving tray loaded with delicious food would make a thoughtful gift.  It's a perfect thing to give your hostess or host the next time you attend a Holiday party or spend a weekend with friends.
Use a unique shape
Looking for something to make with some recycled pallet wood?  How about this shaped rustic pallet serving tray from Pretty Handy Girl. This option utilized cabinet drawer pulls as handles.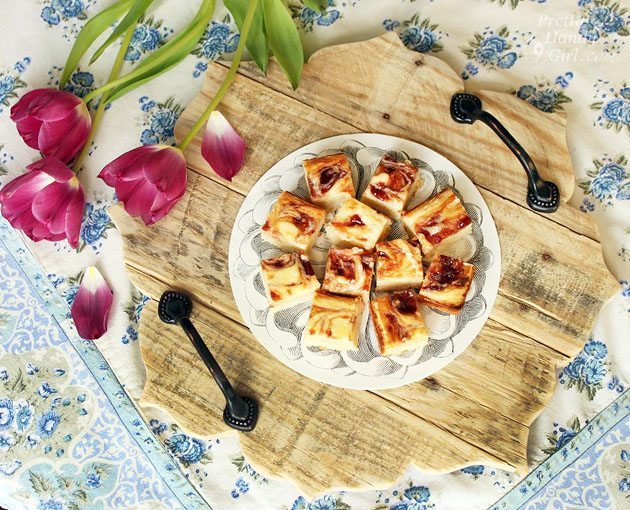 Combined materials
How about a Vintage Industrial Mailroom Tray?  Kim Six was inspired by a Restoration Hardware product when she created this wood and metal serving tray.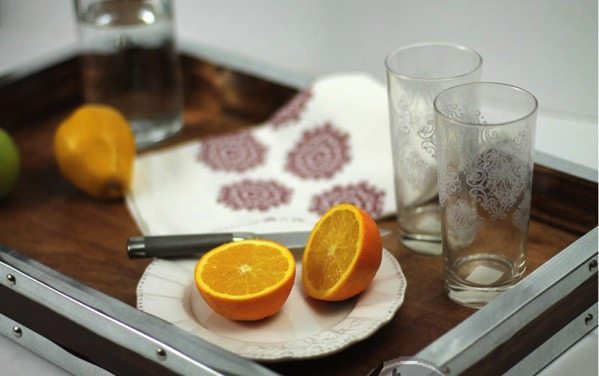 Amp up your woodworking skills
My Altered State used epoxy glue when making this wooden serving tray. She used a variety of wood scraps of various species on this work of art.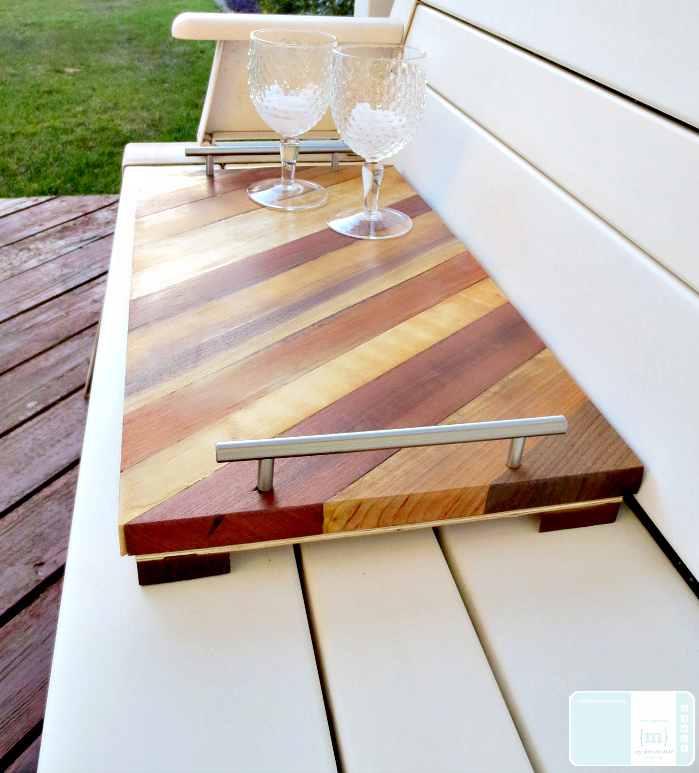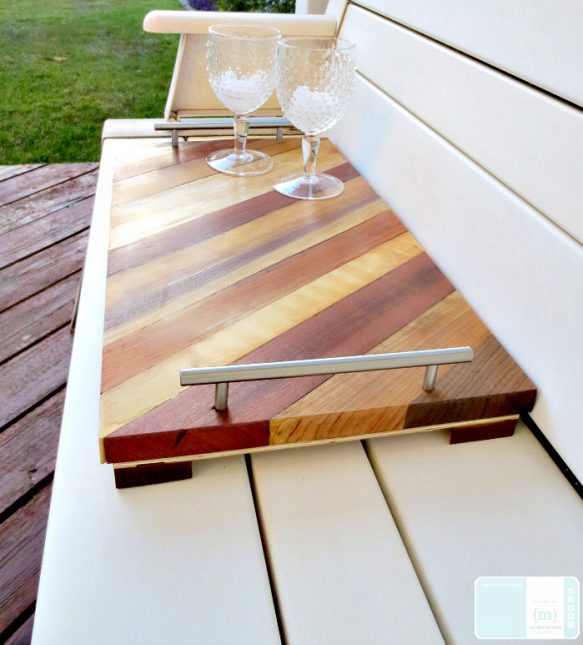 Unexpected Materials
This Concrete Serving Tray from Sawdust 2 Stitches looks like a slab of slate. It's pairs so perfectly with the wood handles she made.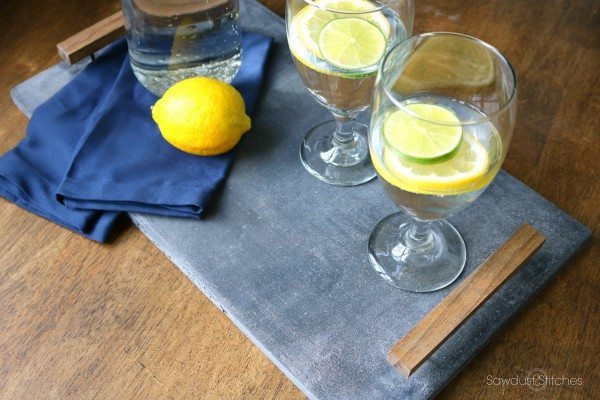 Wood tile
This DIY Wood Serving Tray from Not Just a Housewife looks like tile.  Wood tile. Down to the grout lines and everything.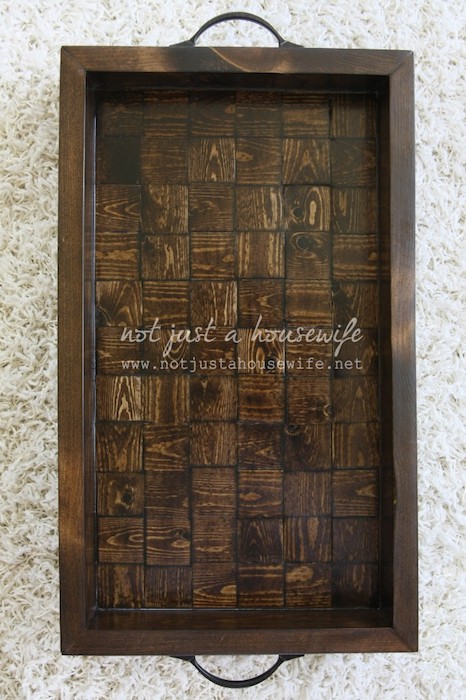 Mahogany and Cherry
The Kim Six fix shares a tutorial to create this Parquet style, wood serving tray. I don't work with a lot of exotic woods so I don't have any proper scraps.  I need to remedy that asap!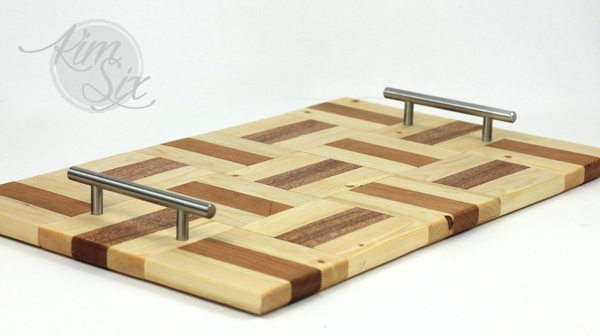 Chalkboard sides
Mindi from Mylove2Create made this wood serving tray with chalkboard sides.  What a great idea!  You can label the delicious treats the tray is holding.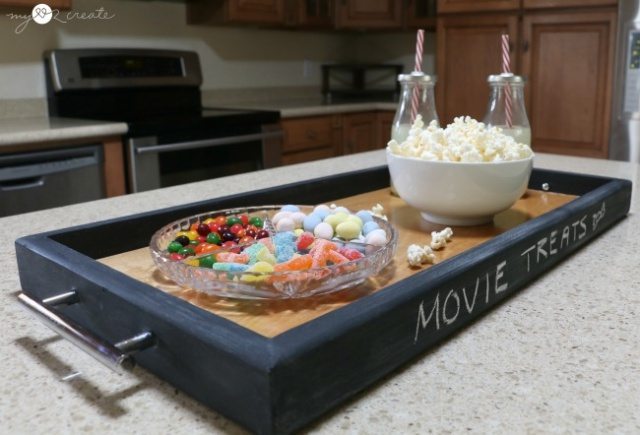 Stripes
Bonnie at Uncommon Designs made this fantastic ticking stripe server tray. Wooden trays always seem to make an area look organized. Whether it's a collection of remote controls on a coffee table, or a bowl of fruit on your kitchen island. A tray an easy way to add a multi-functional accent to your home's decor.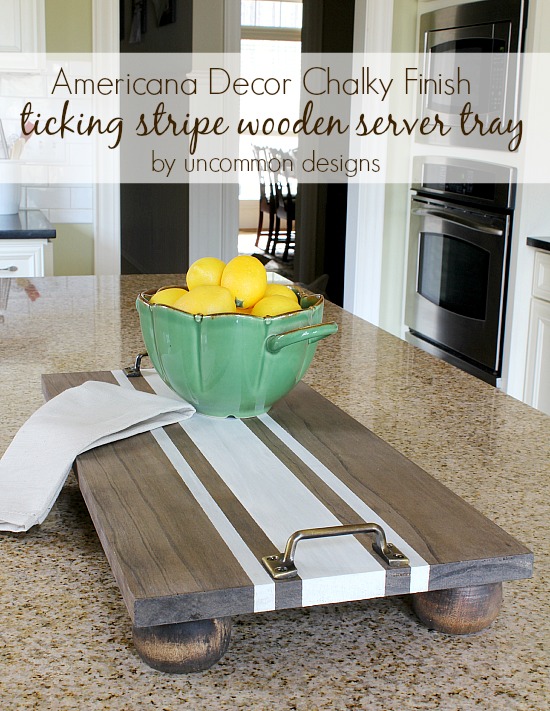 Ottoman tray
This stylish serving tray was made by Timisha of DIY Divas.  It serves as a perfect ottoman tray to hold everything from cocktails to remote controls. The vintage handles really elevate this simple diy project to look like something you could buy in an upscale boutique.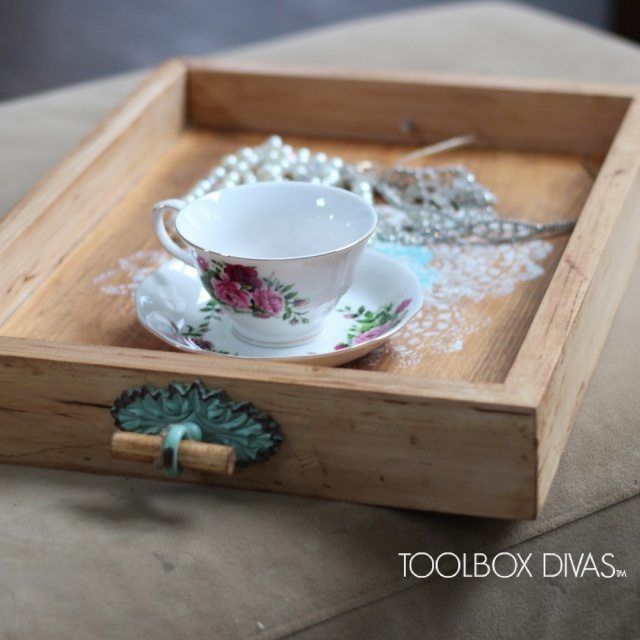 Wouldn't it be smart to build a few DIY serving trays ahead of time?  That way you don't have to scramble to find a hostess gift at the last minute next time you're getting ready to head out to a holiday party!
Here are some additional DIY gift ideas: