Hey, guys! So when we bought this property on 11 acres we were excited about the flat lawn, the huge workshop, the privacy and secluded feeling and ALLLLL the trees. BUT I must confess, we didn't anticipate what taking care of all those trees, brush, weeds would entail. Over the last couple months we've been been figuring out exactly what we've gotten ourselves into. 🙂 At least we have some really good tools to do it with! This post is sponsored by STIHL power tools.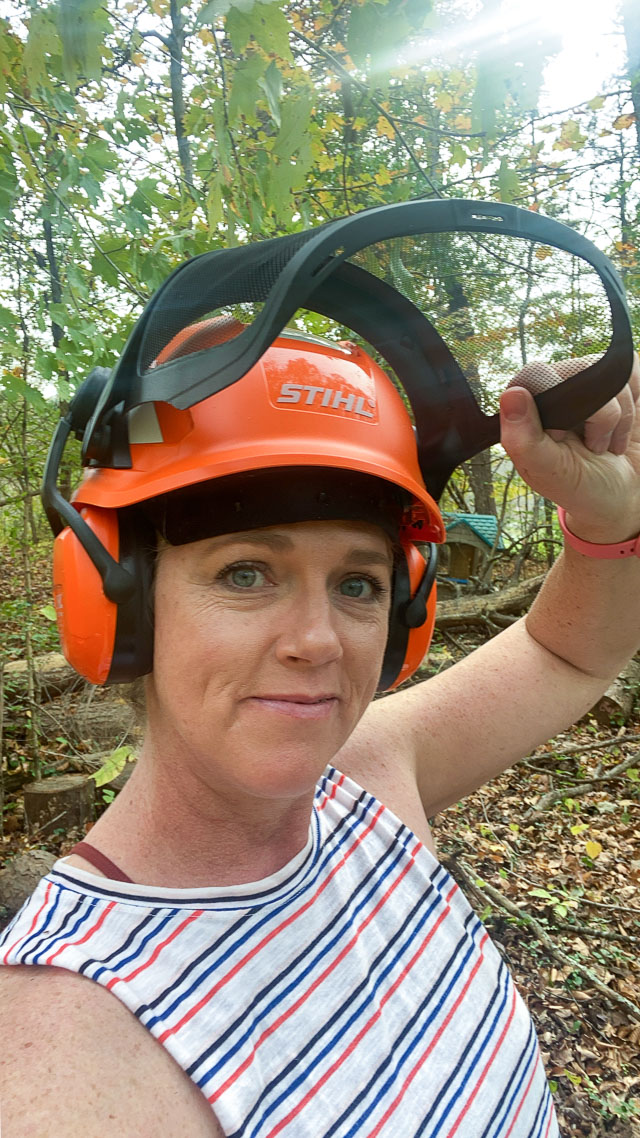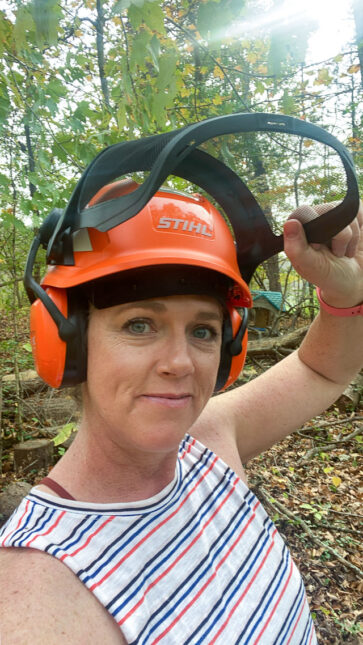 This year I had the opportunity to partner with STIHL and try out some of the Stihl AP series battery-powered power tools. It was the nudge I needed to divert my energy from the 7200 sq/ft hunk-o-ugly workshop building and focus on some outdoor cleanup (that other than lawn mowing has largely been ignored since we moved here 1 1/2 years ago). I have always had a difficult time with pull-start, gas powered tools so I love that all I have to do is keep the batteries charged to ensure I can start these power tools!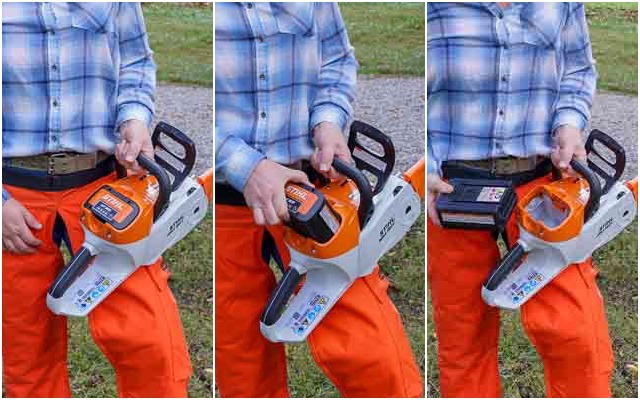 The AP battery series tools deliver professional-grade power which is exactly what we need on this large property. I ran these tools all day long with the AP 300 S Lithium-Ion Battery — day after day after day…
To the right of our property there is a sort of "island" of trees and brush with a path/drive circling around the backside. I've walked the path but never before ventured INTO the island because in addition to the trees, it's a big, hot mess of thorny weed/vine/branches. Those vine and branches overhang the grass making it difficult for Wes to mow there.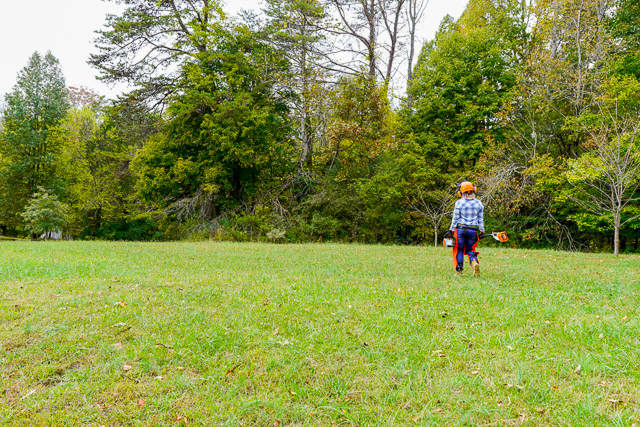 I meandered over there with my chain saw, and pole pruner and got to work. My intention was to "tidy up" but that island turned into a MAJOR job! As I cut and cleared it just kept revealing more that needed to be cut and cleared. The deeper I got, the more I discovered what a disaster that area was.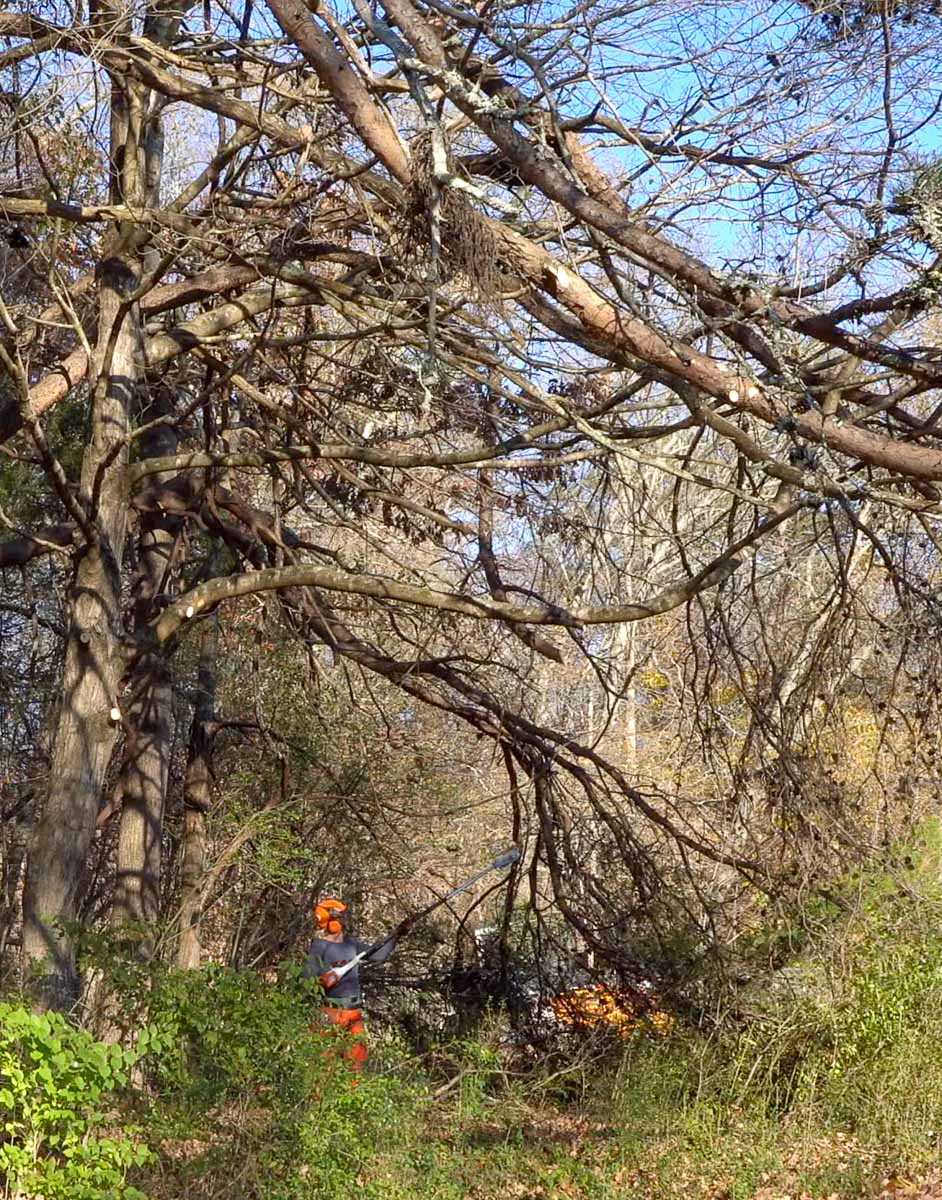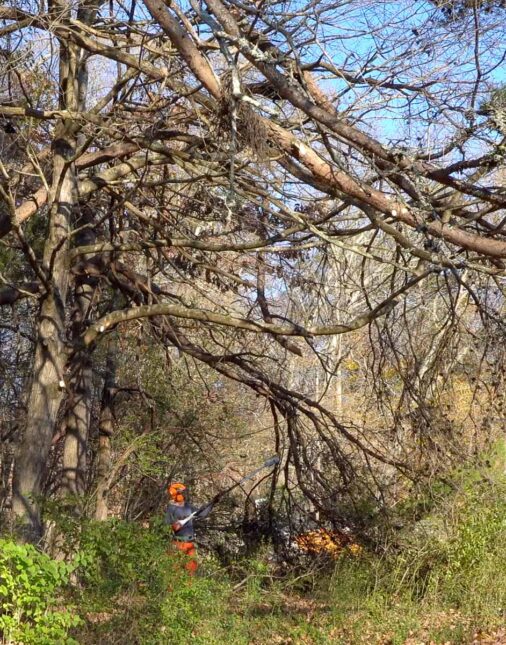 It wasn't just the patch of thorny vines overhanging the grass that was an issue: there's a huge problem with invasive weed vines climbing up and around everything. Many dead trees had fallen completely down or had landed on and entangled with other trees.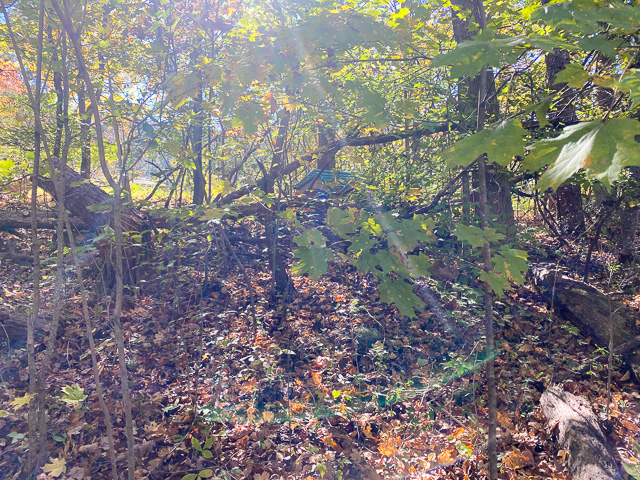 I started on front and worked my way all around the perimeter. Using the HTA 65 pole pruner, I was able to cut the overhanging branches while keeping my body clear of the thorns. That was my first experience with a pole pruner and that thing made quick work of cutting through the branches. I know it's not a toy, but the HTA 65 is fun to use!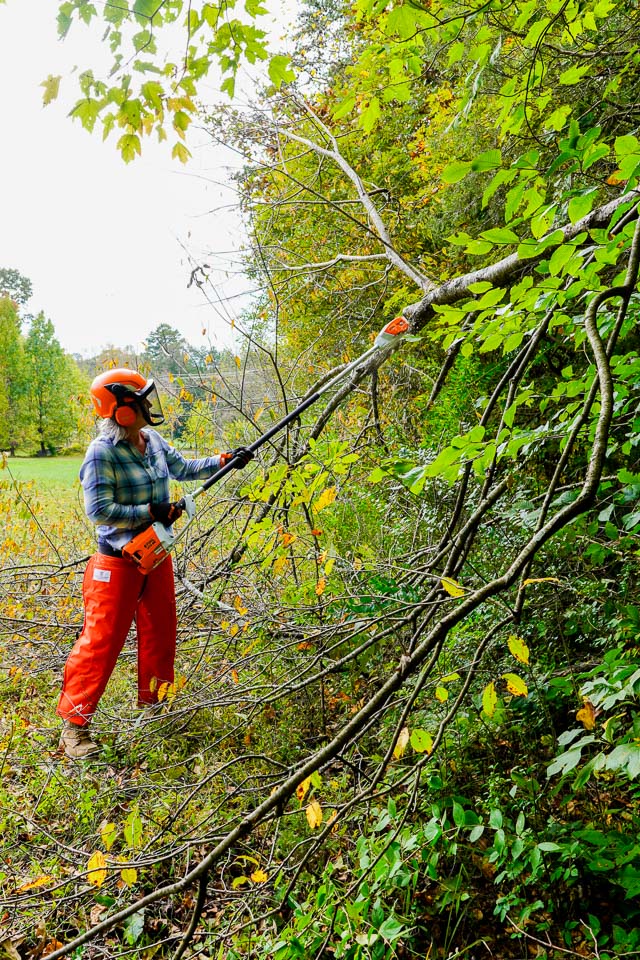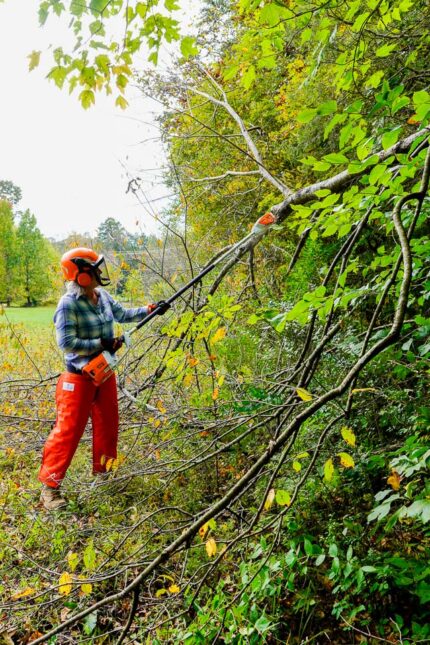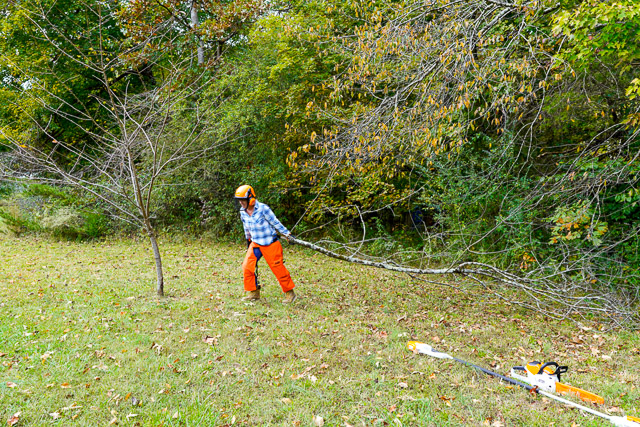 As I cut and hauled branches out to the little trailer (hitched to our Challenger), it quickly became clear that I was going to need help with this job. It was quite a workout! I was getting 20,000-25,000 steps a day, cutting and lugging branches. Wes and Madison and I spent multiple weekends out there together, cutting, hauling and burning dead brush and branches.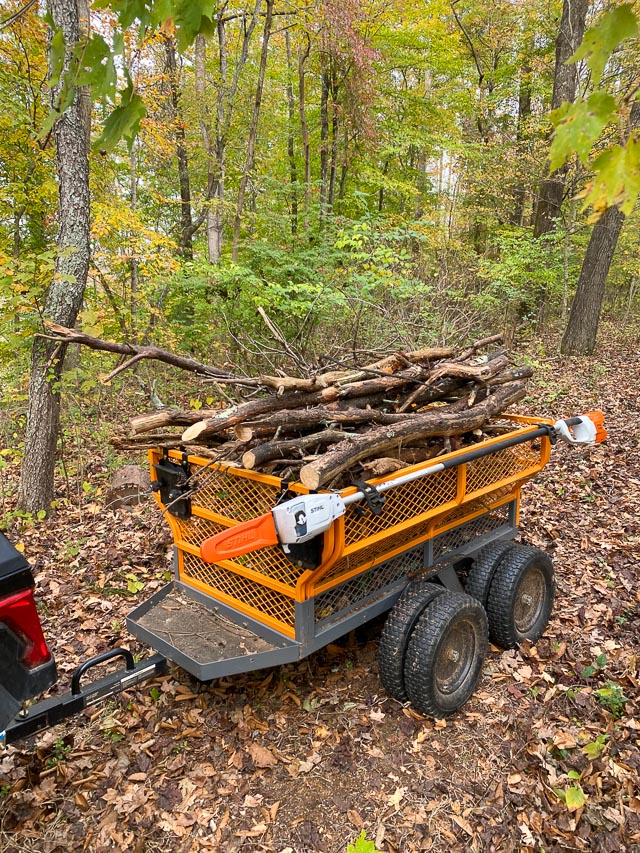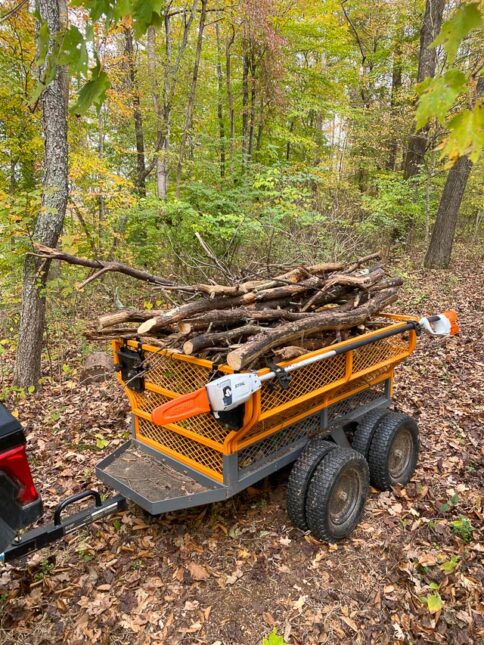 We kept a fire going in our big fire pit while we were working. Each time the trailer filled up we'd drive it over to and toss more branches to the fire to keep it going. The crackling fire and glow of the flames were rewarding –I think that kept motivating me to keep bringing more "fuel".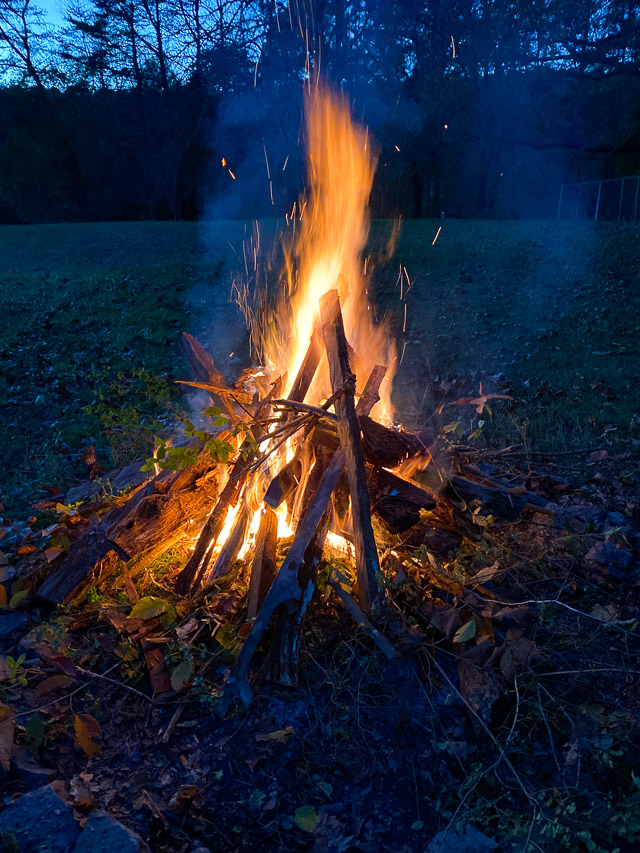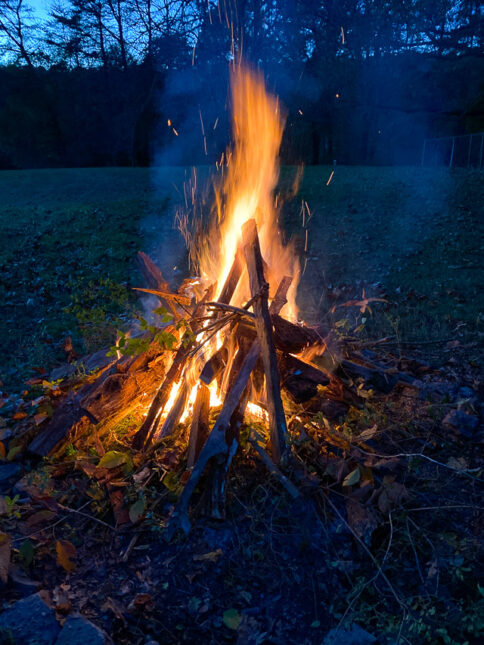 After clearing away the perimeter, we didn't have so many thorns to deal with. The lower branches were a good job for the MSA 160 chainsaw. I appreciate how lightweight and easy to handle this chainsaw is. With the AP 300 S battery it weighs less than 10 lbs and has a runtime of almost an hour.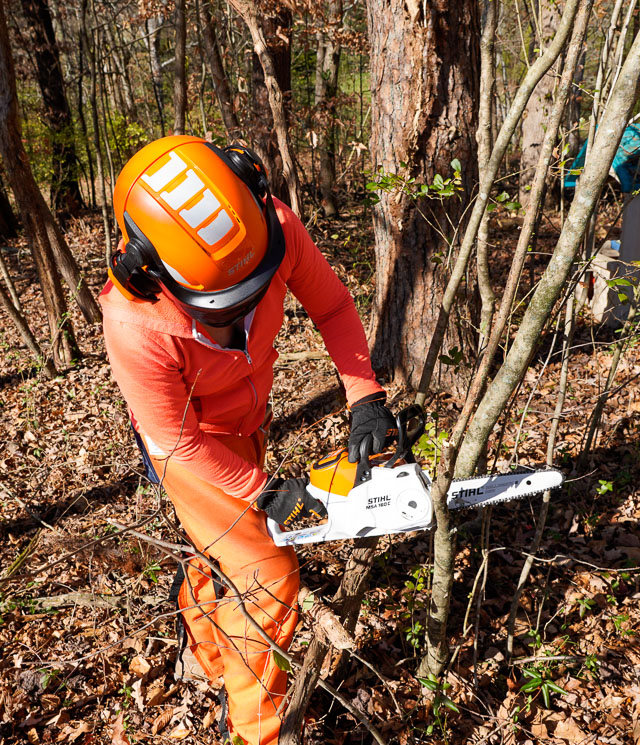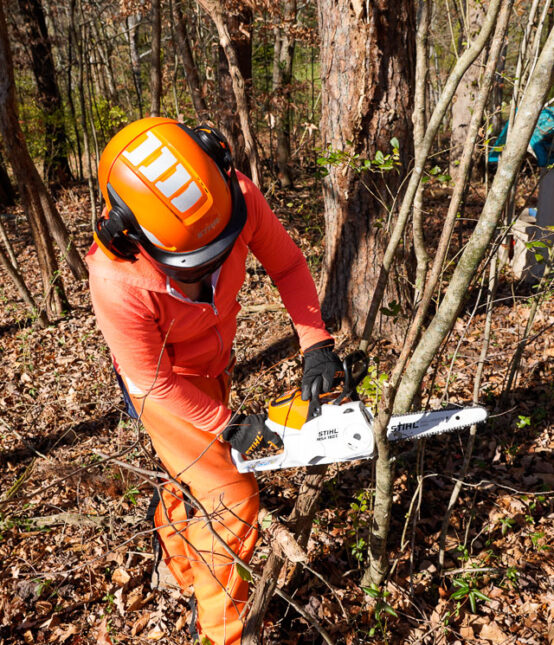 Wes and I discussed that it could realistically take us every weekend for a year to finish clearing out that area. From the house, looked like a nice little grove of trees. It probably was at some point, but left unmanaged, the weed vines took over and did some real damage.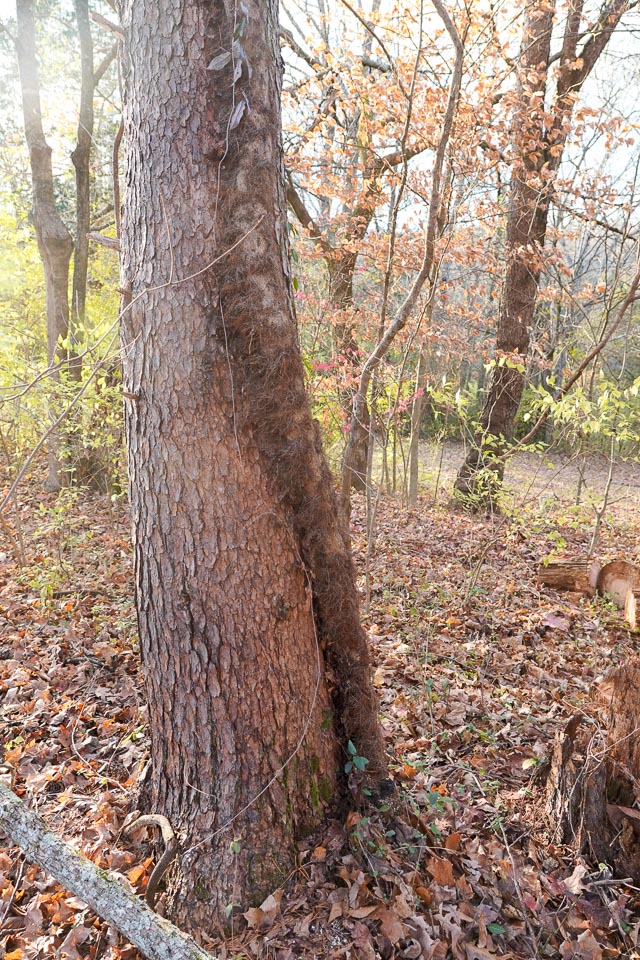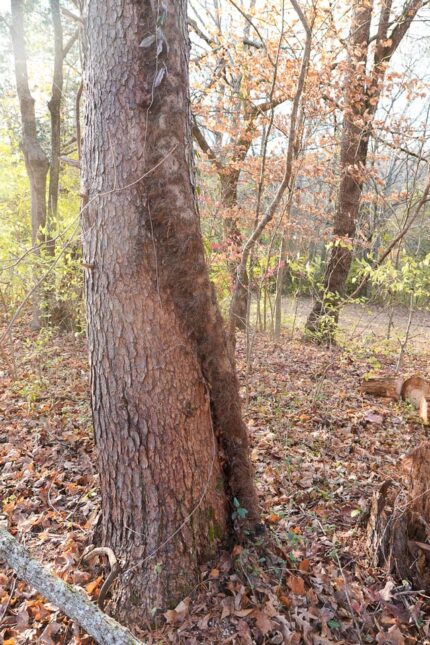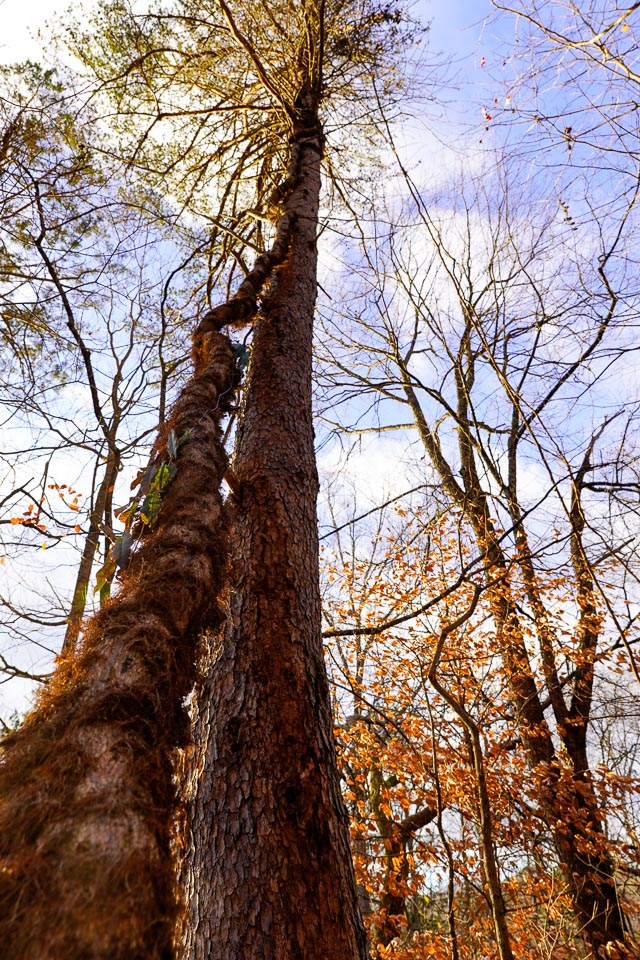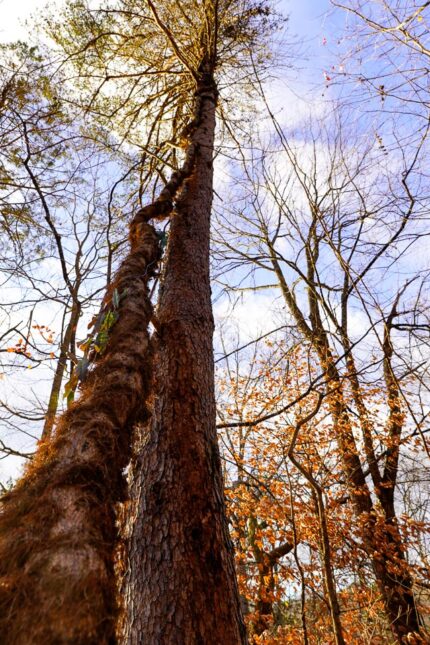 Those are the thickest vines I've ever seen. They climbed up one tree and then looped over to adjacent trees and they're so tangled up in the tree branches we can't pull them down.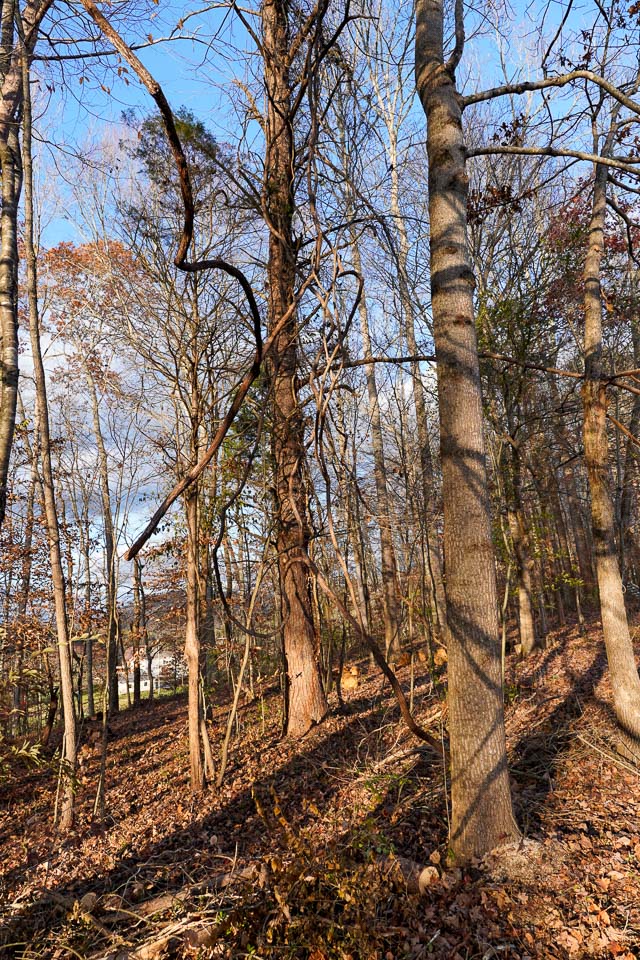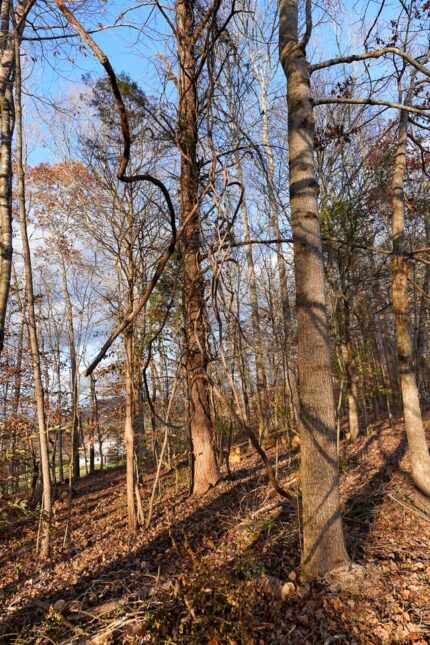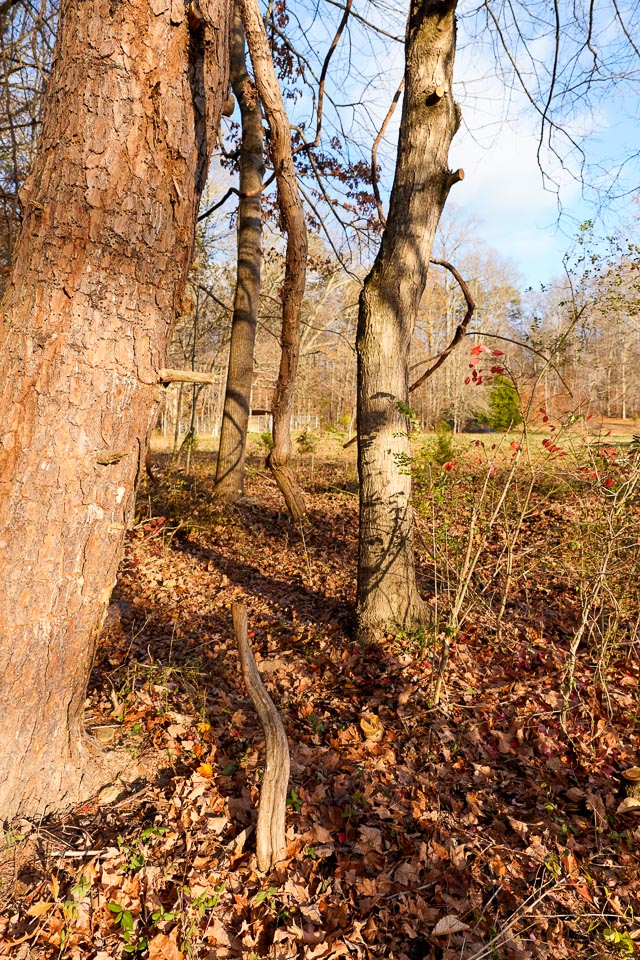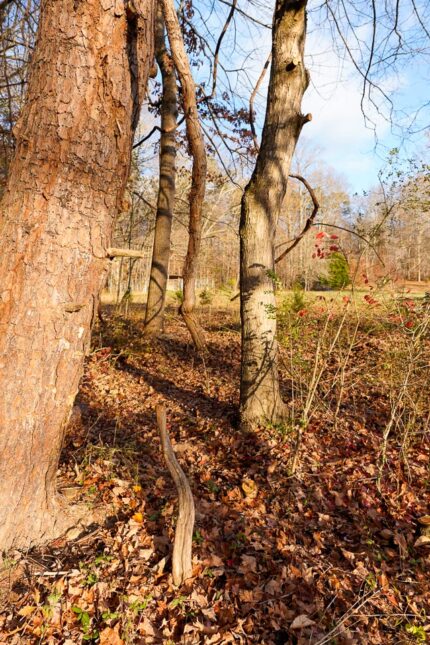 We cut the vines at the base and trimmed as much of them away from the trees as we could.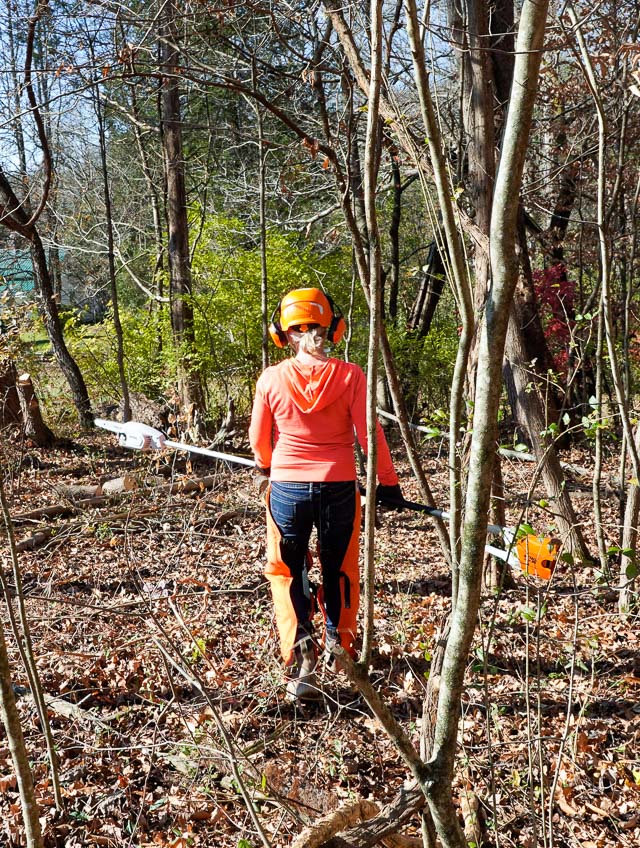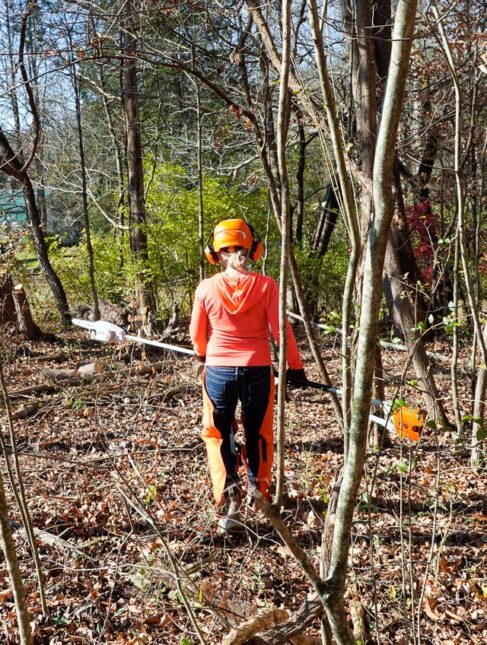 After ignoring this area for over a year and a half ourselves, we're guessing that's pretty much what the previous owners did too. Someone spent some time out there at some point – as proven by the little plastic playhouse I found in the center of "Thorny Island".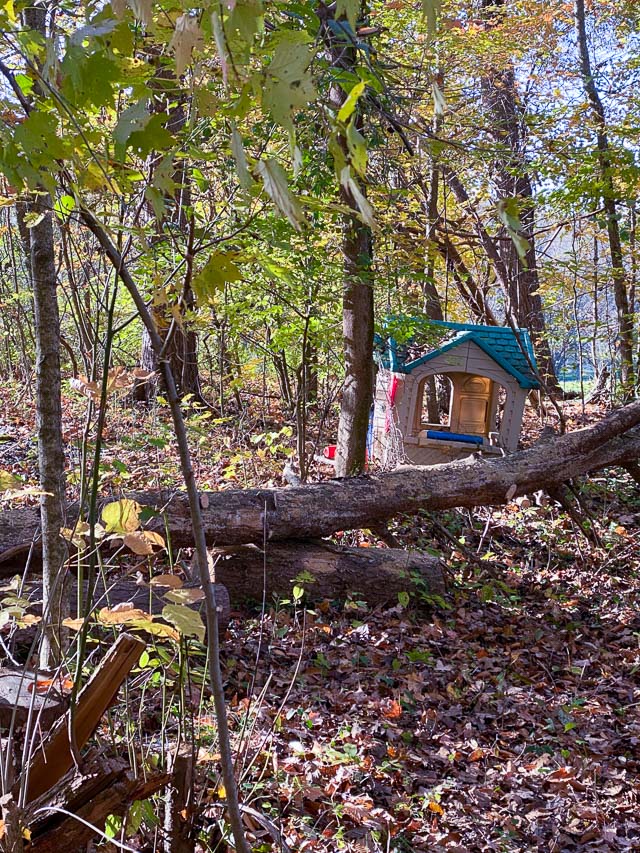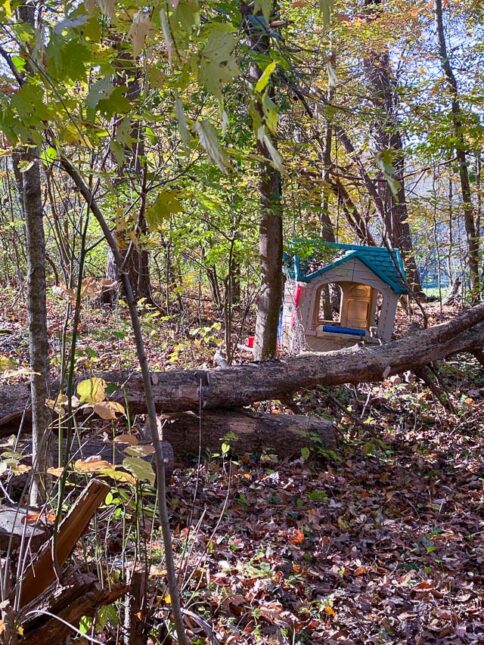 It has to have been out there for at least 10 years because the previous owners' child was in high school when we bought this place. Getting that dingy thing out of there became my goal and I didn't want to quit my "outdoor cleanup job" until I accomplished that. And I finally did it.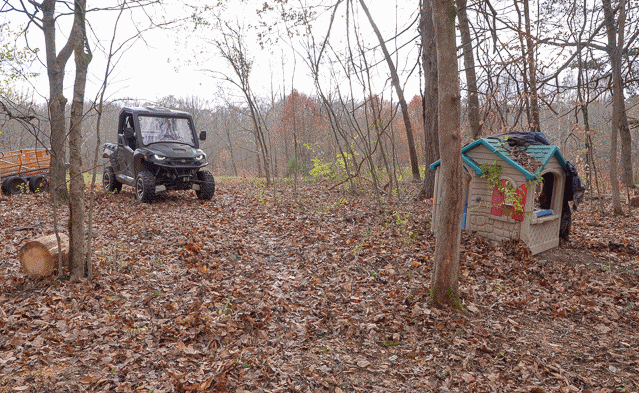 Accomplishing that goal was my "cut-off" for ending the "outdoor cleanup" job for this year. At least in terms of chainsaw and pole trimmer work. I'll have to keep those invasive vines cut down which I can do with the weed trimmer if I do it regularly –like before they grow to 6″ in diameter!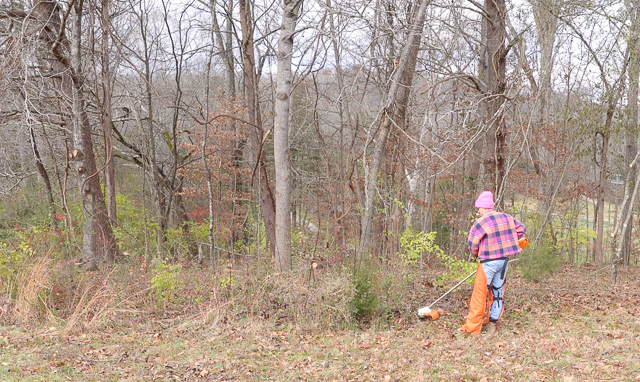 So one of us (wink wink) will have to continue to go out and trim all the weeds and vines to keep them under control but that's a quick and easy job with the FSA 85.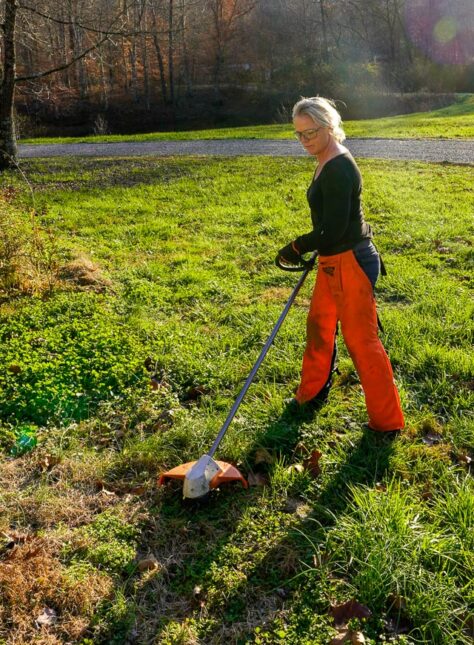 Other than that, we're going to wait for Spring to continue clearing out that area of dead trees and branches. All the leaves have fallen now so it's difficult to tell what's actually dead or just bare. Hopefully now that we've cleared out what we did, the remaining, living trees will survive and maybe thrive. Cutting down all that thorny vine/branch weeds also revealed lot of little evergreen trees that I'm hoping will have a chance to GROW now.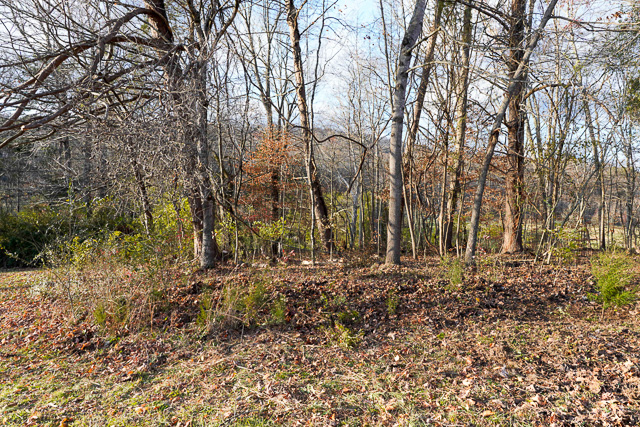 It's going to take continual effort to keep this 11 acres maintained. Over the weeks, while doing this work, Wes and I both joked about "What did we get ourselves into"! We were mostly joking. It's an especially big job initially because it's been ignored for way too long. Once we finish clearing out all the dead and wrong, it will be much easier to maintain. So we'll be back at it again in the Spring!
Thanks to STIHL for the amazingly convenient and easy to use power tools to help make the job as easy as possible.