In my last workshop organization post, I mentioned that I'm going to be diverting my energy to a new room for a while.  It's not just a room, it's an entire floor,  I call it the loft.  The loft is currently our house's "junk floor". It's where we store everything that doesn't yet have "a place" like all my crafting supplies, decor items, the cabinets we removed from the kitchen, etc.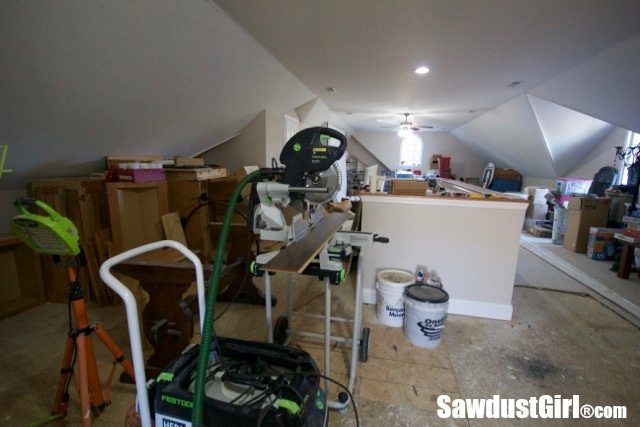 It's a mess with tons of potential!  Before we moved in we were planning on letting Madison make this her bedroom and hangout area.  She wanted lots of bookshelves, a place for doing art and music.  But, we all decided it might be too scary for her to go to sleep at night, all alone, up in this big space.  So we created a fun bedroom for her on the main floor and this floor became the place we told the movers to put all the boxes that came out of my craft room, our office and the ones that held all the tchotchkes from the shelves of all the built-ins in our last house.
She was 11 when we moved into this house.  WOW, time flies!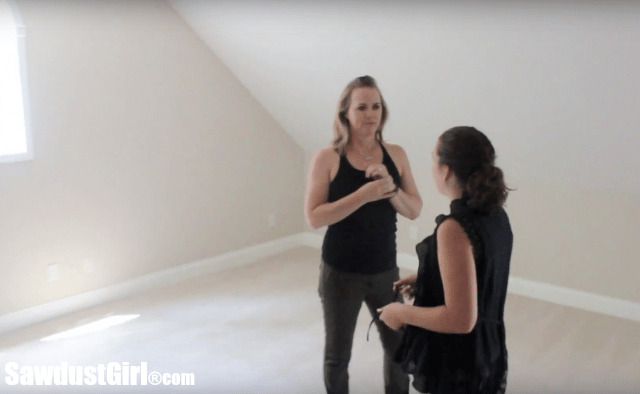 For the most part we have ignored the loft for the 4 1/2 years we've been living here.  We've had to venture up here to find things when we've needed them but hadn't done any of the things on Madison's grand list of "things to make it awesome".
Until a few months ago when I decided to build a "Recording Studio" for Madison.
A few things about that:
It's just a room with a door.  There isn't any high tech sound proofing involved but it's a designated spot for all her music equipment.
Madison has 2 guitars, 1 clarinet, 1 violin, 1 banjo, a mic stand, and an amp.  These things often occupied the living room, dining room, basement or any other room she happened to haul them into and then leave them for days/weeks on end.
Madison was interested in recording music videos for YouTube so a "recording studio" provided a space for her to do that and a dedicated place for all her music gear.  (Which I wanted REALLY badly.)
I was in a "waiting a few days for something to be shipped" phase of building the pantry so I framed out a room up in the loft.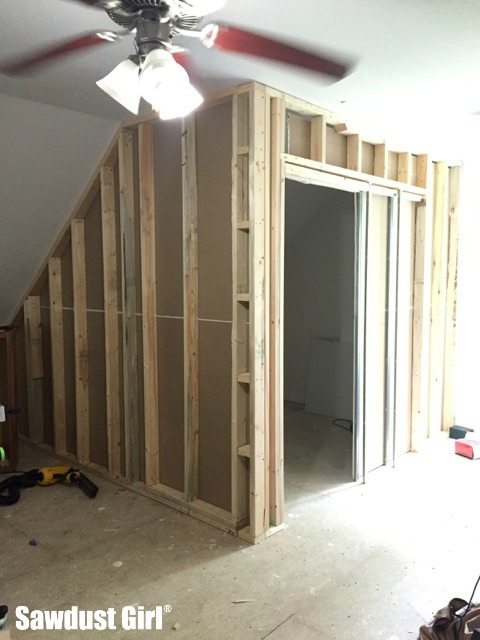 The loft is 1320 sq ft and the perfect place for us to create a recording studio.  The loft has an existing closet on the right side which houses the heat pump for this level.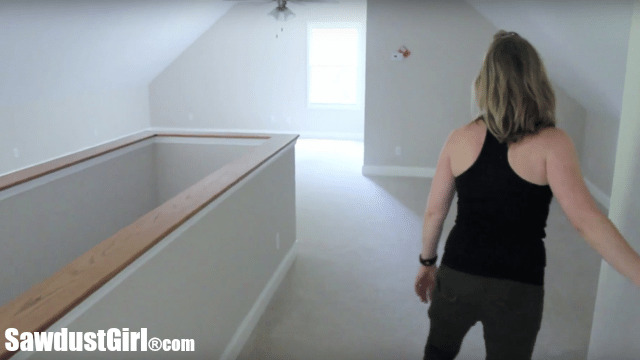 Adding another, symmetrically shaped/sized room on the left was a no brainer for me.  Well, it's not exactly symmetrical, the new room is closer to the window because I wanted to give Madison that extra 4″ inside the room.  I can deal with it…for now.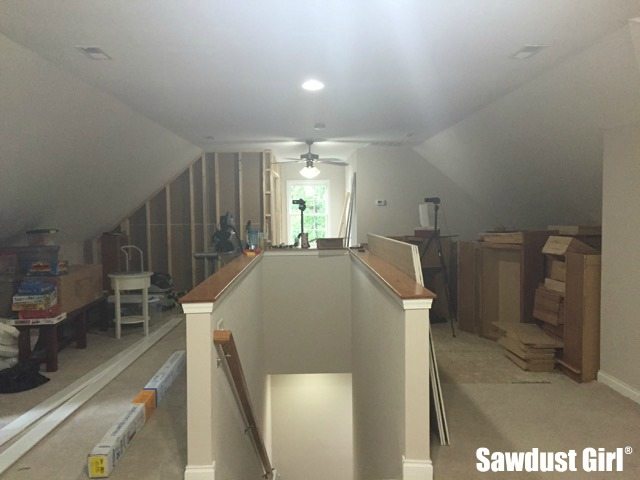 I drywalled, taped, mudded, primed and painted.  I had lights and additional electrical receptacles installed and put brick paneling on a "feature wall"…but then plans changed as they often do.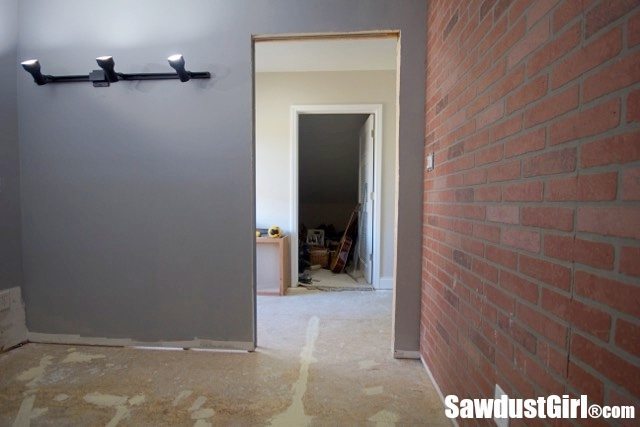 The "recording studio" project has been tabled for now.  We've decided the effort put into building the built-in desks and storage in here would be better spent building out the office/craft/studio portion of the loft because it's a space we can all use.  And because Madison's instruments have discovered that they just don't have as much time to be played now that Madison has to balance her time between a job, studying and pursuing her other interests in addition to music.
So, I'm taking that time and effort and putting it towards creating the studio portion of the loft that we can all use as an office until I find time to build Wes' real office …but I need to keep my focus on the "right here, right now" so I don't get overwhelmed.
Right here, right now, it's all about the loft.