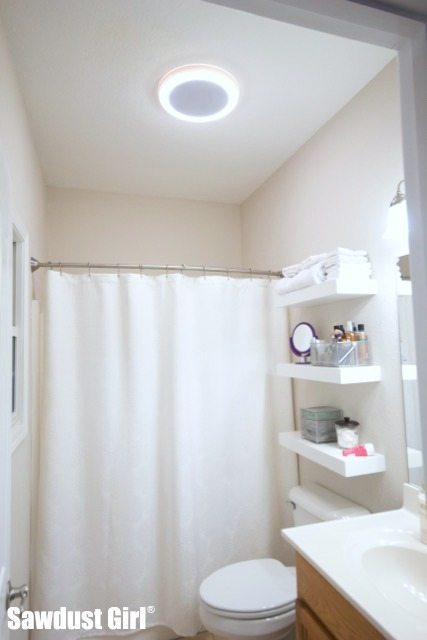 We gave Madison's tiny bathroom a mini makeover including installing a new ventilation fan with stereo bluetooth speakers and LED lights!  This small bathroom had no storage space and very little counter space for all her…stuff.  Adding to the clutter was a bluetooth speaker because, well, this girl likes to listen to music ALL THE TIME.  So the new fan/light/speaker and some easy DIY shelves on the blank wall was just the ticket!
This post and giveaway is sponsored by Homewerks Worldwide.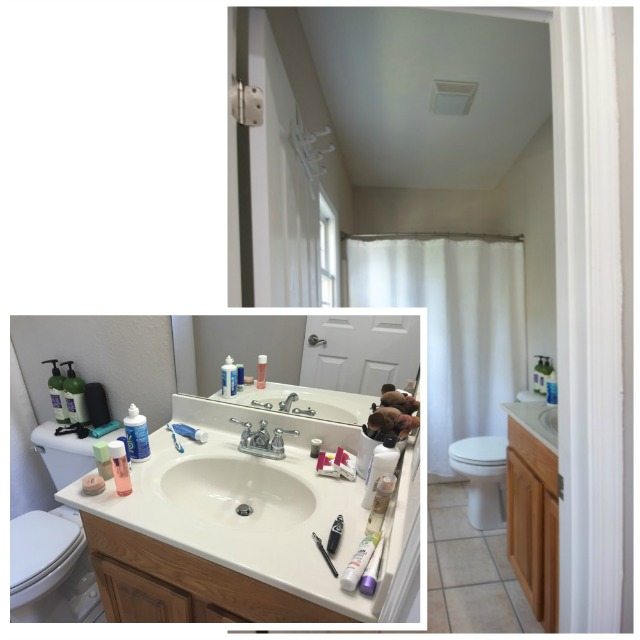 I started this makeover by tearing out the old fan light.  The bathroom fans in this house are all the same, super super loud – plus they rattle!  So I didn't shed a tear about getting rid of that ugly thing.  The new fan box is slightly larger than the old one so I had to cut out a little more ceiling sheetrock.  I used my handy oscillating tool for that.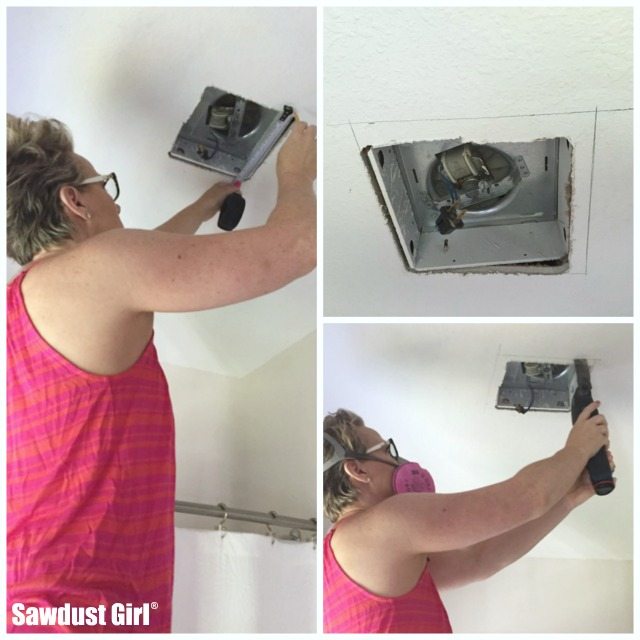 Hey, here's a tip.  Put your new fan and tool belt up through the hole instead of carrying it with you while you tiptoe through the dark, scary attic!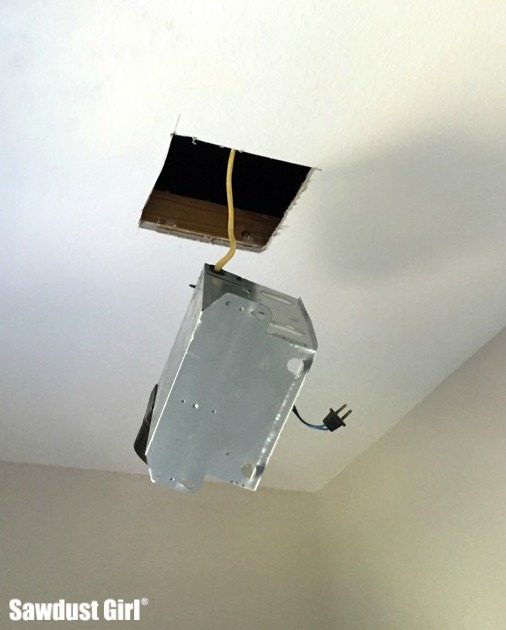 The rest of the fan box installation happened in the attic and I don't have pics but you can watch the Homewerks installation video for that.  I will warn you:  it's not a simple installation.  You have to run new speaker wire from your fan to your switch.  So you might want to hire an electrician if you're not really comfortable doing electrical work.  The instruction manual that came with my product was a bit confusing but I found updated instructions here that helped clear things up a bit.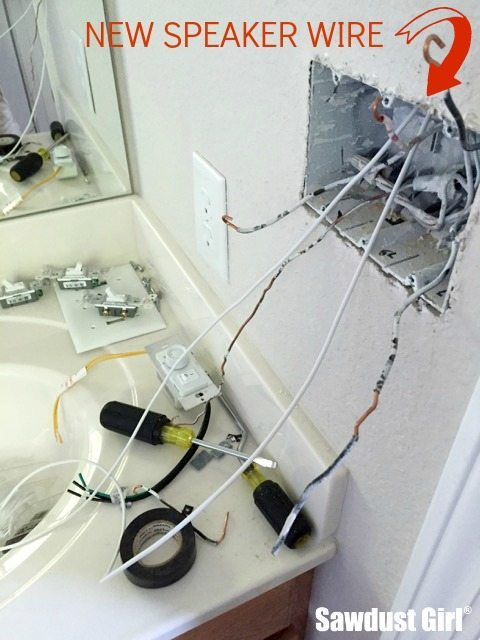 The wall switch allows you control the LED white light, LED nightlight, fan and Bluetooth functions from the wall PLUS there is a waterproof remote that lets you control your music while in the shower. There's even a suction cup wall mount to keep it handy.
It sounds GOOD too!  I was really surprised at how good it sounds.  It has two stereo speakers which are integrated directly into bath fan wiring, so there's no need to recharge.
The trim is almost flush to the ceiling and this fan is QUIET!  (1.5 Sones if you're speak technical jargon.)  AND, while is super duper quiet, the fan generates 90 CFM  of air movement.  It was so quiet when I turned it on I was convinced it wasn't doing anything so I tested the suction!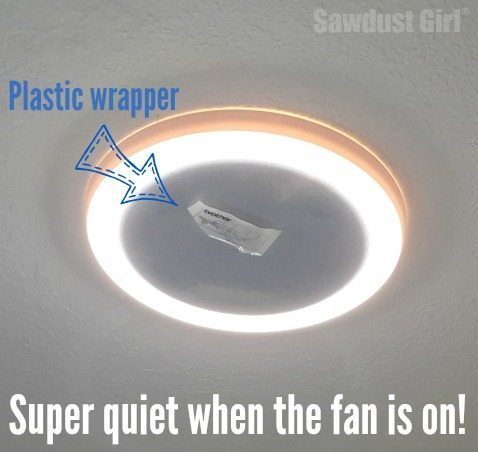 As you can see the regular light color is white.  But can select a blue LED nightlight which is kinda funky cool.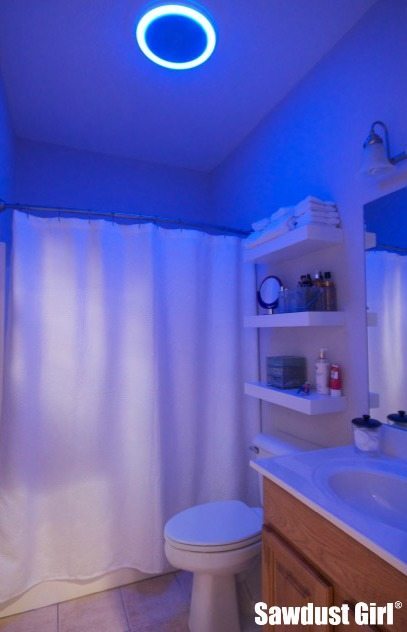 The next part of our little makeover was building and installing the floating shelves.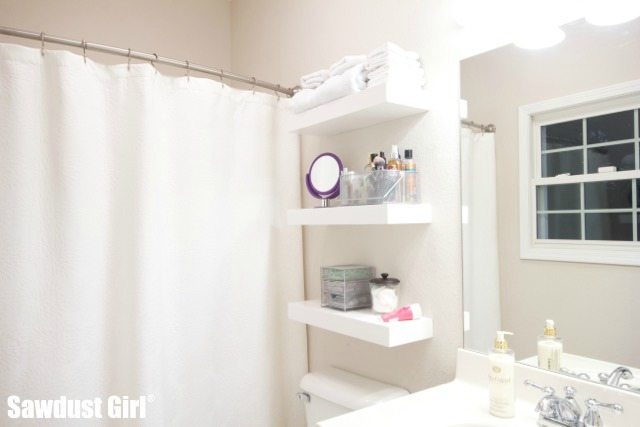 I've written tutorials on that before so this time I made a video!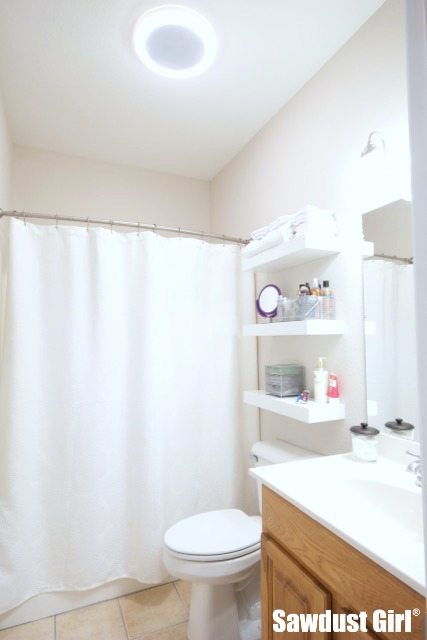 Much better!  This product is available at Home Depot for $160.
And Homewerks Worldwide is giving away ONE speaker/light/fan with a bonus $100 Home Depot gift card!
To enter for a chance to win, simply leave a comment on this blog post and click the box in the Rafflecoper thingy!  US residents only.