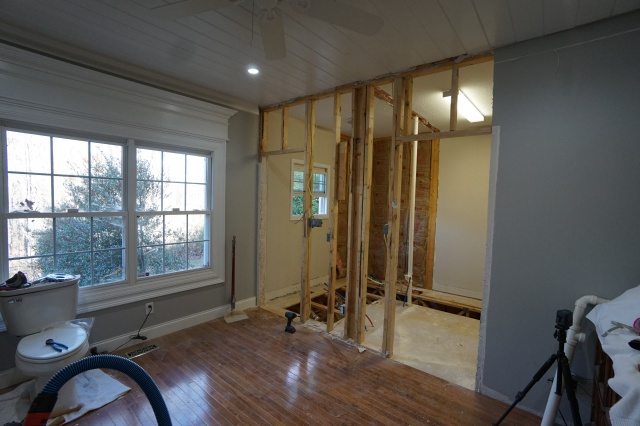 I hope you had a wonderful Christmas! We've all been taking it pretty easy this week but I was able to recruit help from Wes, Madison and Madison's friend yesterday and we made fast progress of the demo that needed to happen. Celebrate -good -times!
Since my last update, I changed up my design plan a bit which requires removing some of the bedroom wall. Wes and company went donate the vanity, sink, faucet and light fixture that I tore out many many days ago. I don't know why it took 3 people to do that errand but they all left.
In the meantime I removed the doors and trim.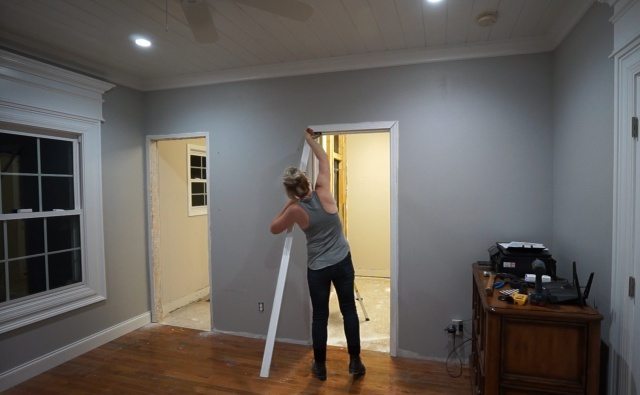 Then I started tearing out the bathtub. I was going to leave it and work the remodel around it but I really dislike one-piece, fiberglass, tub/shower enclosures. I don't like showering in a bathtub and I really don't like bathing in a shower. I vacillated with this decision for many days but decided to go with what will serve OUR needs rather than what might be more desirable to the masses if we ever sale. I decided on building a walk-in shower.
Now — I'm not a fan of demolishing things that can be re-used (by someone). But this is a one-piece and I had to cut into it to remove the plumbing lines making the whole thing kaput. So I had to bust it up in order to get it to the dump.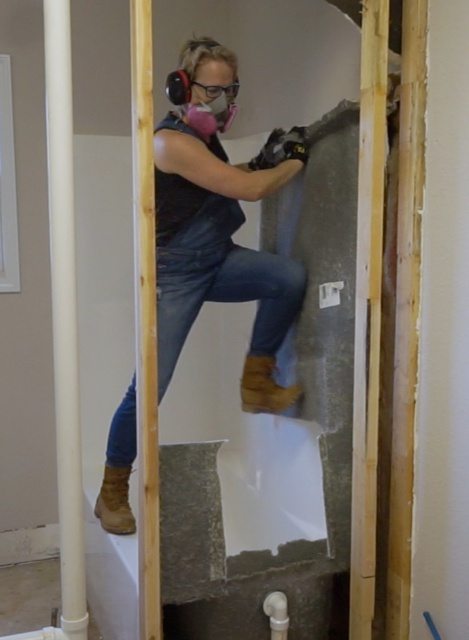 I probably didn't NEED to bust it up but it was enjoyable.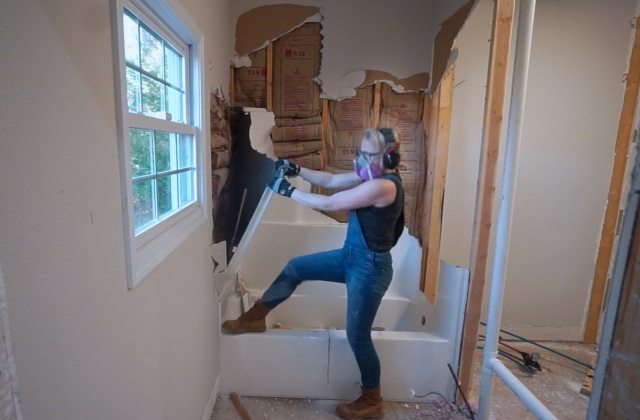 Here's a funny thing I discovered as I busted the tub/shower walls off the studs. The insulation was all bunched up like this. Clearly the tub was installed first and the insulation was stuffed down behind it afterward.
In case you were wondering — this is not a proper way to install insulation.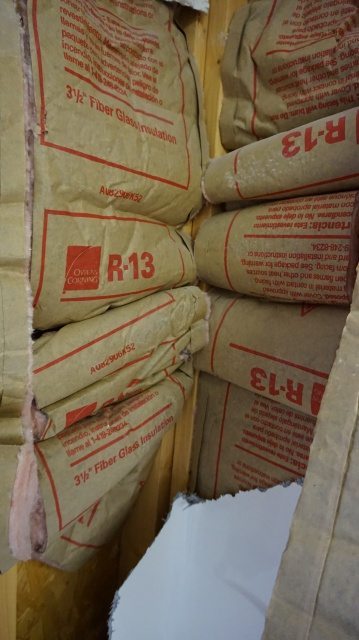 Anyway…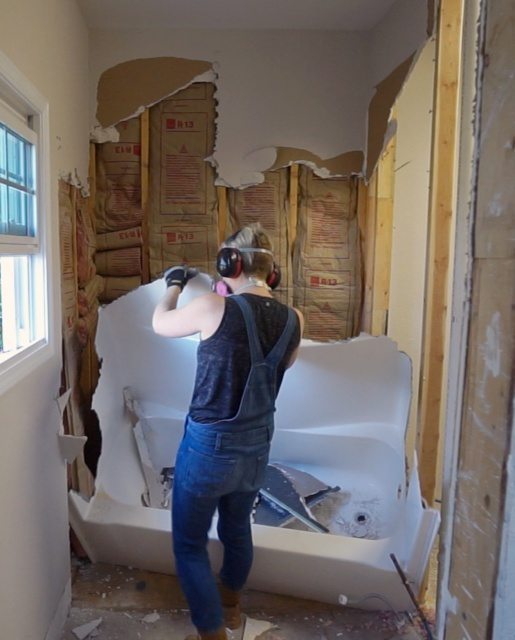 I tore out the tub and busted it up. I even used it as a trampoline for a few minutes before it broke.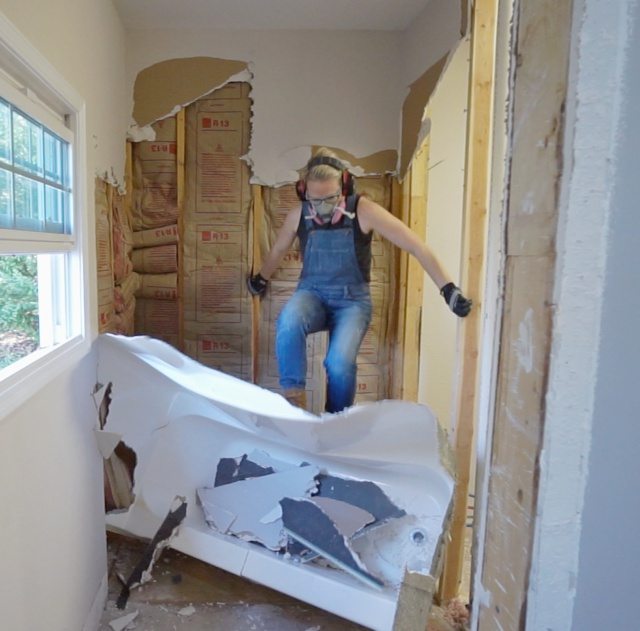 AND then the family arrived back home to help! The girls removed sheetrock.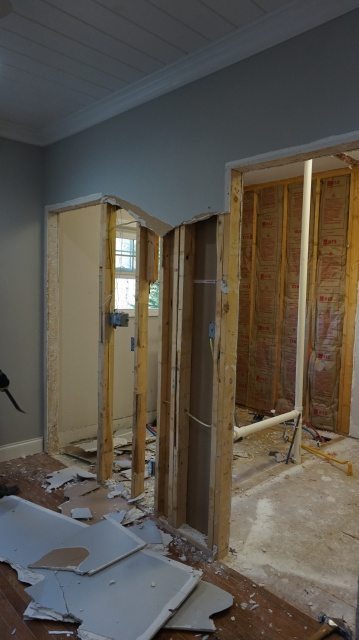 Then Wes removed the crown moulding and the girls tore down more sheetrock.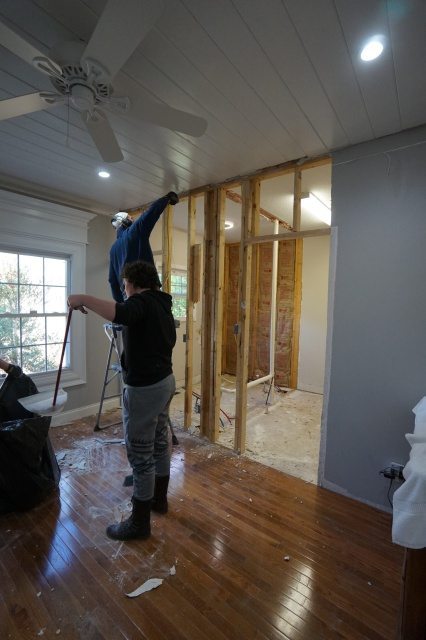 Next Wes and I removed some portions of the subfloor so the plumber has access from above to do the rough in work for the new bathroom. This way the entire mess is contained in these two rooms upstairs and I don't have to tear out the ceiling in another room downstairs.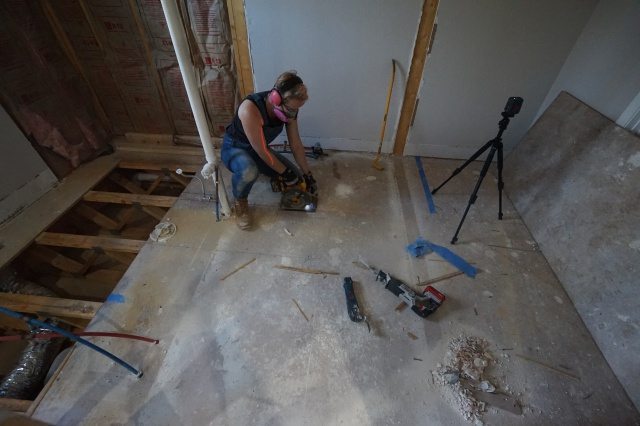 So this is the new view of guest bedroom #1. I need a better name for this bedroom…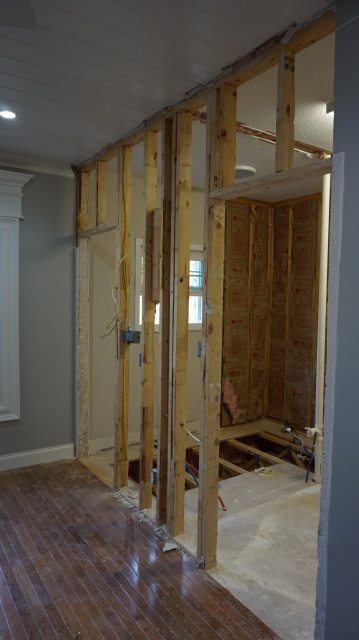 And the future bathroom.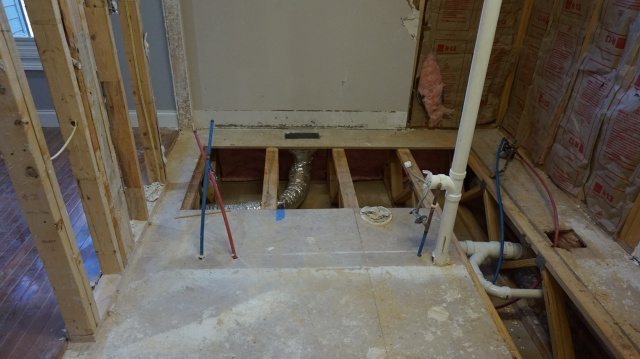 I set about measuring, marking and testing the new layout. Trying to determine how big a 48″ wide shower will actually feel. I want to put the most space where I want it most but deciding where I want it most is a really difficult decision to make.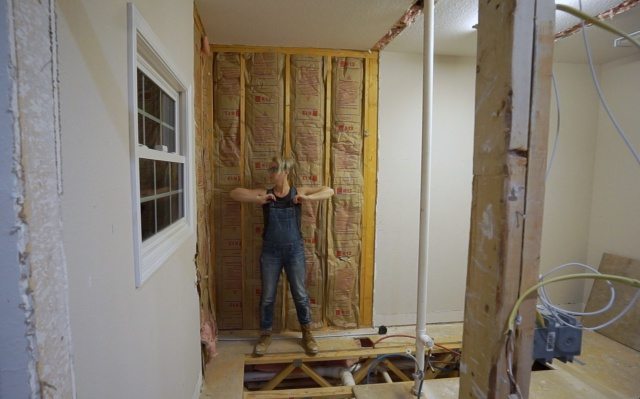 p.s. I think I decided 48″ wide is plenty wide for the guest/kid's room shower.