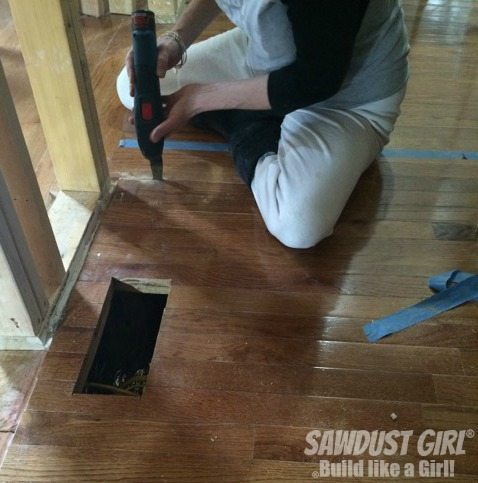 So remember how I moved the floor vent when I built my new pantry?  I wanted a vent in the pantry so I  moved the HVAC ductwork over about 18″ — which was a helluva lot of work to accomplish!  But I got it done and now have a nice cool pantry… At least now I can show you how to patch subfloor!
How to patch subfloor
Depending on what type of finished flooring you have, you may or may not have to remove more of that in order to patch it.  If you have carpet, that can be patched so you could patch the subfloor without removing more carpet.  With wood floor, you generally have to remove more than what you need to patch before you start laying new pieces.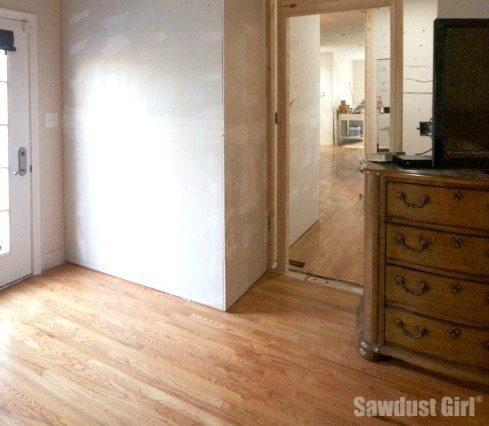 I'm just focusing on patching the subfloor in this post to keep it simple.
The first step is to put some "dead wood" underneath the hole so you have a way to secure the patch.  I wanted to use the largest pieces of wood I could fit between the joists under the subfloor to disperse over the largest area possible any weight that will eventually be put on this patch.
The I'm using two pieces, one on each end.  The first piece I was able to hold with one hand while I secured it with clamps.  Once it's clamped tight, secure that puppy with screws.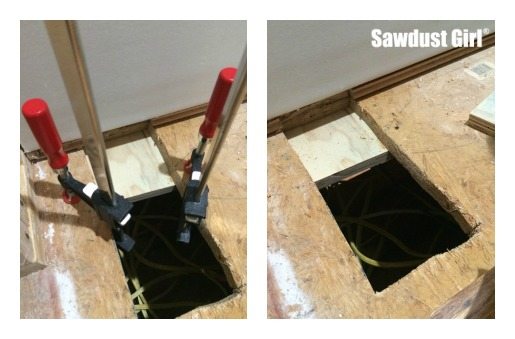 Getting the other end blocked up can be challenging because you won't have as much room to get your hand in there to hold the wood while you clamp.  Challenging but not impossible.  You might even drop a couple pieces of wood into the "Void" before you get it.  That's ok!  😉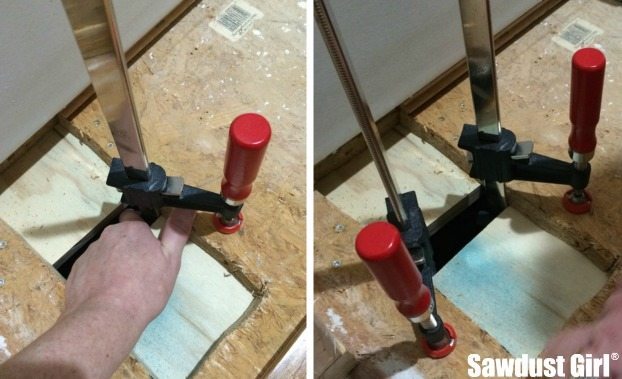 We might have overdone it with screws but Penny (remember my "apprentice") was having fun driving those screws!   Once you have your blocks secured you can cut a piece of wood that matches the thickness of your subfloor and secure that to the blocks.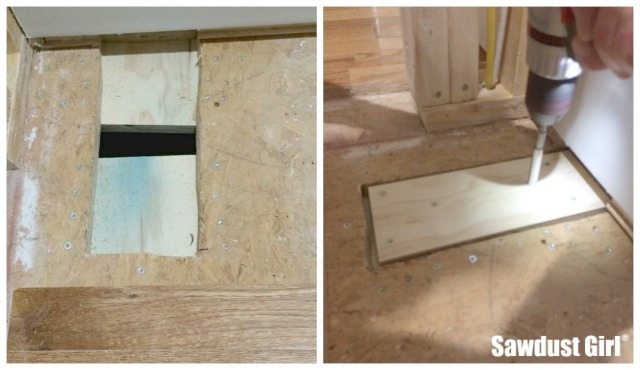 I didn't worry about making a tight fit because the vent hole was cut all wonky and I didn't care that much.  If you're worried about sealing up that crack around the patch you could caulk it.  Or clean up the original hole so it's a true rectangle to match your patch.  (Like what you would do if patching a hole in drywall.)  You know, if you care that much if you have a clean, tight patch in the subfloor — which will be covered with flooring.  I don't.  LOL