October at Calderwood Cottage was 30 days of demo. During that time, we tore out the front porch enclosure. (Which stunk to high heaven!) We did not try to demo the brick steps at that time because we knew we'd be doing more brick work in round 2. Which is where we are now.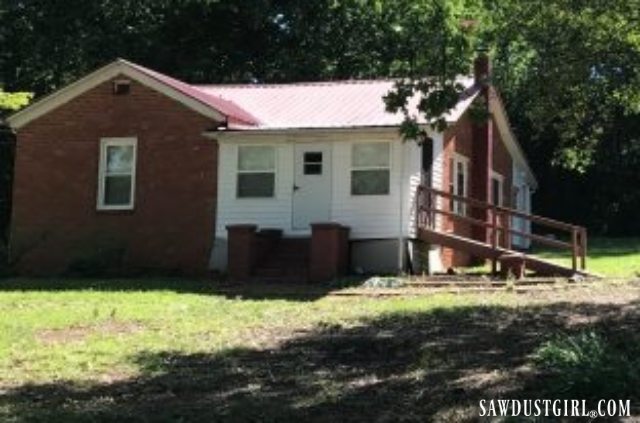 Concrete Step Removal
We easily broke out the bricks surrounding the steps to discover that the steps are concrete. And they're hollow. That is actually a good thing because concrete is so heavy and difficult to break up.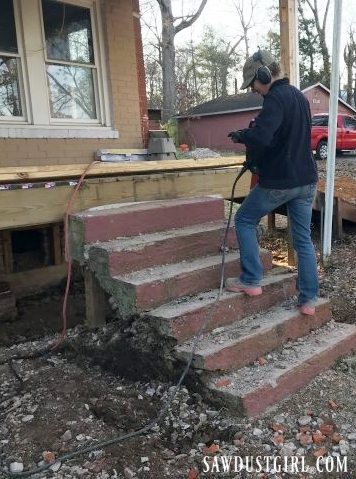 It was teetering on a couple 2×4's and a stack of bricks so we had to break it from the bottom up. Rather from the top down (as so many people on Instagram and facebook suggested). I would'a hated to be standing on the top when it broke and tumbled down. (Sometimes we are blind to a logical alternative to what we're doing but sometimes we think it through. So keep making suggestions!)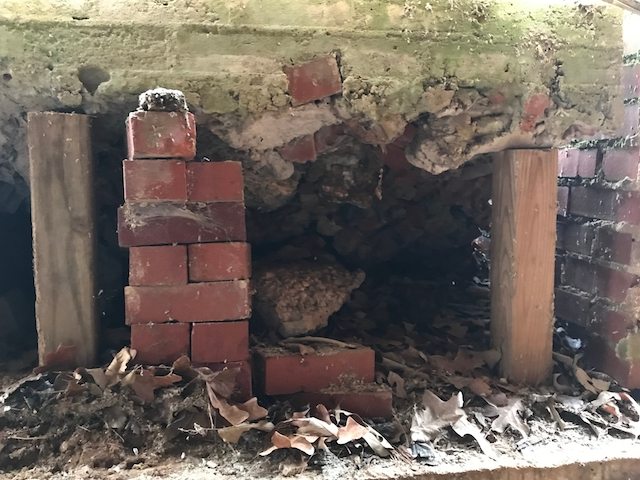 When we rented the power hammer to dig the trench for our ductwork, we started out with an 80 pound monster. After 10 minutes each with that beast, I took it back and got a lighter one. We decided the 80lb. monster was the right tool for this job.  EVEN though we could barely lift the beast!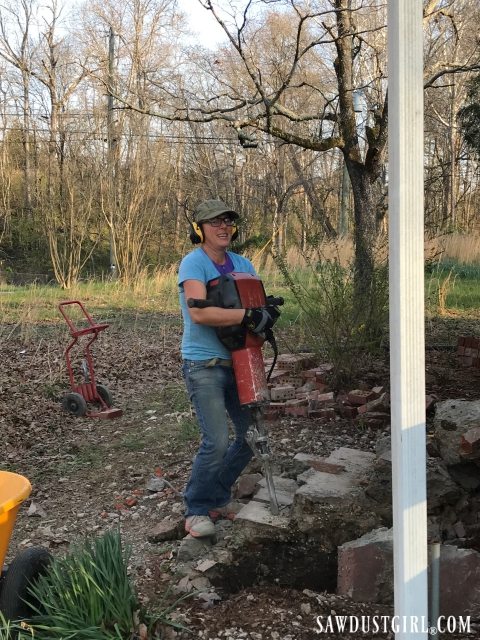 Julie and I had to take turns again. Our muscles tired out quickly but the beast did the job. Yes, we were both wearing steel toes shoes! (And they are the most comfortable utility shoes I have ever worn.)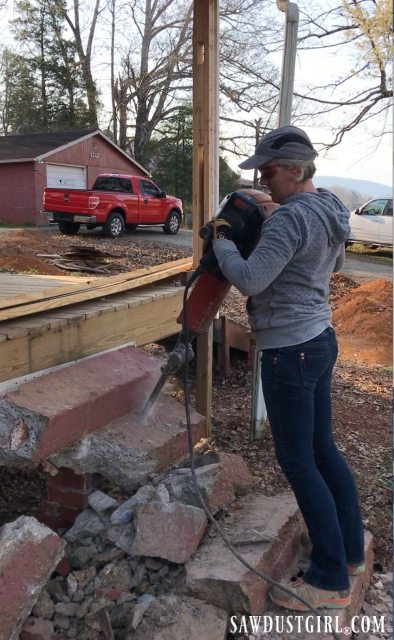 We got all the concrete broken up into small enough pieces that we could pick up and throw into the dumpster that we had for ONE day.
Clean Up Day
In addition to the concrete steps, we had accumulated quite a lot of trash that was piled up in our 1 acre yard. We decided to get a dumpster rather than take 20 trips to the dump (like we did during Demo Days. We had a 30 yard dumpster for one day so we had one day to get all the crap into it before it was picked up.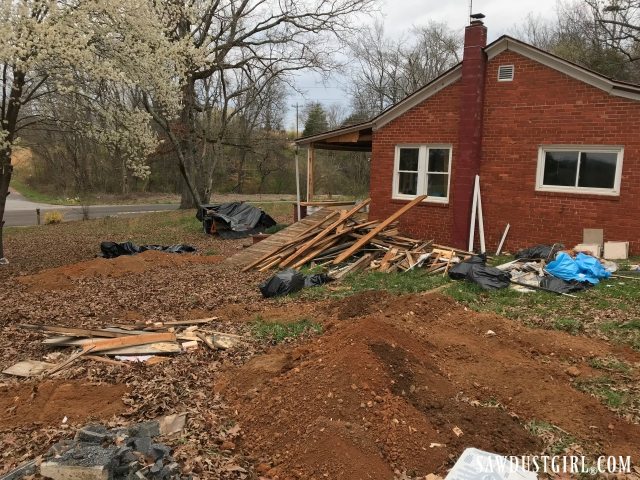 I parked the trailer on one side and saved all the old lumber that was salvageable. Some of it was too termite eaten and that went into the dumpster.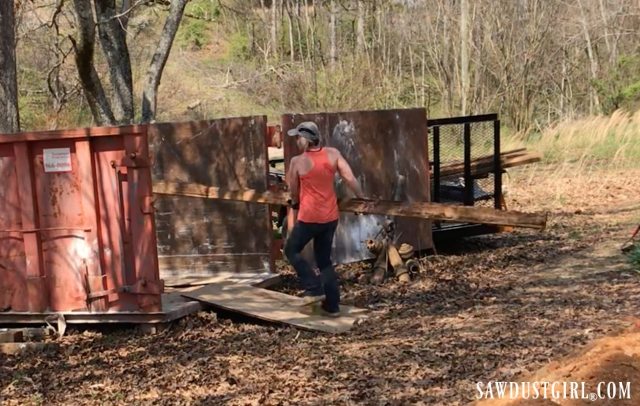 We hired 2 guys to help (Mario Mark and someone else who's number we got from my lawn guy). We knew we couldn't do it all ourselves. (Though we would have stayed up all night doing it if we had to.  'Cause that's how we do.)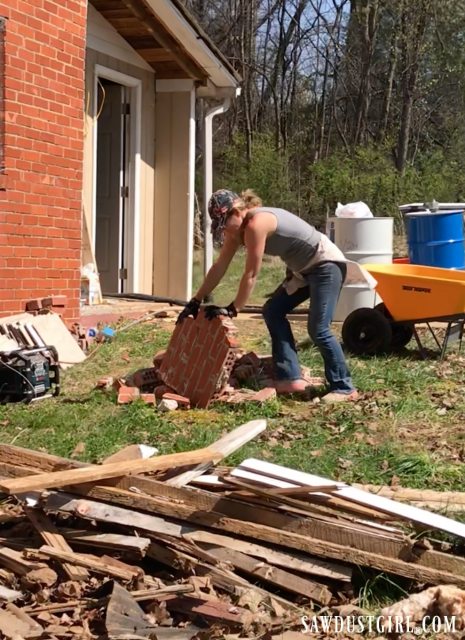 By end of our 24 hour dumpster day, we had filled that thing to the brim. I had to climb up and jump on top of it to smash everything down so nothing was over the brim.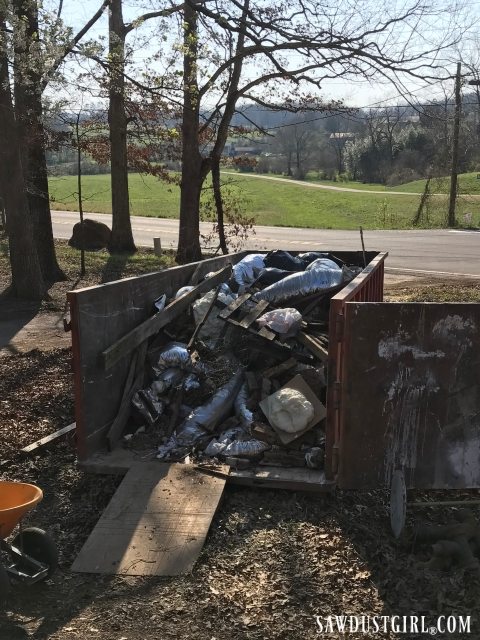 What a difference a dumpster day makes!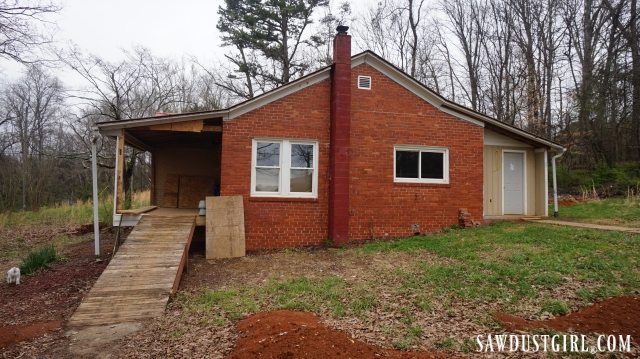 Looks like a gopher's been doing some diggin'. Ha!