Hey guys!  Julie and I survived three weeks of back breaking work on Calderwood Cottage Demo! The place has changed so much, I have to look at pictures to remember what it looked like when we began.  We originally weren't going to start flipping until January (after I finished more of my own unfinished projects).  BUT we found this house and we bought it and didn't want to let it sit for 6 months.  Julie came out this month and we began!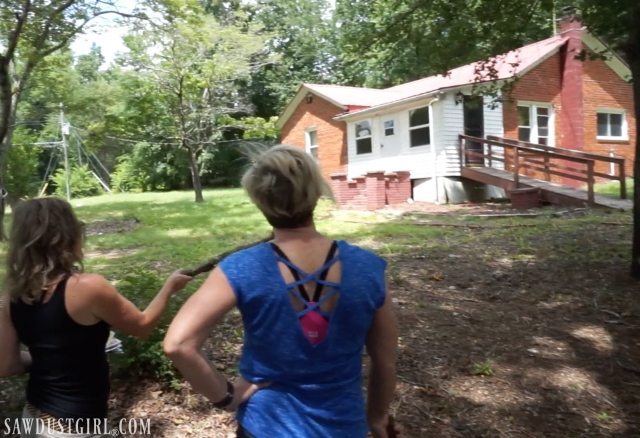 Before we got started with demo, we had to deal with the spiders.  There were millions of them! Most likely they'd all scatter as soon as we started tearing the walls out.  However, we didn't want them scattering all over US during demo so we made them dead.
Julie and I then went in and tore out some paneling to see what was behind it…and some drywall to see what was happening with an old brick chimney that didn't extend to the roof. Obviously this 80 year old house has been remodeled at some point (maybe more than once). That chimney is no longer needed for cooking so someone removed part of it.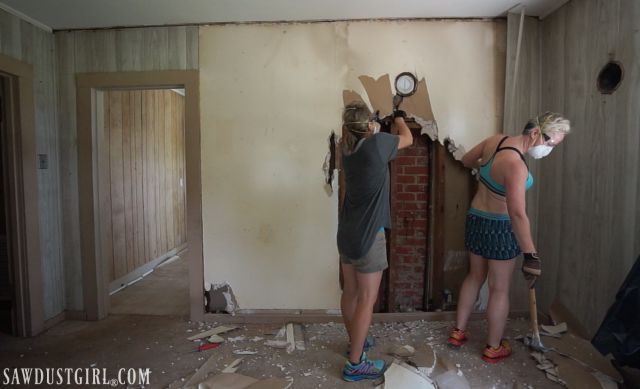 From slithering around in the crawl space, we knew there were some issues with the "foundation".  The center of the house seemed to be wedged up on stacked bricks , cinder blocks and old wood.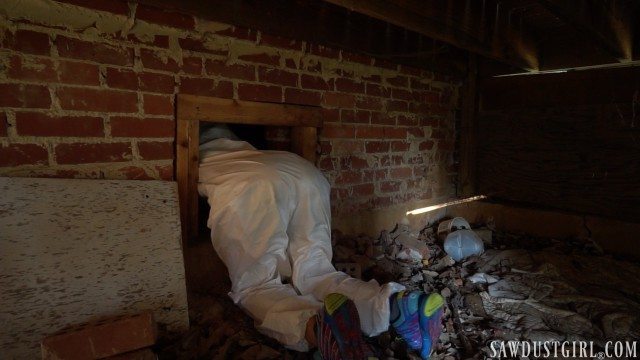 Obviously we have our work cut out for us but we have the confidence to tackle whatever we find.
Calderwood Cottage Demo
We hired some guys to help us with the demo for a few days and we made quick work of removing paneling, moulding, drywall, the front porch and the kitchen/living room wall.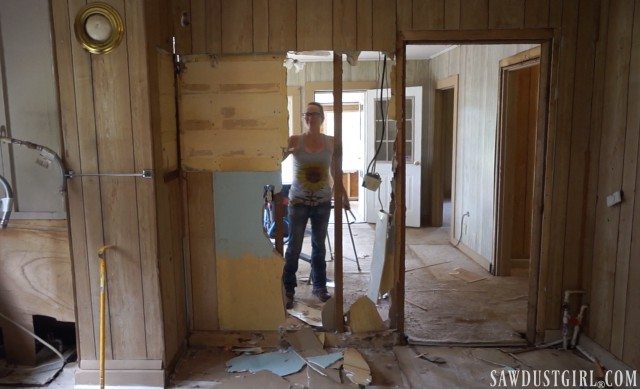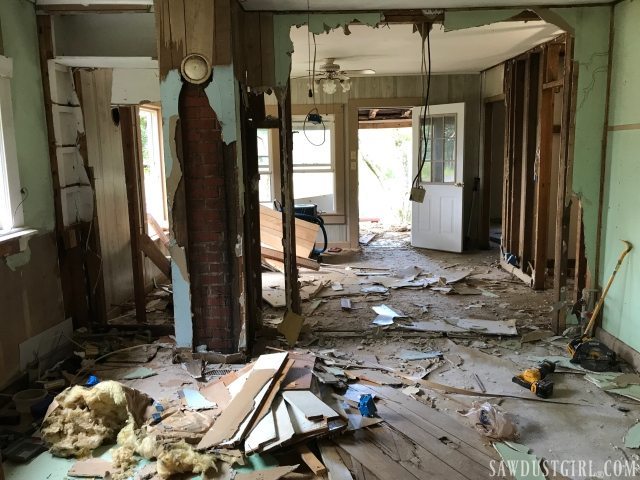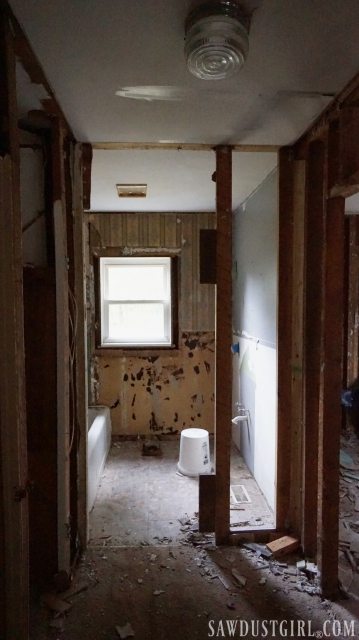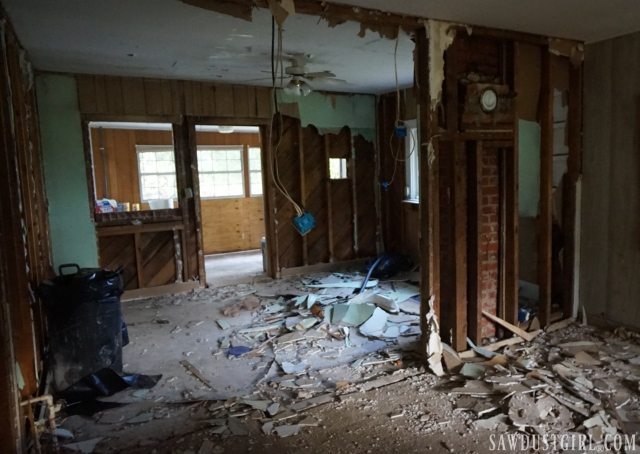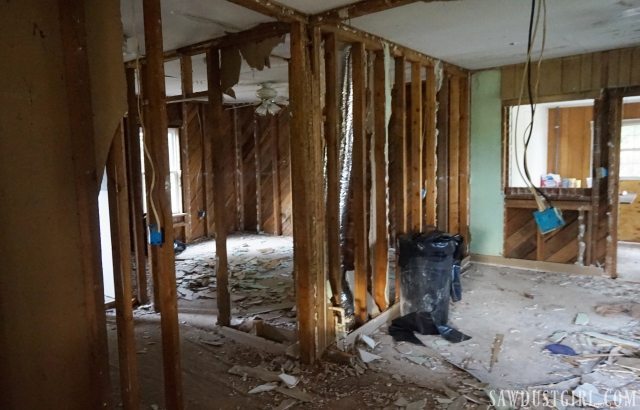 Pretty good results for one day – if I do say so myself!  We found some interesting things.
First, the kitchen chimney "vent cap" thingy — was a bleach bottle.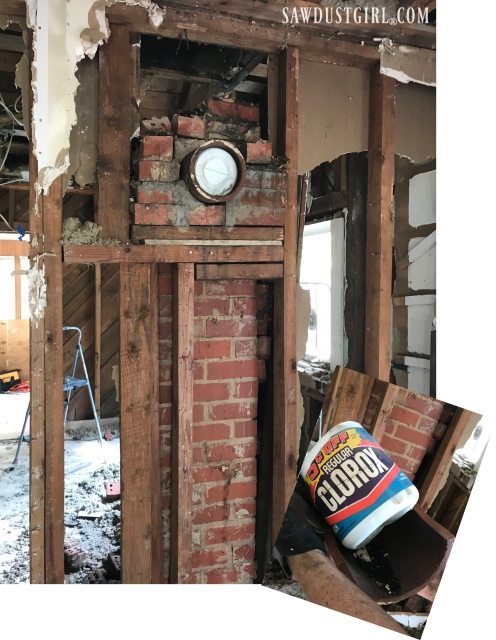 Second, we found termite damage.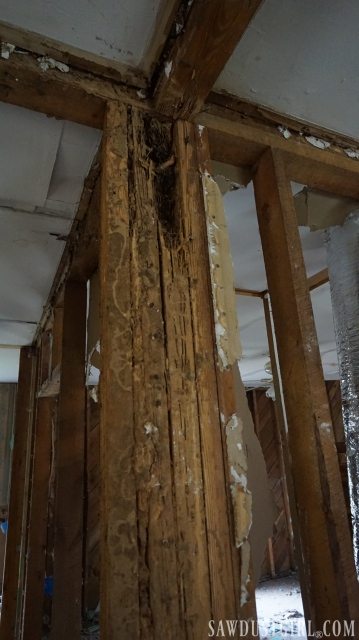 Finding termite damage wasn't surprising.  There was evidence of it on the back porch, under the windows so we expected to find some.
The end of the day one was satisfying because we had done a lot of demo and hadn't uncovered too much termite damage yet.  That took a few more days to discover…