Hey guys!  I wanted to share a craft room update because I've finished my white painted countertops and cabinets!  I built these countertops  many weeks ago because I needed them in place so I could build my angled cabinets.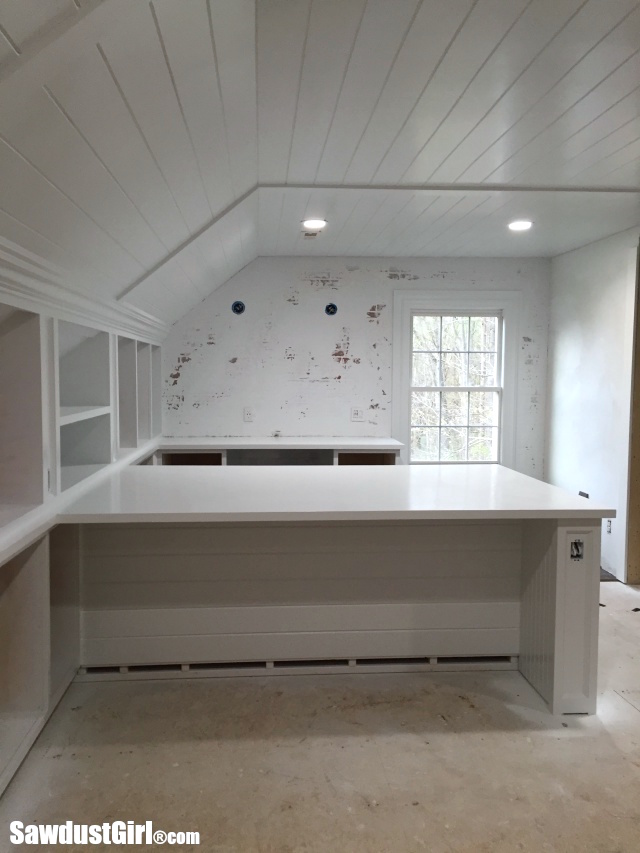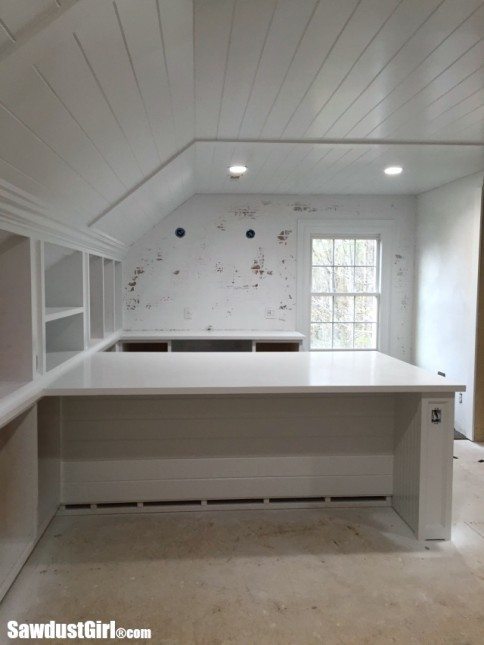 The countertops are a layer of MDF glued to a layer of plywood.  The island is very large so I had to use two pieces of each material so I made sure to stagger the seams and strategically place them off center, over the cabinets.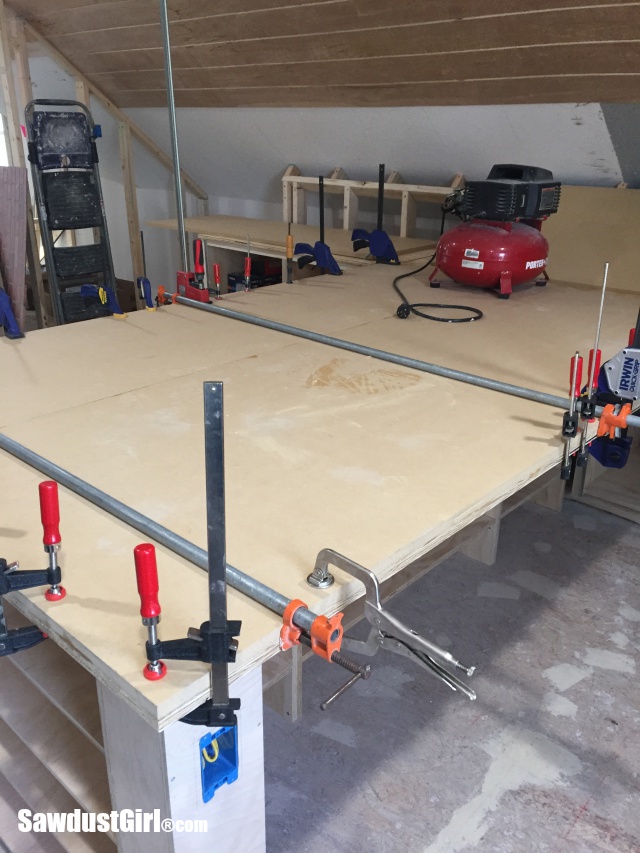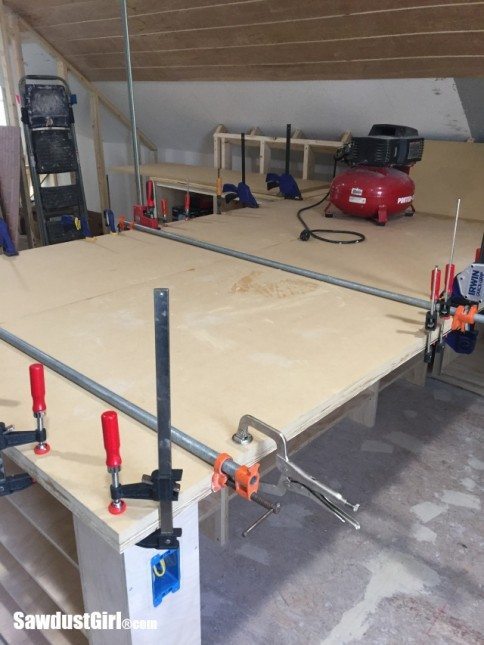 White Painted Countertops and Cabinets
Now that the cabinets are all finished it's time to complete the countertops because the cabinets and countertops will both be painted white at the same time.  I secure 1×2 poplar to the face of my countertop sandwich with glue and nails.  I shot nails into both the MDF and plywood layers, alternately.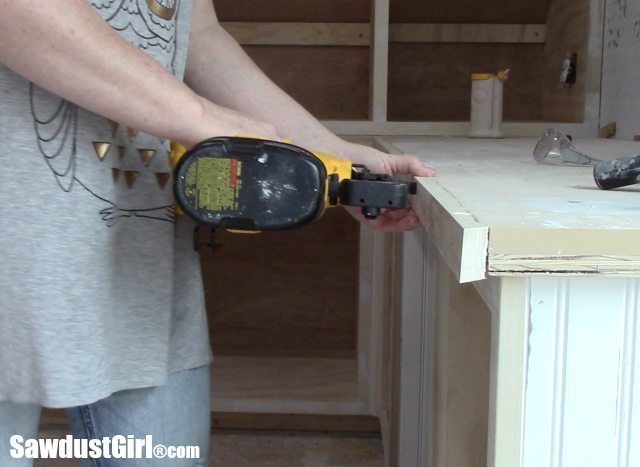 When I say I used glue — I'm talking enough glue to cover the entire face of the countertop and the back of the poplar with plenty extra that squeezed out.  I wanted that poplar stuck for life!  After the glue had dried, I used a scraper to scrape off all the glue squeeze out as well as a few dried puddles of paint.  I hadn't tried to protect this countertop at all during the projects that took place after the countertop installation.  I learned my lesson from my Pantry Countertop not to even bother with finishing the countertop until after everything else was done.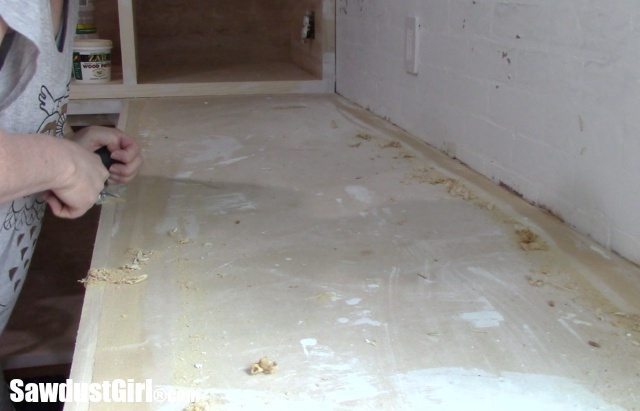 I scraped off all the glue and then sanded the entire surface down to a super smooth finish.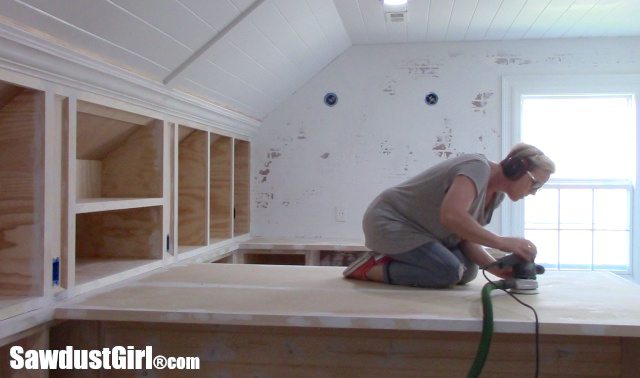 Then I primed.  I use a water borne primer (Sherwin Williams ProBlock).  I don't like using oil based products with my sprayer because it opens up the door to a whole slew of additional concerns like — combustion.  Also, I don't like cleaning up with chemicals.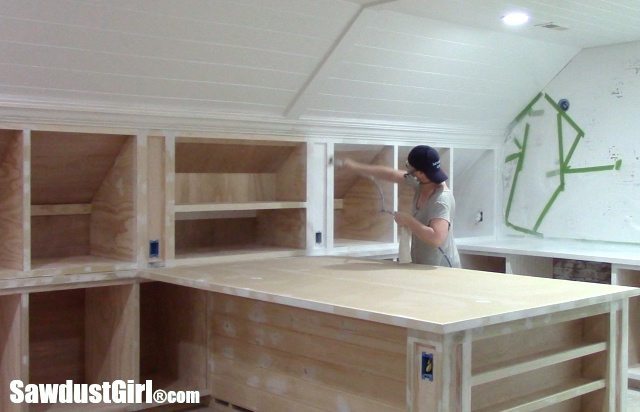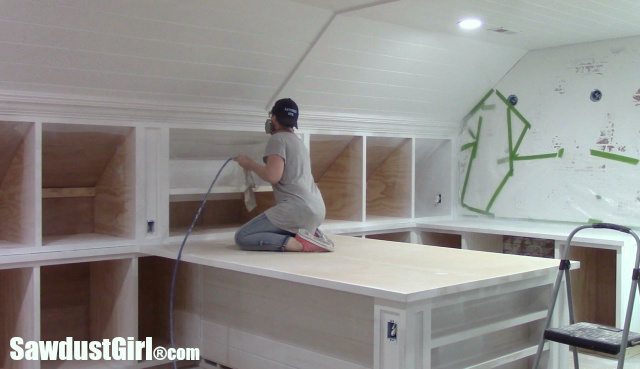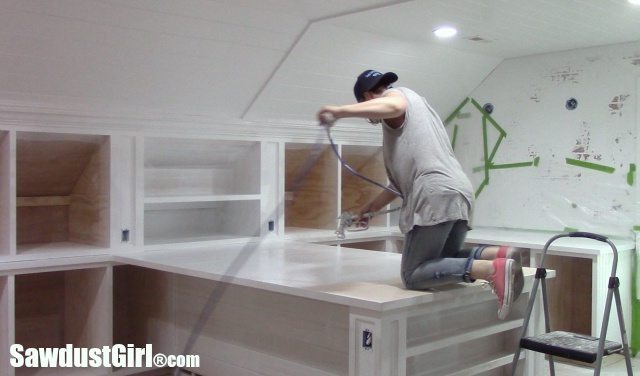 I primed the cabinets and countertop together. Do you like my spider web of green tape on my brick wall?  I was using scraps of plastic left over from painting my plank ceiling.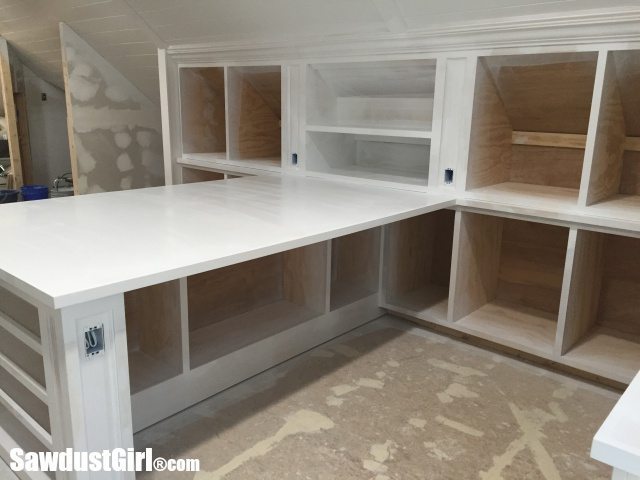 After the primer dried I went in and lightly sanded everything.  Water borne primer raises the wood grain (AND wood fibers in MDF) so it's important to sand after priming.  I sanded the column moulding and inside the two open shelf cabinets by hand.  The cabinets that didn't get primed will house drawers so I didn't bother priming them — though I did hit them with primer on my second coat just because all that visible brown will bug me too much until I get drawers installed.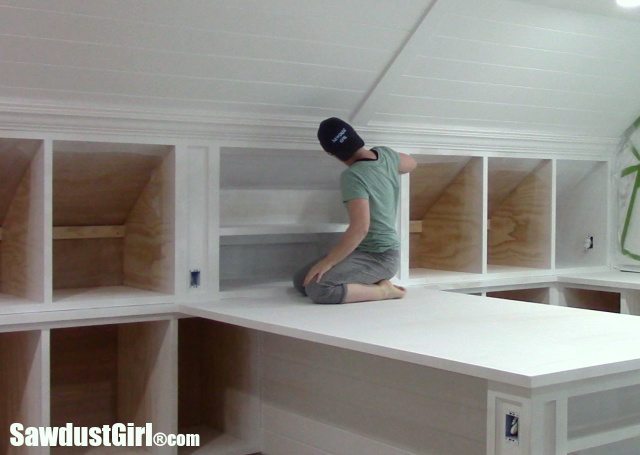 I sanded the flat faceframes and the countertop surface with an electric sander.  After sanding, I vacuumed and wiped everything down with a damp cloth.  I vacuumed the cabinets, countertops and the floors.  I don't want any dust in this room that can settle into my paint as it dries.  I also have a fan in the window that pulls the air from the room and exhausts it out the window.  That helps tremendously preventing the room from becoming a big cloud of overspray.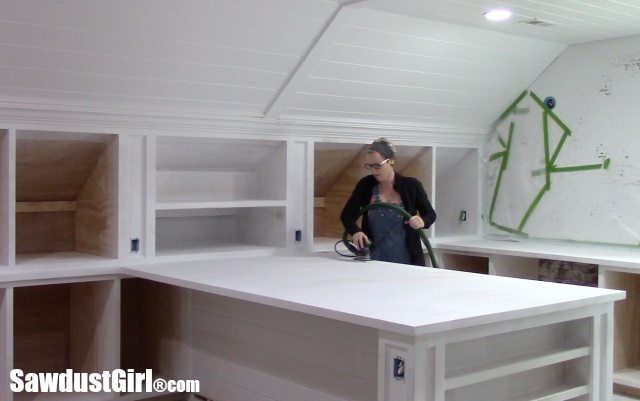 I did a second coat of primer in just a few areas where I felt the first coat was too thin.  Then I put down my first coat of paint.  I'm using an acrylic latex enamel, semi gloss paint.  (Sherwin Williams ProClassic in Decorator White.)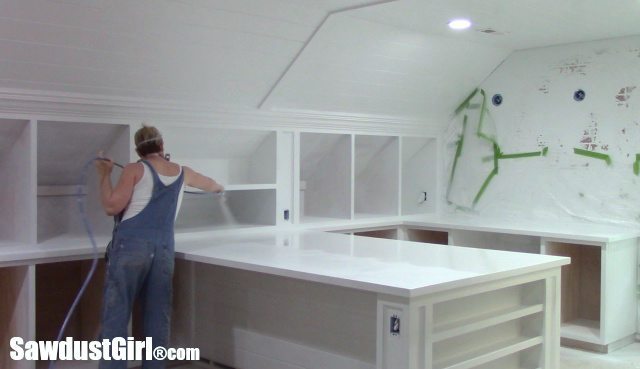 I sprayed a second coat the next morning.  I found a couple areas where I had been overzealous with my paint spraying and had some paint drips I had to shave off.  I also found one spot on my island countertop that felt rough to the touch so I sanded that again and then went ahead and added a third coat to the islands.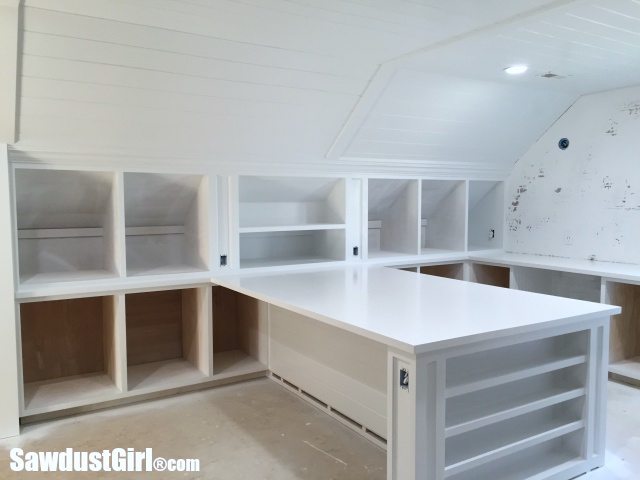 I put the paint on pretty thick on the islands because they are flat, horizontal surfaces and the paint will level out as it dries.  This paint is my go-to paint for cabientry.  It levels out really well and dries hard so it is very durable.  I will add a topcoat to just the white painted countertops for extra durability since they are going to get some serious crafting use.  I am letting my paint cure for two weeks before I do my top coat though so I'm moving on with other tasks and will just have to tape off and cover surfaces when I come back to spray on my topcoat.
I know I've said this a few times not but I'm GETTING EXCITED about this space!