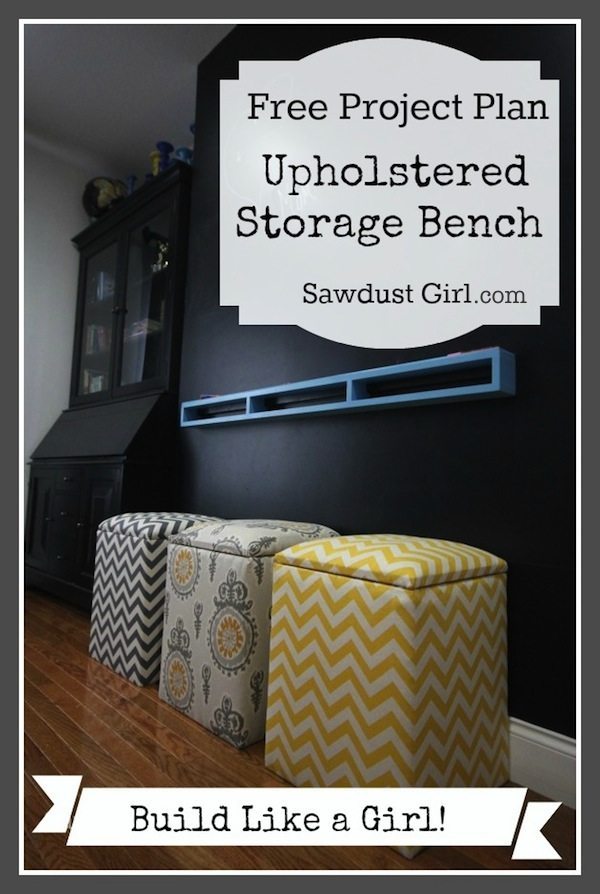 I"m happy to share some free plans and a tutorial for the upholstered storage benches that I made for Madison"s bedroom.  They are SUPER easy to make.  Now you can make your own storage bench or benches!
How to build an upholstered storage bench.
I built them 18″ tall (the height of a standard chair) so she can slide one over and use it as a chair when she wants to do homework at her desk/hutch.  That way, we don"t have to have a designated chair in the small bedroom taking up valuable floor space and the benches double as storage for all the things that never get used but we can"t seem to part with.  (Or maybe extra blankets and pillows.)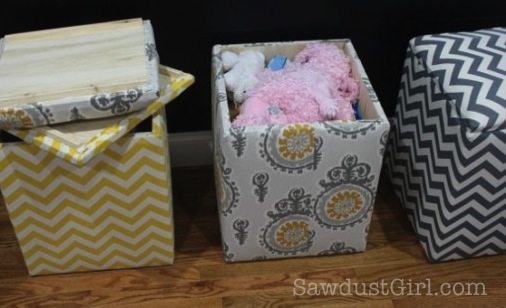 The boxes are SUPER easy to build.  I upholstered mine so I used an inexpensive plywood that is sanded on one side and the other side is pretty rough.  I used the smooth side for the inside of the boxes and covered the outside.  If you wanted to stain or paint, you could use MDF to paint or a  nice cabinet grade plywood for stain.  (See "Selecting the Right Material for a project" for more information about that.) Materials needed:  3/4″ Lumber of your choice cut into the following pieces.
2@    16 1/2″ x 14″  lumber

2@    16 1/2″ x 12 1/2″ lumber

2@    14″ x 14″ lumber

2@    scrap strips of lumber  

OR  

4@ scrap blocks of lumber  (any size will do)

wood glue

Finish nails and/or 1 

3/4″ wood screws  (I used my 16 ga nail gun and SPAX MDF screws)

felt or plastic bumpers to protect your floors

Staple gun and fabric for upholstering.  I used 1 yard per box.  *Depending on the width of your fabric you might need more or less.
You can build 3 benches of this size out of one 4×8 sheet of lumber if you have it cut like this.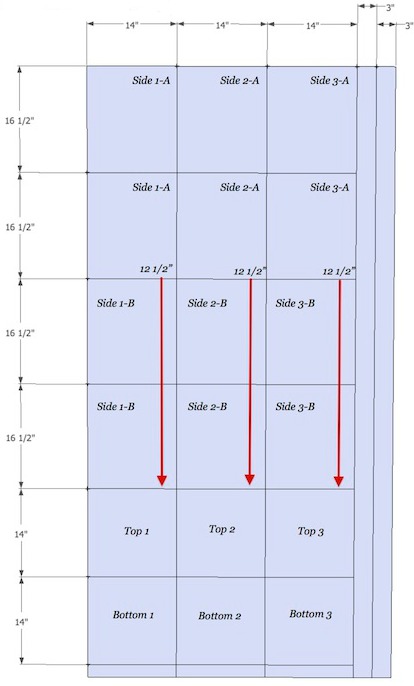 **I glued, nailed and screwed my sides together but glue and nails or glue and screws would be sufficient.  The main thing is to make sure you are keeping your box SQUARE while you attach all the sides.  Use a triangle or clamps and assembly squares to ensure squareness.* The box is going to be 18″ tall overall so you want to make sure you orient the sides so the 16 1/2″ length is the "Top-Bottom" portion of your box.1.  Place the two 14″ wide side pieces so they will be parallel.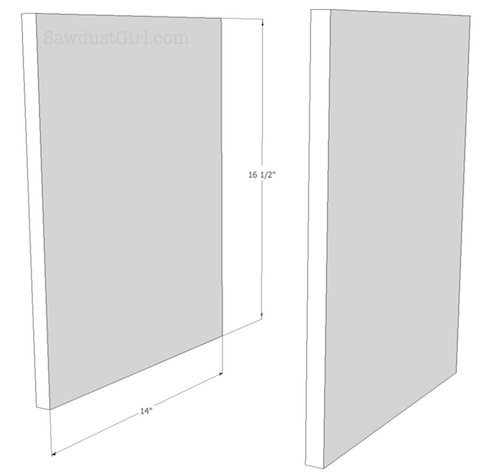 2.  Attach the 12 1/2″ wide side pieces INSIDE the 14″ wide pieces — creating a 14″ x 14″ square box.  Use wood glue and screws or nails and screws.  Either one or the other is fine.  I like to shoot in some nails to keep everything in place while I drive in my screws.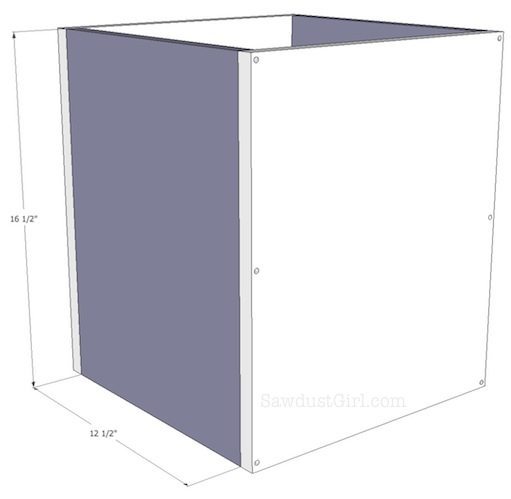 3.  Attach a 14″ x 14″ piece on the bottom of the box.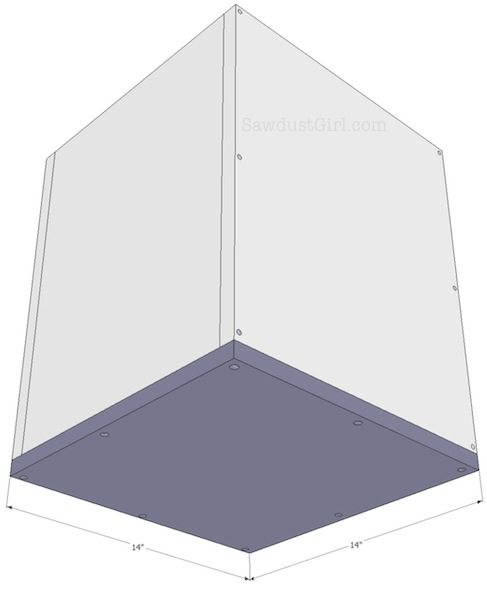 4.  Attach cleats on to the top piece to keep the lid in place.  This step is especially important if you are planning on using the "bench" for actual seating.*I used a scrap of wood about 1″ wide by 12 1/2″ long but you could use 4 small blocks of wood if you placed one in each corner.*Make sure to leave 3/4″ of space on all sides — on the outside of the cleats so the cleats will fit INSIDE the box.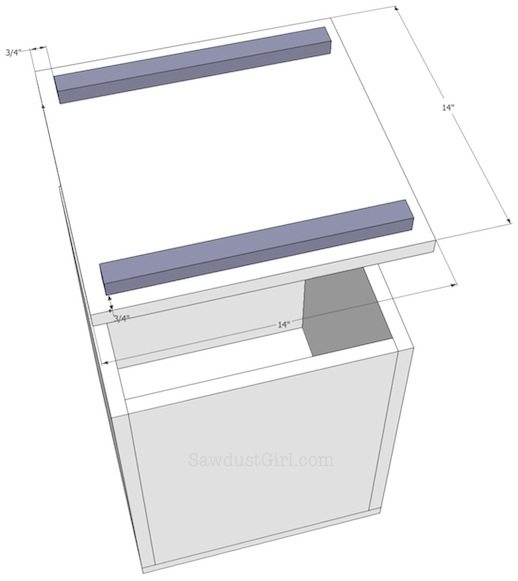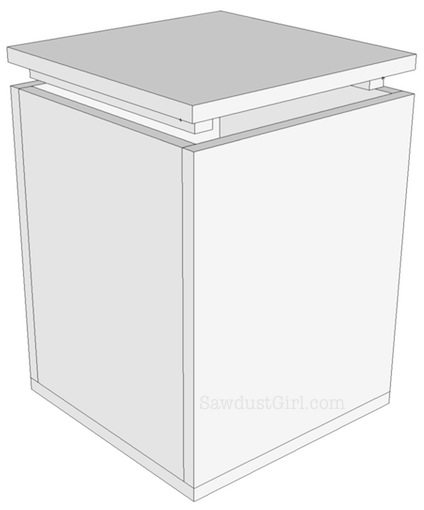 5.  Upholster, paint or stain.(I"m not a pro at this step and pretty much stumbled my way through the upholstering process.  Stapled on some batting, sewed the fabric into a "loop", pulled it onto the box, folded the edges over and stapled it onto the top lip and onto the bottom of the box.  Bam  — Just like that!  (I actually spend a whole day upholstering 3 benches.) 6.  Attach bumpers on the bottom of your benches.  Especially if you have stapled fabric onto the bottom of the boxes, you"ll need bumpers to protect your floors!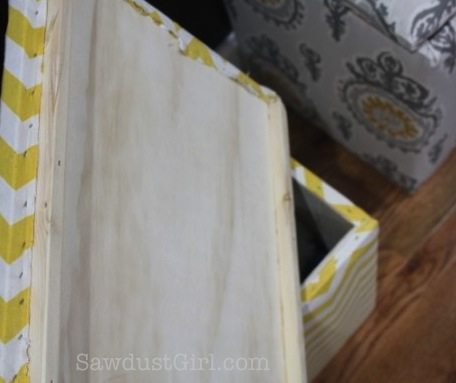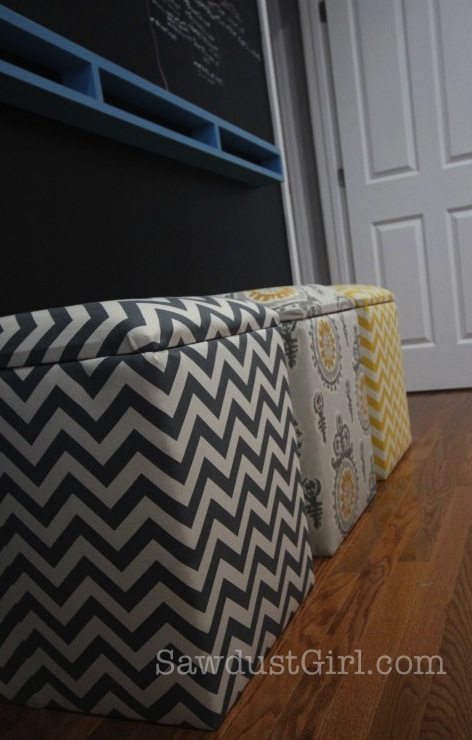 I purchased the fabric for my upholstered storage benches at Hobby Lobby. Measure twice and cut once. ALWAYS use safety gear to protect your eyes, ears, lungs. As always, look over your plans and make sure everything make sense to you before you start building.  
Related Posts