Someone on Facebook told me I'm too honest — because I freely talk about my failures and mistakes but I think it's important to share those experiences for two reasons:
We can learn from others' mistakes just as we learn from their successes.
Everyone screws up occasionally.  EVERYONE.  I like to keep it real.
Yesterday was a day full of strike-outs for me.  That might be because I've been on a DIY hiatus for about two months because of my back surgery.  I might be a bit rusty.  Or, maybe it was just what it was — a crappy DIY day.  It's been kind of a crappy DIY week for that matter…let me back up.
This week I delved into some project work — all by myself because my new apprentice is not here more than he is here — but I'm happy to have him here when he can make it so I'm not complaining.  🙂  So I decided to find some things I could do myself.
First, I decided to tackle the new hallway closet because it would be nice to put away some of the junk that is cluttering up the house and making us all feel overwhelmed.  I got as far as ripping down some 2×4's and then securing them to the wall.
Then that project came to a screeching halt because I can't lift a 4×8 sheet of plywood by myself (yet?).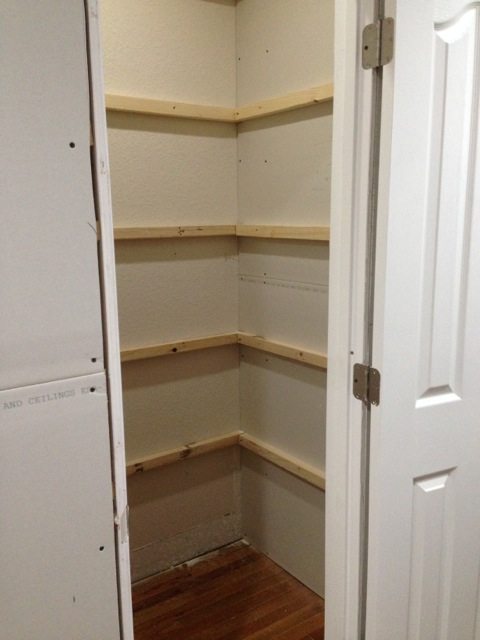 Woohoo!  It really looks like crap right now and not a single bit more functional than it was when I started.  Oh well, moving on…
I decided to build a small, slide out pantry cabinet because it was small.  I found some scraps of plywood small enough for my "back surgery recovering self" to lift up onto the work table all by my self.  Alright — now we're talking!
I drilled all my pocket holes.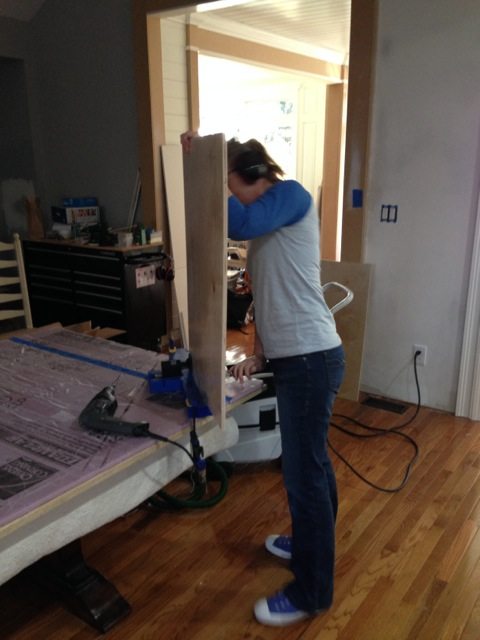 In all the wrong pieces!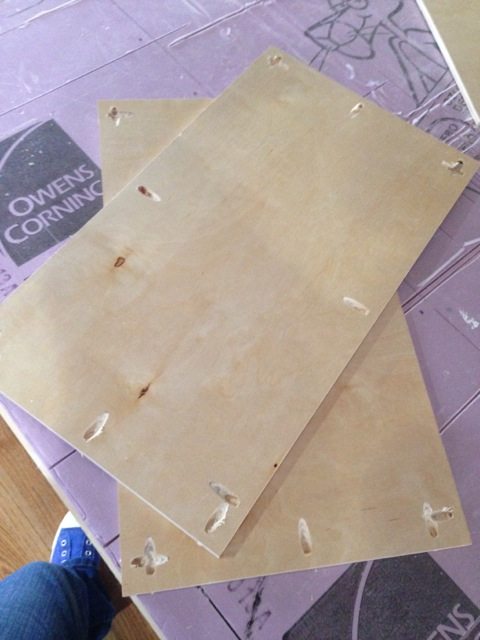 RE-drilled all my pocket holes in the right pieces, put my cabinet together and edge banded my raw edges because even though I drilled pocket holes for a face frame I decided not to have one.  No biggie, all those holes will be hidden by the false front.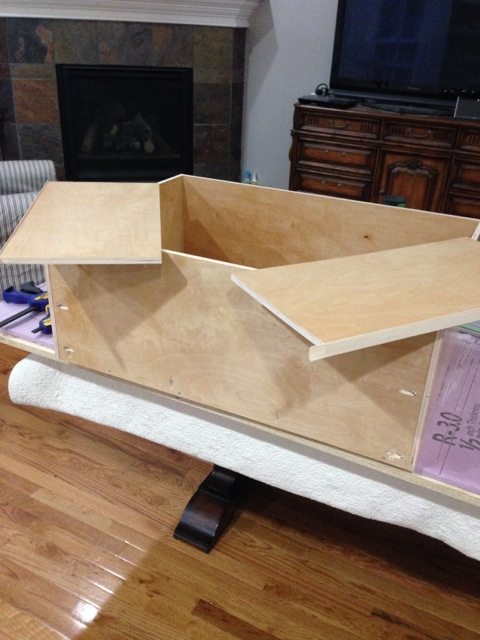 I had to add some fixed shelves because my plywood was warped and wonky and I thought some fixed shelves would pull/push it into place…
It didn't!  When Wes came home, he got the thing installed and it couldn't be much worse.  Not even talking about all the pocket holes (because those will be hidden by the door).
It doesn't glide out smoothly.  When it's open you can see where it's warped.  Even Wes notices that and that means it's REALLY BAD.
I'm going to pull out all my fasteners, throw this wood into the trash and go out and find some better plywood and start over…after I wait for someone to help me lift the plywood up onto the table so I can cut it down.
Gaahhhh, this being all week and helpless sucks!
But I'm going to keep doing what I can do because I really enjoyed working yesterday.  I had my tunes blasting, took a LOT of dance breaks and was as happy as pie building my wonky, non functional pull-out pantry.  😀