What started out as a simple down-pouring of sewer water all over everything in the basement bedroom closet — has turned into a real sewer saga!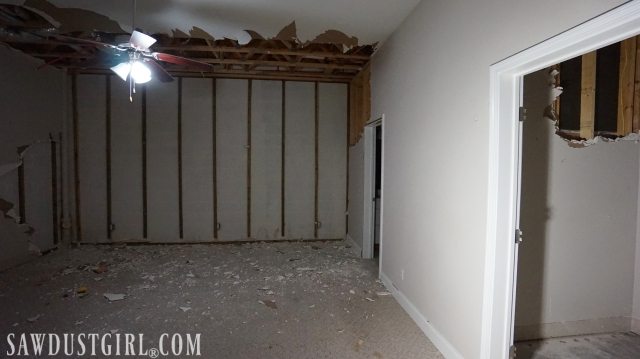 Last time I updated you on my sewer saga I had torn all of the soggy sewer water saturated drywall out the basement bedroom closet.  (Check out THIS post to read that story.)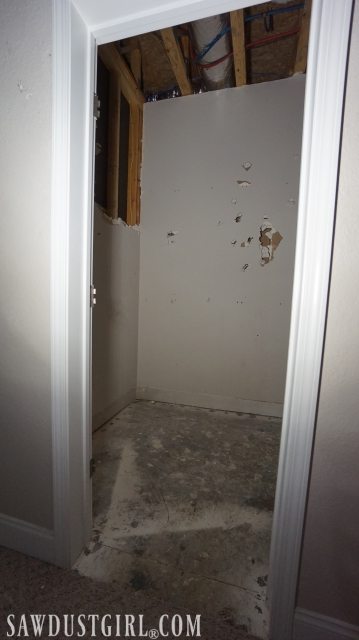 My plumber J (so I don't have to keep saying "my plumber") had a plan which involved tearing out portions of drywall in the bedroom and bathroom.  (More on that HERE.)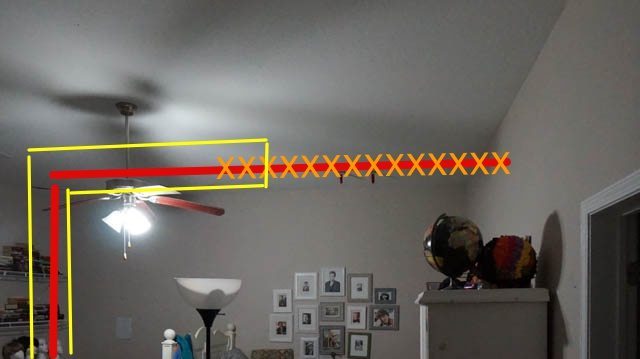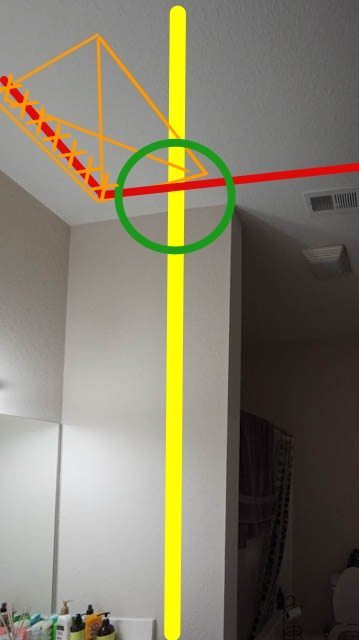 SO I tore out that drywall and J returned.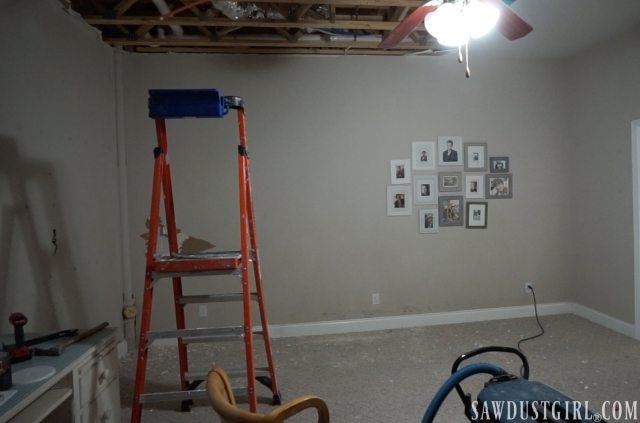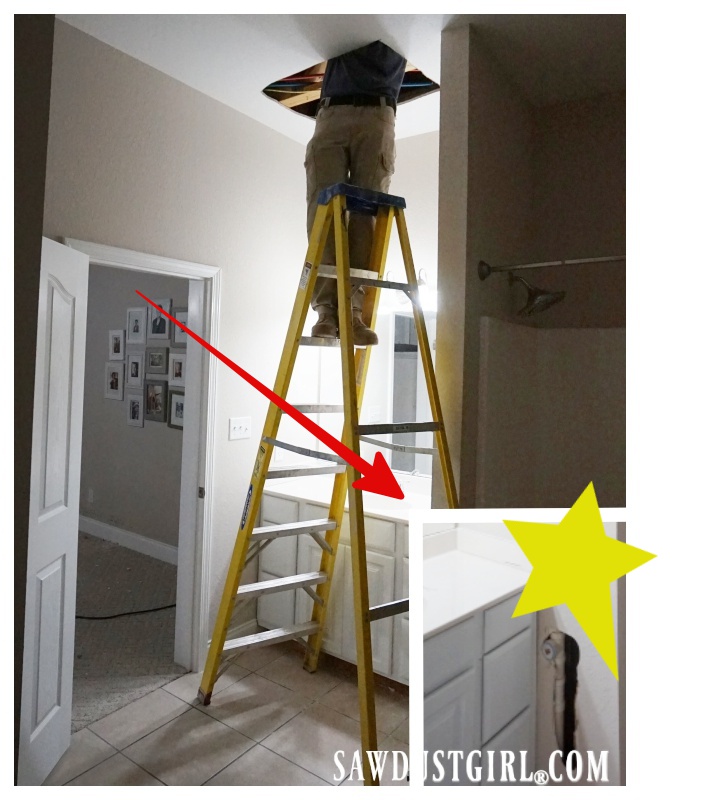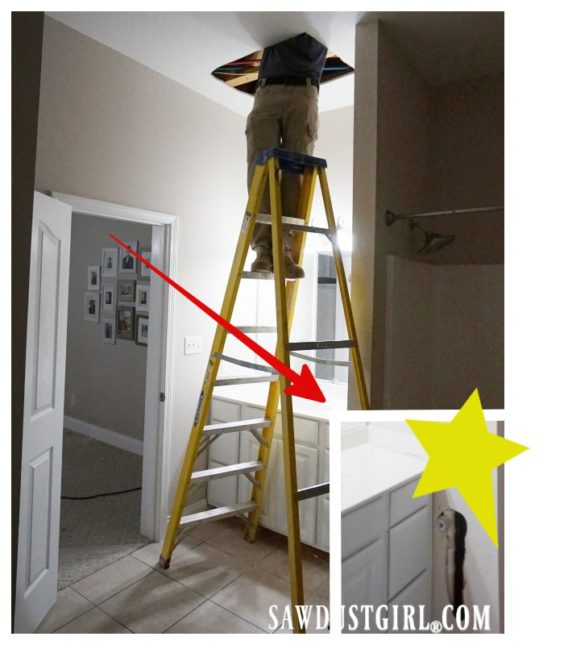 …and things went from bad to worse.
The Sewer Saga
Both the original plumber AND the inspector who passed the original plumbing get two very sarcastic "gold stars of excellence"! (They probably deserve more for things we haven't found yet.  The DO deserve several more for other things we have found but won't talk about here because it will make the story way too long.)
 The area where the line turns the corner and changes direction has 0 slope.  None.  The rest of it has 1/8″per foot. They did exactly what was required because  THAT'S code here for INSIDE plumbing  Outside has to be 1/4″ per foot.  But a good plumber knows better and should DO better.  Even if local "code" isn't up to par and doesn't require it.  Seriously.
The drain pipe below the clean-out for the basement shower is 2″ all the way into the concrete floor.  It should be 3″ or 4″ below the clean-out.  If it WERE at least 3″ then our original plan to re-route the powder room drain line to that basement shower drain line would have worked and we'd be done with this story.

Maybe the inspector doesn't deserve a gold star.  Most likely things that most plumbers in the USA use as "Best Practices" are not "code" here in Boondoxville. 
So — we had to come up with a new plan. Utterly discouraged, I left J and his assistant to figure it out.
There was activity in the attic, in and out of the house, lots of talking and I'm sure head shaking…then they left for lunch and didn't return hours.  I thought they had thrown in the towel.  The hadn't.  It took them a hearty lunch and a few hours of engaging all their brain power to come to a decision on HOW to best fix my plumbing issues.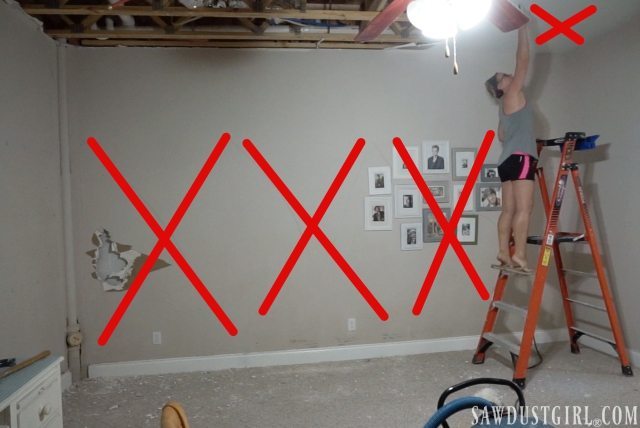 Apparently, there's no way to fix it without adding a whole lot more work, time and expense (as well as emotional defeat).  I only vaguely remember the specifics of a few parts of what J said at that point.  I was feeling quite angry and frustrated with the situation.  Not with J.
The new plan was for me to tear out all the drywall on the bedroom wall.  Then build another wall in front of the existing one so they could run a new drain down the wall to get enough slope.
When started tearing out the wall I discovered a couple things.
The drywall is attached to 2×2's.

The cinder block walls are holding the house so the 2×2's are just there to attach the drywall.  OK

No moisture barrier

There's obviously treatment on the outside.

 Is it necessary?
I've read enough to know that I could ask 10 pros and get 8 different answers.

No insulation
Not sure what I'm going to do about this but I've got to tear it all out so I keep going.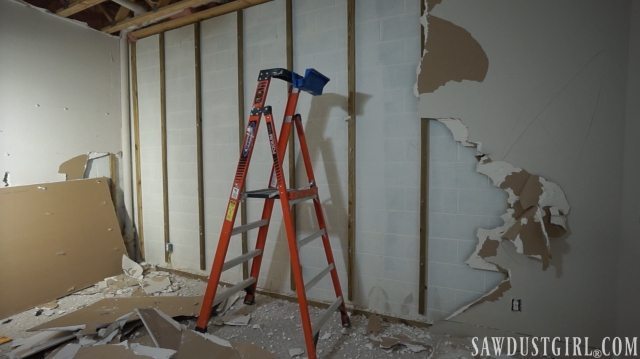 I find what looks like mildew spotted all around the drain pipe.  I tore out more drywall on the opposite wall to see if the whole wall was covered with it.  It wasn't thank goodness.  Just behind the pipe.  I'm assuming that's because of the water IN the pipe…condensation…I'll have to sort that out.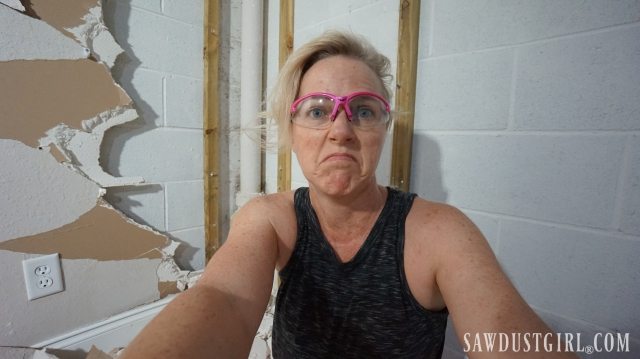 I tore out more than J needed me to — but I felt I had to explore and see if other unseeable jank was going on behind the walls.  I didn't find anything else.  So –that's something.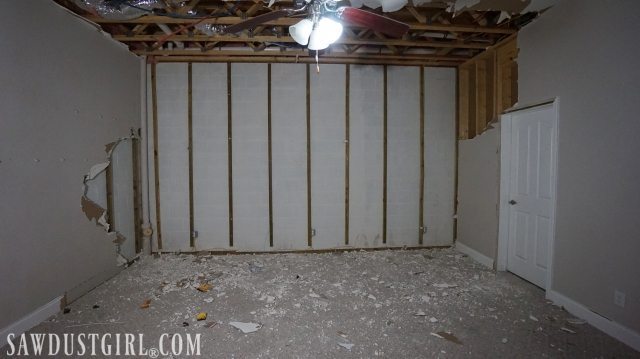 J wanted me to open up more of the bathroom ceiling to so I did that as well.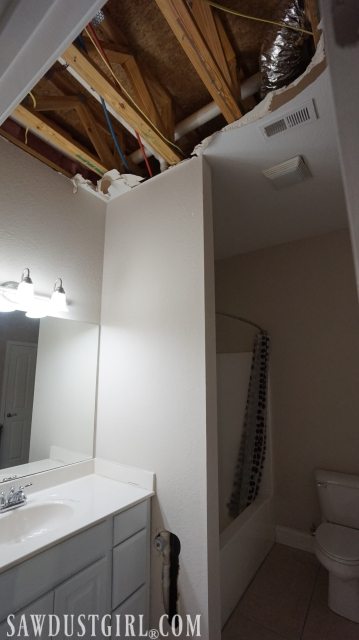 When J was here, he explained a few of other options he had considered…but that wouldn't work…because of other issues he saw while looking for a fix to the CURRENT issue.
Other possible plumbing issues
They scoped down the shower clean-out to see if we could jack hammer a small area in the bathroom to get to the main drain line and re-plumb it (properly).

But something wasn't right about the situation there.

They scoped from the toilet (which does not even have a clean-out) to see how it tied into the shower and to the main drain out of the house.

Something also not right about that.
At that time brain shut down.  I couldn't take any more bad news at that time.  I did ask the downstairs bathroom plumbing was something we needed to dig into and fix.  J said it may never be a problem and we may never need to do anything with it.  I was happy to accept that get our focus back on what needed to be done to fix the present issue.
And I've done all that.  I've torn into the bedroom, bathroom and closet.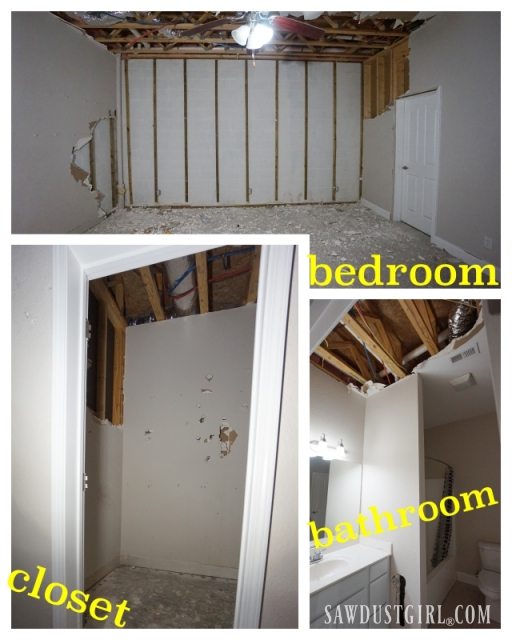 BUT…I've had a nagging in the back of my brain since J's last visit.  We have a plan for a fix that issue.  However, I'm not convinced the right course of action is to ignore the basement bathroom plumbing issues and continuing with repairs to the upstairs powder room plumbing issues.  I think we might need to jack hammer the basement bathroom (possibly the bedroom too depending on how much "jankiness" we find) and FIX all the plumbing in this whole section of the house!
I admit that this whole sewer saga has really tested my emotional/mental elasticity (ability to "bounce back"?). There have been times during these last few weeks that I've felt like a chicken without a head.  Not knowing exactly to do because there's too much to do.  Working on this here, that there and none of it getting me any closer to anything rewarding.  It's all just a lot of physically taxing work to tear out what I hadn't planned on touching so we can simply put it back together — basically just like it was (only without the shitty plumbing)!  In all honesty, I've taken a lot of naps.  Lots of days I just felt like crying.  Since I'm being completely honest, I DID have a good cry one day.
I think it was necessary –and good for me.  'Cause now I'm ready to kick this house's a$$ and get sh*t done!
However, not in this space.  Wes and I are not on the same page as to how far we need to dig into this.  Which is good because we don't need to do this NOW.  We will continue to NOT use the powder room toilet.  And won't do anything until we figure out the long term, big picture, really fixing everything solution — that Wes and I both can agree on.
So, we're hitting the "pause" on any more work in the basement bedroom/closet/bathroom.  This has really thrown a wrench in my 6 month plan so now I have to REALLY HUSTLE!