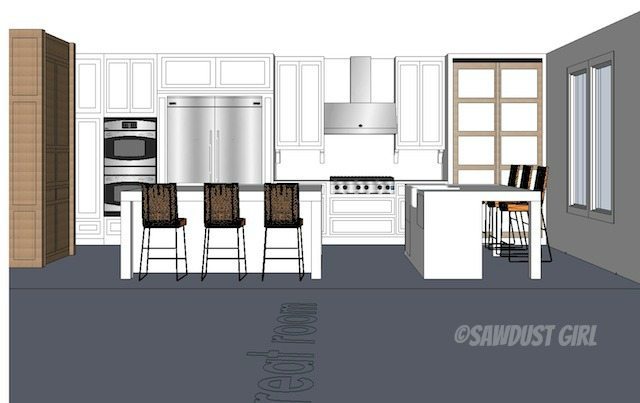 Coming up with a kitchen design plan we'll want to live in and enjoy for a good long while was fun but daunting …because a kitchen remodel is HUGE! It's the most important room in the house and generally the most expensive to redo. So, I want to try to make sure I create the best kitchen FOR US. I drew up almost 20 different layouts with different island layouts and different appliance configurations. I printed them all out, I put tape on my floor, I walked through the kitchen and I stood in front of the kitchen, staring at it –imagining each layout to get a feel for how the room would FUNCTION with each configuration. This is my winning design.
And these are the appliances I picked out and ordered. They are NOT all from the same manufacturer so we'll see if I decide to switch up my design plan a tiny bit when the appliances arrive next week. The ovens and cooktop are KitchenAid, the Refrigerator/Freezer set is Frigidaire and the vent hood is Cavalier. They are all stainless and I don't expect the finishes to match so I will have to see how much that bugs me when I see them together. I spent 2 weeks searching for the items I wanted and there were a lot of factors involved beyond just the appearance. Size, depth, capacity, reliability ratings and reviews, noise level, etc. So I REALLY hope all the different brands "stainless" finishes are similar enough that it doesn't drive me crazy. The dishwasher drawers are panel ready so they will be hidden but everything else stainless. I would have LOVED to have been able to get a built-in refrigerator that I could have hidden with cabinet doors and done a built-in hood as well but the cost factor got in the way.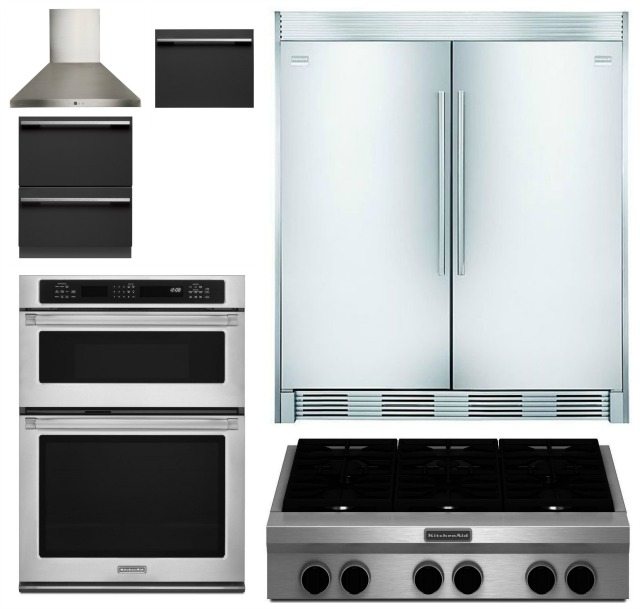 Built-in refrigerators are ridiculous! Anyway, I found appliances that I'm pretty excited about and I almost stayed within my budget — I went over by $100 but I'm ok with that. They are all being delivered next Wed. I'm NOT ready to put them in place but I want them here so I can physically measure everything before I build cabinets that have to house the ovens and cooktop. I don't like relying on spec sheets — sometimes they lie.
Ok, so what, where and why on this layout: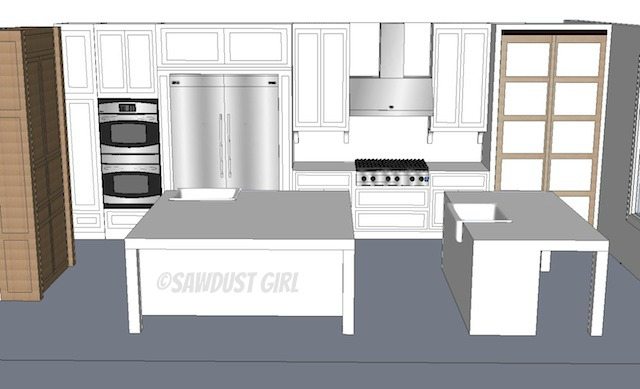 This little entry, on the right of the brown cabinet is the area that is becoming a side entrance. There is currently just a window there but I'm putting in a door. Why put in another entrance?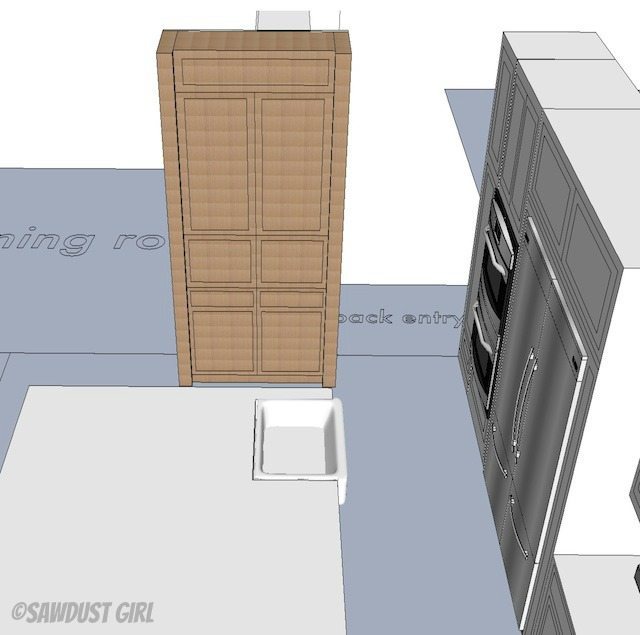 Because currently we have to drag the trash THROUGH the living room and main entrance to get it out of the house — which can (and has been) a disgusting disaster if the bag gets punctured and there happens to be juicy garbage in the bag! It will also make bringing groceries directly to the kitchen from the car a lot easier so it's happening.
Because this is becoming an entrance and because I've completely changed the layout of the rest of the kitchen, living room and main entrance, I've closed up the entrance to the dining room that used to be right here — and I'm building cabinetry here that will provide a place for mail, keys, bags, purses and whatever else needs a home.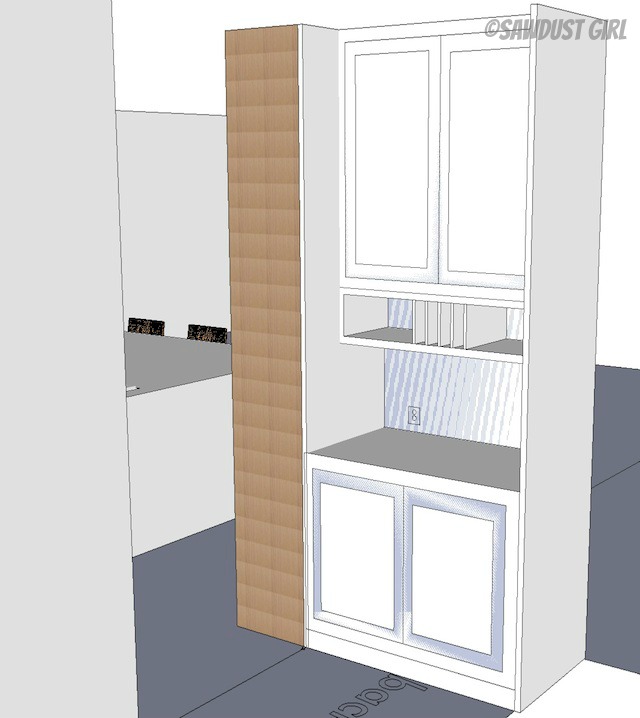 The brown cabinet is a narrow cabinet 14-16″ deep. It will hide a coffee bar; open it up and use it but close and hide when you don't want to see it all. Wide path past the island and coffee bar so there's plenty of room if someone needs to walk through the kitchen to go to the basement.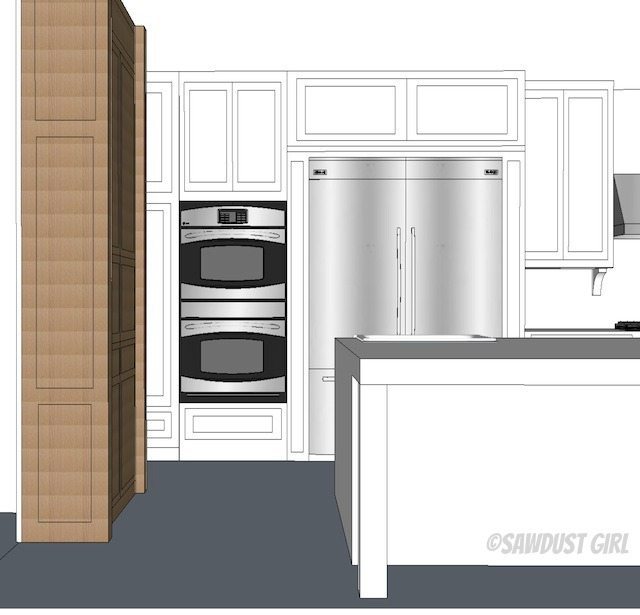 The cabinet on the left of the ovens is a broom closet or pantry. It's the same depth as the coffee bar to push the appliances over for visual reasons. I want a broom closet instead of just regular cabinets because I want a broom closet not regular cabinets. I don't want to store it in the food pantry and I like it right there because it seems like we need to use it 10 times every day.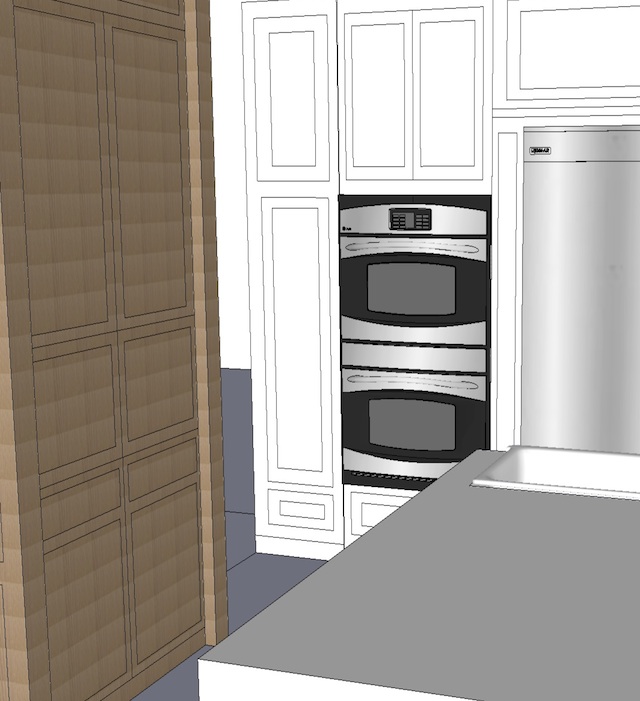 Wes like to cook, I like to bake and Madison is in charge of dishes so I want all three of us to be able to be in the kitchen doing our thing and not getting in each others way. That is how I came up with this configuration. Refrigerator is in between Wes' workspace and mine. If I'm baking bread (or whatever), I'll be working on the main island so we could both be cooking up a storm and not in each other path. Two sinks. so cooking and cleaning don't get in each other's way either.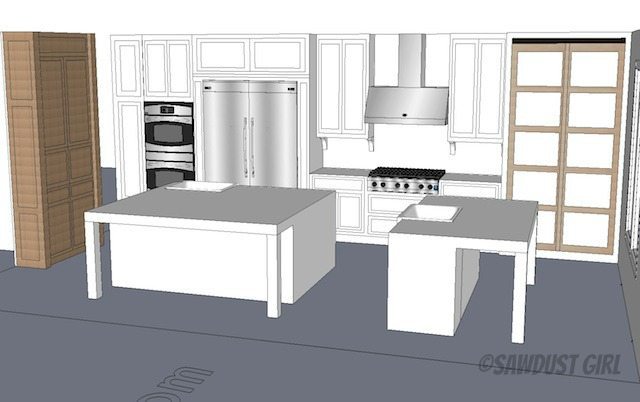 Dishwashers are shown as squares in this picture. We'll have a double drawer dishwasher on one side and a single drawer on the other.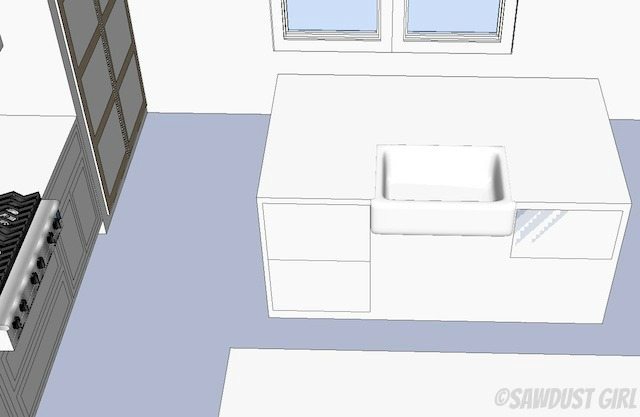 Then big drawers on the side of the big island for dish storage. Pull out trash and recycling next to the other sink.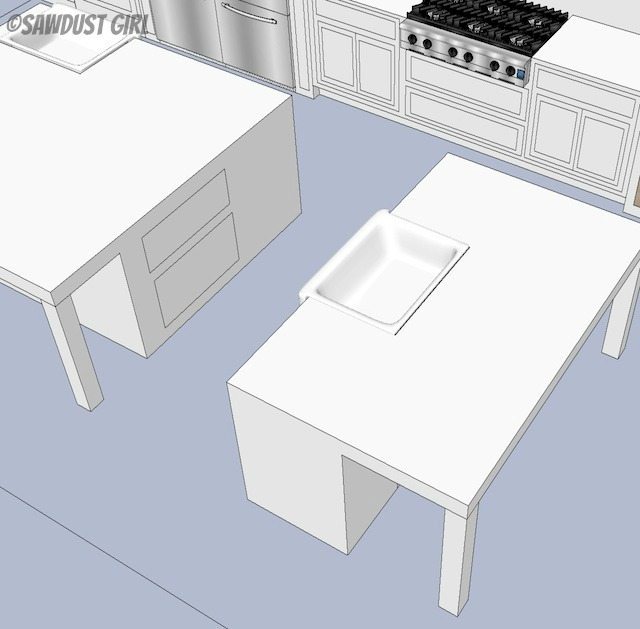 The Pantry is in the same spot but twice as wide. Possibly using bypass barn doors there because I'm still really into that look AND it allows me to access storage all the way up instead of wasting the top 3′ — as is generally the case with a normal door.
So that's the general plan. It's not iron clad. I won't be surprised in the least if I decide to change things up as it comes together. I do that a lot.