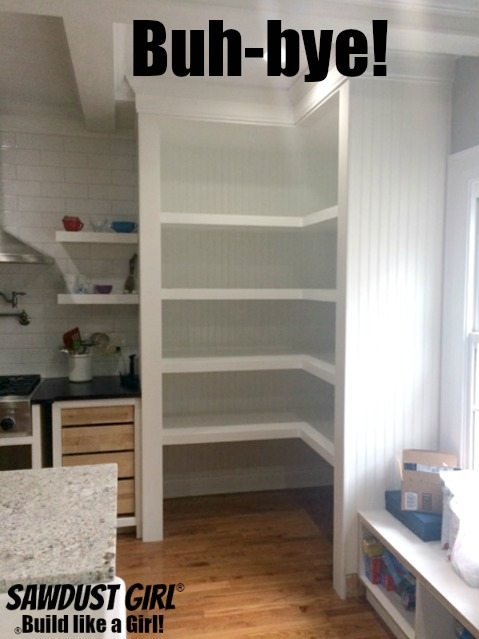 You should be up to speed on what's going down 'round here and why.  If you aren't, go read about it (here) and then come back.
Mission Impossible – Day 1
Madison and I enjoyed a nice farewell breakfast with Wes before we dropped him off at the airport. Then we (safely) raced home because 5 days is not a lot of time and there's none to waste!
Time to Demo!
My plan involves keeping the shelves on the right side of the pantry corner intact so I used a combination of circular saw, reciprocal saw and multitool to make the straightest cuts I could manage.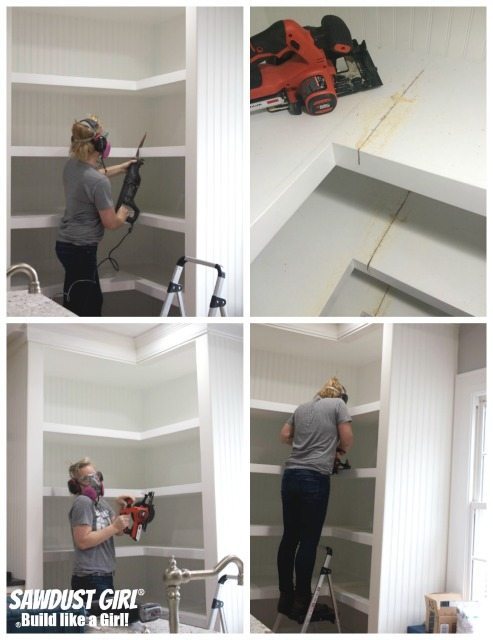 Then the goal was to remove the plywood with as little damage as possible in hopes of reusing it at some point.  I don't wan't to waste materials in addition to my hard work that went into building this pantry.
I was able to get to most of the screws attaching the 2×2's to the wall after I removed the plywood so most of the materials came out pretty clean.  The lower shelf was stubborn though!  I had to get down in there to get some leverage.
The beadboard back was tricky because it extended up behind the pantry ceiling.  My multi tool blade became dull and I didn't have a replacement blade so we just moved on to busting out the beadboard!  (Shopping list:  New blades for multi-tool and reciprocal saw.)
Oh, and that blondie in the black and grey shirt is Penny.  She is apprenticing with me this week!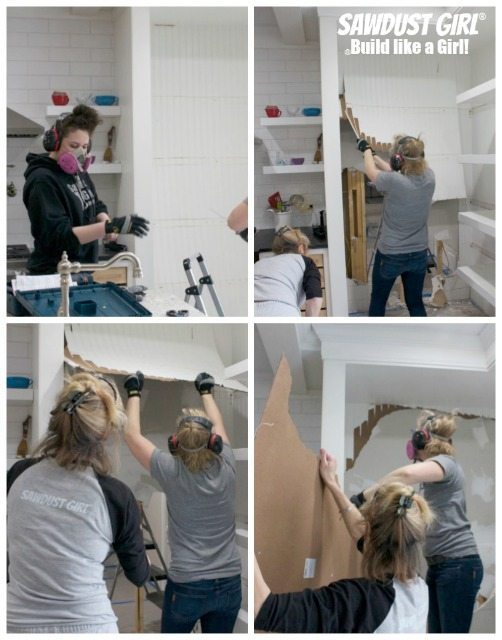 Then we went around to the back of the pantry, which is in the wide hallway to the master bedroom.  We easily removed the drywall on the Hall side because that spot still hadn't been mudded from when we installed it after closing up the doorway right here.
Madison enthusiastically volunteered to help me kick in drywall!  That girl loves demo!!!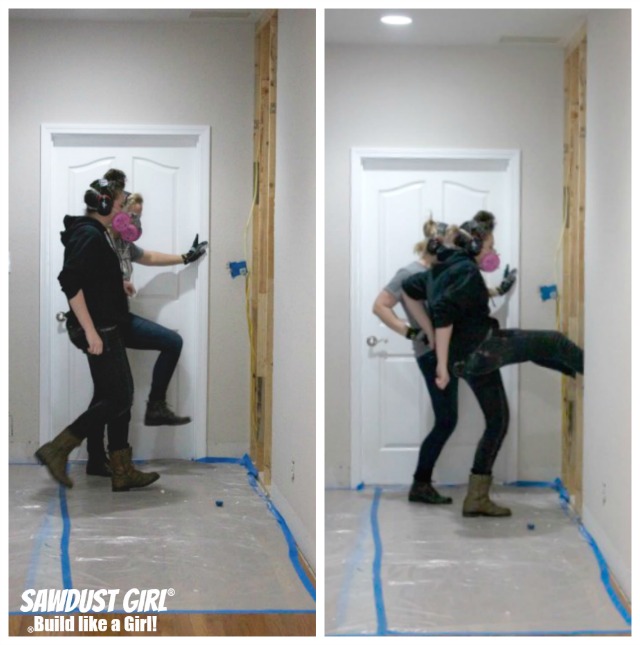 We could only reach so high before I had to get up on a ladder.  I kicked and kicked and couldn't, for the life of me, figure out how I could possibly be THAT tired already that I couldn't kick out the drywall at the top.  I was pretty tired  — but really!
I kicked and kicked and kicked…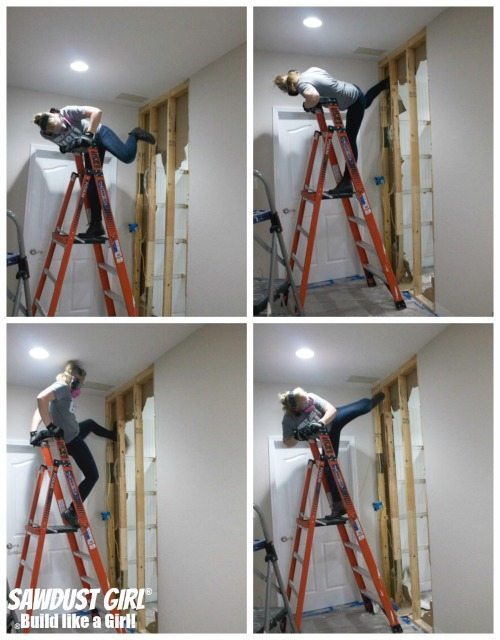 Then I realized that I was actually trying to kick out the pantry ceiling, which was framed out in 2×4's.  No wonder I was all wore out!
Reciprocal saw to the rescue.  I cut the rest of the pantry drywall and beadboard flush with the pantry ceiling and called it good.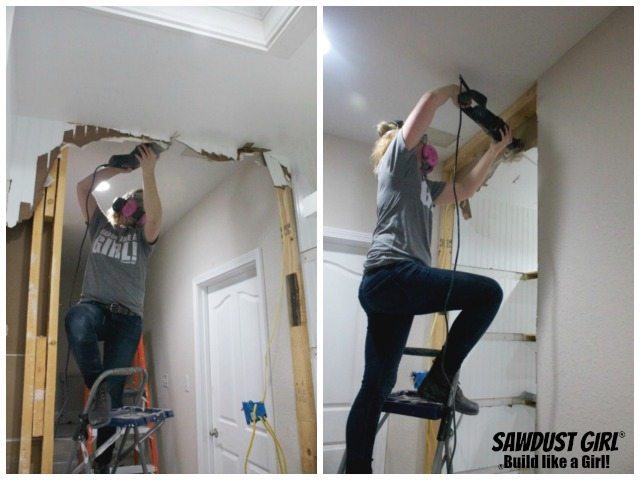 Madison started hauling drywall to the dumpster (Bag) and Penny and I got started on the hallway closet.
!?!
Wha?
Yes, I'm tearing out the Pantry AND the hall closet.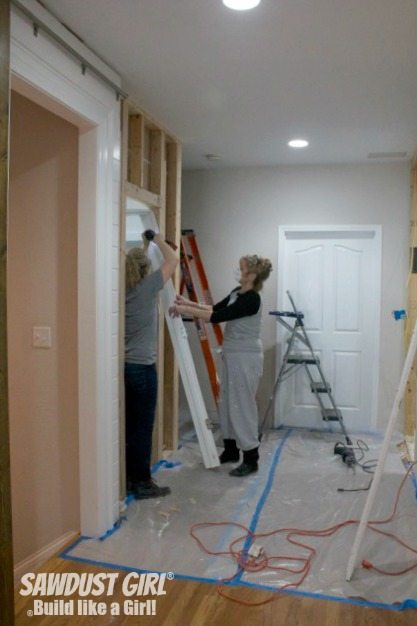 The whole – entire – thing — out!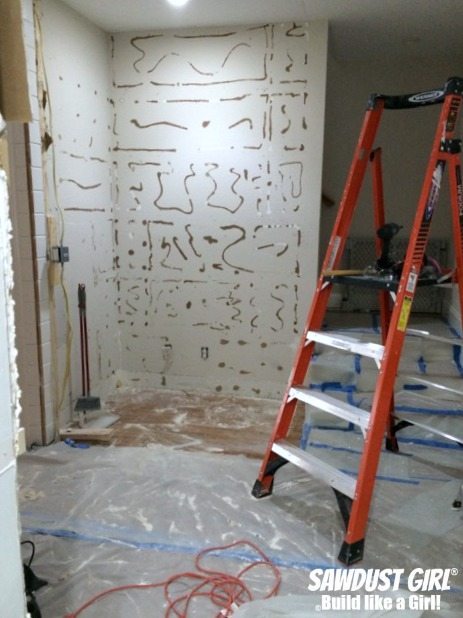 So, a whole lot of coming 'round full circle is how we ended Day 1…and it's going to get a whole lot worse before it gets better.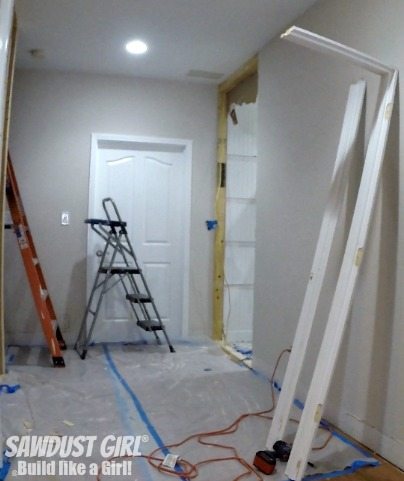 But it's going to be SOOOO worth it! I swear!  It's going to be AMAZING!