If you've been following my home remodels, you know do a lot of skim coating on my walls.  I have two methods for how to get rid of ugly wall texture.  I'm sharing them in this post as well as in the video at the end. Sometimes it's easier to get something across when you can explain it in a video.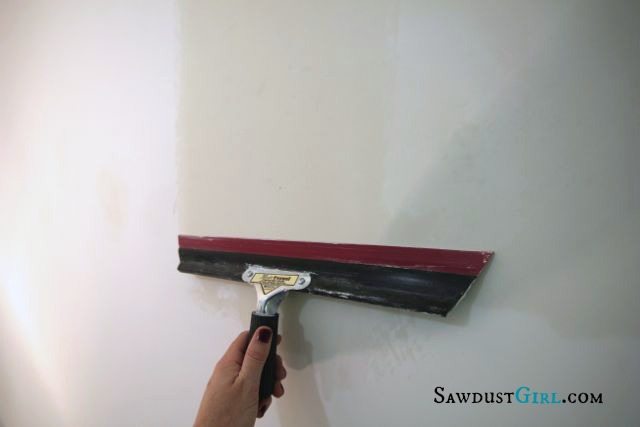 I detest heavy wall texture.  DETEST it.  (It's a personal thing.)  This house has it worse than any other home I've remodeled.  It's a super heavy, knock down texture and it's randomly uneven.  Some areas just have a few random blobs.  In some areas are splattered but never got "knocked down".  Most of this 6000 sq/ft house  looks like this.  That's a LOT of skim coating I'm gonna have to be doing!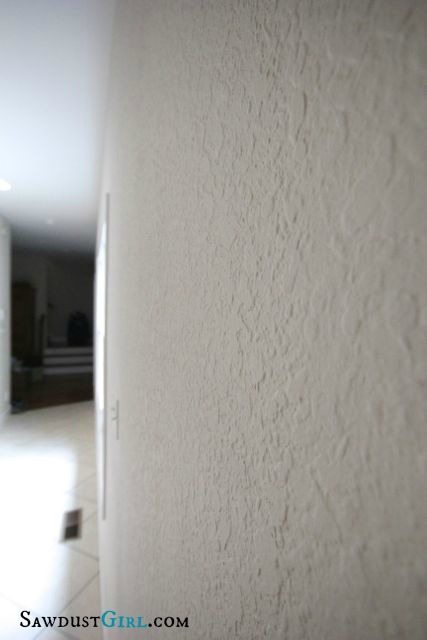 How to get rid of ugly wall texture
To skim coat, you water down and apply thin layers of joint compound to your walls.
You will need:
a mixing attachment for your drill
a spray bottle with water
a wet rag
joint compound
drop cloth (cover your floors if you care about them.)
I use premixed joint compound.  It costs about $15 for a 5 gallon bucket.  My walls are SUPER heavy so I've done 5 coats and used 2 buckets of joint compound (also known as mud).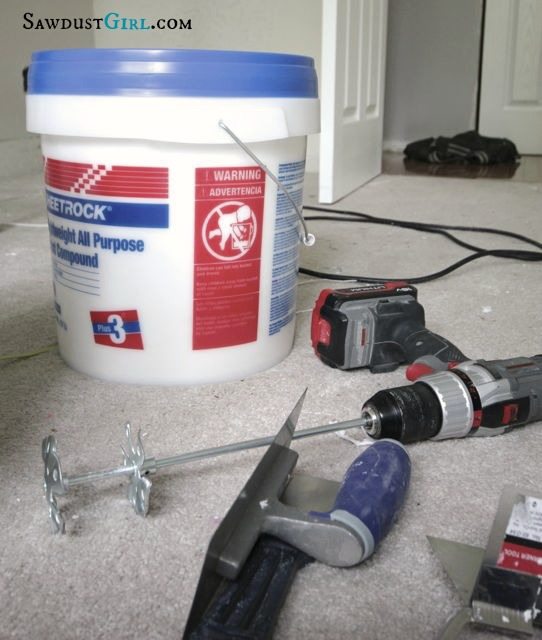 The Magic Trowel is available in several sizes.  I like the 18″ or 22″.  Too big is hard to manage and too small takes forever to make any progress.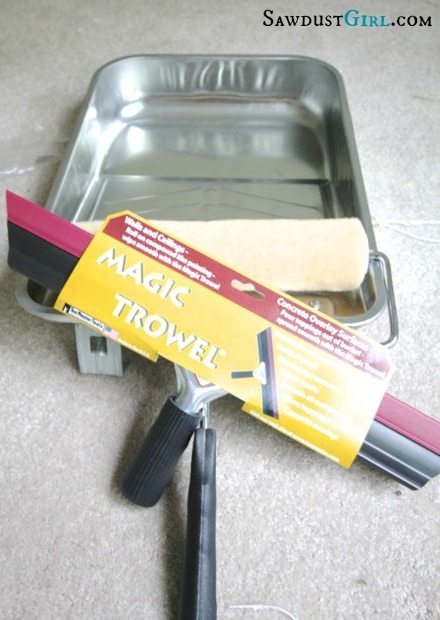 Mix your joint compound.  If you're using the premixed kind (like I am), add a little water at a time so you don't make end up making it too runny.  You want it to be the consistency of thick pancake batter.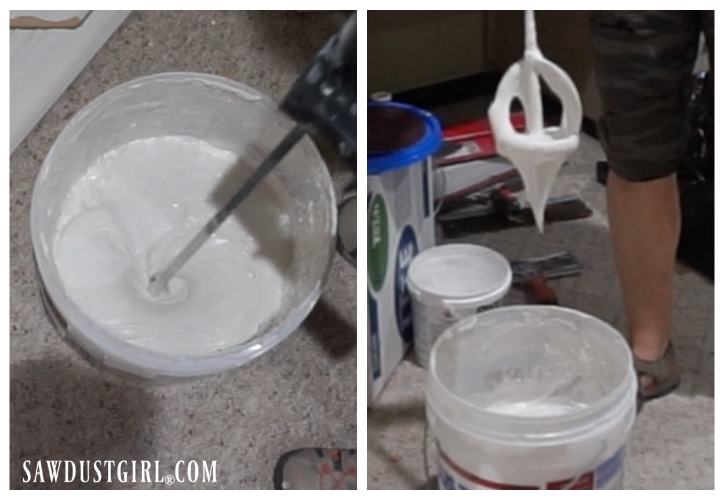 Using a thick nap paint roller, apply a generous amount to the wall.  Using a roller allows you to get quite a lot of compound on the wall in a short time.  Work in sections, keeping a wet edge at all times.  That's when the spray bottle comes in handy.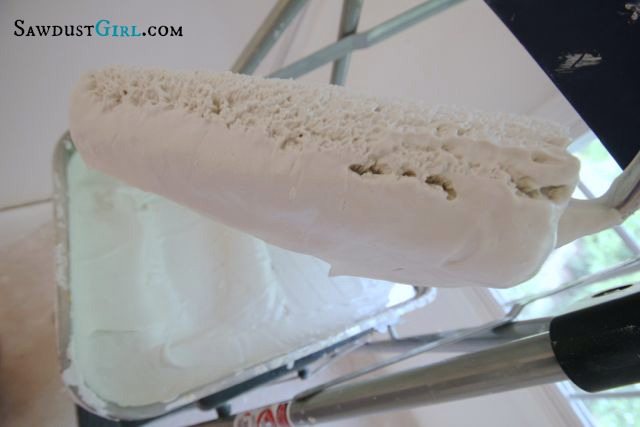 After rolling the joint compound onto the wall, use the magic trowel to smooth it out.  The first coat won't be perfectly smooth.  The compound is filling the voids that surround the existing texture.  Depending on how heavy your texture is, you'll need more new compound to fill in. It's a process!  With the next coat, turn the trowel the opposite way.  If you swiped down on the first coat, swipe across with the next coat.  You may want to sand lightly in between coats.  Or not.  Experiment with it and find what works best for you.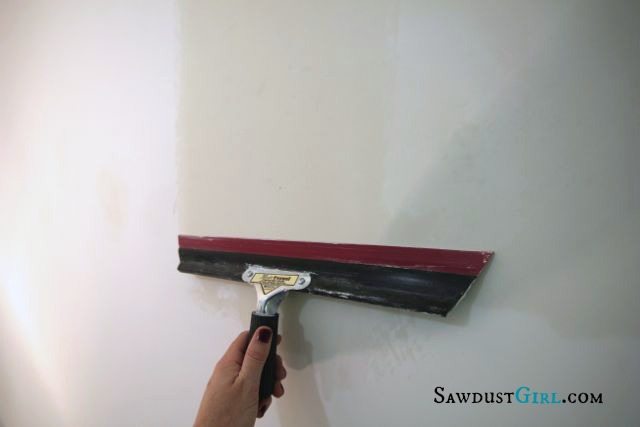 You shouldn't have much to sand after skim coating.  Just a gentle sanding over the whole surface with a very light grit sandpaper.  And unlike in this picture, using a drywall sanding vacuum attachment will contain a LOT of that drywall dust.  Sanding without it makes a BIG MESS everywhere in your house.  Not kidding.  You'll find drywall dust in your sock drawer weeks later…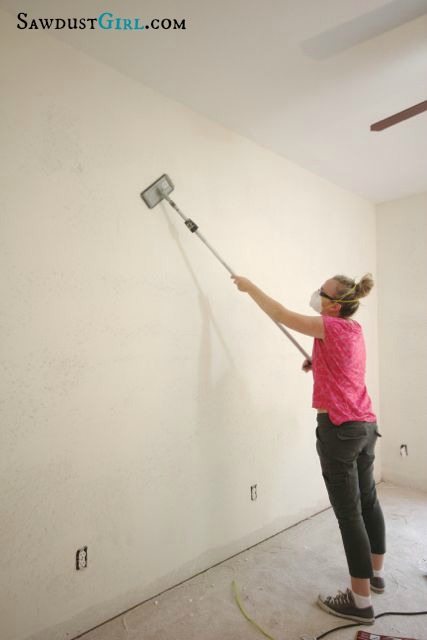 But it's worth a few particles of dust in my underwear drawer because these walls are smooth as a baby's bottom –Baby!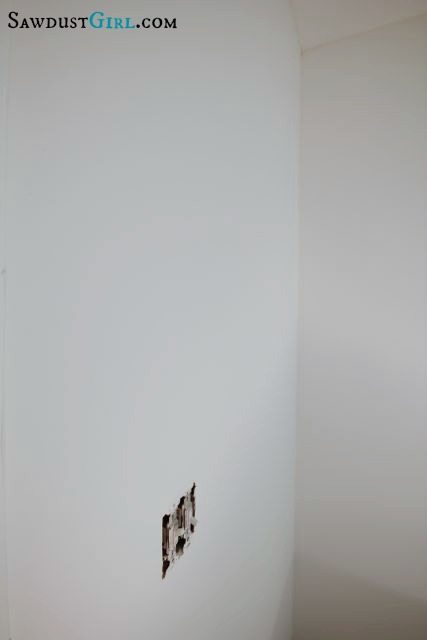 It's definitely a personal thing.  Some people love their texture — any and all kinds.  I don't — so I fix it!
Want to see and hear me explain how to get rid of ugly wall texture, watch this!
Skim Coating Video
I'll be frank with you, skim coating sucks!  It's messy.  It is difficult and takes some practice to learn the skill.  It's hard work.  It's tiring and it's frustrating.
I don't know why I keep doing it myself.  I guess I keep forgetting  how much I hate doing it.  Because once I'm done, the walls look good I move on to the fun part of the remodel so I forget what a CHORE it was.
Even if I remembered, I'd still add "skim coating" to my to-do list.  It just looks sooooooooo much better in the end.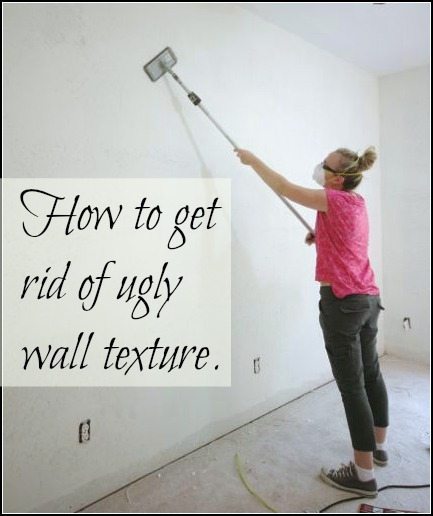 Related Posts